Honor MagicBook 14 2021 Review: Powerful Intel Machine For Average Consumer
These days the laptop realm is extremely competitive. It's to the point that things have become cut-throat because almost all laptops are great these days. However, while the bigger players are focusing on bells and whistles with their pricey laptops, there's still one aspect everyone keeps forgetting about.
That aspect is what we call value for money. That's the focus of this review today, as we're taking a look at the Honor MagicBook 14, the 2021 version.
In the past, we reviewed the previous version of the MagicBook 14 and the MagicBook Pro as well. A few things have changed since then. Formerly, Honor was owned by Huawei, but the company sold off Honor to a Chinese conglomerate. With that said, Honor is still doing its thing and making the products we know and love. This year's MagicBook 14 has newer hardware but in the same body as last year's model. Ultimately, that's a good thing, as the 2020 version was solid all around.
Honor MagicBook 14 2021
The MagicBook 14 uses new Intel Tiger Lake processors, a slightly faster SSD, and Wi-Fi 6. We dubbed the MagicBook 14 "The Best Budget Laptop For Students". Fortunately, we're happy to report that not much has changed, and the 2021 version is just as good, if not better.
System Specifications
Intel Core i7 1165G7
Integrated Intel Iris Xe Graphics
16GB DDR4-3200MHz
56Wh Battery
14-inch 1080p IPS Display
512GB PCIe 3.0 SSD
Intel Wi-Fi 6
Bluetooth 5.1
65W Type-C Charger
Connectivity
1x USB Type-C
1x USB 3.2 Type-A
1x USB 2.0 Type-A
1x HDMI
1x 3.5mm headphone jack
Dimensions
Height: 214.8 mm
Width: 322.5 mm
Depth: 15.9 mm
Weight: 1.38kg
Design And Build Quality
Honor did not want to focus on too many bells and whistles with this laptop. They wanted to make a laptop that hit all the fundamentals, at the right price. This same philosophy follows through with the design of the MagicBook 14. At first, it might fly under your read, especially when seeing it through pictures and videos. However, once you get it in your hands, that's when you start to appreciate the minimalistic design language.
So, the design here is clean and simple. It makes sense since the laptop is designed for students who focus on getting work done. The edges are smooth and polished, and that aspect blends beautifully with the aluminum chassis. Speaking of which, this chassis feels rugged and great considering the price. It's understated sure, yet it happens to be one of the better-looking laptops at the same time. The off-center Honor logo is also a nice touch.
More Core i7 laptops: Best i7 Windows Laptop For Gamers and Professionals
This laptop is available in two colors, Space Gray and Mystic Silver. We have the space gray finish on our hands, and it looks quite appealing. In terms of dimensions, it's thin and light. Mind you, it's not thin as something like the XPS 13 or the MacBook Air, but it does the job quite well. You will not feel it too much when it's sitting in your backpack. Most of the weight comes from the dense aluminum chassis. Fortunately, that metal chassis adds a lot of ruggedness to the design, similar to the ASUS TUF Gaming A15 FA506IV or FX505DV, we reviewed in the past.
. You won't notice scratches after carrying it around all day for the most part.
The ports and the speakers are present on both sides of the laptop. Once, you open the laptop you'll be greeted with an excellent screen. It has an 84% screen-to-body ratio, with very thin bezels all around. The hinge is flexible, and this screen can be laid flat at 180-degrees. Other than that, we have a massive trackpad just below the keyboard. The keyboard is backlit and feels good to type on. More on that later.
You will quickly notice that there is no webcam anywhere near the screen. That's because the MagicBook 14 has a popup camera hidden in the keyboard. We'll talk about that in detail later, but it caters to people who care about privacy. The top right corner has a fingerprint scanner, which is always convenient. This scanner is located on the power button, plus it is accurate and fast. Overall, the design works quite well. It looks elegant while also being minimalistic, and also feels quite durable. No complaints in this department.
11th Gen Tiger Lake Intel CPU
Before we move on to the rest of the device, let's talk about the main internals for a second. With the 2021 version, you get the latest Intel 11th Gen Tiger Lake processors. You can pick between either the i7 1165G7 or the i5 1135G7. Both of these are very capable processors when it comes to performance. We have the i7 on our hands here today. It's an energy-efficient quad-core SoC that works well for sleek Ultrabooks.
It has eight cores and eight threads. This processor has a base clock of 2.8GHz and can boost up to 4.7GHz. When running all-core are running, the boost frequency is limited to 4.1GHz. Tiger Lake has multiple improvements over Comet Lake and Ice Lake. It is compatible with DDR4-3200. This is perfect since the MagicBook 14 has 16 gigs of DDR4 memory running at 3200MHz.
The processor also has native PCIe 4.0 support for up to 4 lanes. It is based on the second-gen 10nm Intel SuperFin process. Depending on the task at hand, this processor can compete with similar 7 nm TSMC Ryzen 4000 processors. You also get 12MB of L3 cache with this processor, for both the CPU cores and integrated GPU. The TDP is 28 Watt
The GPU
Just like the previous version, the Honor MagicBook 14 does not have a dedicated graphics card. Instead, this laptop uses Intel integrated graphics. Specifically, it uses Iris Xe Graphics G7. This is based on a new 12th Gen architecture. In comparison, it is quite a bit faster than the previous Iris Plus G7. It features 96 EUs (Execution Units). It can use all of these 96 EUs between 400 to 1300 MHz. This allows the graphics to drive up to 4 monitors at a 4K resolution.
So, while the integrated graphics aren't going to replace a dedicated GPU, they get the job done. The improvement is good enough that you will be able to play some games on this. Although, you'll mostly be playing eSports titles like CS:GO or older games on this. It can also run games that aren't demanding, such as small indie titles. For playing casual games, the performance is good enough.
An Excellent Display
The display on this laptop is surprisingly phenomenal. It's important for a laptop that caters to students to have a good display. You're likely going to be watching a lot of lectures, writing documents, and maybe even editing some photos here and there. An excellent screen is what makes a decent laptop into a great laptop. Thankfully, the display here is well-rounded in every aspect.
It uses a 14-inch Full HD IPS display for the panel. Since it's Full HD, the resolution is 1920 x 1080, which is plenty for this screen size, ultimately very good for content creators. The bezels are 4.8mm thick and the screen-to-body ratio is around 84%. Quite impressive for a value-focused laptop. The smaller bezels really make it feel like a more premium laptop. It elevates the value of the entire experience. In fact, this screen is good enough to compete with some of the high-end contenders.
Since it uses an IPS panel, the viewing angles are good as one can expect. The image quality is crisp no matter what angle you are viewing it from. The brightness is decent as well, as this panel can hit 370 nits of peak brightness. Combine that with the anti-glare coating, and we find that this panel is perfectly usable outdoors.
Last year, the brightness was a bit of an issue with the previous version. This year, the panel is about 60% brighter than last year. It's easy to say that the display is flawless this time around for an average consumer. Of course, it also has the usual blue light filter to prevent eye strain. Finding a decent viewing angle is also easy since you can lay the screen completely flat.
Keyboard and Trackpad
Considering that this is a 14-inch Ultrabook, the MagicBook has a very familiar keyboard and trackpad layout. Like other Ultrabooks, it uses the standard chiclet-style keys. These keys have a travel of 1.3mm. However, these keys are not dead silent, as there is some sort of acoustic feedback. This is unlike other slim laptops that don't generate much noise at all. With that said, the sound doesn't bother anyone around you. That sort of thing matters in environments like libraries, schools, and offices.
The top row consists of all the function or Fn keys. These are used to control brightness, the microphone, Wi-Fi, and also for multimedia functions. Another one of these keys allows you the change the backlighting of the keyboard. Other than that, everything feels quite familiar. However, it might take some time to get familiar with the left shift key.
It's shorter than what you might see on say, a MacBook. If you are a writer who is used to their current keyboard, this will be a minor issue at first. However, this is the sort of thing that you will get accustomed to after a couple of hours of typing.
On the other hand, the trackpad is flawless. It is quite large and takes up a lot of the palm space. The surface feels smooth and premium. It only responds when you want to use it, so there isn't any sort of strange ghosting stuff going on. The trackpad detects multi-touch gestures easily as well. There are no separate buttons for the mouse clicks, as they are built into the trackpad. Speaking of which, this experience feels similar to the trackpad on the MacBooks. This is a good thing since the MacBook trackpads are the gold standard.
Connectivity and Speakers
Before we finally get into the in-depth testing and performance, let's go over a few things quickly. The I/O ports on the MagicBook 14 are present on either side of the laptop. Like many Ultrabooks these days, the number of ports is a bit lacking. We can't quite blame Honor for this, as this does seem to be an industry trend right now. Either way, here is what the ensemble looks like.
On the right side, we have one 3.5mm audio jack and one USB 2.0 port. Usually, it makes sense to have one of these USB 2.0 ports instead of a USB 3.0 port. If you're going to connect a mouse or keyboard, you don't need that extra speed. However, in this case, it's a bit disappointing since we only have two USB Type-A ports in total. Not a major deal, but something worth mentioning.
So, on the left side, we have another Type-A port but this one is USB 3.2. We also get a USB Type-C port along with a full-fledged HDMI port. We are glad that even budget laptops are using Type-C ports these days. They are more power-efficient and universal. The MagicBook 14 takes use of this port to charge the battery. This is a good thing, but remember you're going to lose that port if you want to use the laptop while charging.
The speaker grilles for this laptop are located near the side of the laptop. While this positioning is not bad, it would be better to have them on the front beside the keyboard. A lot of people make the argument that your hands block the grilles that way, but it still sounds better than side or bottom placement. With that said, the quality of these speakers is quite good, and they get decently loud. We can't ask for more here. They sound better than a lot of laptops in this price range.
The Webcam
We touched on the webcam very briefly in the design section, so we'll get into a bit more detail now. The function keys of the keyboard hide the webcam underneath, specifically under the F7 key. Press on this key and the camera will pop open from underneath. Press it again and the camera will close. The mechanism feels solid, and we are not worried about it malfunctioning or anything like that. The webcam itself is bad, but we can adjust it through software.
The question is why do something like this? Well, the obvious answer is privacy. There is a lot of talk these days about protecting yourself online. Blocking your camera on the devices you use is a good way of doing that. Sure, this might be going a bit overboard with the entire idea, as you can buy webcam covers for quite cheap. Still, it is a unique design quirk that we can't help but appreciate.
So, while this position provides privacy benefits, there is a small problem. The angle of the webcam feels quite strange. It is rather steep and low, so when talking to people on Zoom, it appears as if you're looking down at them. Some people might be bothered by this so keep it in mind.
Honor MagicBook 14 2021 Benchmarks
So, all of the above pretty much covers all of the design and physical aspects of the laptop. We mentioned earlier that this is a laptop for students who want to get work done. So the laptop needs to perform accordingly, while also being quite portable in the process. To figure out the relative performance, we performed some in-depth testing including benchmarks. We'll explain the tests as we talk about them, but here's a quick overview.
The tests were performed with the laptop plugged in the wall outlet to maximize the performance. No extra cooling pads were used and the ambient room temperature in which we performed these tests was about 25-degrees Celsius.
Cinebench R15, Cinebench R20, Geekbench 5, 3DMark Advanced Edition, and PCMark 10 Advanced Edition were used to testing CPU performance. Unigine Superposition, Geekbench 5, and 3DMark Advanced Edition were used for GPU. And Furmark, CPU-Z stress test, and AIDA64 were used for thermal throttling test of this laptop.
Moving on, screen testings and color uniformity testings were done after calibrating the screen with SpyderXElite. For media-encoding tests, we used Adobe Premiere Pro and Handbrake.
CPU Benchmarks
The version of the MagicBook 14 on our hands uses the Intel Core i7 1165G7. We already talked about the specs of this chip, so let's take a look at our benchmark results.
Starting off with 3D Mark Time Spy, things are looking good for the i7 chip in the MagicBook 14. We get a CPU score of 3507. This is quite an improvement over the 2020 version, and it means that the processor will handle work-related tasks quite well. If there was a separate dedicated GPU here, the processor could handle that with ease as well.
Next up, we have Geekbench 5. This is a widely used program that measures both single-core performance and multi-core performance, and the difference between the two. It does so by assigning a series of tasks to the CPU. It then measures the time taken to complete those tasks. A higher score means that a smaller amount of time was taken by the specific processor. In our tests, the i7 1165G7 inside of the MagicBook 14 scores 1537 in single-core performance. The multi-core test shows a score of 5054.
Afterwards, we further tested the CPU via Cinebench R15 and Cinebench R20. The i7 chip scores 223 in Cinebench R15 with the MP ratio being 4.09. Considering the lightweight build of the laptop, this single-core performance is quite impressive. It actually competes with most other ultrabooks in this price range.
The results were quite decent in Cinebench R20 as well. The single-core performance gave us a score of 572 and an MP Ratio of 3.31. Again, this is quite an improvement over last year's version. Cinebench R20 is more complex and demanding compared to R15. That's why you can't quite compare the results of R15 and R20.
Last but not least, we used PCMark 10 that gives us a score of 4839. PCMark is more of a general test and checks to see how well the PC performs in terms of office-related work. You can see what we mean by taking a look at the picture above. The video editing score comes in at 5328, which happens to be quite good for this laptop.
GPU Benchmarks
As we mentioned before, the MagicBook 14 2021 uses Intel's integrated Iris XE G7 graphics. Intel's XE graphics are stronger than previous integrated graphics, and we can see so in our tests. Our first test was done with Unigine Superposition, and it gives us a score of 1818.
This is quite decent considering that this is a lightweight laptop not quite intending for gaming or GPU-heavy tasks. Of course, the GPU will bottleneck in newer and demanding titles, but that is not what this laptop is going for.
We also used Geekbench 5's OpenCL benchmark test. This test gives us a result of 15067 for the Iris XE G7. While it's not going to blow any gaming laptop out of the water, the score is quite decent for the price segment.
Display Benchmarks
For content consumption, this is a great display. Watching Netflix, playing some games, browsing the internet, all feel great on this screen. Of course, it's not a high-grade professional display, and that's simply not possible on a laptop at this price. With that said, let's have a look at the benchmarks for those of you who care about accurate displays. We are using the SpyderX Elite for these benchmarks. The images below describe different parameters of the screen itself.
First off, the black levels are quite standard for a display of this caliber. It's also close to other laptop screens near this price range. After some calibration, the display is able to hit the correct gamma value of 2.2.
The above picture shows the brightness level, contrast ratio, and white point measured at different brightness settings. At 100% brightness, the display reaches 374 nits. This is plenty enough for both indoor and outdoor use. The 1170:1 contrast ratio is also quite good at max brightness. Of course, this contrast ratio decreases as you lower the brightness.
Color gamut is something that this laptop improves on compared to the previous version. It covers 99% of the sRGB color gamut, 75% of AdobeRGB, and 74% of DCI-P3 coverage. This is up to par with many other laptop screens at this price.
Color accuracy is also something that is much better here. In non-colored areas, it has a Delta-E score of less than 1, Most of the other colors don't have a higher deviation either. The average is 1.15, which is quite good in all honesty.
Finally, here's the screen uniformity test. At max brightness, we can see that the display has up to a 13.4% difference. To be clear, it is an improvement from last year, but not by much. If you were thinking of using this display for professional workloads like photoshop, video editing, filmmaking, etc, it's not a great choice.
So, the display is quite improved from last year. The average student who is buying it to write code, do some research, and watch lectures will be quite happy with it.
SSD Benchmarks
The Honor MagicBook 14 2021 uses a 512GB PCIe NVMe SSD. Surprisingly, the SSD here is quite fast for the price of the laptop. Here are our results in CrystalDiskMark.
The sequential read and write speeds are 3419.08 MB/s and 2717.80 MB/s, respectively. If you know anything about SSDs, you're aware that these numbers are quite impressive. This laptop is going to hold up quite well for your workflow. The 4K speeds are 51.05 MB/s while reading, and 240.59 MB/s while writing. Again, those numbers are quite good and should help out a bit when it comes to light video editing.
Battery Benchmark
Thanks to the efficient 11th gen Intel chip inside, the battery performance is quite good for the price. To test the performance, we conducted a battery benchmark. First off, we left the laptop in an idle mode where no tasks are performed. The brightness is left at 50% for this test. At idle, the laptop was able to last for 17 hours. This is quite good, but the real test is regular usage.
We tried to recreate a scenario and performed tasks that an average user would. This includes browsing the web, watching Youtube videos, writing documents, etc. This test was also done at 50% brightness. In this environment, the laptop lasts up to 7 hours and 50 minutes. That's near the 8-hour mark which is quite impressive for a slim and inexpensive laptop like this one.
Finally, we stress-tested the laptop at 100% brightness to see when the battery finally gives up. We used the Unigine Heaven benchmark for this purpose. In this environment, the laptop lasted for 2 hours and 10 minutes.
Content Creation Performance
The MagicBook 14 should perform well in rendering software like Adobe Premiere Pro. This is mostly thanks to the Tiger Lake chip inside. We used a 4K video with a duration of 1 minute and 32 seconds. The video is in 60 FPS. For this test, we utilized Handbrake and Adobe Premiere Pro. We used 4K, 1440p, and 1080 presets along with the fast encoder preset. The codec was H.265.
In Adobe Premiere Pro, we used 4K, 1080, and 720p presets in the H.265 codec. You can take a look at the results below.
Thermal Throttling/Cooling Solution
The Honor MagicBook 14 has cooling vents on the bottom instead of the sides. On any other laptop, this would be a problem as the bottom vents can get blocked. However, for a laptop of this niche, it's not too much of an issue. During regular usage, the laptop does not get too hot which is a good thing. A laptop like this does not require large heat pipes or loud fans.
Still, we wanted to test the thermals limits of this laptop. We did just that by using HWMonitor and HWInfo 64 for checking the metrics. To put the laptop under some real stress, we used AIDA64 Extreme. The results can be seen below.
While starting out, the CPU hits 4.6GHz at max usage. The temperature is at around 95c here. Although that is hot, the processor does not stay at that measurement for long. This is where throttling starts to kick in, usually around the 2-minute mark. At this point, the processor was hovering between 2.4 to 2.6 GHz with temperatures in the 60s. There is about 27% thermal throttling. Again, most of this will not matter to the casual user, but if you're going to be pushing the system, keep this in mind.
Final Takeaways from the Honor MagicBook 14 2021 Review
Last year, the Honor MagicBook 14 managed to impress us with its great balance of price, performance, and design. While the fundamentals are still the same, the 2021 version improves on some of the weaknesses of the previous model. It has a better processor, a better screen, a faster SSD, and noticeably better battery life. Sure, it is an incremental upgrade, but one that makes a difference.
To those of you who are looking to buy this laptop for school or for work, it's a worthy consideration if you can afford the price tag. The slim design makes it quite portable for everyday use. This laptop also features fast charging via USB-C, which is another welcome feature.
Overall, this is one of the best student laptops for the money. It's well rounded, has a great screen, and is just a straight-up joy to use. If the company stays on this track, it may be able to snatch this price segment completely from other vendors. For now, the MagicBook 14 gets our recommendation.
Honor MagicBook 14 2021 Pros And Cons
Pros
Simple yet sophisticated design
Fanatastic screen for content consumption
Great battery life & Fast Charging
Premium keyboard and trackpad
Cons
Only one USB-C port
Awkward webcam positioning
Unconventional left shift key size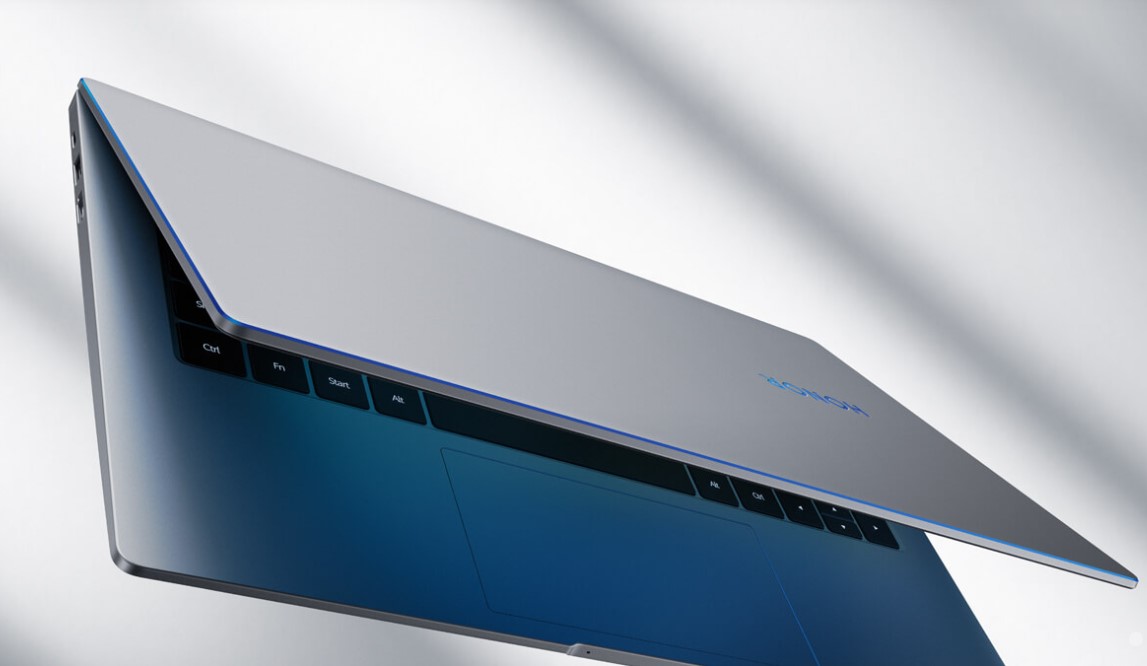 Processor: Intel Core i7 1165G7 | RAM: 16GB DDR4 | Storage: 512GB PCIe NVMe SSD | Display: 14-inch Full HD IPS Display | GPU: Intel Iris Xe

VERDICT:The MagicBook 14 2021 provides everything a student or an average consumer would need to get by their daily lives tasks with ease while providing impeccable sheer processing power with the new Intel Tiger Lake CPU. However, all of the power comes with some tiny drawbacks such as the awkward webcam positioning and the unusual left shift key size. If these minor imperfections aren't a deal-breaker for you then, definitely the MagicBook 14 2021 is a winner for you.
Price at the time of review: N/A (USA) and N/A (UK)