Dream Machines DM6 Holey Trio Wireless Gaming Mouse Review
Almost two years ago, we took a look at the DM6 Holey S, an underrated gaming mouse from an up-and-coming brand known as Dream Machines. That mouse certainly caught the eyes of a lot of reviewers and hardware enthusiasts. Around that time, lightweight gaming mice were catching on, and every manufacturer was competing to make the best version for gamers.
It's been a while since then, and the market is even more competitive than before. Not only are lightweight gaming mice the norm, but a lot of them are also going the wireless route. Some popular options like the Glorious Model O Wireless and Logitech G Pro Wireless are great examples.
Of course, Dream Machines did not want to stay behind. The DM6 Holey S already has a great shape and unique features, so turning that into a wireless mouse was a no-brainer for them. That's exactly what we're seeing here with the DM6 Holey Trio. After testing it for about a week or so, we can safely say this is yet another underrated mouse from Dream Machines.
The lightweight design, comfortable shape, and abundance of features make this mouse worth paying attention to. Let's get on with our in-depth review.
Unboxing and Box Contents
There's some new stuff to cover with this iterative update of the DM6 Holey S. Before we get into the actual review for the DM6 Holey Trio, let's take a look at the packaging and box contents. So, we were quite pleased with the unboxing experience from Dream Machines when they sent us the first mouse for review. We're happy to report that the sentiment remains the same here.
This box is similar to the packaging of the previous mouse. It's a compact, stylish, and minimalistic-looking box. On the front, you'll see a picture of the DM6 Holey Trio itself. The background features a hexagon-style pattern yet again, but its opacity is lower this time around.
You can pull on the top portion of the box to reveal the mouse inside, neatly surrounded by soft packaging. You'll then be greeted by the braided USB cable, RF dongle, a USB-A to USB-C adapter, and some paperwork. That's about it for the accessories. Now, let's see what's new with this mouse.
Comparing the DM6 Holey Series
It would be hard to write this review without drawing a comparison between the mice in the DM6 Holey Series. After all, the wireless version is more of an iterative upgrade to the same mouse we here at Appuals know and love. One of our editors still uses the DM6 Holey S nearly every day.
Let's take a look at some quick specs between the mice.
DM6 Holey S: 1000Hz Polling Rate, Pixart PMW 3389 Sensor, 69g Weight, Huano buttons, Max 16000 DPI
DM6 Holey Duo: 1000Hz Polling Rate, Pixart PMW 3335 Sensor, 79g Weight, Huano buttons, Max 16000 DPI
DM6 Holey Trio: 1000Hz Polling Rate, Pixart PMW 3370 Sensor, 81g Weight, Huano buttons, Max 19000 DPI
As you can see for yourself, all three mice are relatively the same in terms of specs. Due to its wireless nature, the Holey Duo weighs 79, while the DM6 Holey Trio weighs 81g. All of these mice are particularly lightweight, but the Holey S is significantly lighter and you can tell the difference.
Apart from that, all three feature the same Huano buttons, the same polling rate, and relatively the same liftoff distance. Furthermore, the side switches also feel about the same on the Holey S and Holey Trio. We did not receive the Holey Duo for review but seeing as it's the same mouse as the Trio but with a different sensor, that's not an issue.
So, the choice is quite simple. If you want a wired mouse with an ergonomic shape, go with the DM6 Holey S. If you need something wired, you should go with the DM6 Holey Duo or Trio.
Apart from the difference in sensors, the Trio features a Bluetooth connection in tandem with the RF receiver, while the Duo only has the RF receiver. Both are great options, depending on what you need.
Design and Construction
With the DM6 Holy Trio, we see the return of the highly comfortable ergonomic shape that was a highlight of the wired version. We'll get to that later, let's talk about the design and build quality first. In terms of aesthetics, this is quite a decent-looking mouse. Sure, it is visually the same as other mice with the honeycomb cutout design.
That's not necessarily a bad thing, since that's what gives this wireless mouse its lightweight nature. Of course, personal preference comes into play when we talk about design, but no one would mind the look of this mouse. The stealthy black coating paired with tasteful RGB lighting and the minimal logo at the top give it an understated look.
Furthermore, the uniformity of the honeycomb pattern is quite decent all around. It's cut in half in some places due to a space restriction, but looks great, nonetheless. At the top, a tiny "DM" logo is stamped with a white font. The left side of the mouse is slightly raised than the right one. That quality is what gives this mouse an ergonomic shape.
You'll find the usual side buttons on the left side, a DPI button below the scroll wheel, and RGB lighting that shines through that honeycomb pattern. It's the perfect blend of both form and function. Sure, it is a lightweight mouse, but the materials are of high quality.
It's great to see that Dream Machines is keeping up with a high standard of build quality.
Ergonomics, Shape, and Comfort
We've already talked about this shape in great detail during our DM6 Holey S review. As mentioned before, one of our editors still uses that mouse, just because of the comfort. It's an ergonomic design, but one that has a safer shape than something like the Logitech G703. Don't get me wrong, the latter has an excellent shape in its own right, but it's not one that everyone will enjoy.
Sure, you can say that about almost any mouse on the market. For example, fans of ambidextrous mice will find it hard to adapt to an ergonomic shape. Still, with all of that said, this shape does not take much to get used to. This is because the hump and the raise of the left side of the mouse are not as aggressive as other ergonomic mice.
Now, this mouse is quite large, which won't be a problem for people with medium-large hands. Even then, the ergonomics are good enough that even people with small hands adapt sooner rather than later. As someone with medium-large hands who uses a claw grip, this mouse feels right at home.
The palm grip feels good here as well. Some people might be able to use this with a fingertip grip, but since this is a bigger mouse, your mileage may vary. It is worth mentioning that this mouse is quite lightweight at about 81g. For a wireless gaming mouse, that's not bad at all.
Moving on, the thumb rest area of this mouse also feels quite comfortable. It is in just the perfect position and fortunately, the honeycomb pattern does not interfere with the comfort. To sum it up, the mouse feels right in the hand, even if it does feature that honeycomb pattern.
This is likely because the honeycomb pattern has a uniform feel to it. No area of this mouse creaks or has a rough feel to it. The DM6 Trio gets an A+ in terms of the finishing and materials.
Finally, this mouse features a matte texture, and we're aware that many people prefer that over a glossy finish. Of course, your preferences might be different. It is important to note that this surface does pick up fingerprints easily. Take good care of it though and it should not be an issue.
The Return of Huano Switches
Lightweight gaming mice have been around for quite a while now, and that trend is here to stay. After all, once you aim with a lightweight mouse, it is hard to go back. Still, we're entering that stage where the market is getting a bit stagnant again. Now, everyone is making lightweight gaming mice, and even wireless lightweight mice are common now.
At the time, the DM6 Holey S stood out to us thanks to its Huano buttons. After getting the DM6 Holey Trio in our hands, it was a treat to go back to this experience again. These crisp Huano switches set it apart from other lightweight wireless mice.
Most mice use Omron switches for the primary left and right buttons. These are the standard mechanical switches that you are likely familiar with. Huano switches are different since they feel sharper and crisper. They are utterly satisfying and still feature a lifetime of 20 million clicks.
Does It Make a Difference?
However, this is more than a gimmick, as these switches might give you an advantage. The left button requires more actuation force, making it great for FPS games. It feels tactile and the balance here is phenomenal. The switches feel comfortable but are more rigid than Omron switches. It's hard to say which is better since they are different switches entirely.
Some gamers might find that they enjoy Huano switches more than Omron. That's all the more reason to give this wireless gaming mouse a shot.
Another interesting aspect is the fact that the right button feels even sharper than the left. It requires a bit more actuation force too, which is fascinating. This means you won't accidentally open the scope or trigger other actions with the button.
To sum it up, these Huano switches feel great. They are tactile, sharp, and precise. If you want to improve your game in a competitive shooter and have not tried Huano switches yet, give this mouse a shot.
Mouse Feet, Scroll Wheel, and Cable
It is great to have a mouse with standout features such as Huano buttons, wireless connectivity, and a lightweight shape. However, if you don't nail the fundamentals, then there's no reason for buyers to get that mouse. Fortunately, Dream Machines is not one to forget about the basics. We've already talked about the buttons, so let's discuss the cable now.
In 2022, it is standard to use a lightweight paracord-style cable when you're crafting a gaming mouse. This also applies to wireless gaming mice, as this is the norm now. We're happy to report that the DM6 Holey Trio lives up to that standard. Dream Machines calls their cable a "shoelace cable", and it's very lightweight.
A good mouse cable is one that you barely notice. It should not get in your way when gaming, and that is exactly the case here. The cable drag is minimal and not noticeable at all with this mouse, and the lightweight design means it stays out of your way. Considering this is primarily a wireless mouse, it's great that they did not cheap out on the cable.
Some manufacturers tend to use lower-quality scroll wheels to cut corners, especially with cheaper mice. Thankfully, that is not the case here. The scroll wheel has well-defined steps, feels smooth, and works great for gaming and general use.
Finally, this mouse uses black PTFE feet instead of the smoother white feet we see on other mice. While the latter is usually better, it's not too much of an issue here. The mouse still glides quite well, and most people won't notice the difference. However, we still would have liked to see an upgrade in this department.
Wireless Connectivity and Battery Life
Both of these aspects are important when you're talking about a wireless gaming mouse. First, let's talk about wireless connectivity. Wireless mice have come a long way, and that's evident with the DM6 Holey Trio. You won't notice any latency issues or dips in performance while gaming with this mouse. Of course, that is if you are using the RF dongle.
The Bluetooth connection is decent, but we would not recommend that for gaming. While it worked well in our testing, Bluetooth is known to have a myriad of issues, especially with Windows 10. It's fine for everyday use, but for gaming, you should stick with the RF connection. Of course, you could always plug in the cable if you're worried too much about latency.
In terms of battery life, this mouse delivers in that department well enough. It's rated for around 72 hours of use, and our testing falls in line with that claim. That endurance is good enough for a wireless gaming mouse, and you may only find yourself charging it once a week.
Of course, this highly depends on how often you are gaming with the mouse. Still, most people should be fine with the battery life. Furthermore, you can plug the cable into the mouse and use it while it charges, so it's less of an issue.
Sensor & Gaming Performance
The DM6 Holey Trio uses the Pixart PMW 3370 sensor. You'll find this sensor in a lot of recent high-end gaming mice. Needless to say, the performance is excellent here. Keep in mind that the DM6 Holey Duo uses a different sensor, the PMW 3335. Both are excellent and that goes to show that the sensor itself isn't the most important part these days.
Don't get me wrong, a good sensor is more important, but you could make the argument that mouse shape and comfort are just as significant, if not more. After all, what's the point of a great sensor if the mouse feels uncomfortable?
Fortunately, most people will feel quite comfortable with the DM6 Holey Trio. If your previous mouse featured an ergonomic shape, you will be one happy customer. It glides well on the mousepad, the tracking is precise and accurate, and the Huano switches make it great for FPS games.
To sum it up, we have no complaints in terms of gaming performance here. The mouse performs as expected, and competitive players can rejoice as they have another great wireless option to pick from.
Software Features
When we originally reviewed the DM6 Holey S, Dream Machines had no working software. It turned out that it wasn't too much of an issue, since the mouse was designed in a way that it worked well without software.
You can change the DPI from the press of a button, change the polling rate from the buttons at the bottom of the mouse, and even turn off the LED lights. That was the case for the DM6 Holey S and remains true with the DM6 Trio.
However, now Dream Machines has released software for most of their mice, including the one we're reviewing today. While you can change the usual settings such as RGB lighting, DPI, and polling rate, there's a lot more to play around with here.
For example, you change the lift off distance, pointer speed, double click speed or the scrolling speed. Furthermore, you can set macros to different buttons, and customize shortcuts. The software is not the slickest looking application out there, but it stays out of your way when not in use.
It is simple, buggy, and works well enough. There's not much more to ask for in terms of software or features.
Final Thoughts
Overall, the DM6 Trio is an excellent wireless gaming mouse. We have no real qualms with the performance or other major aspects, so that's already a win in our books. The ergonomic shape means that most right-handed people will find this mouse to be quite comfortable. While ambidextrous fans might feel a bit left out, this mouse uses a safe shape and it's worth giving it a shot.
Of course, the standout features are the Huano switches, excellent cable, and 3-in-1 connectivity. There are a lot of wireless gaming mice out there, and it is high praise to say that this is one of the best. The only issue with this mouse is the fact that there are mice out there that are similarly priced to this. Natually, some people might gravitate towards those brands.
That comes down to personal preference at the end of the day. For the mouse itself, we can safely say that it nails the basics and exceeds in almost every area that makes a good wireless gaming mouse.
Dream Machines DM6 Holey Trio
The Best One Gone Wireless
Pros
Large ergonomic shape
Satisfying Huano switches
Great fit and finish
Competitive pricing
Great gaming performance
Cons
Mouse Feet could be better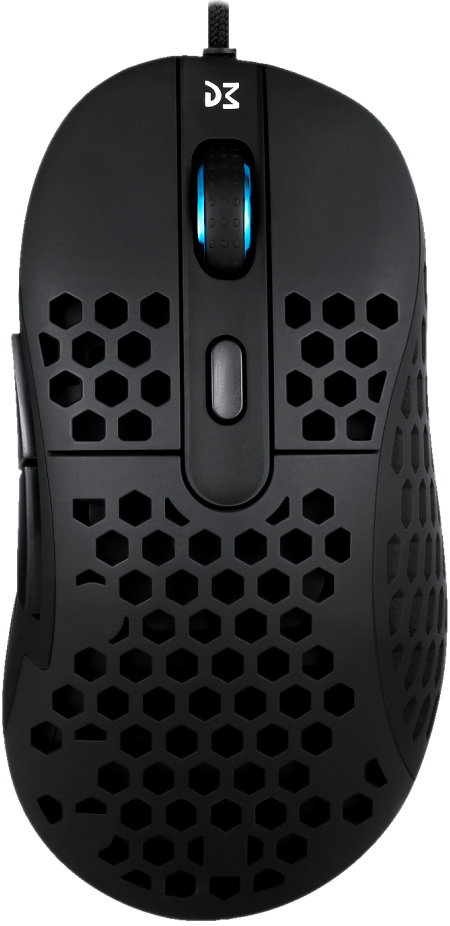 Sensor: Pixart 3370 | No. of Buttons: Six | Resolution: 400-19000 DPI | Connection: Wired/Wireless | Weight: 81g (without cable) | Dimensions: 129 x 66 x 40 mm

VERDICT:The original DM6 Holey S was a criminally underrated mouse. Now, the DM6 Holey Trio builds upon that excellent foundation and goes wireless at the same time. For people who are looking to buy lightweight wireless gaming mouse, this one is a worthy consideration.