Dream Machines DM7 Switch Duo and DreamPad Mousepad Review
Over the past couple of years, gaming mice have evolved quite a bit. Most of the gaming peripherals market is dominated by big-name brands such as Razer, Logitech, and Corsair, among others. Not too long ago, these companies had the most popular gaming mice. However, as the market grew a bit stagnant, new players started popping up with innovative ideas.
Glorious is a good example to further illustrate this point. Thanks to that whole revolution, gaming mice are lighter, include more features, and are starting to go wireless more than ever.
Dream Machines is another company among these new players. It's a Polish company that is ready to take on emerging markets including some parts of Europe and Asia. At Appuals, we feel it is important to get the word out about these underrated companies. Competition is always good for the consumer after all.
So, today we are doing a review of the Dream Machines DM7 Switch Duo. This is a wireless gaming mouse with a couple of tricks up its sleeve. The DM7 Switch Duo features a comfortable shape, simple and intuitive software, and excellent buttons.
You'll find out what else this mouse has to offer in this in-depth review.
DM7 Switch Duo – A Quick Overview
Before we get into the nitty-gritty of this review, you need to know what you are in for with this mouse. So, this mouse gives itself away with its naming convention, especially the "Switch Duo" part of the name.
The latter part, Duo, indicates that this is a wireless mouse that is functional in both wireless and wired modes. It comes with a high-quality USB-C cable in the box after all. As for the "Switch" part of the name, that is a different story.
This is a modular mouse, meaning it's easy to disassemble. You can take off the area around the main left and right buttons to reveal a modular mechanism underneath. If you haven't guessed already, this mouse has hot-swappable switches.
We'll go over later why that's important, and how the mechanism works. For now, just keep that information in mind while reading this review.
Packaging and Box Contents
There's a lot of ground to cover with this innovative mouse from Dream Machines. So, the unboxing is a good place to start. For the most part, the unboxing experience is quite simple. The box is a bit big, but it's certainly stylish thanks to the blue/purple theme it has going on.
On the front, you can see a picture of the DM7 Switch Duo itself, branding on the lower-right corner, and of course, the name at the top. The sides of the box feature some simple branding, and the back tells you about some of the standout features.
Inside the box, you'll be greeted by some paperwork that explains the hot-swappable mechanism. Apart from that, there's the mouse itself, a high-quality paracord-like cable, and some extra mouse skates. Dream Machines also included some extra mouse switches for us, but these are sold separately on the site.
DreamPad Rough Control Mousepad – Quick Review
Dream Machines also provided us with their DreamPad Rough Control mousepad. Instead of dedicating an in-depth review to it, we'll quickly go over the mousepad here. It's a medium-sized mousepad that is 17.7-inches wide and 15.7-inches tall. The thickness of this mousepad is 0.15-inches, so it ends up feeling quite comfortable.
It features flat stitching on the edges so that the mousepad does not dig into your palms. The bottom of the mouse has an elastic coating, so it grips the surface quite well. This mousepad will not move around at all. Finally, the main star of the show here is the rough surface.
If you haven't used a mousepad with a rough/grainy surface before, this will feel quite strange to you at first. However, once you get used to it you start to realize that this surface provides better control and precise movements. It is designed for speed and control, even if it does not look like it at first.
Overall, this is an excellent high-quality mousepad. It pairs well with the DM7 Switch Duo, and competitive players will appreciate it more than others.
DM7 Switch Duo – Design and Build Quality
The design and overall quality of construction with this mouse are top-notch. It's an ambidextrous mouse but only features buttons on the left side. We'll talk about ergonomics and comfort later on. For now, let's do a quick overview of the design.
In terms of aesthetics, there's not a whole lot going on here. Apart from the distinct shape and hot-swappable design, the DM7 Switch Duo keeps it simple. Unlike the DM6 Holey S that we previously reviewed, this one does not feature a honeycomb design.
At the bottom of the mouse, you'll find a DPI button in the middle so you can quickly change it on the fly. The mouse features six DPI stages, from 400 to 19000. Beneath the DPI switch you'll find the Pixart 3370 sensor, the on-off switch below that, and a neat compartment where the USB dongle tucks in.
In terms of build quality, the mouse feels solid. None of the buttons have that "squeak" to them that we see with cheaper mice. The mouse uses a matte black coating all-around, which feels smooth to the touch. Other than that, the mouse also features two side buttons on the left side.
At the top of the mouse, you'll find a holographic area from where the "DM" logo shines. There's another RGB zone near the bottom of this mouse. You can change the lighting by downloading the software from the official Dream Machines site.
To be perfectly honest, the RGB implementation is a weak point of this mouse. It does not come across well in pictures either. It looks better if you leave it with the color white in a static fashion or turn it off completely.
Fortunately, the clever hot-swappable mechanism sort of makes up for this shortcoming.
Hot-Swappable Switches
This is a feature that makes the DM7 Switch Duo stand out from other wireless mice in its price range. We've seen this functionality before with some ASUS ROG mice, but apart from that, you don't see this mechanism quite often. Here's how it works.
Below the scroll wheel, you'll notice a button with an interesting pattern on it. It looks like three buttons, but it's just one. Hold down this button, and gently pull at the left mouse button from the front of the mouse. Do the same for the right one. Dream Machines, fortunately, includes paperwork in the box that explains how to do this.
After you're done with that, you'll see the switches under these buttons. They have an interesting mechanism similar to a tab. Push in on both tabs with your fingernails, and that will loosen the switch. Pull upwards toward you to remove the switch from the housing.
To install a new switch, do all of these steps in reverse. Press down on the new switches, and they should click into the place. Grab the housing for the mouse buttons and slide them into place. Make sure to hold down the button near the scroll wheel when you're doing this.
So, the entire mechanism is quite complex. The first time you do it, it will make you quite anxious. That was certainly the case when we tried it. Thankfully, you won't be doing this all too often. They only created this mechanism just in case you encounter issues down the line.
Dream Machines is using Kailh GM 8.0 switches that are pre-installed. These are the ones you'll want to use since they have a lifespan of 80 million clicks. You can buy Huano Blue Shell and Omron switches from them as well.
Ergonomics and Comparison with DM6 Holey Series
The DM6 Holey S was the first mouse we reviewed from Dream Machines. That one features an ergonomic shape, and the comfort of that mouse is simply excellent. As for the DM7 Switch Duo, it features an ambidextrous shape but only features buttons on the right side.
That doesn't make it a true ambidextrous mouse, but it's similar somewhat in shape to the Razer Viper and the Zowie FK1. Let's take a look at how it compares to the DM6 Holey series.
First off, the DM6 series (DM6 Holey S and DM6 Duo) features a larger thumb rest area and a subtle curve near the right side. In comparison, the DM7 Duo feels noticeably "flat". While there is a natural area underneath the side buttons for you to rest your thumb, the area feels smaller. Considering the matte black coating on this device, it also feels a bit slippery.
However, the shape here is certainly quite safe. It works great with a claw grip, but even a palm grip would be perfectly fine with this mouse. Folks with medium to large hands will feel quite comfortable with this mouse. The overall finishing is quite good as well, even if the coating can feel a bit slippery at times.
The mouse feet are quite decent as well. They're not as high quality as the PTFE feet we see in other high-end mice but it's not much of an issue. This mouse glides well on most surfaces, and that's enough for the majority of people.
As for the weight, this mouse weighs about 65g, without the cable. Weight distribution is fine, and the chalky feel of the texture provides excellent precision and control. The surface does tend to pick up fingerprints but take decent care of it and that won't be too much of a problem.
Scroll Wheel, Buttons, and Cable
Hot-swappable switches and other fancy features are cool, but it does not matter if you don't get the basics right. Fortunately, Dream Machines have been at it for a while at this point, so they know what they're doing. Still, it's important to cover the basics. Let's go over the scroll wheel and cable first.
Some manufacturers tend to cheap out on the scroll wheel to cut costs. This doesn't matter much to gamers, but if you scroll a lot, it's annoying. Fortunately, the mouse wheel here is quite good. It feels buttery smooth yet has well-defined steps. It works great in games and browsing in general.
Another great aspect of this mouse is the cable. Paracord-like cables are the gold standard these days, even in entry-level mice. This is a great trend and once you know what a good mouse cable feels like, it is hard to go back. The DM7 Switch Duo uses the same "shoelace cable" as the DM6 Holey S. It's as light as a feather and you can barely tell it's there for the most part.
Of course, this is a wireless mouse, so we don't expect you to have the cable plugged in all the time. However, if you do want to use the cable, it's of great quality.
Last but not least, the switches for the main mouse buttons feel great. These are Kailh GM 8.0 switches, and the feedback here is quite satisfying. They're not too hard, but not as soft as Omron switches. Speaking of which, you can buy Omron switches from their site and swap them thanks to the modular design.
You can also get the Huano Blue Shell switches from them as well. These switches are sharper and feel crisp. They are stiff, but the feedback is very clicky. However, they have a lower lifetime of 20 million clicks. You can pick and choose between what you think would suit you the best.
To wrap this section up, the side buttons also feel great on the DM7 Switch Duo. We're unsure as to what switches they are using, but they feel like Omron switches.
Sensor and Gaming Performance
The DM7 Switch Duo uses a Pixart 3370 gaming sensor. This is the same sensor used in a lot of high-end gaming mice, and it is simply excellent. Previously, the DM6 Holey S used the Pixart 3389 sensor. In all honesty, it is quite hard to tell the difference, as both sensors are incredible in terms of performance.
Gaming performance is excellent with this mouse. Once you get used to the shape, it's smooth sailing from there. Tracking feels accurate, and your shots will land with precision. Of course, you can always adjust the DPI from the button that's at the bottom, or from the software.
We have no real complaints with performance here, and the DM7 Switch Duo holds up for competitive games. However, there is one important thing to note here. Out of the box, the mouse uses a 500Hz polling rate. You'll want to change this by going into the software and turning that up to 1000Hz. This will significantly decrease latency.
There's no real reason as to why the mouse is at 500Hz out of the box. The polling rate doesn't affect battery life much either. Either way, it's a quick fix.
Software, Battery Life, and Wireless Performance
Previously Dream Machines had no working software when we reviewed the DM6 Holey S. In all honesty, that was not too much of an issue. Dream Machines designs their mice in a way that there's no real need for software. You can change DPI from a button on the fly, and that's all you need.
However, some people want to play around with RGB effects and lighting. You'll also want to turn up the polling rate in the case of the DM7 Switch Duo. The software here is quite simple for the most part, and the menus are well-designed. It is intuitive and keeps things simple, which is what you want from peripheral software.
As for battery life, the mouse is rated for 72 hours of use. These claims fall in line with our testing, and 72 hours is good enough for a wireless gaming mouse. Realistically, you'll only be charging this mouse once a week. Of course, this depends on how many hours you sit at your desk per day.
Finally, wireless performance is surprisingly good too. Wireless gaming mice have come a long way, and we didn't feel any major dips in performance while gaming with the DM7 Switch Duo. Of course, there will always be some people who will prefer a wired mouse.
Fortunately, there's a wired only version of this mouse as well, called the DM7 Switch. If you don't need wireless connectivity, that mouse is essentially the same.
Conclusion
All things considered, the DM7 Switch Duo is a well-rounded gaming mouse. It's easy to recommend it if you're in the market for a wireless gaming mouse. The DM7 sticks to safe shape, one that will be comfortable to most people. However, it is a bit of a shame that it's not as comfortable to the DM6 Holey S. Still, people who prefer an ambidextrous shape won't complain too much here.
The only con with this mouse is that the RGB doesn't look good. You can likely tell from the pictures. However, that's not a major dealbreaker considering everything else is solid. This is sort of like an all-rounder wireless gaming mouse.
It's an excellent gaming mouse that is worth buying if you need something wireless. The modular hot-swappable design is just a bonus on top of that. However, it is a bit expensive, and might have trouble competing with bigger names in this price range.
Dream Machines DM7 Switch Duo
Pros
Great wireless performance
Modular hot-swappable switch design
Large ambidextrous shape
Buttons feel satisfying
Decent battery life
Cons
A bit expensive
RGB implementation is not great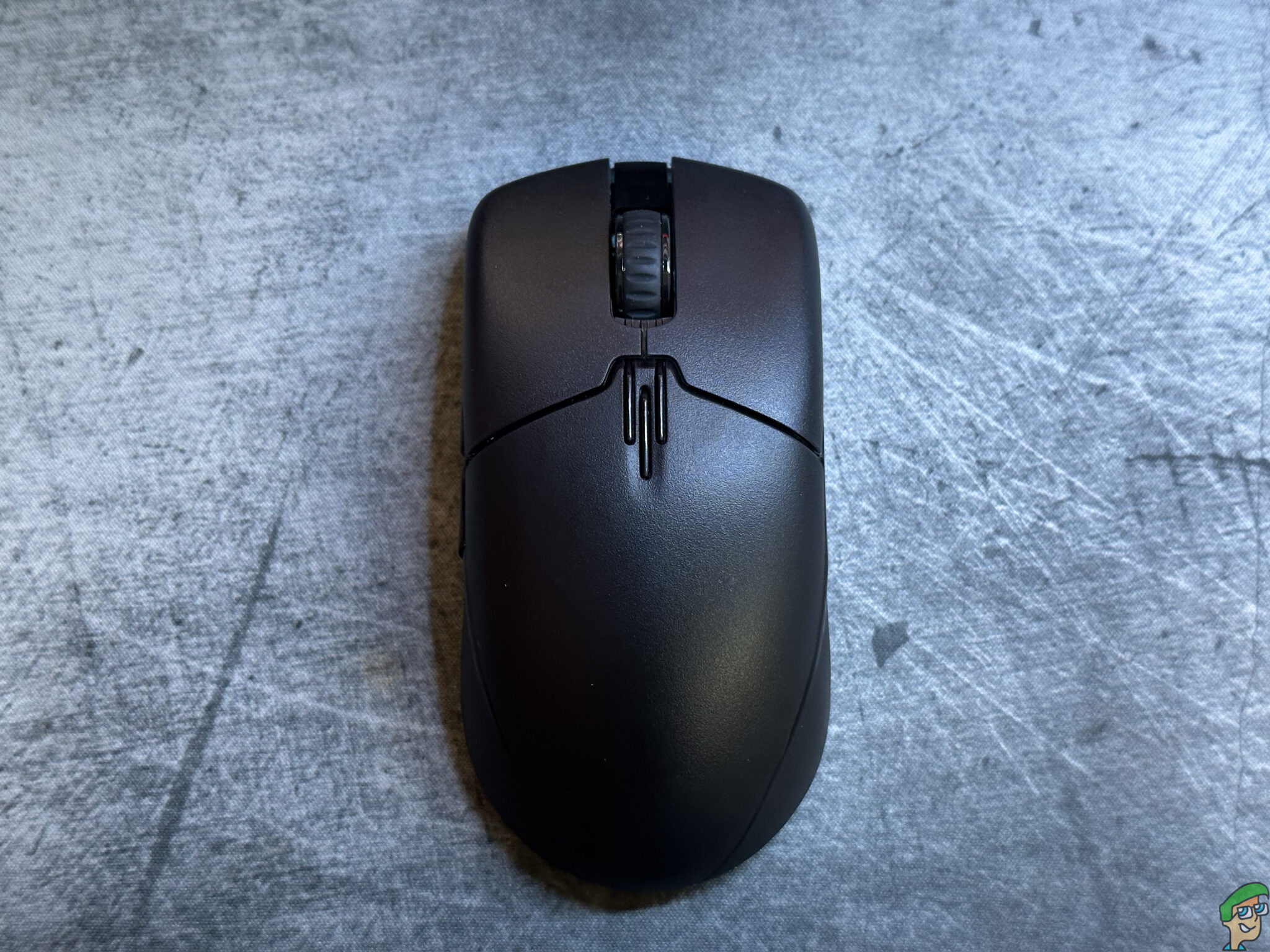 Sensor: Pixart 3370 | No. of Buttons: Six | Resolution: 400-19000 DPI | Connection: Wired/Wireless | Weight: 65g (without cable) | Dimensions:
121 x 63 x 39 mm

VERDICT:The Dream Machines DM7 Switch Duo is an excellent wireless gaming mouse. While it may struggle to compete with some bigger names, the hot swappable-design and excellent switches make this underrated mouse stand out.