ASUS ROG Strix Carry Wireless Gaming Mouse Review
Apparently, in 2019, wireless PC peripherals are the norm. If you're still gaming on a wired mouse thinking that wireless mice still are not on par with wired mice, you're wrong. With drastic technological advancements and innovations, wireless mice have become a lot better.
PRODUCT INFO
ASUS ROG Strix Carry
Manufacture
ASUS
Available at
View at Amazon

Logitech introduced their Lightspeed series mice and proved that in some cases wireless mice are even better than the wired ones.
Asus also produces a number of great wireless mice with great aesthetics and functionality but the one we have been sent by Asus for this review is a bit different and unique its own way.
Today we are taking an in-depth look on the Asus ROG Strix Carry wireless mouse. Like their Strix Fusion, It is targeted towards "gamers on the go" mainly because of its tiny size, but don't take the small size for granted. It packs a lot under its hood with an impressive optical gaming-grade (PMW 3330) sensor, SmartHop technology (helps in rectifying signal interference), replaceable Omron switches, magnetic top cover, and Bluetooth connectivity.
Initially, the Strix Carry looks like the perfect mouse in terms of mobility, but how good is the performance? Let's dive in.
Unboxing
The box of the Strix carry is flashy and pleasing to the eye because of the ROG themed background and bold text. The front side of the box depicts an image of the mouse itself along with a logo 2.4ghz and Bluetooth connectivity.
The rear side of the box talks about the highlighting features of the mouse along with a brief list of specifications.
Inside the box, the mouse sits firmly inside its carrying pouch in another boxed casing. Below is the list of items you'll receive in the box of the Strix Carry.
Strix Carry Mouse
Carrying Pouch
Asus ROG Logo
Pair of extra Omron switches along with a switch removing tweezer
2x AA batteries
Design and Closer Look
The design of the Strix Carry is stealthy and compact. The mouse resembles a lot with its bigger brothers, the Gladius series but except the design, everything else is implemented with a unique and different approach. For instance, Asus ditched the RGB lighting effects because of two obvious reasons; battery Life and simplicity.
I love the fact that the company has focused on this category of this mouse and didn't forcefully throw all of the regular features gaming mice have these days. Keeping a product adhered to what it is supposed to address is an admirable practice.
At first glance, the Strix Carry feels tiny in your hands, if you've been using an average-sized mouse. I can't complain much about the size of this mouse because it is targeted towards gaming on the go. But upon grabbing it for the first time, I couldn't understand the shape of this mouse because my hands are large, and my pinky finger couldn't get any place on the grips of the mouse which ultimately left my pinky finger in the air which was odd but still, I don't see my self hating this mouse as I've been using it for quite some time and I am already getting used to the tiny, but robust design of this mouse.
Starting off with the magnetic top cover, it seems pretty durable and has a nice matte-metallic touch to it. But, the magnetic mechanism could be better as I had trouble putting it back to its place after installing the batteries. The tiny dongle lies under the top cover as well.
The scroll wheel is incorporated with rubber grips and you can feel the travel-steps as you scroll through. In a nutshell, the scroll wheel is impressive. It is nothing as crazy as an infinite scroll wheel but adequate enough to compete with other gaming mice. There's also a DPI switch below the scroll wheel that is integrated with a LED light as well. This LED light gives indications about remaining battery (Flashes when the battery levels are below 20%).
Coming to the left and right side of the mouse, you get to see the rubberized grips which are the grandest factor of this mouse. Solid rubber grips are hard to find in most mainstream mice these days, as a lot of brands are opting for plastic side grips. This is definitely unique and handy as well. We have two extra buttons on the left side of the mouse as well, that are clicky and tactile but tiny to an extent where I don't see my self using them at all.
The mouse switches (Clicks) are nothing special. The second pair of extra switches provided in the box is a bit different from the stock switches, they are less tactile but you won't notice immediately. Also, replacing the switches on the built-in switch-socket system from Asus a blissful experience.
You won't see this type of implementation in a lot of mice these days. Arguably this is the most underrated feature in gaming mice. During gaming, there are times of glory and there are times of rage, in the heated moments gamers tend to punish their peripherals as a gesture of grieve. Well, Asus just solved the never-ending problem of many gamers. With the Strix Carry, you can rage with confidence as the switches can be hot-swapped with any compatible switch, there's a chance you might be able to find aftermarket switches for the Strix Carry as well.
The pre-installed switches are Chinese Omron D2FC-F-K and they are rated for an endurance of 50 million clicks, and the extra pair is Japanese Omron D2F-01F switches, these have an electrical life of 100,000 cycles, and mechanical life of 1,000,000 cycles.
On the bottom, you will see the optical sensor inside a triangle and a toggle button which can switch the wireless connection to either Bluetooth or 2.4Ghz mode. The Bluetooth mode acts as a power-saving mode while the 2.4Ghz dongle function acts as the less battery efficient but high-performing mode. Also, the Armoury II software features only work in 2.4ghz mode. The mouse glides perfectly well with the pre-installed mouse feet and I didn't have any problem using it on any sort of surface. Talking about the usage, let's jump into the performance section and see if the Strix Carry lives up to its hype or not.
Weight and Handling
This is the most disappointing factor of the Strix Carry. First of all, I don't understand why does the mouse require 2x AA cell in order to operate. As I've used the Logitech G603 in the past, I was of the impression that all wireless mice that have replaceable batteries can work with a single cell as well. Due to the 2x cells, the weight of the mouse becomes uneasy to handle, and this is where the main idea of this being "portable" mouse goes down the hill, Asus could've implemented a way to power up the mouse with one cell.
With the weight being heavy, the handling becomes crucial as well. I found myself having issues while performing 180 degrees turns in CSGO and other FPS games.
The mouse weighs 72.9 grams without batteries, and with batteries, the weight increases to 118 grams. For the sake of comparison, the Corsair Glaive; a full-sized mouse weighs 122 grams.
Performance – Gaming, Productivity, and Battery life
The Asus ROG Strix Carry is a great performer, but there are some questionable things going on which I'll be discussing in-depth below.
First of all, I don't understand why Asus went with an optical sensor, going with a laser sensor in a wireless mouse sounds like a no-brainer since a lot of laser sensors are very power efficient, the Logitech's Hero sensor is a great example of that.
Yes, the tracking quality of an optical sensor is great but you might not even notice the difference in real-life situations.
Gaming
Testing the Strix Carry in CS: GO, Metro Exodus, Battlefield V, Dota 2 and LoL is a satisfying experience overall. But if we get to the nitty-gritty details, the Strix Carry failed to implement 180 and 360 degrees turns in CS: GO, not because of the sensor but because of its size and handing the mouse slipped every time I tried doing so.
Also, after an hour or so I started feeling a little bit of discomfort because the small shape of the mouse is new to me and my muscles couldn't get used to the size quickly. This pushed me to switch back to my daily driver, the G603 from Logitech.
Other than these issues, the performance of the mouse can't be categorized as bad but rather mediocre. On paper, you have a mouse that is perfect, however, usability depends largely on just how large or small your hands are.
Productivity
In terms of productivity, the mouse is amazing. All thanks to the precise optical sensor (PMW 3330). Ramping up the DPI to work with certain content creation software like Adobe suite and Sony Vegas Pro, I got great results on a 4K display. The Strix Carry goes as high as 7,200 DPI, which is an impressive feat for such a small mouse.
Also, the angle snapping along with acceleration and deceleration software features can certainly help a lot too. To conclude, the Strix Carry shined through our productivity tests like a champ.
The lift-off distance is perfect right off the box but you can change it within the software as well. I didn't face any issues using it on almost any sort of surface. The sensor stays strong in quick snapping as well.
Battery life
Asus advertises 300+ hours on 2.4ghz (500Hz) polling rate and 400+ hours on Bluetooth (125hz theoretically). I haven't used the mouse long enough that can yield real-time battery stats. If we assume looking at the advertised endurance, the battery life can be very impressive.
Even better on the 2.4ghz mode if you set the polling rate to 125Hz in the Armoury II software. We are looking at an assumed battery life of 600+ hours since Asus advertised 300+ hours for the default settings and the Strix Carry runs on a polling rate of 500Hz right off the box.
Software
The Asus Armoury II software is pretty straightforward. You can set up to 3 profiles, Customize buttons to execute different functions and macros in the button section.
In the performance section, DPI, angle snapping, acceleration/deceleration, polling rate, and button response. surface preset/manual calibration is also available within the software as well.
Lastly, you can edit the power features such as the idle time for sleep mode.
Conclusion
To conclude, the Strix Carry is a great travel mouse because of its robust build quality, stealthy design, and tiny size. The basic performance of the mouse is on par with many of its competitors. However, the Strix Carry isn't made for intense FPS gaming. Due to its tiny size, you might have issues gripping it during 180-360 degrees turns.
For normal daily usage, this won't disappoint you in any way. If you're a gamer who travels a lot and just want something portable, reliable and you are fond of the Asus' Ecosystem, this mouse can be a safe purchase for you. However, do not expect ground-breaking gaming performance. Lastly, the price tag is a tad bit expensive as well and can be a deal-breaker for some people as well.
Asus ROG Strix Carry Wireless Mouse
Pros
Solid Build Quality
Portable
Comes with spare switches
Cons
Tiny size causes gripping issues
Expensive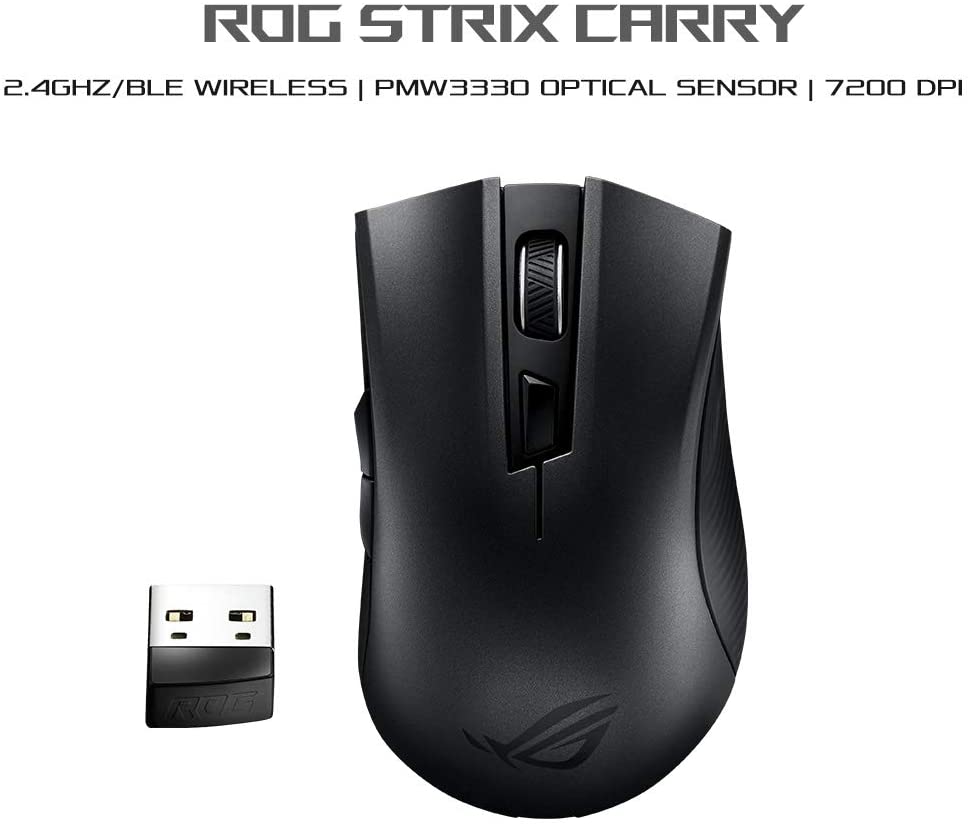 Weight: 72.9 g / 0.20 lbs (Excluding batteries) | RGB: No | Polling Rate:125-1000Hz | Sensor: (PMW 33310)

VERDICT:The Strix Carry from Asus is a great contender in the realm of many small-sized travel wireless mice. Surely the extremely tiny size can be a problem for some people but the great battery life makes up for it. If only this was priced under fifty bucks, I'd recommend it over any small-sized mouse any day.