Dream Machines DM6 Holey S Gaming Mouse Review
In 2020, we can say with confidence that gaming mice have come a long way. Not too long ago, the only differences between mice were the shape and sensor. Hence, there are a select few major players in the game, and it's difficult to pick between them. Fortunately, that's just not the case anymore. The gaming mouse industry is growing quickly.
PRODUCT INFO
DM6 Holey S Gaming Mouse
Manufacture
Dream Machines
Available at
View at Amazon
Because of that, we are seeing new companies pop-up all the time. Glorious, G.Wolves, and EndGame Gear are a few examples. Another one happens to be Dream Machines. Dream Machines is heavily underrated, as they make great gaming peripherals and laptops. We feel it's important to get the word out, as it is always great to have options for the consumer.
With all of that said, we are confident that the Dream Machines DM6 Holey S is a gaming mouse that is worth your attention. It has a lightweight design, great comfort, and a few tricks up its sleeve. In this in-depth review, you'll understand why we are impressed with this mouse so much.
Packaging and Box Contents
We have a lot to talk about when it comes to the Dream Machines DM6 Holey S. However, we need to get the unboxing out of the way first. Coming from a small company in Poland, we were quite frankly impressed with the decent unboxing experience here. The box is small, compact, and stylish. We can easily see this placed proudly on a shelf.
On the front, a picture of the DM6 Holey S is clearly visible. A hexagon or honeycomb-style background accents the picture. This pattern is similar to what you'll find on the chassis of the mouse. Unboxing is easy and frustration-free. The top portion of the box pulls out to reveal the mouse inside, which is tucked away in soft packaging.
Finally, we are greeted by some paperwork, the cable, and the mouse itself. There aren't any extra accessories in the box, but we're not disappointed with that for the price point.
Design And Build Quality
One of the more unique aspects of this mouse is the shape, and we'll talk about that along with the comfort and grip style later on. For now, we are taking a quick look at the design language and overall build quality. Aesthetically speaking, Dream Machines utilizes a modern design here. Visually, it is quite similar to other mice that have a honeycomb design.
This isn't a bad thing at all, especially if you like this type of design. All of that is a personal preference, of course. Personally, I think the stealthy black look with a very minimal logo at the top gives this mouse a sleek look. The honeycomb pattern is iconic and easily recognizable. In some places, the hexagon shape is cut in half due to size restrictions, but it still manages to look uniform.
The minimal logo we mentioned before simply says "DM" and stands out just a bit because of the white font. Again, we are fans of this style. As for the shape, the left button or the left area is ever so slightly raised compared to the right. This is what gives the mouse its ergonomic shape and makes it tailored for right-handed users. We'll take more about this in the next section.
Like other lightweight ergonomic mice, this one has a small hump in the center rather than in the rear. This gradual slope indicates that this is suited for fans of the ergo shape. Other than that, we have side buttons only on the left side, and a DPI button below the scroll wheel. Before we move on, it's important to mention that this mouse is built like a tank. It doesn't have any weak points and feels well built all around.
Comfort And Grip
Before I start praising this mouse for comfort and grip, it is important to give a bit of background here. Previously, my favorite shape was the Logitech G703 and subsequently the G603 and G403 as well. This is all subjective, but that's the shape that works best for me. That is until I got my hands on the DM6 Holey S. I find that I can aim significantly better with this mouse, here's why:
Compared to the Logitech mice I was using previously, the DM6 Holey S is a smaller mouse. While the G703 might be unwieldy for someone with smaller hands, it is possible with the DM6. Medium-large hands will feel right at home here as well. However, the ergonomics feel noticeably better here.
I use a claw grip for gaming most of the time, and this mouse is perfect for that. It's not like other grips will feel strange either, as the shape is quite safe. The slight curves are excellent for gripping the mouse. Due to the shape and size, it can work for fingertip grip and might be even better for palm grip. It is also quite lightweight and comes in at 69g.
Furthermore, the thumb rest also feels comfortable, and it is in a perfect position. The honeycomb pattern doesn't interfere with the button area, so it feels appropriate in the hand. However, the left and the right side does have a honeycomb pattern. Surprisingly, this doesn't interfere with comfort at all.
This is largely due to the uniform feel all around, and the excellent finishing and materials present here. Personally, I prefer the matte texture this mouse has over a glossy finish, although your mileage may vary. A very minor thing to note is that this surface does pick up fingerprints. However, if you take decent care of it, it shouldn't be a problem.
The matte texture has a chalky feel to it, which helps even more in gripping the mouse properly. I never felt like I lost control of this mouse while playing. Overall, it gets an A+ in terms of comfort.
Mouse Feet, Scroll Wheel, And Cable
Normally, we like to mention the mouse buttons in this section as well. However, seeing as the buttons are the standout feature for this mouse, we'll cover that in-depth in the next section. For now, let's quickly go over the scroll wheel and cable.
Dream Machines state that this mouse is lighter, faster, and better compared to their previous entries. They say all of that boldly on their website. Well, you can't have a mouse-like that and have a cheap cable. We're glad that the paracord-like cables are now the gold standard, even in cheaper mice.
They call this one a "shoelace cable", and it's as light as a feather. Most of the time, I can barely tell that it is even there. There's little to no cable drag, and the weight doesn't get in the way. You can't ask for more from a mouse like this.
A lot of the time, manufacturers cheap out on the scroll wheel to cut corners. Fortunately, the scroll wheel for this mouse is perfectly adequate. It feels smooth and works great in both gaming and browsing.
Finally, the mouse feet are Teflon instead of the new PTFE material we see in high-end lightweight mice. With that said, we don't feel like this is an issue. The mouse glides like butter on the mousepad, and that's all that matters at the end of the day.
Huano Buttons
2020 looks like it is the year of lightweight gaming mice. For the foreseeable future, that's not going to change quickly either. However, it's tough to stand out when companies are competing for the title of the lightest gaming mouse. The DM6 Holey S has a standout feature that sets it apart: the extra crisp Huano buttons.
So what does that mean for the player? Well, most gaming mice use Omron switches for the primary buttons. These are the standard mechanical clicky switches we've seen time and time again. However, these Huano buttons are sharper, crispier, and help for FPS games. They are extremely satisfying and have a lifetime of 20 million clicks.
The left mouse button requires more actuation force than your average gaming mouse. This is incredible for FPS games. Long story short, the balance is phenomenal and feels perfect. It's light enough that it does not feel uncomfortable, but hard enough to ensure that you don't accidentally shoot.
Furthermore, the right mouse button feels even sharper to us. This was surprising, and even more so when it proves its worth. You won't open the scope or accidentally remove the silencer with this button, that's for sure.
So, to put it briefly, the Huano buttons feel crisp and precise. The main focus is that all of your shots can land on the opponent, and the Huano buttons help with that. We find that this mouse improved our game especially well. We'll talk about that more in the performance section.
Sensor and Gaming Performance
The DM6 from Dream Machines comes in two versions. Our version is the DM6 Holey S, which uses the newer Pixart PMW 3389 sensor. The other version is simply called the DM6 Holey, and it uses the tried and true Pixart PMW 3360 sensors. Both of these are top of the line and feel excellent.
The Pixart 3389 feels natural, and that's what matters when you're in the heat of the moment. Tracking feels precise, and it feels flawless. You can adjust the DPI with a button right beneath the scroll wheel. Speaking of which, the sensor feels excellent in both high and low DPI. Even the liftoff distance is superb. We don't have any complaints about performance, and it easily gets a 10/10 from us in this department.
Again, the lightweight body, the smooth texture, and the Huano buttons come into play here. This weight helps in maneuvering this mouse quickly, the shape provides a solid grip, and the Huano buttons punch above their weight. It's surprising to say that this mouse can go head to head with those that cost twice as much, but it truly accomplishes that.
Software/Feature
It's important to note that for some reason, you can't currently download the Software for the DM6 Holey S. If you go to the product page or the website, it says "soon" in the download section. We can only presume that software support will be available in the future.
However, you can change the Polling Rate of the mouse with its hardware buttons present below the mouse. You can also turn on/off the LED light that indicates the DPI levels. So, ultimately you don't even need any type of software to modify these basic things.
Conclusion
All in all, this is a solid gaming mouse, and easily our recommendation to everyone. The shape is excellent for people who are fans of ergonomic gaming mice. Ambidextrous lovers might feel left out here, but the shape is easy to get used to and we think it's worth giving a shot. The Huano buttons are a standout feature here, and it's surprising how useful they are.
There are few instances where gaming mice can improve your aim, this might be one of those instances. Of course, things like comfort and shape preference will vary from person to person. However, considering the competitive price, we think the DM6 Holey S is an excellent gaming mouse to buy in 2020.
Dream Machines DM6 Holey S
A Dream Come True For FPS Gamers
Pros
Extremely satisfying clicks
Huano buttons are perfect for FPS
Superb ergonomic shape
Punches above weight in performance
Quite the competitive pricing
Cons
The matte texture can wear off after some time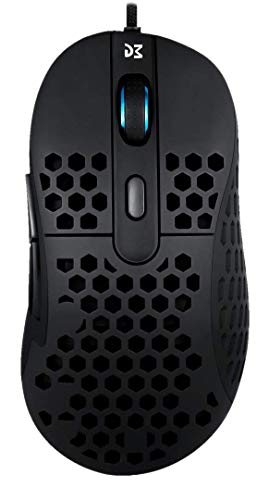 Sensor: Pixart PMW 3389 | No. of Buttons: Six | Resolution: 100 - 16000 DPI | Connection: Wired | Weight: 69g | Dimensions: 129 x 66 x 40 mm

VERDICT:The Dream Machines DM6 Holey S is criminally underrated. For the price it comes in at, it hits everything right on the nose. After using the Huano buttons for FPS games, it's hard to go back. It's a near-perfect ergonomic gaming mouse