HyperX Pulsefire Haste Lightweight Gaming Mouse Review
Every so often, we see a certain trend come and go when it comes to gaming mice. A couple of years ago, every manufacturer was focusing on the sensor, then it was all about customizable weights, and so on. Right now in 2020, the new buzzword is "lightweight", and it's not going anywhere any time soon. With all of that said, this trend has given us some very solid and unique gaming mice.
PRODUCT INFO
Pulsefire Haste Gaming Mouse
Manufacture
HyperX
Available at
View at HyperX

The HyperX PulseFire Haste is one of these excellent lightweight gaming mice. However, considering the competitive price, it just might be the mouse to beat. HyperX's success mostly comes from its excellent gaming headsets. The HyperX Cloud II, Cloud Alpha, and Cloud Revolver are a few great examples.
Their Pulsefire lineup has been around for a long time as well. With the release of the Pulsefire Haste, HyperX wants to tap into the demand for lightweight gaming mice. Fortunately, they have got the fundamentals just right. You'll find out if this mouse is worth it in this in-depth review.
Unboxing Experience
HyperX usually has a simple and frustration-free unboxing experience. Hence, the Pulsefire Haste is no exception to this as unboxing it is quite a simple affair. The front of the box has pictures of the mouse itself, and a few standout features printed towards the left side of that picture.
On the bottom right, the box shows that it is compatible with PC, PS4, and Xbox One. This is interesting, as both consoles have added mouse support now and the Haste should work with those. We primarily did our testing on PC, of course. The backside of the box lists all of the specifications in several different languages.
After opening the box, you'll be greeted by black cardboard sleeves. The mouse sits on top of this, surrounded by a plastic shell. Inside the box, we have some paperwork and a user manual. HyperX includes extra PTFE feet as well. They also added grip tape that you can stick to the sides and the primary buttons of the mouse.
Considering the price, this is a welcome addition. Many mice don't come with any of this stuff, so it feels great that HyperX thought of this. Finally, we're greeted by the mouse itself. It makes quite the first impression with its incredibly lightweight body. Even the entire box with the mouse itself feels lightweight.
Design and Build Quality
Most of the time, when a company goes for the honeycomb design, it's either about aesthetics or about shedding some weight. It looks like both of these things apply here for the HyperX Pulsefire Haste. This mouse doesn't stand out too much from the crowd, which isn't necessarily a bad thing.
The honeycomb pattern is mostly on the main body of the mouse, right below the primary mouse buttons. A small area of the left and right buttons has this pattern as well, but it doesn't creep up to the area where your fingers would normally sit. We're glad that the pattern doesn't exist on the side grips.
Usually, companies go all out with the honeycomb design, and while it makes the mouse lighter, it doesn't feel all that comfortable. Thankfully, that's not the case with the HyperX Pulsefire Haste. As for RGB, the only illuminated zone is near the scroll wheel. This can be controlled with software, and the RGB changes when you switch the DPI.
When manufacturers go for the lightweight design, corners are cut in the build quality at times. This Pulsefire Haste doesn't have any of those issues. We tested the mouse by squeezing it from both sides, it has no creaks to speak off. This is great to see in a lightweight gaming mouse. Despite weighing in at 59g, this thing is built quite well.
Comfort and Grip
In terms of comfort and grip, it's a bit similar to the Razer Viper Ultimate. Like that mouse, this is also what you might call a "false ambidextrous" shape. So what does that mean? Well, it means that while this is an ambidextrous shape, it doesn't have any side buttons on the right side of the mouse.
As mentioned before, this mouse weighs 59g give or take with the cable. The length is 124.2mm, the width is 66.8mm, and the height is 38.2mm. There is a hump or curve right in the middle of the mouse, similar to a Logitech G Pro. However, the arch isn't as aggressive as other mice. It slopes off very gradually.
As you can probably guess, it's quite a safe shape and easy to get used to. It doesn't lock you into an aggressive shape like an ergonomic mouse would, and feels easy to pick up and play with. Of course, different people prefer different shapes. However, we feel 90% of users won't have any complaints here.
There are grooves on the mouse buttons so that your fingers can sit comfortably on there. As for size, well it feels a bit similar in size to the Viper Ultimate. People with small to medium hands will feel right at home here, with any grip. Palm grip with larger hands might be a bit difficult, but fingertip and claw grips feel excellent.
The texture of the mouse feels a bit slippery during the first impression. However, that falls in line with the slick and fast theme of the mouse they were trying to go for. If you feel like you need a bit more grip, the included side grips are excellent.
These grips feel soft and smooth, and they look great on the mouse as well. They feel cozy and aren't hard or rough as we've seen with other mice. Most people don't use grips on the mouse buttons, but if you want to, HyperX gives you the option to do so.
Buttons, Scroll Wheel, and Cable
You can have the lightest mouse in the world, but if the buttons, scroll wheel, and cable don't feel good, then it's all for nothing. Fortunately, the Pulsefire Haste doesn't fall victim to this. It's a solid mouse in all of these departments through and through.
First off, we are immediately impressed with the cable. HyperX is calling it a HyperFlex cable, and it feels similar to what a custom paracord would feel like. This cable is flexible, soft, and easy to maneuver. The way that cable feels while moving around is better than what we've seen in most gaming mice out there.
The primary buttons here are not Omron. Instead, HyperX is using TTC Golden micro-switches for the buttons. They feel crispy and sharp, and a bit louder than your average Omron switch. Overall, the main buttons are satisfying, responsive, and a joy to use.
As for the side buttons, they are located in the perfect position as well. They have a little bit of a gap between them, so they feel distinctive from each other. They are nice and crispy and don't have many posts or pre-travel. However, they feel a bit sharp and require a bit of a harder press than what you might be used to. This isn't necessarily a bad thing, as it prevents accidental clicks, but takes some time to figure out.
The scroll wheel is the only area of the mouse that features any sort of RGB. It has that usual texture design, and the steps are well defined as well. Overall, the scroll wheel isn't anything out of the ordinary, but it gets the job done.
Sensor and Gaming Performance
The Pulsefire Haste uses a Pixart PMW 3335 sensor. It is located right in the center, so it is balanced perfectly. Think of the 3335 as a low powered alternative to the 3360 sensors. In layman's terms, there's little to no noticeable difference between the two. This mouse has 16 thousand DPI and holds its accuracy quite well in those higher settings.
Now, mind you, we doubt anyone is using a mouse at a DPI level over four thousand for the average use case. If you are someone who uses 800-1200 DPI in most games, this mouse will feel right at home. Even at a higher sensitivity, it manages to retain its accuracy but you will notice a difference. However, that's true for nearly any gaming mouse out there.
Overall, tracking and precision with this mouse are excellent. The main buttons are responsive and actuate perfectly. The PTFE feet at the bottom are also smooth as butter and glide easily on the mousepad. This mouse flexes its muscles when you have to hold your shots perfectly.
That becomes quickly apparent in a game like Call Of Duty: Modern Warfare and even in Apex Legends. You have to hold your shots right on the opponent, and one-shotting isn't common in either of those games. Holding shots is great with this mouse.
If you're the type who plays faster-paced games, flicks and one-taps also feel right on point. You can flick and fire fast shots easily with this mouse. It's a great performer in most FPS games. No matter what game you throw at it, this thing is going to keep up tremendously well.
Software
We're not fans of installing several different apps for different peripherals. Especially if the software feels like a buggy mess. With that said, HyperX's Ngenuity software is easy to use and hasn't crashed on us once. Note that you have to download it from the Windows Store, but apart from that, it's quite conventional.
You can, of course, adjust your DPI and the opacity and color of the RGB zone on the scroll wheel. Other than that you can reassign buttons, change the polling rate, and save custom presets inside the software. The UI is minimal, sleek, and doesn't get in your way. We can't really ask for more.
Final Thoughts
The Pulsefire Haste can compete with most gaming mice out there. Especially if we consider the price. It does everything you want it to. The buttons feel great, the feet are smooth, and the cable is one of the better ones we've seen in a while.
It also holds up in performance, which is all that matters at the end of the day. A minor complaint is that the side buttons take some getting used to, but that's not a major dealbreaker.
Overall the Pulsefire Haste is an impressive gaming mouse for the price it comes in at. It may be light on features, but it makes up for that by focusing on pure performance instead. This is a no-frills gaming mouse, and we can respect that wholeheartedly. In late 2020, it faces a lot of competition, but we think it holds its own. If you're looking for a lightweight gaming mouse at a decent price, the Pulsefire Haste is worth taking a look at.
HyperX Pulsefire Haste Lightweight Gaming Mouse
Ultra-light Performance With Great Value
Pros
Impressive 59g weight
The cable is one of the best out there
Satisfying TTC switches
Included side grips are a nice bonus
Extremely competitive price
Cons
Side buttons could be better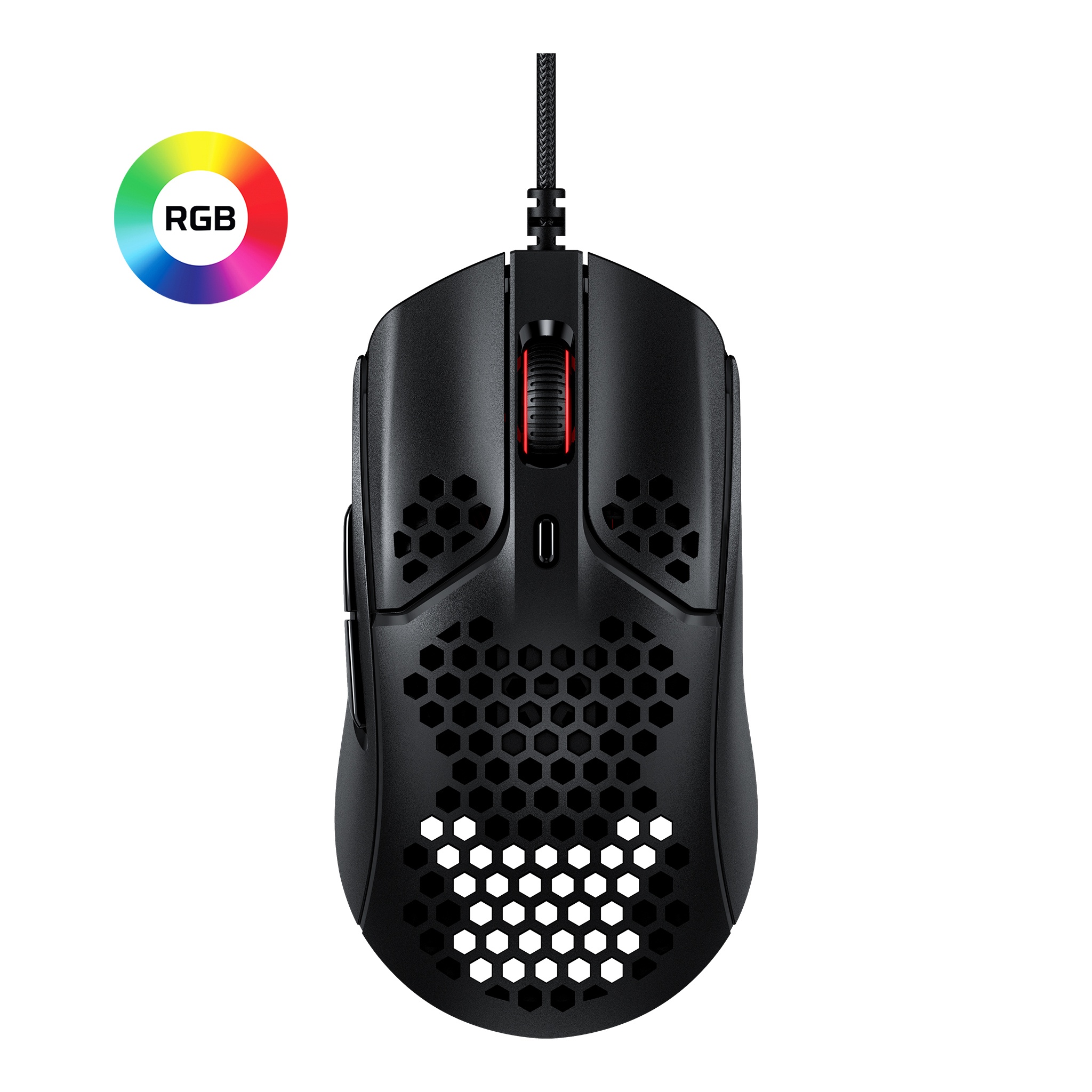 Sensor: Pixart PMW 3335 | No. of Buttons: Six | Resolution: 100 - 16000 DPI | Connection: Wired | Weight: 59g | Dimensions: 124.2 x 66.8 x 38.2 mm

VERDICT:In a world where all lightweight gaming mice end up feeling the same, the Pulsefire Haste delivers an incredible value. Pair that with a 59g weight, accurate tracking, and a great cable, and we have ourselves a winner. We highly recommend this mouse.