Cryorig R5 CPU Cooler Review: Good Enough?
We all know that properly cooling a PC is incredibly important. Recently, people are shifting towards all-in-one liquid coolers. With that said, there are a lot of enthusiasts who swear by high-performance and passive air coolers, and that sector still has some tough competition. Companies are always competing to offer the best of the best. Cryorig is one of these companies.
PRODUCT INFO
Cryorig R5 Ultimate CPU Cooler
Manufacture
Cryorig
Available at
View at Cryorig

While they are relatively new to the game (they were founded in 2013), they've garnered quite a lot of attention. Other companies have been around for a lot longer. Despite that, Cryorig manages to find success, and its excellent Cryorig R1 ultimate cooler is a good example of this. We have already taken a look at that cooler in our detailed Cryorig R1 Ultimate Cooler review. An update to the R5 cooler was a long time coming.
The new flagship Cryorig R5 cooler was revealed quite a while ago. Finally, it looks like it is going to hit the shelves soon. It is the second cooler in their R series of flagship coolers. This high-end dual-fan single tower cooler is quite impressive. Furthermore, it even has a new refined appearance.
That's all talk, but how well does the Cryorig R5 stack up next to the competition? Well, we will be tackling that question and more in this in-depth Cryorig R5 CPU Cooler review, we will discuss Overclocking, Installation Process, Instructions, Clearence, Dimensions, Unboxing, and most importantly its gaming impact. We will also consider the facts If Cryorig R5 is good enough in 2021.
Unboxing Experience
Cryorig cooler always provides an exceptional unboxing experience. Most people don't expect this from air coolers, but Cryorig manages to surprise us here. The first takeaway is that this is a hassle-free and well-organized experience.
First off, the black cardboard box feels very premium. As usual, we have a profile shot of the cooler front, along with heatsinks and fan specifications at the back. On one side, we have the R5 branding in a black font, surrounded by a white background. Another side of the box tells us about the other standout features like the intuitive new mounting system, dual-fan design, and RAM compatibility.
You can crack open the box from the top. The first thing out of the box is the packaging for the accessories in a soft material. This includes a QR code for the installation guide. As usual, you can register this cooler on Cryorig's site to get additional 3 years of warranty.
Everything inside the accessories box is neatly organized, and Cryorig pays a lot of attention to detail here. The box also includes a lot of accessories, which we'll go over quickly. This ranges from a CP-7 thermal paste to a screwdriver. Cryorig makes sure that you have everything you need for an easy installation process.
Finally, we have the spectacular R5 cooler inside a soft cardboard-like enclosure. You can just pull the cooler out and remove the plastic packaging. With the unboxing through, let's have a look at the new refined design.
Box Contents
Here is everything included in the box of the Cryorig R5:
R5 Cooler
Intel LGA 115x bracket
Qlick-Mount bracket
AM4 screw pillars
Thumbscrew caps
Intel screw pillars
Acoustic vibration pads
CP-7 thermal paste
Alcohol Pad
Hex Wrench
PWM Y-Cable
Dimensions And Clearence
Before we kick things off with the performance testing, let's have a look at the cooler itself. We need to get the numbers out of the way first. The dimensions are 97.8 x 140 x 162.8mm (L x W x H). It weighs about 892g with the fans attached. It's a bit smaller in size compared to the R1 Ultimate we took a look at earlier.
The fans come preattached straight out of the box. This is great as it saves us a bit of time, and saving time is where this cooler succeeds, thanks to the new mounting system. Before we talk about that, we would be doing Cryorig a disservice if we don't talk about the design. We really have to appreciate the visually pleasing design here.
The R5 features a design that is similar in essence to other large tower coolers that we have taken a look at. You might want to check out our detailed be Quiet! Dark Rock Pro 4 CPU Cooler Review to get an idea about that alternative as well.
It's quite the looker with its grey and white/black accents. The grey frame of both of these fans perfectly accents the black color of the heatsink cover. You can swap this cover out for a white one as well. This cover doesn't cover the top entirely and leaves the ends of the heat pipes uncovered.
There is a hole at the top of the cooler. This is where you can insert the hex wrench during the installation process. As for the front and rear sides of the heatsink, they look identical when the fans are removed. On the front portion, we have a fin stack of 48 fins with a gap of 2mm between two fins. The thickness is 0.4mm per each fin. Hence, we have a lower density fin stack.
This design language seems similar to the Noctua NH-U9S Chromax Black CPU Cooler that we reviewed, and which is also an excellent choice in this category.
Both portions of the fin stack are soldered with the copper heatpipe. This results in more surface for better heat transfer. Unlike some other coolers, this heatsink has a completely symmetrical design on the heatsink. The base has an offset design, which is due to the mounting hardware.
Furthermore, we have six copper heat pipes that are coated in nickel. Each of these pipes has a thickness of 6mm. They are attached very cleanly to the heatsink itself. The base is also pure copper. Make sure to remove the warning sticker pasted on there.
If you are interested in more CPU cooling options, you might want to check out our picks for the best CPU coolers for i7 8700K processors. Also, we have Motherboards for Core i7 8700k buying guide list as well.
Fans
The Cryorig R5 CPU cooler comes with two XF140 fans that are attached to the heatsink out of the box. Both of these are 140mm with a rated speed of 700 – 1300±10% RPM. The noise level is rated at 19 – 23 dBA. As usual, they both use a 4-pin PWM fan connector for power.
Each fan has 11 blades. The edges of each blade have a glossy black coating, while the rest of the surface has a matte finish. Moving on, both fans have arrow symbols on each side of the frame. Both of these fans have anti-vibration pads on the mounting corners, which are also black.
The frame of the fans is plastic, which is par for the course. Overall, these fans look good and can get the job done quite well. The look of the fans is nothing like the slick fans we saw in our Deepcool Castle 360RGB v2 AiO Review, but they do a serviceable job overall.
Cryorig R5 CPU Cooler Compatibility
We can already predict that the Cryorig R5 is going to be a popular air-cooler. One of the many reasons is the compatibility offered here. The R5 is compatible with Intel LGA 2066, 2011(-3), 1200, 1150, 1151, 1555, and 1156. On the AMD side, we have compatibility for FM1, FM2/+, AM2/+, AMD3+, and AM4 sockets.
But that's not what gives it great compatibility. Cryorig has managed to shrink the overall profile of the R5 cooler. The max height is 162.8mm, so it should work just fine with most PC cases. However, the most impressive thing is that this dual-fan CPU cooler doesn't block any RAM sticks at all.
Therefore, could use this cooler in a motherboard with quad-channel memory, and it will be perfectly fine. Even better yet is the fact that you can use any type of RAM stick that you want. This is a great feature and many PC builders are going to appreciate this. It doesn't interfere with the PCIe x16 slot on the motherboard either.
Installation Guide
Cryorig wants to give many manufacturers a run for their money with their new mounting system. The new Quick mounting system instructions is easy to figure out and easy to install. Let's quickly have a look at the installation guide.
On Intel, you'll have to install the backplate at the back of the motherboard. After that install the Intel LGA standoffs from the front of the motherboard clearance. Next, grab the Quick Seg mounting bracket and place it on the standoffs. Secure the brackets using the provided thumbscrews.
Make sure to peel off the protective cover from the base of the cooler. Then, proceed to apply a small amount of thermal paste. Next, you'll need to place the metal crossbar under the raised center of the Quick Seg mounting bracket. Finally, the plastic clip and the lower portion of its hook to the underside of the bracket's center.
The process is similar for AMD. However, you won't have to install a backplate, as AMD AM4 motherboards come with a stock bracket already installed. Other than that, the process is the same.
We are very impressed with the Quick Seg Cryorig R5 CPU mounting system. However, we don't believe this is a huge selling point like others think. You still have to screw the cooler down from the top, which makes things more or less quite similar to other coolers.
Cryorig R5 CPU Cooler Benchmarks
Our Cryorig R5 CPU Cooler review is still incomplete. Our testing methodology consists of mimicking the way the Cryorig R5 (or any other CPU cooler) would be installed in an end user's system. We test all of our CPU coolers inside of a PC case with positive airflow. For our load tests, we run Cinebench R20 on a constant loop to put the CPU in full stress thus imitating the real-world workloads of an end-user.
Overclocking
We also test our CPU overclock's stability through Prime95's extended tests with AVX Enabled for Ryzen CPUs for at least 10 hours and more. Idle tests results are taken at least 10 minutes after the system has booted up with a handful of day-to-day programs opened up in the background, again simulating the real-world idle state of a PC. For noise tests, we place our RISEPRO Decibel Meter very close to the PC case in order to gain accurate idle and load results. In every test, the CPU fan curves are set to default for accurate measurements. Lastly, we test all of our CPU coolers at a controlled ambient room temperature of 26 °C.
Note: Our ambient noise levels (52dBA) were a bit higher than usual due to our testing environment's ventilation system. Thus making the noise tests of the cooler seem higher than usual.
Thermal Performance
In our Cryorig R5 CPU Cooler review we found out that the thermal performance of the Cryorig R5 is nothing exciting but rather intriguing in its own way. Considering that this is a single tower cooler with increased heat-pipes competing against its predecessor and a bigger dual tower brother, the R1 Ultimate. The R5 had zero issues cooling down our notoriously toasty Ryzen 5 3600 which was running at 1.347v on PBO/Auto OC. The results can be seen below.
The Cryorig R5 runs a bit hotter than its Cryorig R1 counterpart under load, and it can be seen lagging a bit behind the Noctua option as well. We have covered the NHD15 in detail in our Noctua NHD15 Chromax Black review which you should check out as well to get a broader context to these numbers.
Acoustic Performance
The noise levels during our Cryorig R5 CPU Cooler review were slightly higher than the R1 Ultimate, still, the difference isn't audible in most cases but for some people noise levels are really important, and for a silent PC enthusiast like myself, the R5 isn't going to be the best choice. You can possibly tackle this situation by choosing the single fan route operation which is going to set you back with an increased temperature by 2-3 Degree Celcius. The choice is yours. The numbers obtained seem in line with some of the liquid coolers we have reviewed as well, as can be seen in our be Quiet Pure Loop 240mm AiO Review as well as the Fractal Design Cesius+ S24 Prisma Review. The benchmarks can be seen below.
Is Cryorig R5 CPU Cooler Enough For Gaming?
The Cryorig R5 Cooler certainly is an interesting option. A lot of people swear by high-performance air coolers, and this is one of them. However, there are always some sacrifices to make with those large beefy coolers. The main being RAM compatibility. Cryorig R5 does not suffer from this, and it's good to see for once in a premium air-cooler.
Furthermore, people who want great compatibility will really appreciate this feature. We know many people have bought flashy RGB RAM sticks, but then they don't work with their cooler. With that said, while everything else about this cooler is quite decent, you'll want it mainly for its great compatibility and decent performance. So, if you are someone who has an mATX or even ATX case and you want a good-looking cooler, this is one worth taking a looking at.
Conclusion
With all of that through, we can finally talk about our overall thoughts on this cooler. Cryorig's previous R1 Ultimate cooler was an excellent option. It really gave a lot of the better-known brands a run for their money. While the Cryorig R5 doesn't quite hit the mark, it's decent enough and should please most buyers. That largely is in part due to the aesthetics and clever design.
However, if you're looking to cool your power-hungry high-core count processor, looking at other options won't hurt. Don't get us wrong, for the average Joe, the Cryorig R5 performs well enough. It's just that the performance isn't exactly mind-blowing when compared with the noise benchmarks. Still, we have to praise it for its design, mounting system, compatibility, and overall frustration-free experience.
Cryorig R5 CPU Cooler Rating
Pros
Aesthetically pleasing design
Easy to install
Great compatibility
Doesn't hinder RAM clearance
Cons
Performance could be better
Gets a bit loud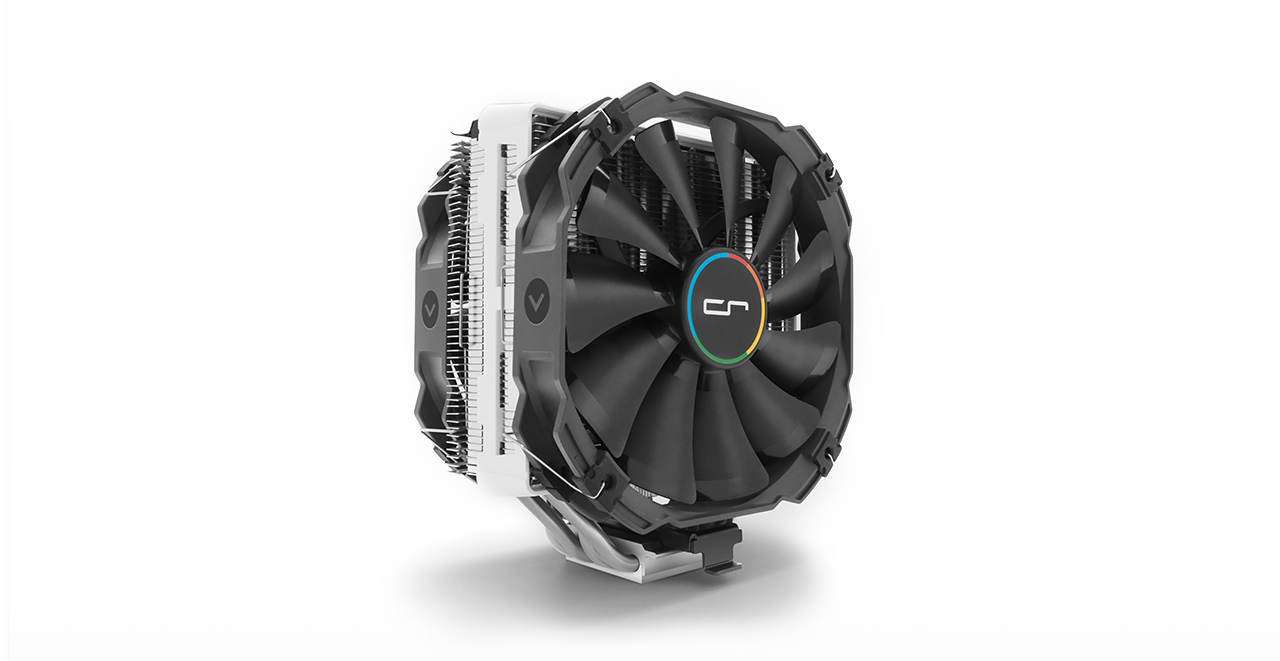 TDP: 200W | Heat pipes: 6 x 6mm | Dimension: L140mm x W140mm x H25.4mm | Motherboard compatibility: 2066, 2011(-3), 1150, 1151, 1155, 1156, 1200 FM1, FM2/+, AM2/+, AM3/+, AM4 | Weight: 892g (with fan)

VERDICT:The Cryorig R5 sets out on an ambitious journey. They wanted to make a cooler that looks good and has good compatibility. However, that comes at the cost of performance for some people. Still, it's not a bad purchase unless you want to cool a high-end processor.