Noctua NH-U9S chromax.black Single Tower CPU Cooler Review
At the end of last year, Noctua gave enthusiasts and hardware lovers what they've been wanting for a while now. Of course, we are talking about their revamped Chromax Black CPU coolers.
PRODUCT INFO
NH-U9S chromax.Black
Manufacture
Noctua
Available at
View at Amazon
Conventional wisdom always pushes people towards Noctua coolers, this is thanks to their excellent performance and value. After all, no powerful PC is complete if the processor can't breathe properly.
Noctua coolers are held in high regard to this day, and that status is the cause of envy for many manufacturers. Everyone from loyal fans to reviewers swear by their product. With that said, the design is something that pushes people away from these. Well, that's no longer the case thanks to the Chromax Black CPU coolers.
The Noctua NH-U9S is the latest addition to this lineup. This classic cooler has a fresh new coat of paint, and it looks better than ever before. However, there are a few reasons as to why the NH-U9S cooler has a cult-like following, and the design isn't the only one. We'll be taking a look at everything this cooler has to offer and more, in this in-depth review.
Unboxing Experience
Just like other Chromax Black coolers, the NH-U9S once again arrives in all-new packaging. The main highlight here is the black color scheme, and that idea is apparent in the box itself. On the front, we have a profile shot of the cooler, along with some branding and a short description.
The side of the box will proudly tell you about the award-winning performance of Noctua coolers. On the other side, the box lists all of the specifications, while the back of the box breaks down all the features in detail. Inside of the box sits a cardboard enclosure that contains all the accessories for the SecuFirm 2 mounting system.
Underneath this enclosure, we find yet another cardboard box. This one includes the cooler itself. We always appreciate how everything is tucked away nicely with Noctua's packaging. Everything is well organized and easy to get to. The SecuFirm 2 mounting system has its own box, and even that is well organized.
This mounting system includes brackets for both Intel and AMD, along with the other usual mounting accessories. Of course, you get a lot of extra accessories in the box. This ranges from the basic user manual to thermal paste.
Box Contents
The accessories box for the Noctua NH-U9S includes the following:
L-shaped screwdriver
PWM Y-adapter
Low noise fan adapters
NT-H1 thermal paste
Rubber fan mounts
Fan clips
Black SecuFirm 2 Mounting Kit for Intel
SecuFirm 2 Mounting Kit for AMD
Design And Closer Look
The original Noctua NH-U9S is the follow-up to the NH-U9B SE2. This Chromax Black version is the same deal. Just like its predecessor, the NH-U9B SE2, this one is an asymmetrical cooler that uses five heat pipes. This gives it great performance and strengthens compatibility with mini-ITX and mATX motherboards.
The asymmetrical NH-U9S has a depth of 95mm, which is much smaller than other coolers out there. It also uses a single fan, which might affect performance a bit, but again, it improves compatibility with ITX cases and motherboards. It has a lower profile and won't interfere with memory modules or the graphics card.
Furthermore, the lower profile gives the cooler a smaller footprint of 95 x 95mm. This cooler from Noctua comes with a single NF-A9 PWM fan. The five 6mm heat pipes are also quite standard. Furthermore, the NH-U9S Chromax Black has a copper base, heat pipes, aluminum fins, and it weighs just a bit over 600g with the fan attached.
As for the copper base plate, it has a nickel coating on it and measures 40 x 38mm in size. It is quite thick and should do a good job of covering the CPU die perfectly. The cooler uses 43 aluminum fins that are each 0.5mm thick. All of these fins are stacked neatly together, and this gives the cooler great fin density. This is what allows the cooler to give good performance numbers.
The single NF-A9 fan uses SSO2 bearings just like other Noctua fans. These are lubricated metallic bearings which utilize magnetic stabilizers. As usual, the low noise fan adapter can be used to automatically lower the max RPM, resulting in a quieter experience.
It took Noctua some time to give this great cooler the Chromax Black refresh, and it is worth the wait for sure. As you can guess, it has an all-black design. Everything including, the fans, heat pipes, fins, fan clips, and even the anti-vibration pads are black. It's a sleek and stealthy look, and we're glad that it doesn't have a glossy look to it.
It's taken them quite a bit of time, but we have to give credit where credit is due. This cooler is built well and looks as well as feels premium.
Compatibility
The Noctua NH-U9S Chromax Black is, by and large, a relative niche cooler, or is it? Yes, compared to its beefy dual-tower alternatives, it is without a doubt a compact air cooler. With that said, this works in the favor of the NH-U9S, as it gives it better compatibility.
As we mentioned before, the heatsink takes up most of the space. However, even after adding the NF-A9 PWM fan, it leaves a lot of room for the DIMM slots. If you're worried about clearance issues due to tall RAM, this cooler is a great choice for that. Even in terms of weight, the U9S feels like it's half the weight of Noctua's own NH-D15 chromax black cooler that we took a look at recently.
Clearance is not going to be an issue no matter the case is. This is a 95 x 95mm cooler, which means that it will cover most processors perfectly, and spread heat efficiently. Furthermore, the height is also quite manageable. It doesn't come close to the PCIe slot either, so your GPU has enough space.
Thanks to all of that, this cooler is the perfect fit for smaller cases like the Dan A4-SFX, NCase M1, and the Cooler Master NR200. At the end of the day, Noctua coolers are still an enthusiast product. The SecuFirm2 mounting system is compatible with Intel's LGA1150, LGA1151, LGA1155, LGA1156, LGA 1200, LGA 2011, and LGA 2066 sockets. As for AMD, we have compatibility for AM4, AM3(+), AM2(+), and FM2(+) sockets.
There is no support for the TR4 socket. This means that if you have a Threadripper processor, this cooler goes out of the window. That's not a big deal, as this 92mm cooler isn't intended for a power-hungry processor like that in the first place.
Installation
We are yet to see a CPU cooler installation process easier than the SecuFirm 2 system. Every Noctua cooler that uses this style follows the same procedure. So, if you've installed a Noctua cooler before, it will feel quite familiar. Even if you're new to building PCs, it's relatively easy. For the sake of it, we'll quickly go over the process itself.
We'll talk about Intel first. You'll have to attach the backplate included in the box first. It goes on the back of the motherboard. Next, install plastic spacers and the Intel mounting bars on top of the backplate. Screw the mounting bars securely with the provided thumbscrews. Apply a small amount of thermal paste, line up the cooler, and then just tighten the screws. Last but not least, install the fan and plug in the PWM connector.
Installation is even easier on AMD thanks to the stock backplate. Just remove the retention module that is on the front side of the motherboard.
Next, install the plastic spacers and AMD mounting bars. Screw them in tightly with the provided screws. Apply the thermal paste, line up the cooler, and tighten the screws. Finally, install the fan and plug in the PWM connector.
It's impressive just how streamlined the SecuFirm 2 mounting system really is. Sometimes CPU cooler installation gets complicated for no reason. While that's not a big deal for veterans, Noctua is looking out for everyone here, and we appreciate that. Furthermore, they have a great installation tutorial video as well, if you need visual confirmation.
Testing Methodology
Our testing methodology consists of mimicking the way the Noctua NH-U9S (or any other CPU cooler) would be installed in an end user's system. We test all of our CPU coolers inside of a PC case with positive airflow. For our load tests, we run Cinebench R20 on a constant loop to put the CPU in full stress thus imitating the real-world workloads of an end-user. We also test our Overclocks' stability through Prime95's extended tests with AVX Enabled for Ryzen CPUs for at least 10 hours and more. Idle tests results are taken at least 10 minutes after the system has booted up with a handful of day-to-day programs opened up in the background, again simulating the real world idle state of a PC. For noise tests, we place our RISEPRO Decibel Meter very close to the PC case in order to gain accurate idle and load results. In every test, the CPU fan curves are set to default for accurate measurements. Lastly, we test all of our CPU coolers at a controlled ambient room temperature of 26 °C.
Note: Our ambient noise levels (52dBA) were a bit higher than usual due to our testing environment's ventilation system. Thus making the noise tests of the cooler seem higher than usual.
Thermal Performance
The thermal performance of this cooler was amazing, as expected from Noctua. The NHU9S performed miles ahead of the bigger and "supposedly" better MA410P from cooler master. Our Ryzen 5 3600 was running a bit toasty at (1.347v) on auto OC/PBO mode. Even on dual tower coolers the temperatures were a bit higher for a 65-watt chip, still the NHU9S had zero issues cooling down the processor whatsoever, the results can be seen below.
Acoustic Performance
The NHU9S is a small cooler with a small fan, hence our expectations in the acoustics department were pretty low to begin with. But suprsingly even at maximum RPMs under load the NF-A9 fan stayed considerably quite. Under normal load, i.e gaming and rendering the fan isn't too loud but the noise is there, unlike it's bigger brother the NHD15 which stayed almost inaudible during normal loads, but again it is a much bigger and beefier cooler with a 140mm fan configuration. All in all, the NHU9S performed really well in the acoustics tests as well. At this point if your PC isn't going to rock a high TDP CPU, just go ahead and buy it. It won't disappoint you in anyway.
Who Is This Cooler For?
The Noctua NH-U9S is an interesting option, that's for sure. Thanks to the revamped Chromax Black look, this cooler will appeal to a wider audience. With that said, this is still a great performer, considering the size and form factor. Furthermore, the price also makes it quite accessible.
However, this cooler is still targeted at a niche audience. Sure, this can virtually fit into any build. But if your case can easily house a beefier cooler, we recommend going that route, maybe with Noctua's own NH-D15. Still, we have to consider that a lot of people don't like the look of giant coolers, and they want something that will allow them to easily install tall memory modules as well.
If that fits your bill, by all means, go for it. The NH-U9S is especially impressive when it comes to mATX and mini-ITX builds. This cooler is perfect for those of you who like their PCs to be compact, clean, and stealthy.
Conclusion
Overall, the NH-U9S is impressive for the form factor, and more so if we consider the price. While it doesn't directly compete with liquid coolers or with beefier dual-tower coolers, it doesn't have to. You get what you pay for here, and what you get is more than enough for most people. We can't complain much considering the overall value.
We also need to commend Noctua for going through with this Chromax Black refresh on all of their coolers. The NH-U9S is one of the most recent additions to that, but most of Noctua's classic products have been through the treatment. It definitely breathes some new life into the already excellent NH-U9S.
One thing lacking in the Noctua NH-U9S is any sort of ambient lighting, but it doesn't need it as it looks stealthy and sleek. Coming back to performance, you can always add another fan at the rear if you have space for it. This can potentially improve performance further. Overall, if you go with the NH-U9S, you won't be disappointed.
Noctua NH-U9S chromax.black
The best compact air cooler
Pros
Very visually pleasing
Compact and small footprint
Intuitive SecuFirm 2 mounting system
Stays quiet under load
100% ram clearance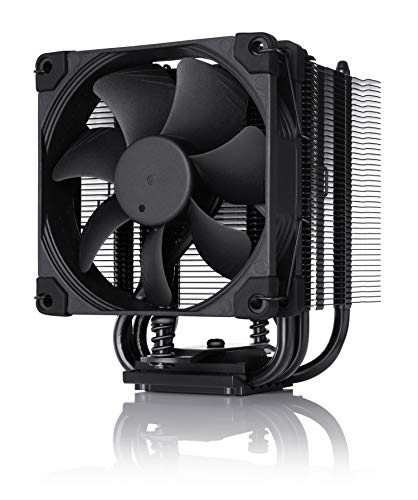 TDP: 200 W | Heat pipes: 6mm heatpipe x 5 units | Dimensions: H125 mm x W95 mm x D95 mm (with fan) | Motherboard Compatibility: 2066, 2011(-3), 1150, 1151, 1155, 1156, 1200 FM1, FM2/+, AM2/+, AM3/+, AM4 | Weight: 618g (with fan)

VERDICT:The Noctua NH-U9S is easily one of the best air-coolers for its size. Sure, you can get a 92mm cooler that is cheaper, but we doubt it will perform or look as good as the NH-U9S Chromax Black. Noctua manages to knock it out of the park once again.