Noctua NH-D15 chromax.black CPU Cooler Review
Properly cooling a powerful processor is something that everyone should take seriously. There's no point in putting together a powerful custom PC if the components don't have room to breathe inside.
Fortunately, cooling solutions have gotten much better over the past few years. With that said, Noctua products are still held to a standard that many other manufacturers envy.
Enthusiasts, loyal fans, and reviewers always swear by Noctua's products. The company offers CPU coolers, case fans, thermal paste, and other cooling accessories. However, some people just can't get past the design language. Don't get us wrong, the brown and beige color scheme earns Noctua a lot of brand recognition. Still, we can't help but agree with the fact that they don't always fit into every build.
Well, as the name itself implies, chromax.black is Noctua's latest color scheme that is being brought to all their products. This is also true for the legendary NH-D15 CPU cooler. With a new splash of paint, the best air cooler just got better. Let's take a closer look at it, shall we?
Unboxing Experience
The Noctua NH-D15 chromax.black arrives in all-new packaging. They wanted to strongly push the black color through, and this shows even with the box. We have a picture of the cooler at the front, along with the branding and short description.
The side of the box tells us about the award-winning performance of the NH-D15. On the other side, we have all the specifications, and the back of the box breaks down all the features. A box containing all the accessories for the SecuFirm 2 mounting system sits inside. Underneath this box, we have two more. One of these contains the cooler itself, and the other contains the second NF-A15 HS fan.
Everything is tucked away nicely, and the accessories are well organized and easy to get to. Let's quickly talk about the accessories in the box. The SecuFirm 2 mounting system is arguably the best mounting solution out there, more about that later. We have individual brackets for both Intel and AMD, along with the fittings.
Other than that, we have a thermal paste, a screwdriver, fan mounting clips, and a user manual. It's good to see that even the fittings and the brackets are all coated black. This is attention to detail like no other.
Box Contents
The accessories box for the NH-D15 chromax.black includes the following:
L-shaped screwdriver,
PWM Y-adapter
NT-H1 thermal paste
Rubber fan mounts
Fan clips
Black SecuFirm 2 Mounting Kit for Intel
SecuFirm 2 Mounting Kit for AMD
Design and Closer Look
The original Noctua NH-D15 is a behemoth of a cooler that serves as the successor to the NH-D14. Subsequently, the chromax.black edition is just a revamp of that spectacular design. The all-black design is a sight to behold and perfectly reflects a sleek and stealthy look. Noctua took their time with releasing a black version, but it was worth the wait.
When we say all-black design, we really mean it. Every single component has gotten a makeover. This includes the fans, anti-vibration pads, heat pipes, fin arrays, and even the fan clips. The shade on every component is well-matched, and it almost looks like a unibody design. It's also a relief to see that they went for a matte texture, which gives it that modern look. All in All, Noctua gets an A+ for design and aesthetics.
We are always happy to appreciate good design, so Noctua earns our respect in this department.
It took them quite a while to revamp their products with a sleek and modern look. However, coating the heat pipes and the entire cooler black isn't an easy job. It's even more difficult to not disrupt the performance while doing so. Noctua could have just slapped a black fan on here and call it day, but they went the extra mile of making everything black.
Other than a new paint job, this is mostly the same NH-D15 we know and love. It has six 6mm copper heat pipes, the same dual-tower design, along with the 150mm-wide aluminum fin-stacks. The NF-A15 PWM fans are also painted black and are the gold standard when it comes to performance.
Just like the original NH-D15, this one comes with a fan installed in the middle. If you don't want to install the second A15 fan, Noctua includes rubber mounting screws so you can use it as a case fan. The first few fins on this aluminum stack are asymmetrical. There are notches cut from these fins for an easier installation of memory which we'll talk more about later.
Another noticeable feature is the gap between the first set of fins and the fan that sits in the center. Speaking of which, let's talk about the fans for a moment. These are high-quality fans that use SSO2 bearings. To put it briefly, these are lubricated metallic bearings that use magnetic stabilizers. The box includes anti-vibration pads, while the ridged blades provide exceptional airflow.
These fans can spin at up to 1500RPM. However, they aren't as loud as you might think, which is a great thing for overall acoustics. Other than that, the base is made out of copper, and steel parts are used for retention. All of these are nickel-plated, including the copper heat pipes. It's incredible to see that even the retention parts are painted black.
There is, however, a minor oversight with the design for the fans. The part numbers for the fans are printed right on the top. We are aware that this sort of thing can annoy a lot of people. Still, it's not the biggest dealbreaker.
Compatibility
As this is an enthusiast product at the end of the day, it has wide compatibility. Noctua made sure that the NH-D15 reaches a larger audience this time around, hence the chromax.black moniker. The SecuFirm2 mounting system is compatible with Intel's LG115x, LGA 1200, LGA 2011, and LGA 2066 sockets. As for AMD, we have compatibility for AM4, AM3(+), AM2(+), and FM2(+) sockets.
As you can see, this cooler is compatible with every modern CPU socket out there. Well, except for TR4, which happens to be the AMD Threadripper socket. Since this is a high-end product, this is a bit of a disappointing omission.
So far, the NH-D15 chromax.black has managed to retain its crown as the best air-cooler on the market. However, we have to address the elephant in the room. This dual-tower cooler is massive, and it's one of the largest air-coolers on the market. You can tell that just from the weight since it comes in at 1300g.
Clearance could be an issue for some motherboards and even some PC cases. It can come quite close to the PCIe x16 slot. As for memory clearance, Noctua says that 64mm of clearance is available because of the recessed fins. However, install the second fan in front, and that clearance is halved to 32mm.
A lot of RGB memory modules with tall heatsinks just may not work with cooler. That's a sacrifice you'll have to make with a beast of a cooler like this one.
Installation
The Noctua NH-D15 chromax.black has one of the easiest installation procedures we've ever seen. Noctua's SecuFirm 2 mounting system is incredibly easy to understand, even for first-time builders. Installation is easy for both Intel and AMD sockets. However, if you're curious we'll quickly go over both.
For Intel, we'll have to attach the backplate this is included in the box. This goes on the back of the motherboard. After that, install the plastic spacers and Intel mounting bars on top of the backplate. Screw the mounting bars in with the provided thumbscrews. Apply a dab of thermal paste, line up the cooler, and screw it in. Finally, install the fans with the retention clips, and plug in the PWM connector.
The same process is similar to the AMD socket. You don't need to remove the stock AMD backplate here. Remove the retention module at the front of the motherboard. Install the plastic spacers and AMD mounting bars on the top. Screw the mounting bars tightly. Apply an appropriate amount of thermal paste, line up the cooler, and screw in. Next, install the fans and plug in the PWM connector.
It's interesting how easy it is to install arguably the most powerful air-cooler on the market. It just goes to show that Noctua pays a lot of attention to detail. If you're still confused about installation, refer to the manuals.
Test System
CPU: AMD Ryzen 5 3600
Motherboard: Gigabyte B450 AORUS PRO WIFI
Thermal Paste: Noctua NT-H1
RAM: TEAMGROUP T-Force Delta RGB DDR4 16GB (2x8GB) 3200MHz CL16
GPU: Gigabyte AMD RX 570 4GB
Storage: Kingston A2000 NVMe PCIe SSD 512GB M.2
Power Supply: Corsair RM750x
Case: NZXT H510i
Testing Methodology
Our testing methodology consists of mimicking the way the Noctua NH-D15 (or any other CPU cooler) would be installed in an end user's system. We test all of our CPU coolers inside of a PC case with positive airflow. For our load tests, we run Cinebench R20 on a constant loop to put the CPU in full stress thus imitating the real-world workloads of an end-user. We also test our Overclocks' stability through Prime95's extended tests with AVX Enabled for Ryzen CPUs for at least 10 hours and more. Idle tests results are taken at least 10 minutes after the system has booted up with a handful of day-to-day programs opened up in the background, again simulating the real world idle state of a PC. For noise tests, we place our RISEPRO Decibel Meter very close to the PC case in order to gain accurate idle and load results. In every test, the CPU fan curves are set to default for accurate measurements. Lastly, we test all of our CPU coolers at a controlled ambient room temperature of 26 °C.
Note: Our ambient noise levels (52dBA) were a bit higher than usual due to our testing environment's ventilation system. Thus making the noise tests of the cooler seem higher than usual.
Thermal Performance – Stock Performance (PBO Enabled)
The thermal performance of the Noctua NH-D15 is beyond amazing. This is expected from a beefy dual-tower cooler but the surprising part is that the NH-D15 does everything while being the quietest at the same time (more on that below). Even though our Ryzen 5 3600 was consuming an average of 75-80W with a core voltage of 1.347v. AMD's Precision Boost Overdrive (PBO) did increase the processor's performance but at a cost of high volts which isn't that great. The Ryzen 5 3600 is supposed to be a 60w chip but due to an increased level of volts, the chip was running well above its manufacturer's limits, things were a bit toasty. Still, the NH-D15 had zero issues cooling the chip down which is very impressive. The NH-D15 proved that it can indeed compete with AIOs very well. The results can be seen below.
Manual OC Performance (Undervolt)
After our stock PBO results, we took things into our hands and undervolted the Ryzen 5 3600 to a suitable range while surprisingly increasing the performance at the same time (+324 points in Cinebench R20). We found the perfect spot at 4.3GHz, 1.212v. As predicted the NH-D15 performed amazingly well again. The results can be seen below.
Acoustic Performance
In the acoustics department, the NH-D15 is far ahead of its competition, let us just get this away right before we go into the details.
Looking at acoustics benchmarks, it is evident that the D15 can satisfy both worlds at the same time. This is what many other coolers try to do but mostly fail. In our testing, the NH-D15 was the quietest CPU cooler out of the bunch while maintaining great performance at the same time.
With the single-fan operation, the cooler operated at a very low noise level of 60.5 dBA on stock (PBO enabled) while other coolers were as loud as they could get. The manual OC results were even impressive as the noise levels (57 dBA) were just a tad bit above our ambient noise levels. This is a ground-breaking mark set by Noctua here. The results can be seen above.
Who Is This Cooler For?
If you've read this in-depth review completely, this is a question that is easy to answer. The Noctua NH-D15 appeals to the masses with its sleek and modern matte black design. However, it is an enthusiast cooler at the end of the day. It doesn't put form over function, in fact, it's quite the opposite. Noctua always has and always will be a viable choice for hardware devotees.
With that said, the Noctua NH-D15 comes dangerously close to liquid coolers, in terms of pricing. Fortunately, this powerhouse can hold its own. It is surprising to see that a sub-$100 air cooler can punch above its weight compared to a liquid cooler that costs almost twice as much.
If you need great thermal performance and don't want to mess around with liquid coolers, this is the ultimate CPU cooler for you.
Conclusion
Overall, the NH-D15 chromax.black manages to impress us a lot. It competes directly with liquid coolers that cost more, and have the risk of the liquid leaking. You could go with a liquid cooler and be fine with it. However, you can't complain about the value, thermal performance, and quiet acoustics that the NH-D15 offers.
It's not surprising to us that so many people love this cooler. It has earned a cult-like following over the years, and we'd even say it has attained legendary status. While the chromax.black revamp is nothing more than a paint job, it does give some new life to this air cooler.
Noctua might have been late to the party with this all-black design, but it was worth the wait in every way. If you need even more performance, you can add a third fan down the line. The only issues are the RAM clearance and the lack of Threadripper support.
Noctua NH-D15 chromax.black
A Legendary Air Cooler, Back in Black
Pros
Aesthetically pleasing compared to predecessor
Clever cooling design can handle any processor out there
Intuitive SecuFirm 2 mounting system
2x140mm Fans and a tonne of accessories included
Stays quiet under load
Cons
The massive size can be problematic for RAM clearance
No TR4 Support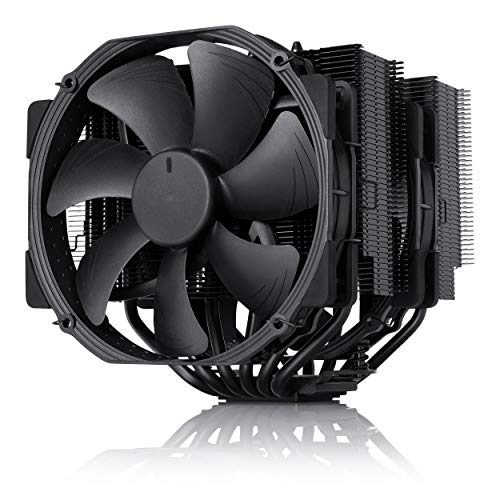 TDP: 220 W+| RAM Height Limit: 64 mm (Single Fan Mode) 32 mm(Dual Fan Mode) | Heat pipes: 6mm heatpipe x 6 units | Dimensions: L161 mm x W150 mm x H165 mm (with fan) | Motherboard Compatibility: 2066, 2011(-3), 1150, 1151, 1155, 1156, 1200 FM1, FM2/+, AM2/+, AM3/+, AM4

VERDICT:The Noctua NH-D15 will easily go down in history as a legendary air-cooler. Noctua cements their legacy once again with the near-perfect NH-D15 chromax.black. It is aesthetically pleasing, performs like a champ, and can handle anything you throw at it. If you were holding off on the original NH-D15 because of aesthetics, now you have no reason not to pull the trigger.