Razer Huntsman Elite Keyboard Review
When it comes to gaming peripherals, Razer has always been one step ahead of the curve; their consistent need and thrive to become the top peripheral brand is nothing short of impressive. Much like other companies, Razer did run into a rough patch, but the fact that they managed to get back up and start fresh is nothing short of impressive and goes to show their dedication towards the gaming community. After all, it is in their very slogan that says, "For the gamers, by the gamers".
PRODUCT INFO
Razer Huntsman Elite
Manufacture
Razer
Available at
View at Amazon
With that said, Razer is a company known for its aggressive designs that were loved by many, and had some people against them, as well. However, when the company first announced the Razer Huntsman Elite, it took the world by surprise as it was perhaps one of the most elegant, simple, and streamlined looking keyboard from Razer.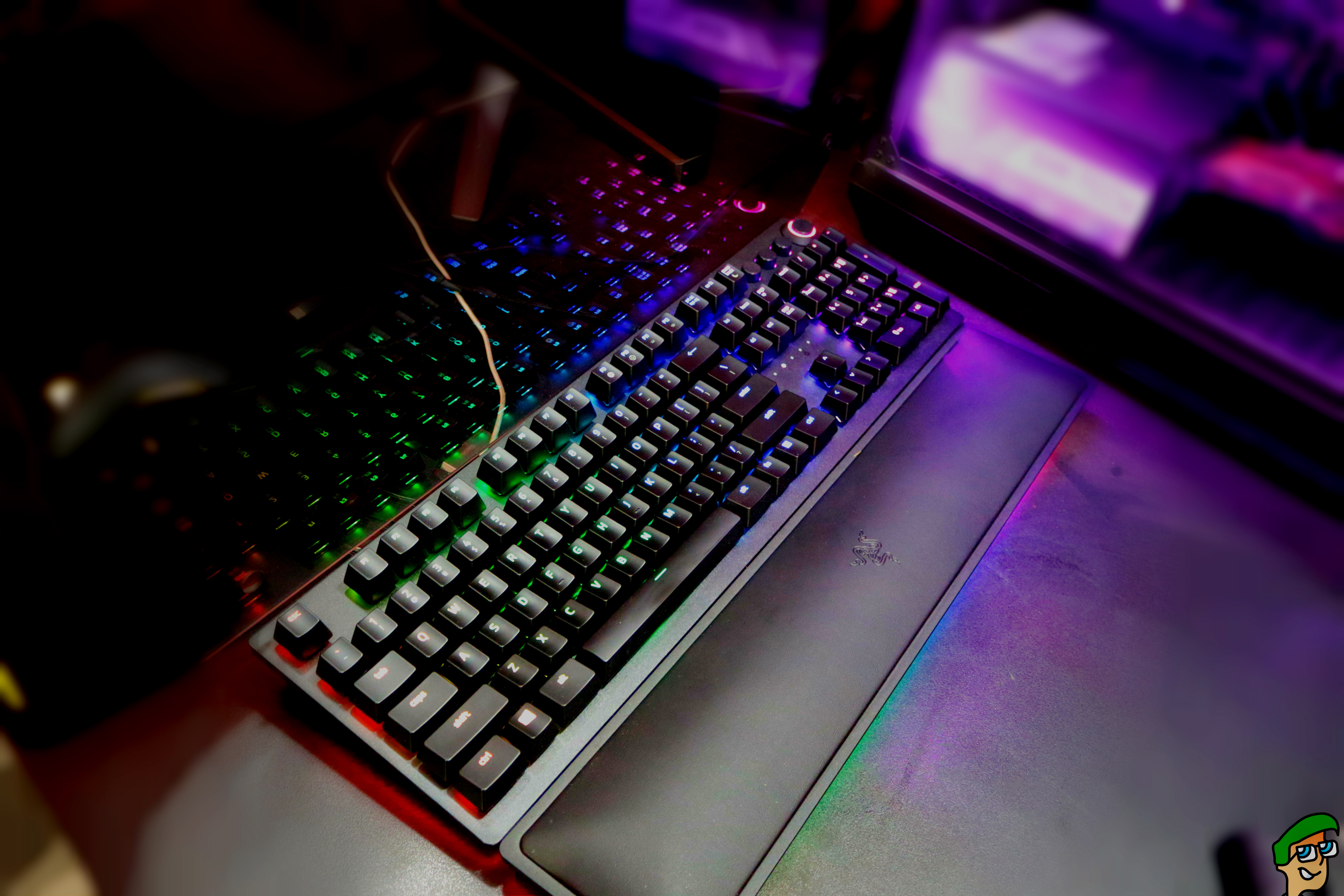 But looks were not the only thing good about this keyboard; the Huntsman Elite sported the brand new Razer opto-mechanical switches that Razer had developed in-house. These switches are different than your traditional mechanical switches because instead of using contact points for actuation, they use a light beam; as soon as the beam gets cut off by the bottoming key, the key is registered. This technology does not only sound good on paper, but it also allows the switches to have a longer lifespan.
While Razer was certainly not the first on the scene to come up with these switches, they certainly perfected them in many ways. Giving us these purple switches that are audible and clicky, but at the same time, are extremely light, allowing for faster gaming and typing experience.
With that said, we do have the Razer Huntsman Elite for review today and we are going to find out just how good this keyboard is, and if it can command the price it is currently retailing for.
Packaging and Unboxing
The packaging of the keyboard is classic Razer style; the front of the box adorns the picture of the keyboard along with a small window that lets you access to the arrow keys so you can actually press the switch and get a feel of it. This is what I always loved about Razer because they want the potential buyers to know what they are getting into before they even buy it.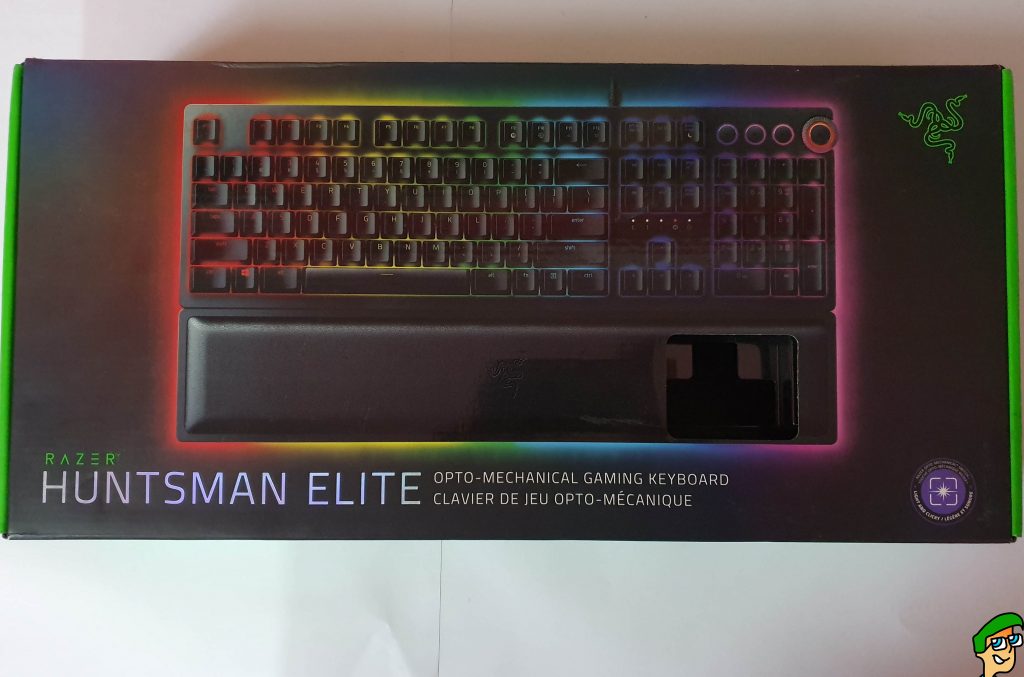 The backside of the box has another photo of the keyboard this time with more information, along with a complete illustration of the opto-mechanical switch and how it works. Needless to say, Razer has done a neat job with designing the box. It adheres to their classical style of boxes, but at the same time, manages to look classy.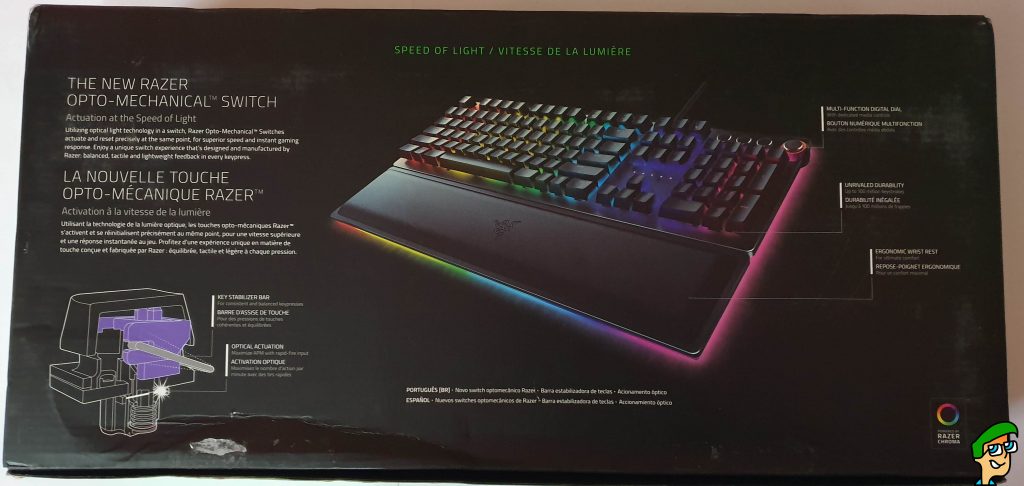 Opening the box, you are welcomed by the keyboard nicely sitting in a semi-hard plastic shell. It is nice to see Razer going for these shells as they provide a bit more security when in transit. Taking the keyboard out, you are welcomed with the unit itself, and underneath it, you will find a leatherette wrist rest that is magnetic and has some really cool RGB lighting on it, too.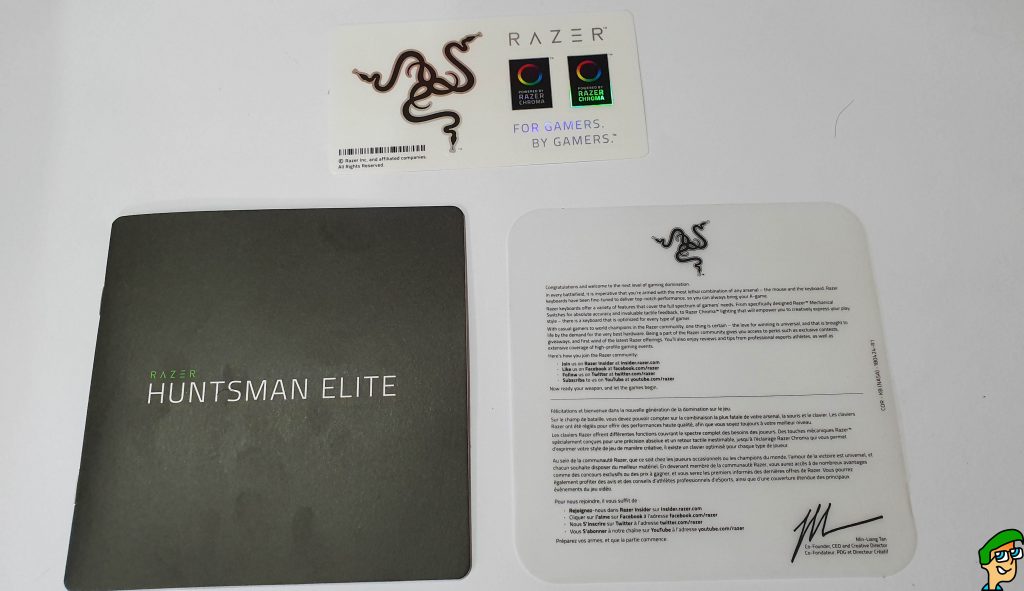 You also find some documentation along with Razer stickers in a neatly tucked envelope. The envelope contains a letter from the company, along with other relevant details about the product. I have to say, Razer has definitely done a good job at keeping things simple.
Design and Build
Taking the keyboard out of the box, the first thing I realized was the heft. This is certainly a heavy keyboard but that is not a bad thing. Razer has used the same matte aluminum top plate that we see on their other keyboards, and the entire unit is as sturdy as it gets. You will see absolutely no macro keys on the keyboard, but you do get dedicated media keys and that amazing volume wheel that you can configure using the Razer Synapse. On the right of the volume wheel, you have your usual assortment of rewind, play/pause and forward buttons. Razer has not included the functionality lights where they normally are; instead, you can now find them on top of the arrow keys instead.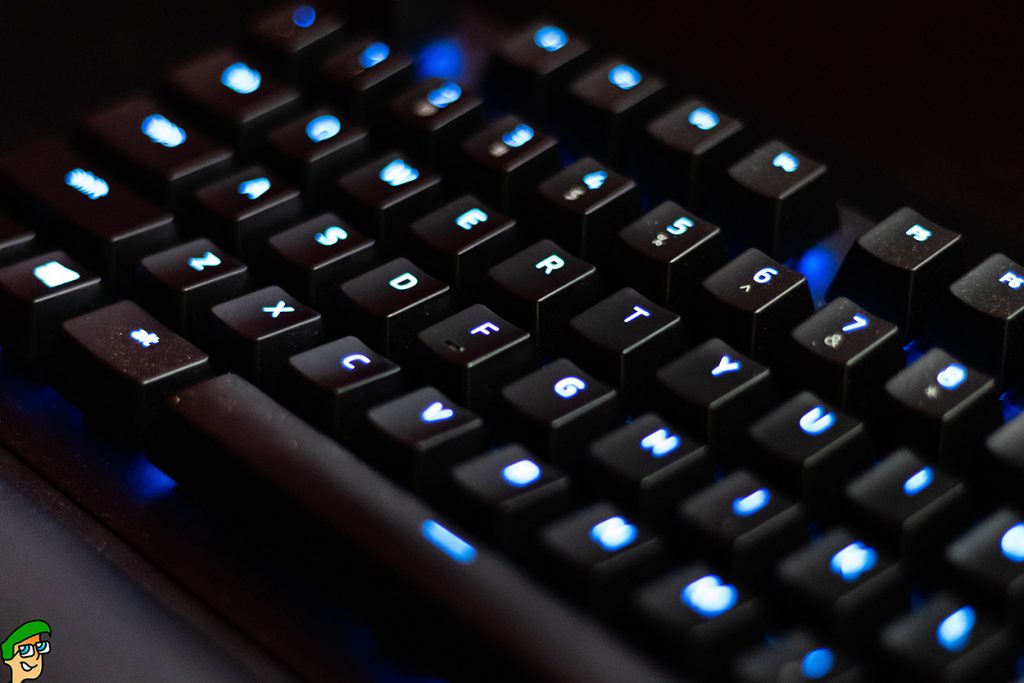 As mentioned earlier, the keyboard does come with a leatherette wrist rest that is magnetic, however, you can always remove it. I find the wrist rest to be incredibly comfortable, and that RGB lighting along the border is just too good to ignore. As far as the dimensions are concerned, the Huntsman Elite measures at 18 x 6 inches without the wrist rest attached and 18 x 10 with it. Certainly not the smallest keyboard but if you do have the desk of normal size, you would be good to go.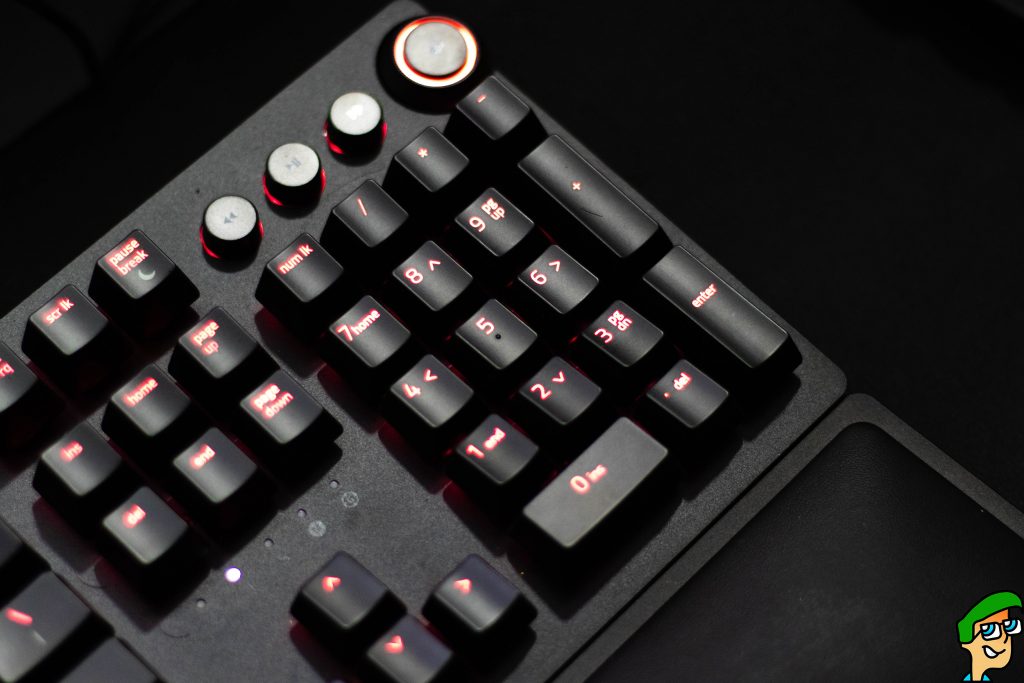 The keyboard comes with a nice, thick braided cable that splits into two USB cables at the end. Surprisingly, you are going to need both cables connected to power the keyboard, which is strange. Another strange thing is that there is no 3.5mm or USB passthrough on the keyboard, which might sound like something strange.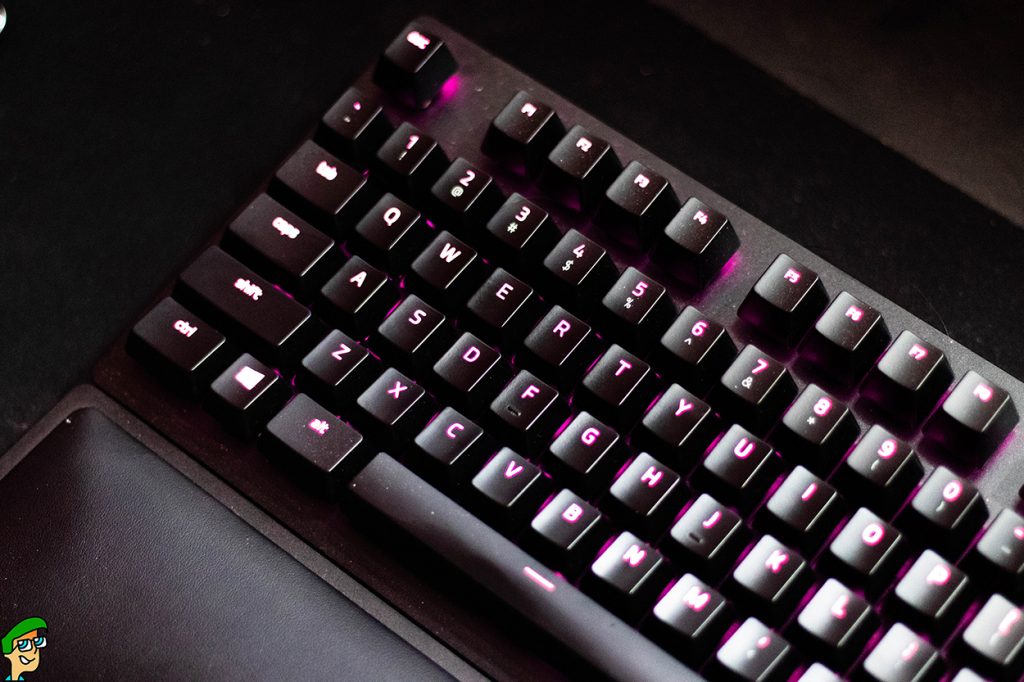 As far as the lighting is concerned, the keyboard is per-key RGB illuminated and the keyboard is controlled through the Razer Synapse, which is one of the best software solutions I have seen on any peripheral. The entirety of the light bar that surrounds the boundaries of the keyboard along with the wrist rest is also RGB lit. There are a total of 20 zones of lighting that can be customized to your will, and that is certainly impressive. However, the fact that Razer is using ABS keycaps instead of PBT keycaps and still charging $200 for this keyboard is something that baffles me. Granted, it is the industry standard, but for a company that has a motto that says "For gamers, by gamers", it is somewhat disappointing that they would opt for ABS keycaps, knowing very well that gamers would prefer that their keyboard still looks good as new even after it has been used.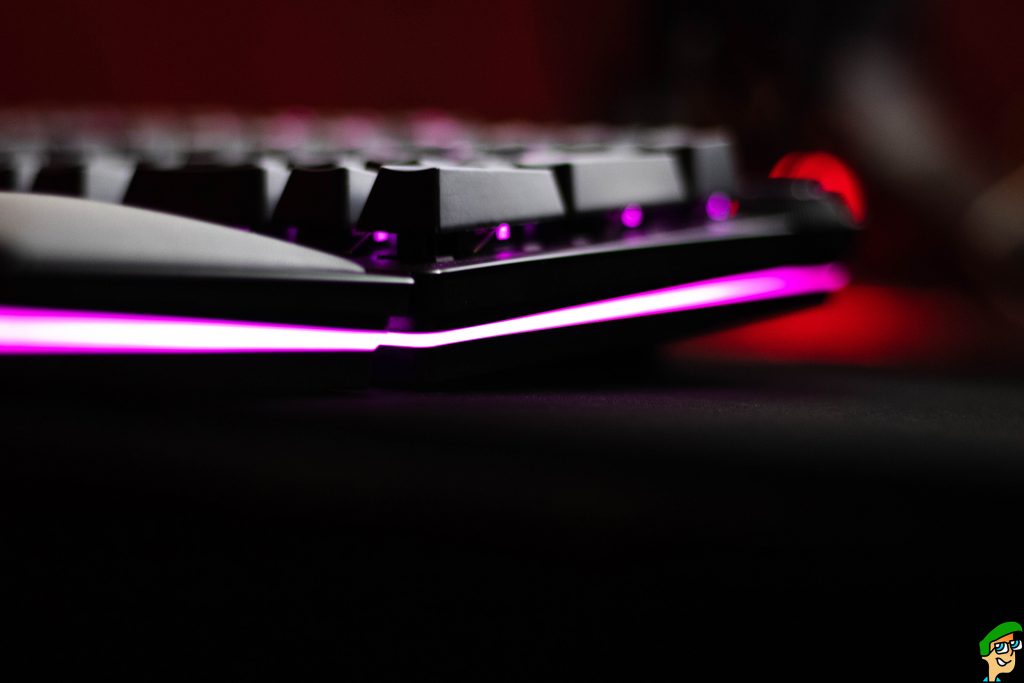 The volume wheel is also the star of the show as it can allow you to control the volume or mute it, for starters. However, you can even customize it to your heart's content and assign different functions or applications to it. Which is definitely a great start.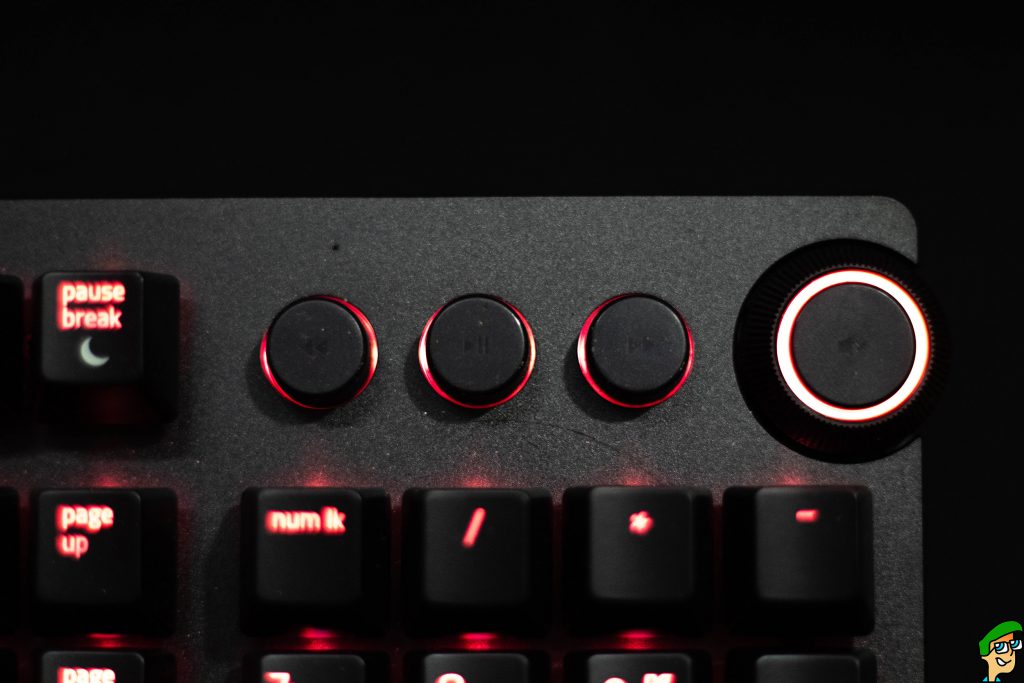 The Switches
As discussed previously, the keyboard uses the brand new Razer opto-mechanical switches that are developed in-house by Razer. Instead of actuating through a metal point, the key switch actuates through a light. For full specifications, you can check the bullets below.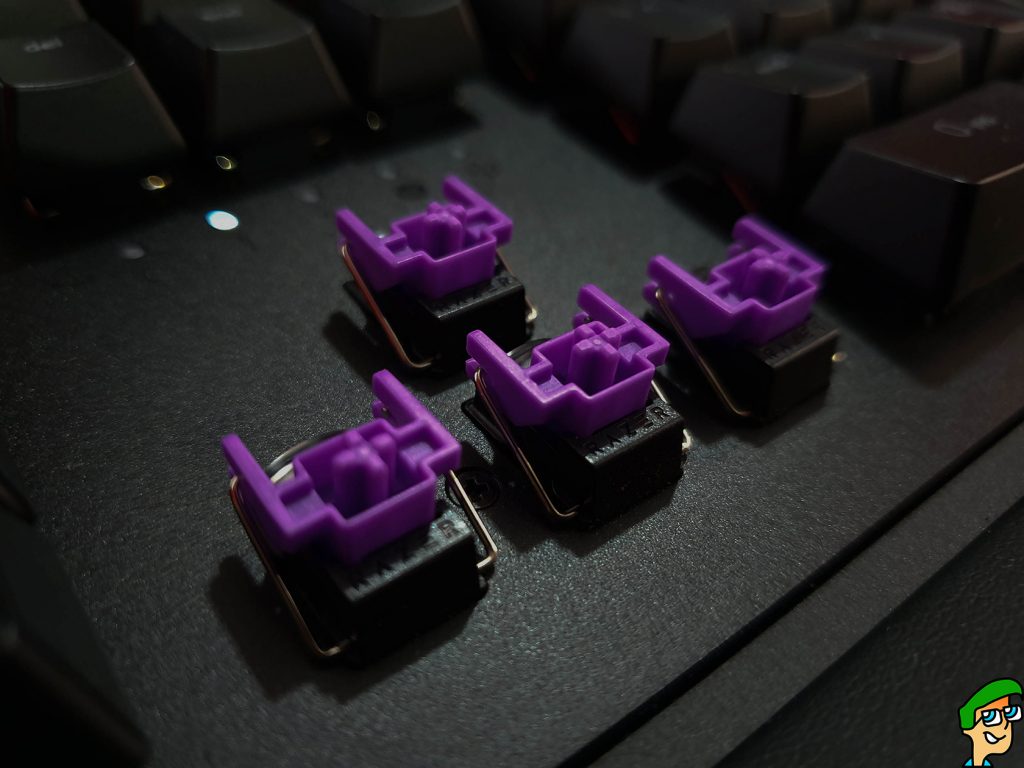 Actuation Type: Light Beam.
Actuation Force: 45 grams.
Actuation Point: 5mm.
Durability: 100 million clicks.
Switch Design: Standard cross stem with stabilizers.
Feeling: Light and clicky.
As you can see, the switch specifications are certainly more than impressive. If you are gamer or a writer, you will be loving this switch because it gives you that light feeling and reduced force that gamers love so much, but at the same time, the clicky feedback that writers appreciate a lot. As far as 100 million clicks are concerned, we will be needing a lot of time with this keyboard to actually test that out but given Razer's dedication to this keyboard.
However, are they good at typing or gaming?
Typing Experience
Being an avid writer, it is almost impossible for me to use anything other than a mechanical keyboard. I have been a Cherry MX user all my life, so shifting to a switch so different was a daunting task for me at first. However, after getting comfortable with the switch, I can easily tell you that the experience with this opto-mechanical switch is so much better than anything else I have experienced. I can now type faster thanks to the switches being lighter and the actuation point being lower,, and the best thing is that I can type with much greater accuracy that allows me to make sure that everything I am writing is completed in a much shorter time duration than it would normally take me.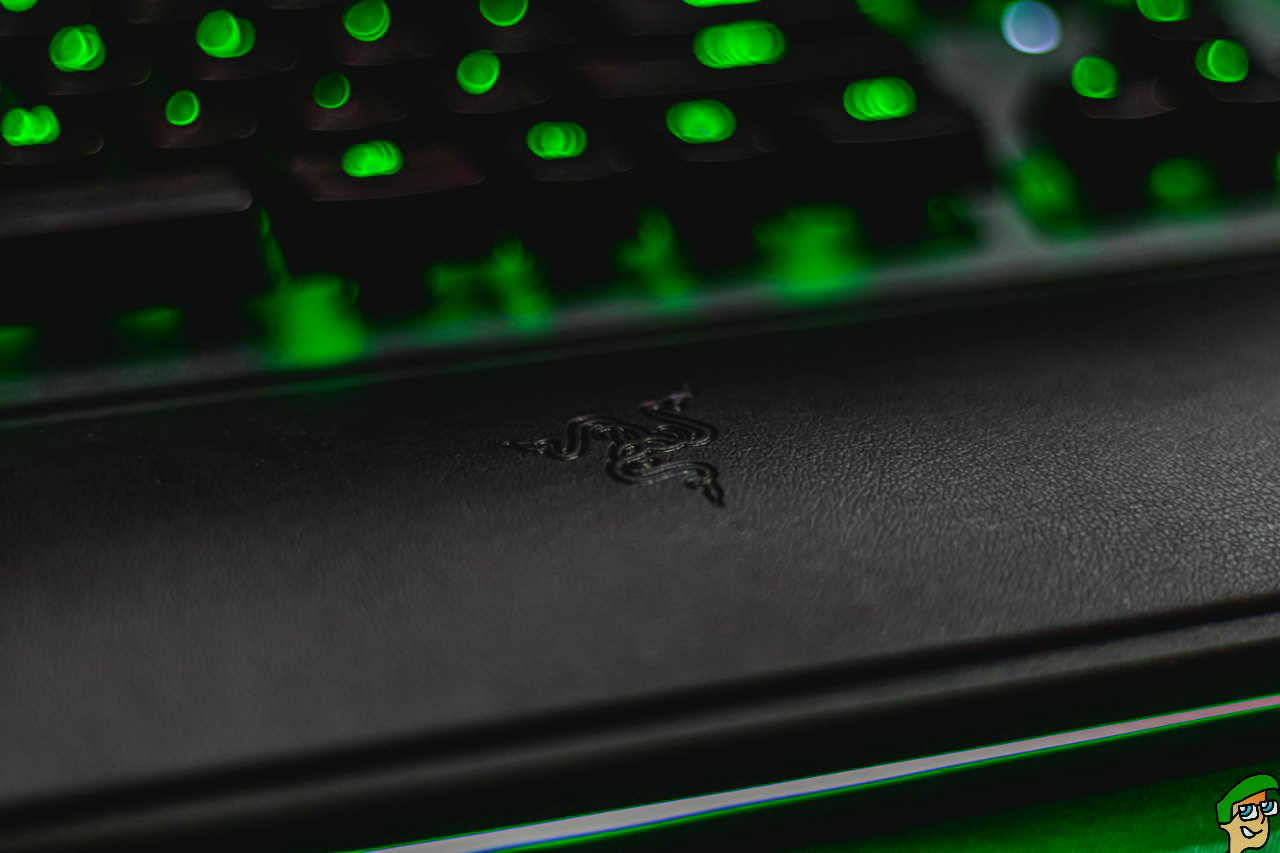 I have to say though, the keys do take some time getting adjusted because you may never experience something like this but once you do get used to the keys, the rest is smooth sailing.
Gaming Experience
I personally am not a believer when someone tells me that having expensive peripherals make you a better gamer so when I did test the Huntsman Elite for gaming, I knew what I was getting through. The good thing about this keyboard is that thanks to the fact that the keys are so light, you can have nimble movements in-game and it will work just fine.
These switches are a smashing success from Razer, and I am definitely willing to see what Razer comes up with in the future and if they are going to be opting for different switch types.
The Software
Thanks to the fact that you can get pretty nuance with this keyboard when it comes to customization, there are a ton of options to do so. For all of that, you are going to need to use the Razer Synapse 3.0. In short, my new favorite companion software. Being a long term Corsair user, it was kind of difficult for me to get adjusted to the Synapse 3.0 at first, but the more I explored it, the more I realized just how easy and streamlined it is.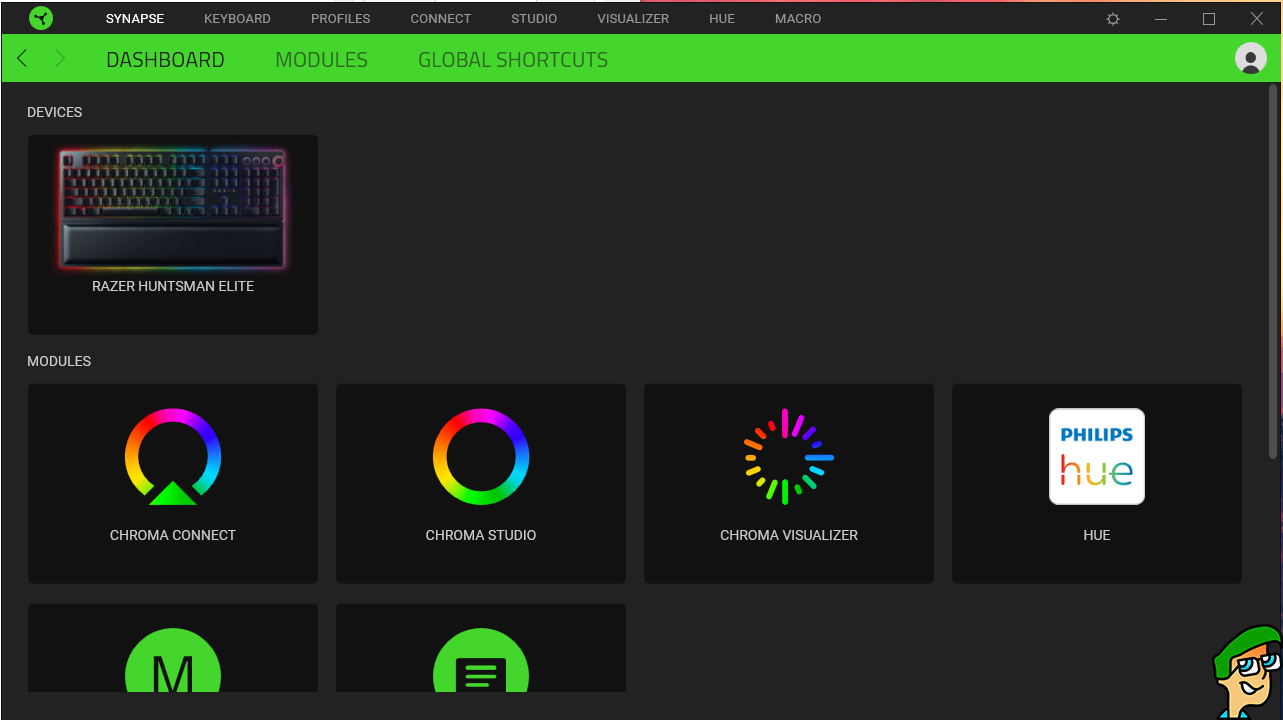 Everything you need to customize is neatly arranged in tabs, and you can control all Razer devices, as well as all the devices that support Razer Chroma RGB. Needless to say, Razer has put a nice thought into this software and it works really well.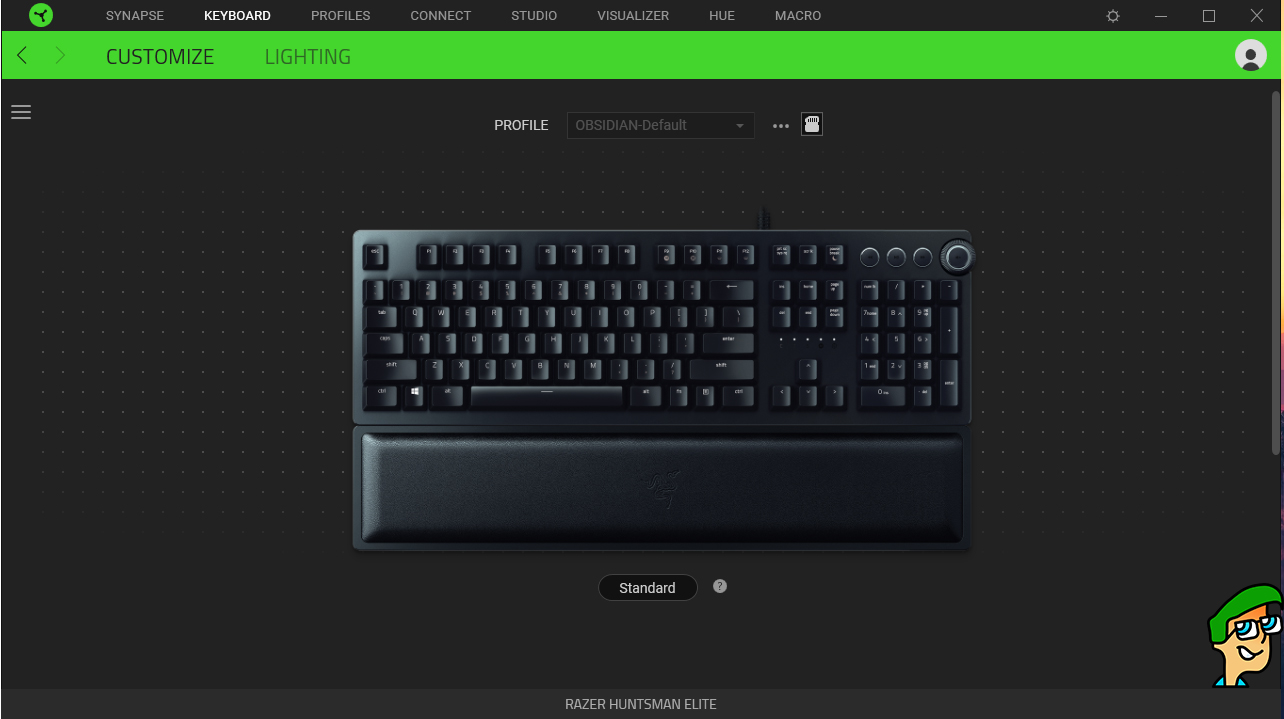 Granted, if this is your first time going with software, I have to say that you are going to need some time to spend with the software in order to finally know what you are getting yourself into.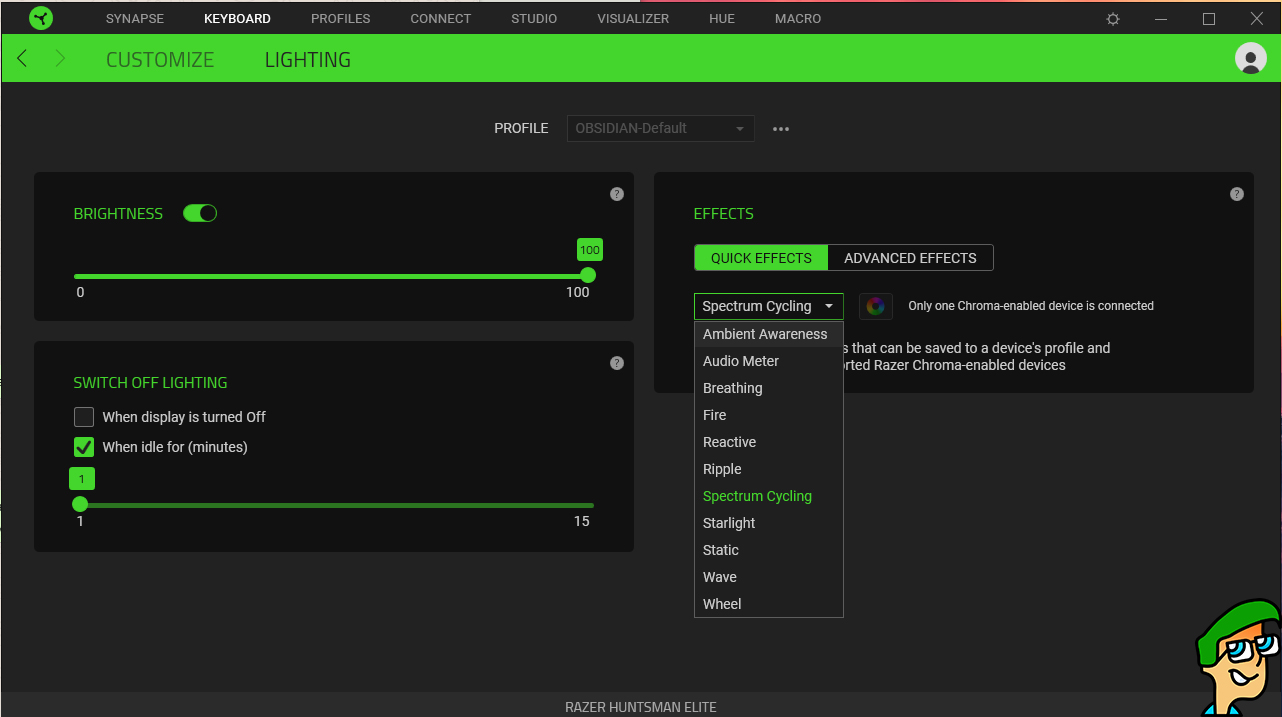 Razer also offers Chroma Studio, it is for those who are looking to make advanced lighting effects. It will certainly take some time to learn, but once you get a hang of it, you can make some really cool lighting effects.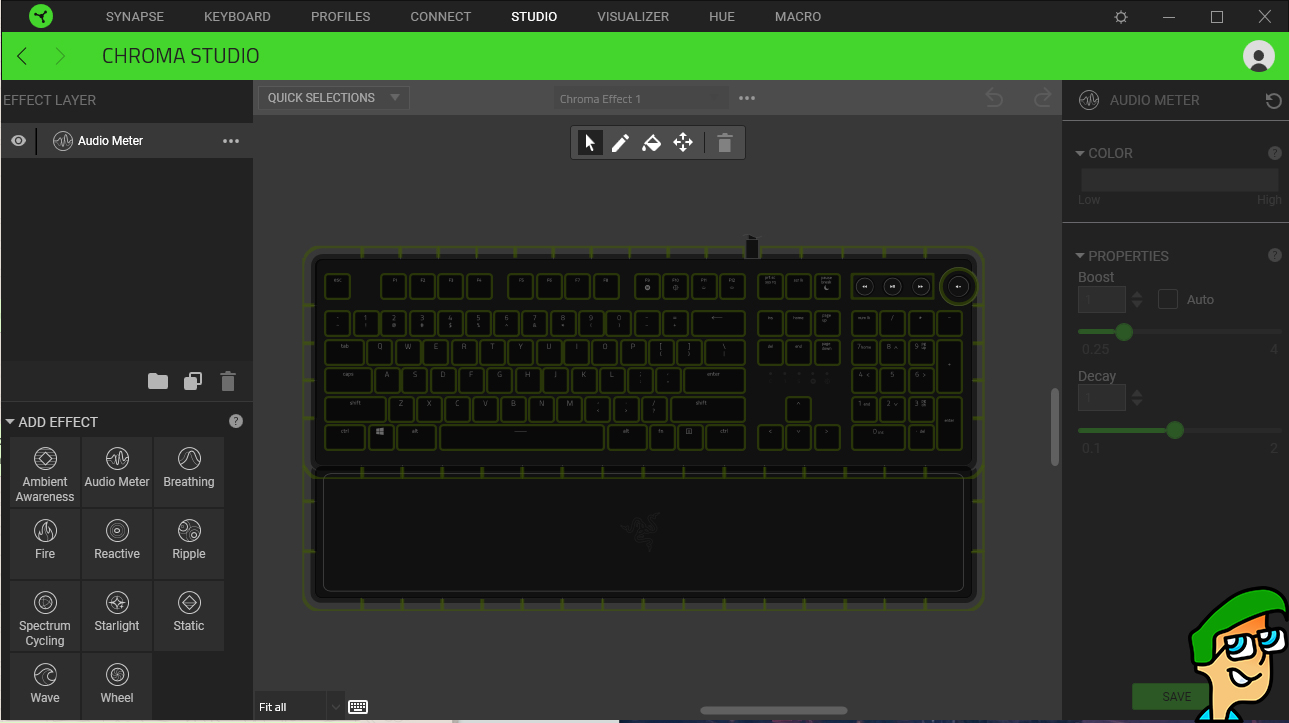 Comparison
When Razer released this keyboard, they released it with the intention to compete with the Corsair K95 Platinum RGB; a keyboard that I owned before I started using the Huntsman Elite. I have to say since both keyboards are priced at the same level; Razer does a lot of things better than the Corsair.
However, I have to list some grievances here that I wish that this keyboard had.
A USB pass-through; it is very important for me since I have a lot of USB devices that I need to connect.
Dedicated macro keys.
Aside from these two factors, the Huntsman Elite is much better than the K95 Platinum RGB in almost every single factor that you could think of.
Final Words
I have been using the Razer Huntsman Elite for more than a week now. The first few days were a bit difficult as this was my first Razer keyboard and the switches felt odd for both gaming and typing. However, now that I look at this keyboard, I come to the realization that I would not want to go back to any other keyboard.
Everything about this keyboard screams perfection; from the solid build quality to the simple, streamlined looks. The switches, the gorgeous lighting, and a very clean aesthetic, and not to forget, the most comfortable wrist rest in the world; however, the wrist rest is made out of leather, so it is bound to degrade and wear over time. The Razer Huntsman Elite is the keyboard that you want to beat if you are looking to get ahead.
However, not everything is perfect; for instance, the software can be overwhelming all because of the plethora of options it lands on you. Additionally, the missing USB pass-through is the one thing that I miss a lot. This is actually very strange because Razer is charging $200 for this keyboard, and the lack of a passthrough can be a problem if you want to quickly connect a USB device. The lack of dedicated macro keys might be an issue for those who play a lot of MMOs or MOBAs since you will have to make do with the keys that are already present.
However, in conclusion, I have to say that the Huntsman Elite is going to be my daily driver for as long as this keyboard works for me, and I hope that Razer announces other switch variants based on the opto-mechanical formula because it works, and it works really, really well.
Sound Test
Below is a sound test that you can check for your convenience.
Pros
Top of the line switches
Gorgeous lighting
Beautiful design
Suitable for both gaming and typing
Cons
Software is overwhelming
There is no USB passthrough
ABS Keycaps
Switches: Razer opto-mechanical | USB Passthrough: No | RGB: Per-Key Backlighting | Media Controls: Yes. | Weight: 2.7 lbs (3.76 lbs with wrist rest) | Dimensions: 17.6 x 5.5 x 1.44 inches (17.6 x 9.05 x 1.44 inches with wrist rest)

VERDICT:The Razer Huntsman Elite is not only the best Razer keyboard, but it is also the best gaming keyboard available in the market. Granted, it commands a high price, but you are getting a lot for that price. The star of the show is the amazing opto-mechanical switches and Razer's attention to detail to the customization that it provides. Sure, the lack of USB passthrough can be an issue, but overall, the keyboard is fantastic. From this day and onward, the Huntsman Elite is the keyboard to beat.
Price at the time of review: US $200 / UK £181.83