The Logitech G29 has established itself as one of the best budget racing wheels. True to Logitech's nature, it features an ergonomic design, accompanied by all the necessary features; force-feedback via dual motors, a 3-pedal set with carpet grip, 900-degree rotation, and secure mounting. All these features have cemented the Logitech G29 as the de-facto budget racing wheel of choice to this day.
However, it's been 7 years since the G29's initial release and while it still remains a great option, there are other worthwhile substitutes on the market now. So let's take a look the best alternatives to the Logitech G29 racing wheel.
---
1. Logitech G920
The G29's Xbox Counterpart
Pros
Competitive price
Ergonomic leather grip
Great build quality
Very realistic force feedback considering the price tag
Decent quality metal paddle shifters
Cons
The brake pedal is infamous for its stiffness
Can be too loud sometimes due to the gears grinding inside the wheelbase
Force Feedback: Dual-motor system | Rotation: 900 degrees | Warranty: 2 years limited hardware warranty | Steering Wheel: Ergonomic leather grip | Pedal Board: 3 pedals | Compatibility: Xbox Series X/S, Xbox One and PC
The Logitech G920 is the Logitech G29's Xbox counterpart, therefore boasting nearly the same features. We say nearly because the G29 does have a slight edge over the G920 in some aspects such as the RPM LEDs and the rotator knob which the G920 lacks. In function however, they're identical. So, if you're on Xbox and want a wheel that works on both PC and your console, the G920 is a perfect alternative.
The Logitech G920 offers an ergonomic steering wheel design, which is very durable, coated with a leather grip and outputs a peak torque of 2.2Nm. The paddle shifters are designed with stainless steel. Force feedback is generated through a dual-motor system inside the wheelbase, which allows for quite a realistic experience, although it can feel a bit off and janky in select circumstances.
The pedal set has a plastic base with a carpet grip. The pedals themselves are made of metal and are quick and responsive. However, the most common issue that has been encountered by many, is the stiffness of the brake pedal. This can be quite a nuisance, as the other pedals don't have to pressed down as hard. Additionally, the brake pedal may develop creakiness over time thanks its stiffness.
2. Thrustmaster T300RS
Best Alternative to the G29
Pros
Durable build
Excellent force feedback which is perfect for beginners
Silent
High-quality metal paddle shifters
Cons
The pedal base is mediocre
Fan is too loud
Force Feedback: Dual belt system | Rotation: 1080 degrees | Pedal Board: 2 pedals | Steering Wheel: Hot swappable; made of durable plastic build and coated with rubber grip | Warranty: 2 years | Compatibility: PS5, PS4, PS3 and PC
The Thrustmaster T300RS is an excellent mid-tier racing wheel that manages to get almost everything right on any racing sim hobbyist's checklist; realistic force feedback, responsive and premium paddle shifters, large amount of rotation and durability. The wheel requires assembly, but it's nothing too complicated thanks to the detailed and simple instruction manuals.
The T300RS uses a dual-belt system to deliver force feedback. This system has a direct connection with the motor, and smooths out any deadzones and sudden jolts, before delivering it to the player with the raw power being detracted. The motor is brushless servomotor that allows for silent function and delivers true-to-life feedback; a peak of around 4-4.5 Nm of torque (twice that of G29/G920).
The drive systems in racing wheels affect their performance and feel. A gear drive system uses gears for force feedback, offering strength but potentially less smoothness and more noise. A belt drive system uses a belt to connect wheel rotation to the force feedback motors, providing a smoother, quieter operation. Lastly, a direct drive system, the premium option, attaches the wheel directly to the motor, delivering the most realistic, smooth, and precise feedback, though at a higher cost.
The wheel provides 1080 degrees of rotation, an ergonomic grip, and with quality paddle shifters, performs its function well. Thrustmaster has also made the wheelbase hot-swappable; you can change steering wheels swiftly and with ease. The wheel also has Thrustmaster's H.E.A.R.T (Hall Effect AccuRate Technology) which makes use of magnets to detect the wheel's steering position.
The reason why the T300RS gets "almost" everything right on a sim racer's checklist is its pedals. The lack of the clutch pedal and the cheap pedal base are a bit of a nuisance. The pedals themselves are made of metal and perform well enough, but the pedal base is made entirely of plastic and has really bad grip on surfaces, a bit worse than the pedals of the Logitech G29/920.
While the T300RS could've achieved a truly silent functioning like Direct Drive wheels, it's unable to do so thanks to the fan inside the base, which produces roughly the same level of noise as an Xbox 360. Overall, it is a widely agreed fact in many sim racing forums that the T300RS is the best alternative to the G29. With better features, smooth and silent force feedback, premium parts, it's well worth the cost.
The T300RS has 3 editions; the base T300 RS, the Ferrari Integral Alcantara Edition and the Gran Turismo (GT) Edition. The GT edition offers more features and better pedals than its base variant, but at an increased cost. The Xbox equivalent to the T300RS is the Thrustmaster TX.
3. Fanatec CSL DD Ready2Race Bundle for PC (5Nm/8Nm)
Pros
Very realistic Direct Drive force feedback
Very competitive price
Built-in LED display for telemetry
Rubber grip on the wheel
Tactile metal shifters
Magnetic pedals
Vast range of adjustability
Silent
Cons
Demands more from your wallet in order to get the best
Only 2-pedal set in base package
Might have to wait long for stock availability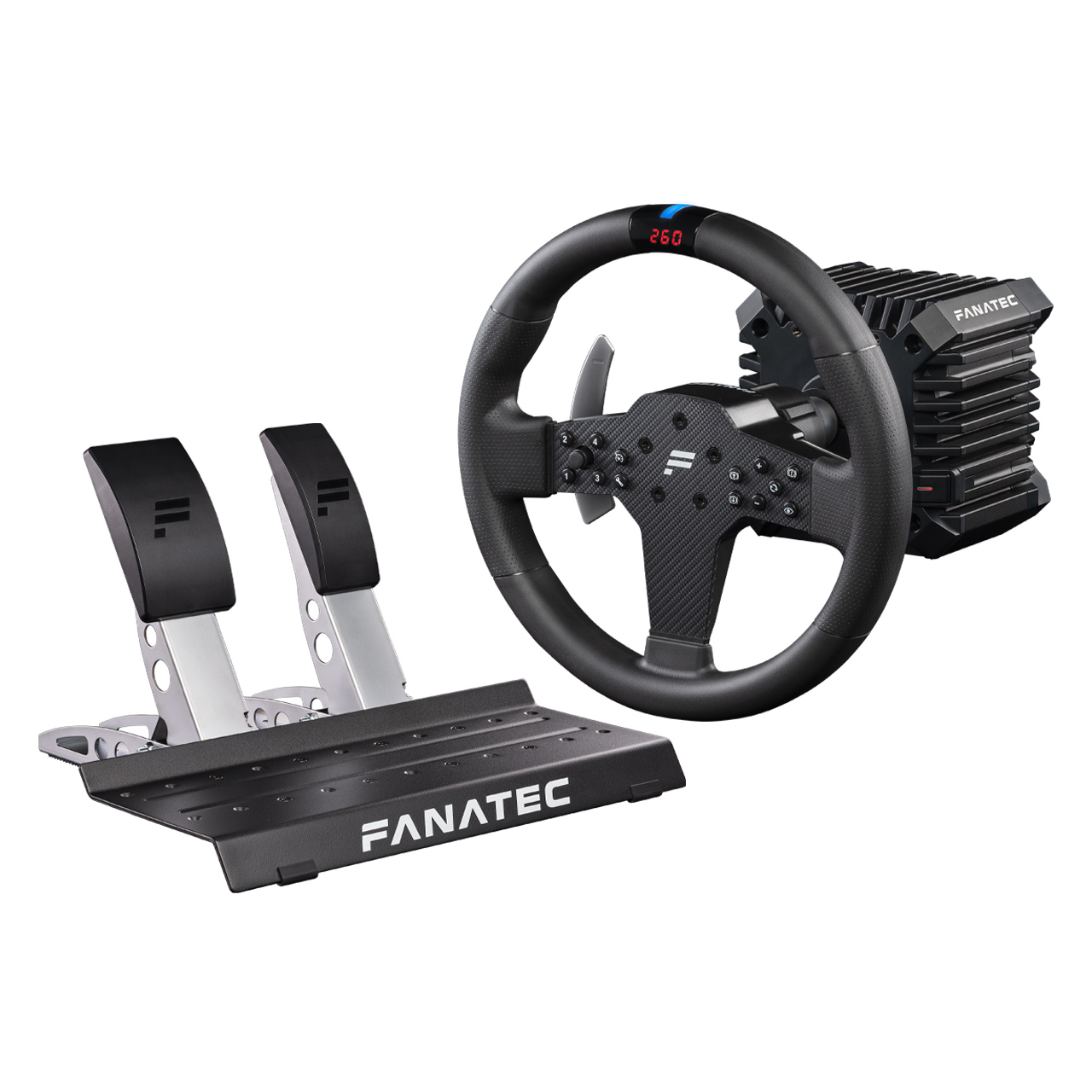 Force Feedback: Direct Drive | Steering Wheel: Plastic body, Rubber grip and LED display for telemetry data | Pedal Board: 2 pedals | Rotation: 1080 degrees/Infinite if firmware lock is removed | Compatibility: Xbox Series S/X, Xbox One and PC | Warranty: 1 year
Fanatec is renowned for its high-end, premium wheels that offer true-to-life driving. The Fanatec CSL DD Ready2Race bundle is a perfect example of this. The bundle comes with the CSL DD wheelbase, the CSL P1 V2 wheel and the CSL Pedals. Right now, at its current $400 price, it's the cheapest direct drive wheel money can buy and, therefore, represents unbelievable value.
The Fanatec CSL DD bundle comes in two configurations:
5Nm
and
8Nm
, with the latter being
$100 more
. We, along with many others online, believe that the 8Nm upgrade is definitely
worth the extra cost
and makes a lot of difference in the realism of the wheel. Though, even if you do go with the 5Nm today, you'll still have the option to purchase the 8Nm "
Boost Kit
" as an add-on in the future.
The star of the show—direct drive technology allows the steering wheel to connect directly to a motor inside the wheelbase without any belts or gears. This results in raw and undiluted output, providing a more realistic experience producing up to 8Nm of torque. This also makes the CSL DD virtually silent, apart from the occasional fan noise.
The included Fanatec CSL P1 V2 steering wheel is minimalistic and allows 1080 degrees of rotation—infinite if you disable the firmware lock. It has a rubber grip, is made out of durable plastic, and the LEDs display telemetry data. The buttons are also good enough for racing, though nothing revolutionary.
While there's only a 2-pedal unit in the base package these are made entirely of metal, except the plastic caps. The pedals are premium; highly modifiable, responsive, produce the right amount of resistance and have magnetic hall-effect sensors that detect contact and help prevent degradation (stick drift) over time.
Currently, the bundle is in stock and ready to ship. But don't count on this being the norm. Fanatec's high-end, non-mass-produced nature often means longer wait times for shipping. And that's not the worst part, your wallet might take a further hit even after you've secured this bundle.
The included pedal set has no clutch which is imperative to racing. The bundle also doesn't come with any table clamps, that's an extra $30 add-on unless you plan to hard mount it on a cockpit. And as the name suggests, it only works on PC and Xbox.
For PlayStation users, the Fanatec GT DD Pro, with Gran Turismo branding and a better wheel, is $200 more expensive but can work on Xbox too with a wheel swap. The GT DD Pro and CSL DD have identical function and performance, so PC users should stick with the latter for its better price.
Overall, despite these minor setbacks, the sheer value of the Fanatec CSL DD bundle is unparalleled by anything else on the market. Yes, the setup is not as convenient as Logitech or Thrustmaster options, but the quality of the driving experience is leagues above any gear or belt-driven offerings from those two. In our opinion, this is the starter wheel to buy (or invest into) regardless of your budget.
Pros
Ergonomic leather grip
Great build quality
TrueForce allows for more immersiveness
Premium pedals
Built-in LED lights for RPM display
Dual-clutch system in supported games enhances gameplay experience
Responsive aluminum paddle shifters
Cons
Essentially the same as the G29/G920 in terms of looks and performance
Noise generated from the gears can be too loud
TrueForce is not as realistic as Logitech makes it out to be
Force Feedback: Gear driven TrueForce system | Rotation: 900 degrees | Warranty: 2 years limited hardware warranty | Steering Wheel: Aluminum build coated with ergonomic leather grip | Pedal Board: 3 pedals | Compatibility: PS5, PS4, Xbox Series X/S, Xbox One and PC
The Logitech G923 is Logitech's mid-tier wheel offering and serves as an upgrade and successor to the G29/G923. It has Xbox and PlayStation versions, both carrying identical features and looks, except for the button styles (ABXY on Xbox and △ O X ◻ on PlayStation).
The Logitech G923 has more modern and sleek design. The build quality is great and feels very premium. The pedals, in particular, are a slight upgrade but only in one aspect. The brake pedal has an improved progressive spring solution as opposed to the linear spring/rubber combination found in G29.
The paddle shifters, like the wheel, are made from aluminum. They produce satisfying clicks when pressed and are equally responsive. Apart from fact that the Xbox version of the G923 also has LEDs (G920 didn't), the addition of Logitech's TrueForce technology is the only thing that is truly original in this wheel.
TrueForce allows the wheel to vibrate in the same pattern as the audio frequencies found in-game. It allows for more immersion but causes the wheel to become more noisier than usual. The wheelbase is also able to produce a peak of about 2.2 Nm of torque so there isn't any extra force feedback by default.
The force feedback is gear driven and especially clunky. Consequently, the clunky nature leads to noise being generated. Add TrueForce to the mix, and the noise becomes annoying. TrueForce can be switched off but the noise remains. Logitech's claims that the force feedback is more realistic, but it only feels that way in certain supported games, otherwise it can be chalked up to just a marketing term.
Ultimately, the fatal flaw of the G923 is that it's just a repackaged G29/G920. The performance, force feedback quality and its design; it's all 99% identical to the G29/G920. Only the improved pedals, LED lights and TrueForce technology make it seem that the G923 is a new and different product.
If you're looking to buy a G29/G920 right now, you should skip that and get the G923 instead. However, if you already own a G29/G920 and are looking for an upgrade or to try something different, we recommend that you skip this one.
5. Thrustmaster T150
Best Budget-Friendly Option
Pros
Durable build
Wallet-friendly
Smooth force feedback which is perfect for beginners
High-quality metal paddle shifters
Cons
The pedals are of extremely low quality
Force Feedback: Belt and gear system | Rotation: 1080 degrees | Pedal Board: 2 pedals | Steering Wheel: Durable plastic build with rubberized grip areas | Warranty: 2 years | Compatibility: PS5, PS4, PS3 and PC
The Thrustmaster T150 is a racing wheel built for PlayStation consoles but also works on PC. Employing a better motor system to provide smooth and realistic force feedback, responsive and high-quality paddle shifters, and a sturdy build, the T150 is the best option for newbies looking to get into racing sims, while having a tight budget.
The T150 generates around 2Nm of torque, similar to the Logitech G29. The force feedback uses a hybrid belt and gear system, and while the gear generates a sort of creaky feel, it's easily tolerable. The wheel is made of highly durable plastic, has rubberized grip areas for the sake of ergonomics and offers 1080 degrees of rotation.
Unfortunately, like every other budget entry-level peripheral, the T150 has some flaws. In this case, the flaw rests in the pedal set. To say that the pedals look cheap and feel cheap while being used, would be modest. Entirely made of low-quality plastic, it's a shame to see that a reputable brand like Thrustmaster skimped out on such an essential part of the T150 package.
Anyone that has used these default pedals will advise you to immediately replace them with the T3PA metal pedals that come in the T150 Pro package. As you would expect, the Pro package costs significantly more, as it includes a shifter too. Xbox users can opt for the Thrustmaster TMX, which is essentially the T150's Xbox counterpart.
Pros
Ergonomic leather grip
Superior build quality
Built-in configurable LED lights for telemetry data
Compact wheel base
Remappable buttons via software
Very realistic force feedback
Responsive aluminum paddle shifters
Cons
More expensive than Fanatec CSL DD
Brake pedal feels way too smooth
No upgrade path for the wheelbase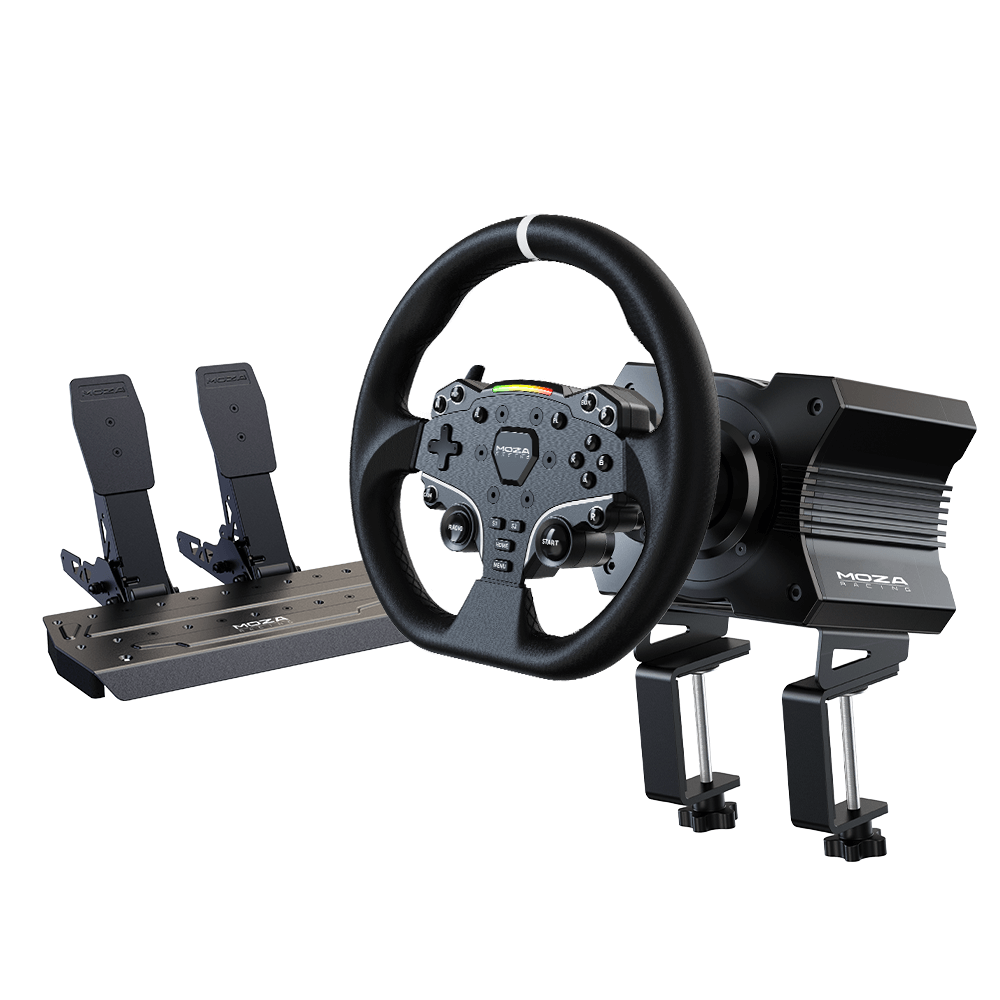 Force Feedback: Direct Drive | Rotation: Infinite | Warranty: 2 years limited hardware warranty (for the wheel base), 1 year for pedals and steering wheel | Steering Wheel: Aluminum build coated with ergonomic leather grip | Pedal Board: 2 pedals | Compatibility: PC
MOZA is a relatively new name in the sim racing market, but has quickly established itself as a direct competitor to Fanatec. Case in point, the MOZA R5 bundle serves as a counter to Fanatec's CSL DD bundle, and is an excellent alternative to both the CSL and therefore the G29.
Armed with the next-gen Direct Drive force feedback technology and a wheelbase capable of producing up to 5.5Nm of torque, the R5 gives an authentic lifelike feel of driving a real racecar. The wheel base is compact, powerful and easy to set up. The steering wheel, with sturdy aluminum build which is coated with leather, has LED lights to convey telemetry-based data. It is also capable of infinite rotation.
The paddle shifters, while responsive and made from metal, are non-magnetic. The steering wheel has a button layout similar to that of a controller. The buttons feel great and there's an abundance of them, too, 22 to be exact. You even get dedicated engine start/stop and radio buttons, though they're all completely configurable.
The overall build quality of both the wheel and the wheelbase feels a bit better than the Fanatec CSL DD, the wheel in particular is sturdier than Fanatec's offering and has no flex. The Quick Release system is also far superior on the MOZA as its fully-metal and much sturdier compared to Fanatec flimsy plastic system. But at $100 more expensive than the CSL DD, we expect this level of quality.
The Quick Release (QR) system is a key feature in advanced sim racing setups. Imagine it as the hot-swap keyboard but for racing wheels—allowing easy and swift changes between different steering wheels on one wheelbase. This system enhances your sim racing experience by providing versatility and a realistic feel for various racing scenarios where different wheels can change the feel of the race. It also makes storing or traveling with your wheel much more convenient.
Moreover, the pedals are also metal and perform well. The only problem is the brake pedal, which offers nearly no resistance and is as smooth as the accelerator. According to Boosted Media's review, they are perfect for being fast but leave a lot to be desired when it comes to accuracy and precision. Lastly, the R5 offers no way to upgrade the torque down the line so you're stuck with the stock 5.5Nm.
At the end, choosing between the MOZA R5 and the Fanatec CSL DD should come down to availability and support. Which company is more present in your region in case you need after-sales support? The performance you'll get out of either wheel will impress you so make your decision based on practicality.
---
How To Choose The Perfect Racing Wheel For You
Choosing the perfect racing wheel depends heavily on a variety of factors including your budget, your gaming setup, the games you intend to play, and your own personal preferences. Here are a few points to consider, select a tab to see its details:
It is essential to ensure that the wheel you choose is compatible with your gaming setup, be it
PlayStation
,
Xbox
, or
PC
. Some racing wheels are only compatible with specific consoles or operating systems, while others can work on multiple platforms. If you're someone who plans to switch back and forth between your PC and console, get a wheel that supports both. Otherwise, pretty much every wheel is compatible with PC by default.
This is a significant feature in a racing wheel that gives you the feeling of resistance and vibrations as you steer, simulating a real-life driving experience. High-quality force feedback can make a huge difference in terms of immersion, but it generally comes at a higher cost. Force feedback in measured in nanometers (Nm) of torque, with
2Nm
being the minimum for a good experience.
The materials used in the construction of the wheel and pedals contribute to their durability and feel. A wheel with a
metal frame
and a
leather-wrapped
wheel
(like the Logitech G29/920) will feel more authentic than a wheel made entirely of plastic. The quality of the pedals is equally important, as they are integral to the overall driving experience.
Check if the racing wheel comes with a pedal set. Some racing wheels only come with the wheel itself, which means you'll need to buy pedals separately, adding to the total cost. If it does come with a pedal set, is it a
2-pedal
or a
3-pedal
set? The latter offers a more realistic (manual) driving experience with a
clutch pedal
. Also ensure there's room for customization so you can tinker with mods down the line.
The rotation range of a racing wheel refers to how much the wheel can turn, and it varies widely from model to model. A wheel that can rotate
900 degrees
will offer a more realistic driving experience than one that rotates
270 degrees
, but it might also be more difficult to handle for beginners.
Last but certainly not least, your budget plays a significant role in deciding which racing wheel to choose. The best racing wheels with top-tier features and materials will cost you quite a bit. However, many budget options can give you a good racing experience without breaking the bank. In general, if you're buying new then expect to spend somewhere between
$250-400
on a solid budget option.
Conclusion
The Logitech G29 is a solid entry racing wheel, but today's market offers alternatives that provide a better value. In the exhilarating world of sim racing, your choice of hardware can make the difference between a triumphant finish and a near miss—why not opt for the best value possible?
Delving into racing sims with dedicated hardware can be a significant investment (check GSI's store to see what we mean). So, it's worth your time to do a thorough research before committing to a purchase. Explore YouTube reviews, see threads on Reddit and RaceDepartment, and keep an eye on your local marketplace for potential deals on used wheels. Happy racing!
Logitech G29 Alternatives - FAQs
Is the Logitech G29 the same as Logitech G920?
For all intents and purposes, yes. The only difference between the two is that the G29 is designed for PlayStation while the G920 is for Xbox, but both work on PC.
Is the Logitech G923 an upgrade over the Logitech G29/G920?
The G923 comes with TrueForce technology that does provide more realistic force feedback but only in certain games. It also comes with a better brake pedal but that's it. Virtually, everything else is identical to the G29 and G920.
Is Thrustmaster better than Logitech?
You should always be loyal to the product, not the brand. Thrustmaster's T300RS is better than the Logitech G29/G920/G923 but it comes at an extra cost and has shoddy availability in developing regions.
Is the Moza R5 better than the Fanatec CSL DD?
Both have their strengths but we're leaning towards the Fanatec since it's cheaper and offers an upgrade path. But if you prefer better build quality and a superior QR system, go with the Moza.
What is the best Logitech G29 alternative available right now?
According to our findings and online consensus, the Fanatec CSL DD bundle at S400 is unbeatable value and a great entry-point into premium sim racing.