Fractal Design Meshify 2 White Review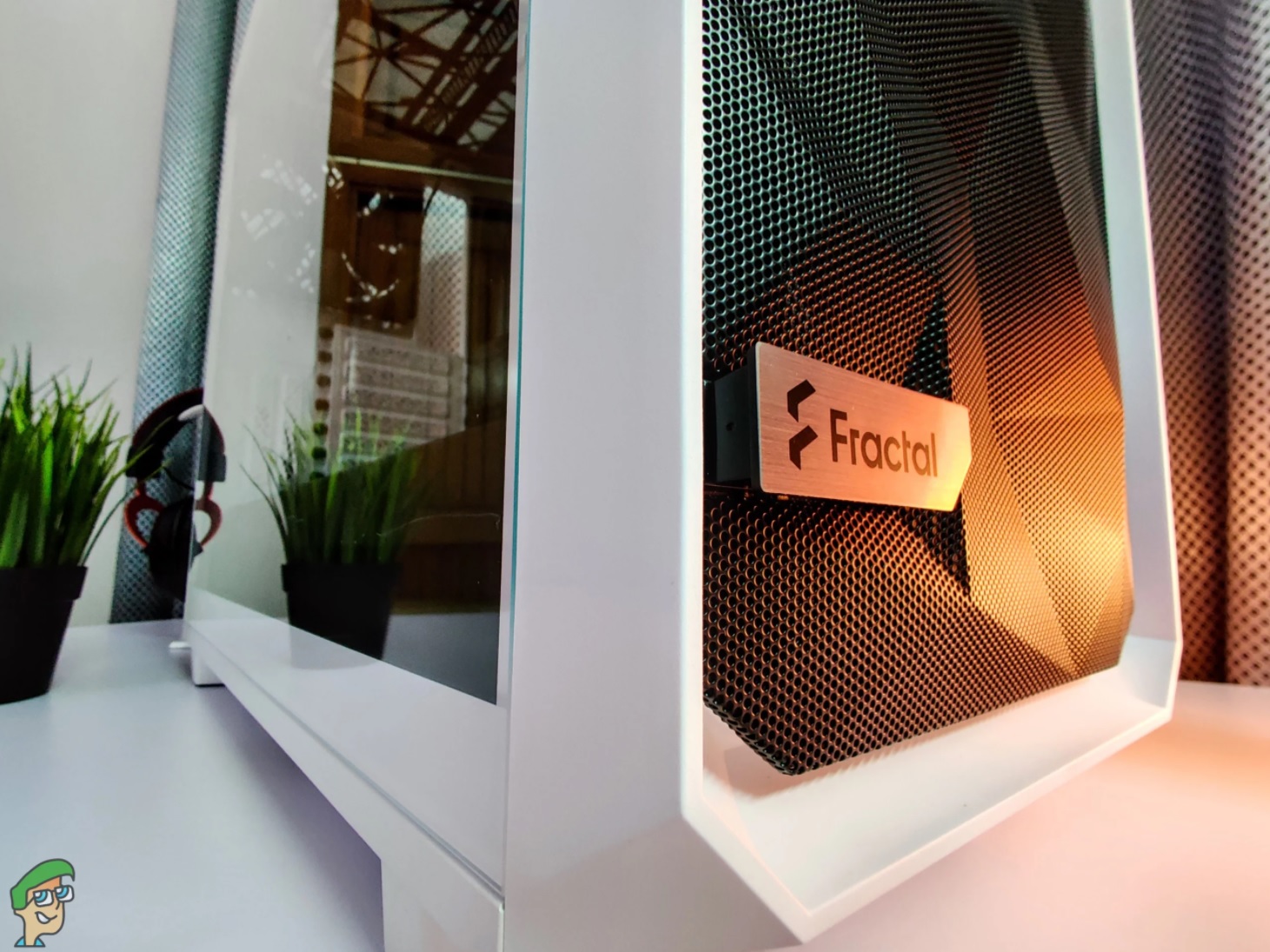 Fractal Design is a Swedish hardware manufacturer that offers a wide range of budget PC cases and cooling products. These days, they make fans, cases, power supplies, liquid coolers, mounting accessories, etc. A couple of years ago, the Fractal Design R5 caught my eye. Every reviewer and PC hardware site was talking about this case. The Define R5 was popular for being a near-perfect silent case.
PRODUCT INFO
Meshify 2
Manufacture
Fractal Design
Available at
View at Amazon
Since then, Fractal Design has seen its fair share of success stories. The Define R7 is an exceptional-looking case, the Meshify C once again tried to change the game, and cases like the Node 202 caught the eyes of ITX case lovers. The company has been around for about fourteen years now, and it's safe to say that most of those years have been quite successful.
Much of this is thanks to the Define series of cases. These cases are known for great performance, whether acoustic or thermal. They are also viable thanks to their build quality and versatility. So, bringing all of that stuff together, the Meshify 2 is perhaps the company's greatest achievement. This is a case that not only looks good, but it performs well in terms of acoustics and thermals.
If that's not enough for you, then maybe the versatility will win you ever. You can build almost any type of rig you want inside this case. The ability to configure your build down to the minute details is unparalleled. There's a lot to the story here, so strap in. We'll be going through quite an in-depth Fractal Design Meshify 2 review.
Related Roundup: Best Dual PC Cases
Unboxing Experience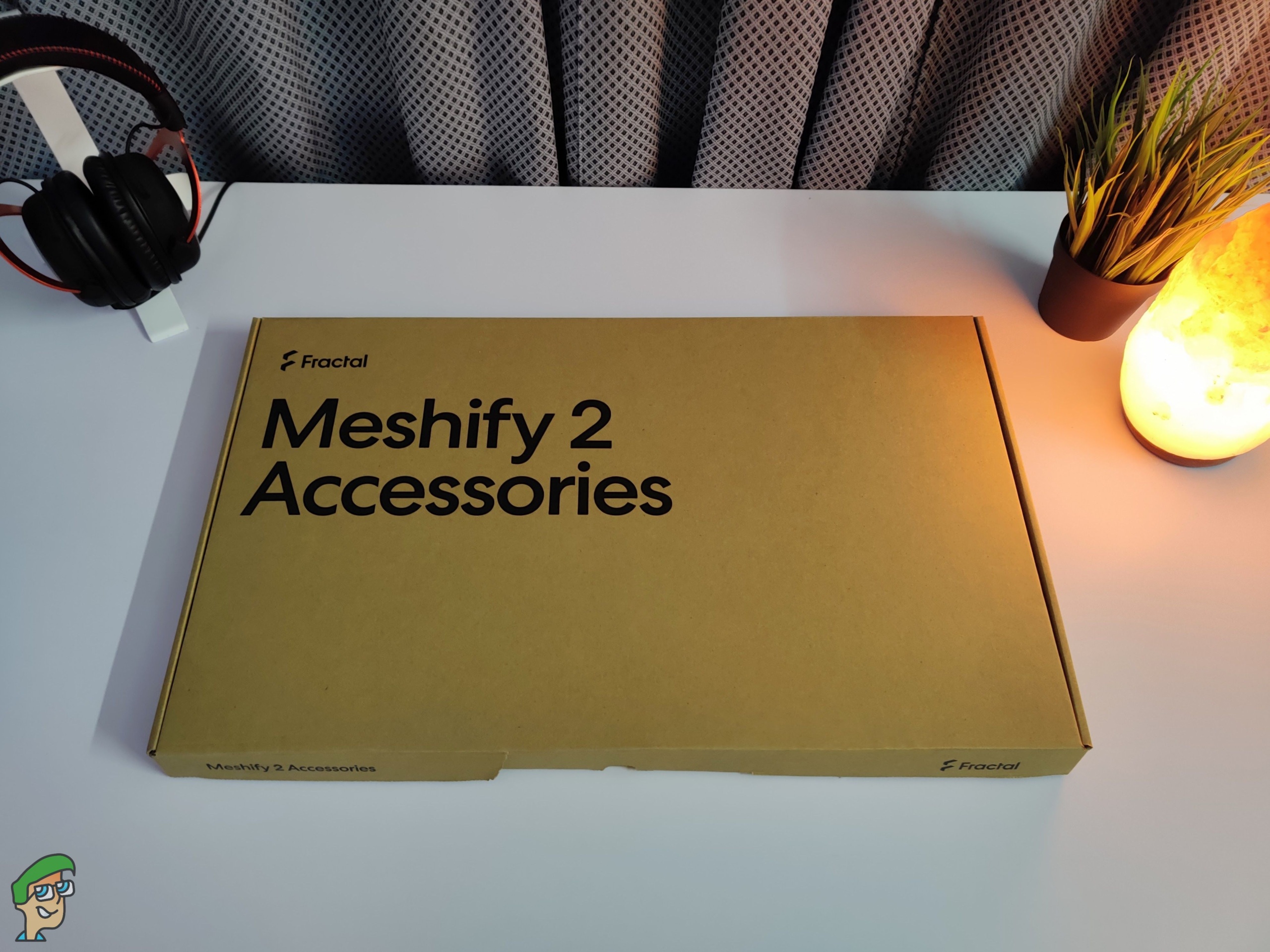 Everything about the Fractal Design Meshify 2 screams quality, and this also includes the packaging. It arrives in the regular cardboard packaging we're all familiar with. The box is quite big, and surprisingly, so is the case inside. We'll talk more about that later on. After opening the box you'll see a rectangular box that includes the accessories.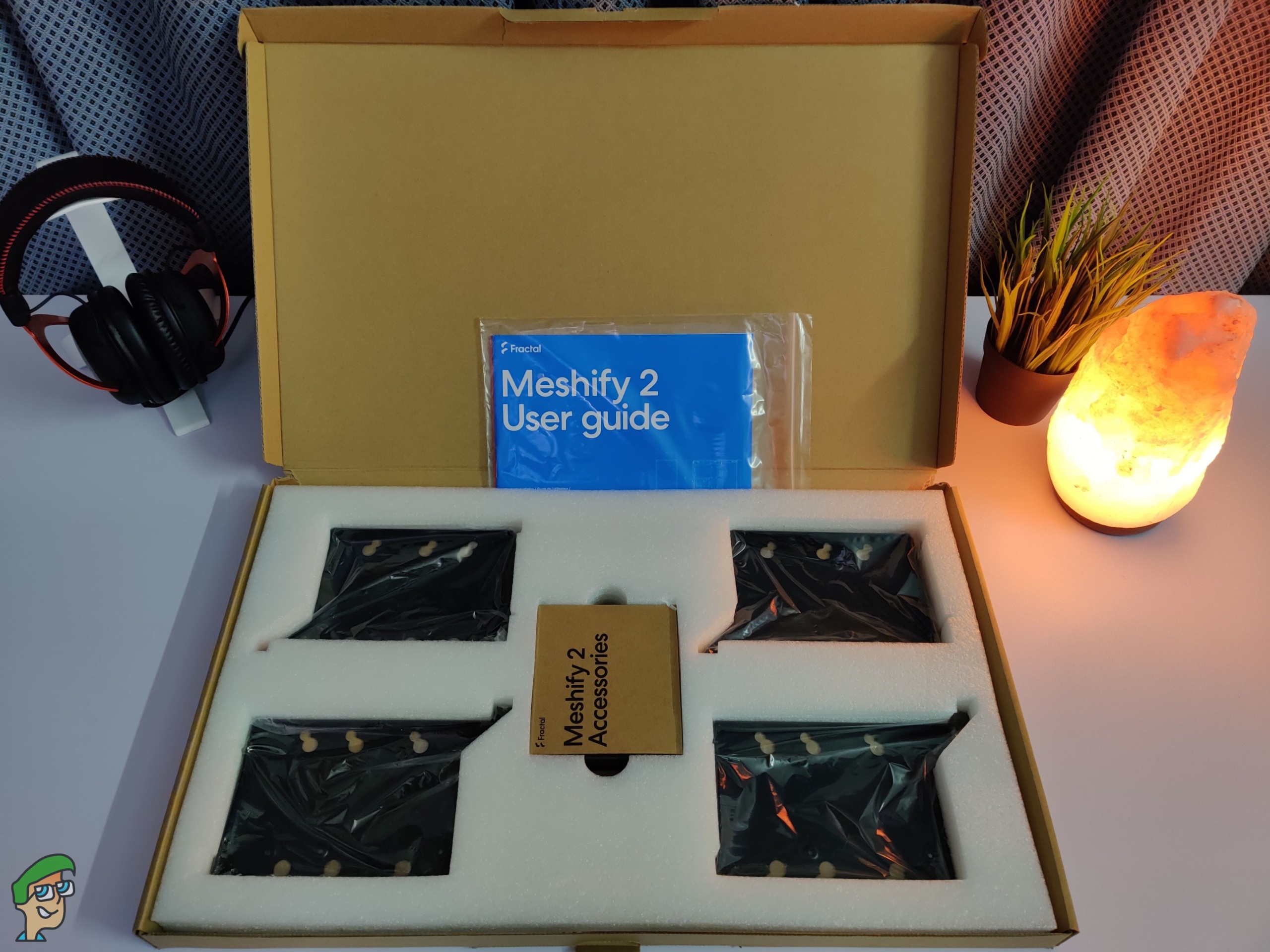 Underneath that, we have the case itself which sits firmly between two pieces of thermocol. Of course, there's a plastic sheet over the case as well. That's about it, so, let's take a look at the box contents.
Box Contents
The box contents for the Meshify 2 are as follows:
User Guide
4x 3.5-inch Hard Drive Trays
Mounting Screws
HDD Dampeners
Additional Motherboard Standoff
Cable Ties
Spinoff Tool
Power Supply Screws
Hard Drive Screws
Design
Before we start to talk about the overall design here, a bit of backstory always helps out. The Meshify 2 is an amalgamation of previous designs from the company. This includes the Fractal Design R7, Meshify S2, and the popular Meshify C.
Helpful Read: Best Micro-ATX Cases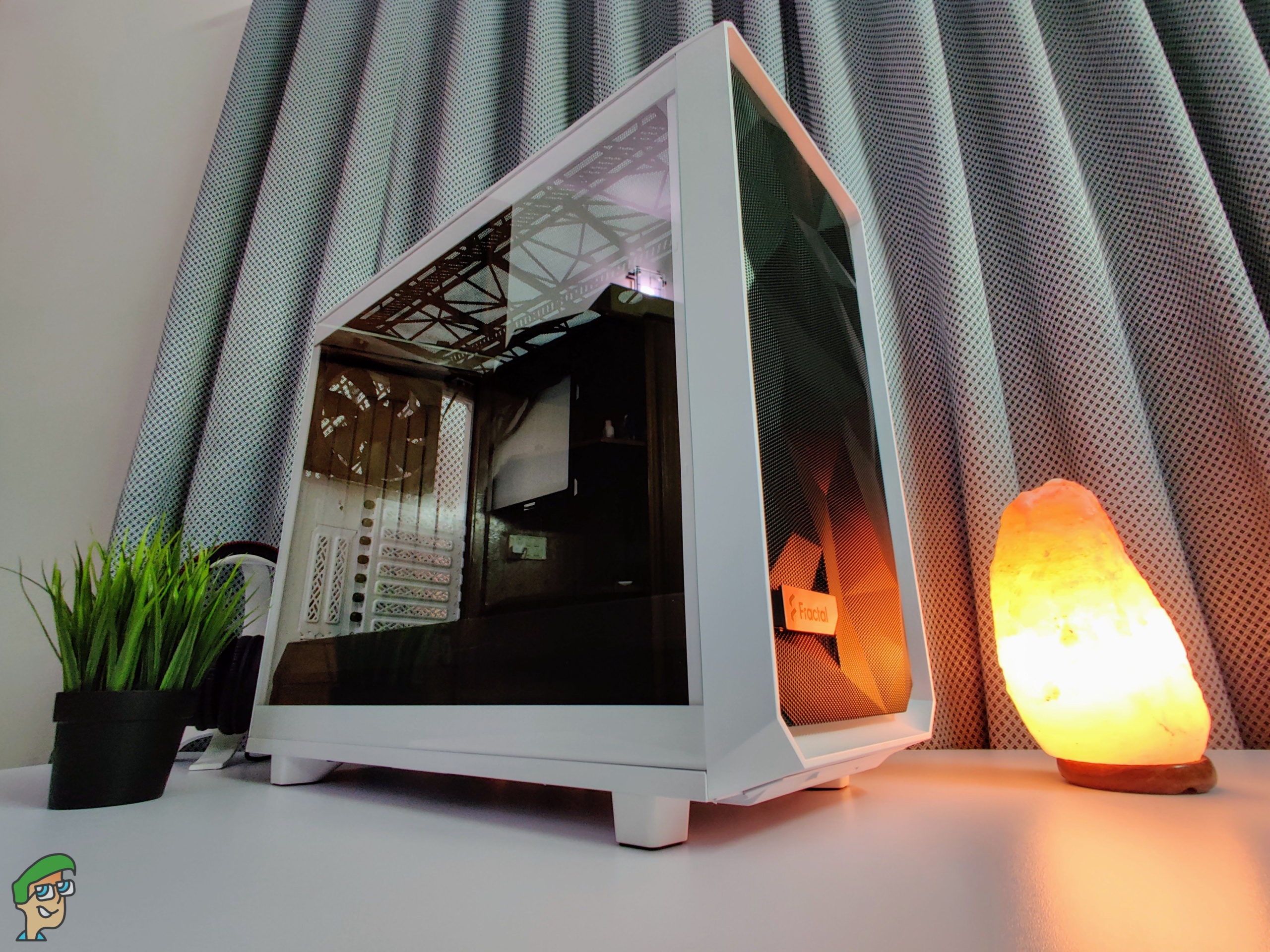 It takes everything great about all of those cases and dials it up to eleven. So, before we talk about what new things this case brings to the table, let's talk about the stuff it removes from the previous cases.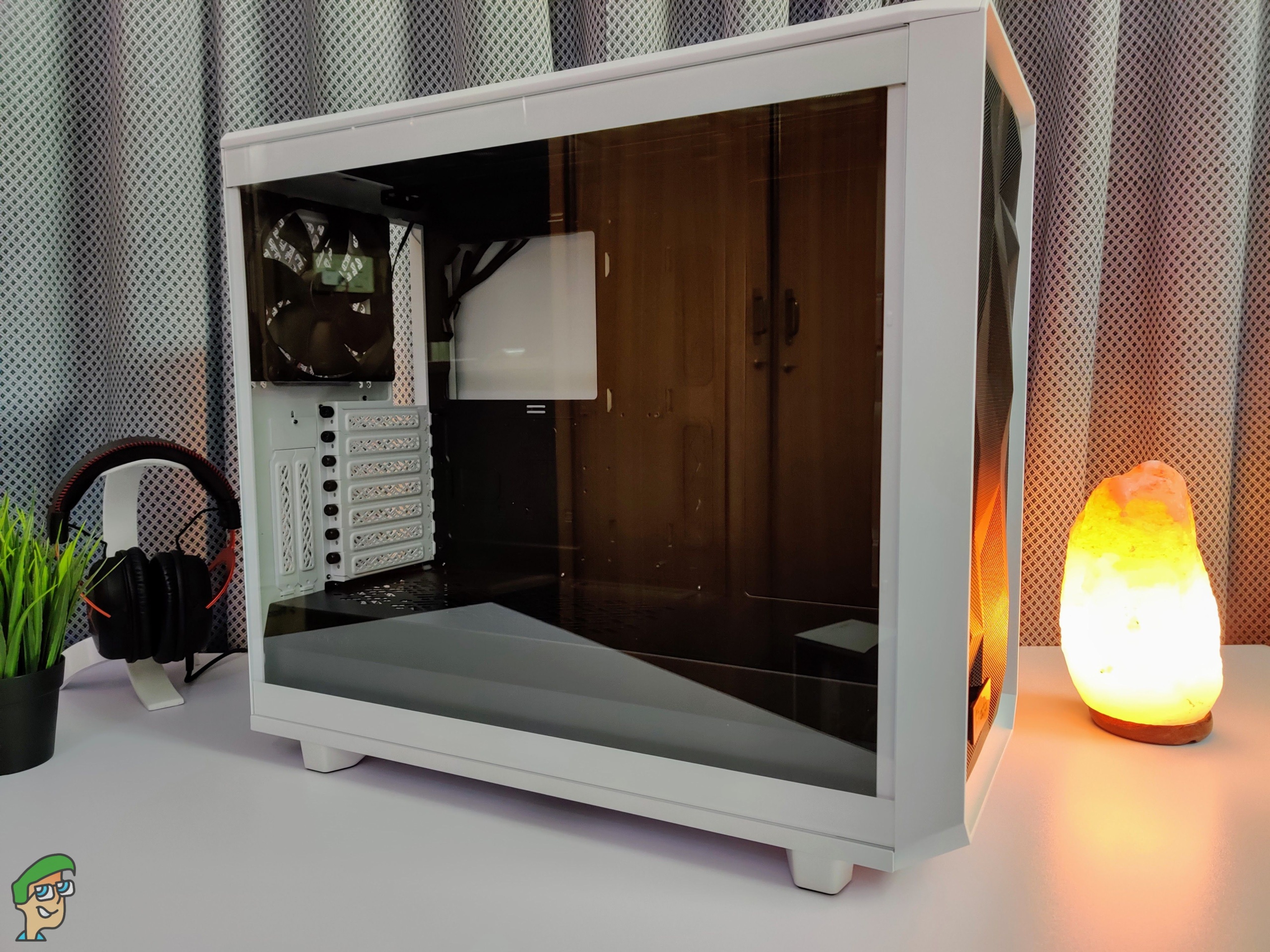 Fractal Design cases are always an enthusiast's choice, but nothing is perfect. Previous cases had several problems. For example, pulling the mesh front required yanking it with force, which didn't always feel intuitive. Other than that, the front panel IO was tethered to the bezel, so you had to be quite careful when removing the mesh front.
More Cases: Best Full Tower PC Cases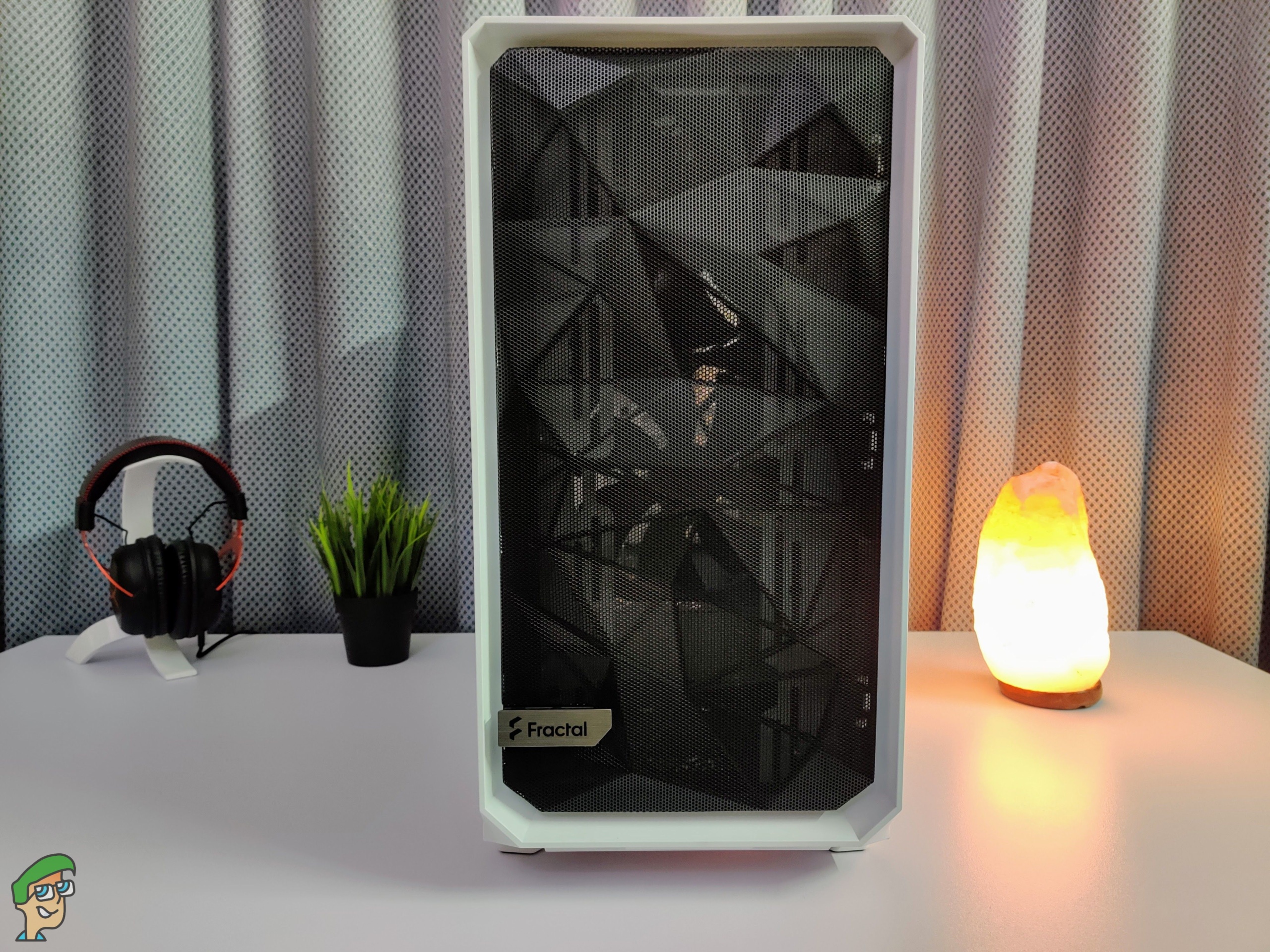 Both of these things are a non-issue this time around. We'll discuss more of those later, for now, let us take a quick tour of the case itself. So, in terms of design, it uses the same angular facet design similar to the Meshify C. As the saying goes, if it ain't broke, don't fix it. This style of design still looks great in 2021 and is sort of refreshing compared to all the generic designs out there.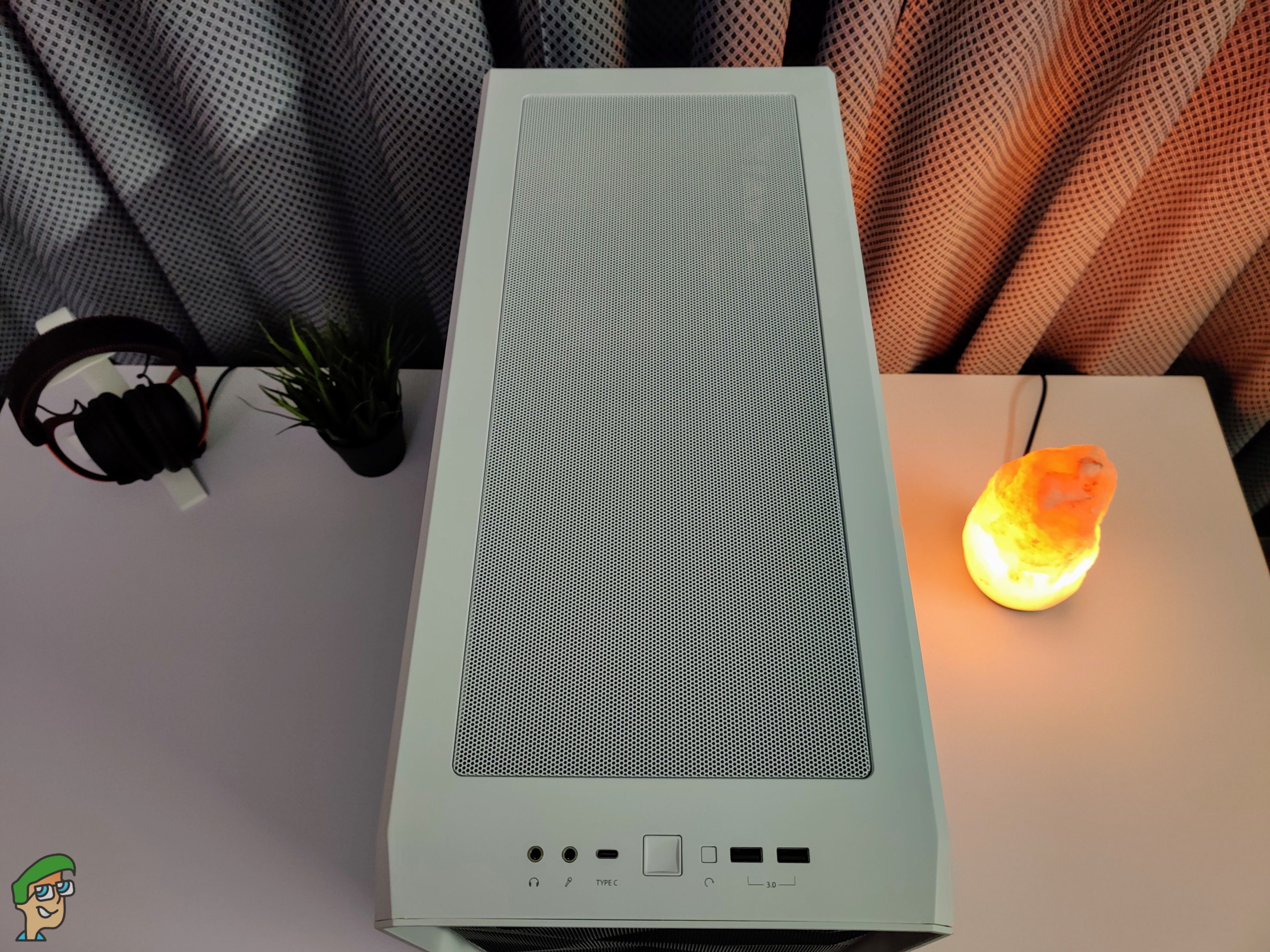 Furthermore, this angular mesh design is not just for show, as it adds filtered case airflow. The Meshify 2 is both intrepid yet very stealthy. That's a hard detail to nail for any manufacturers, so this deserves some credit.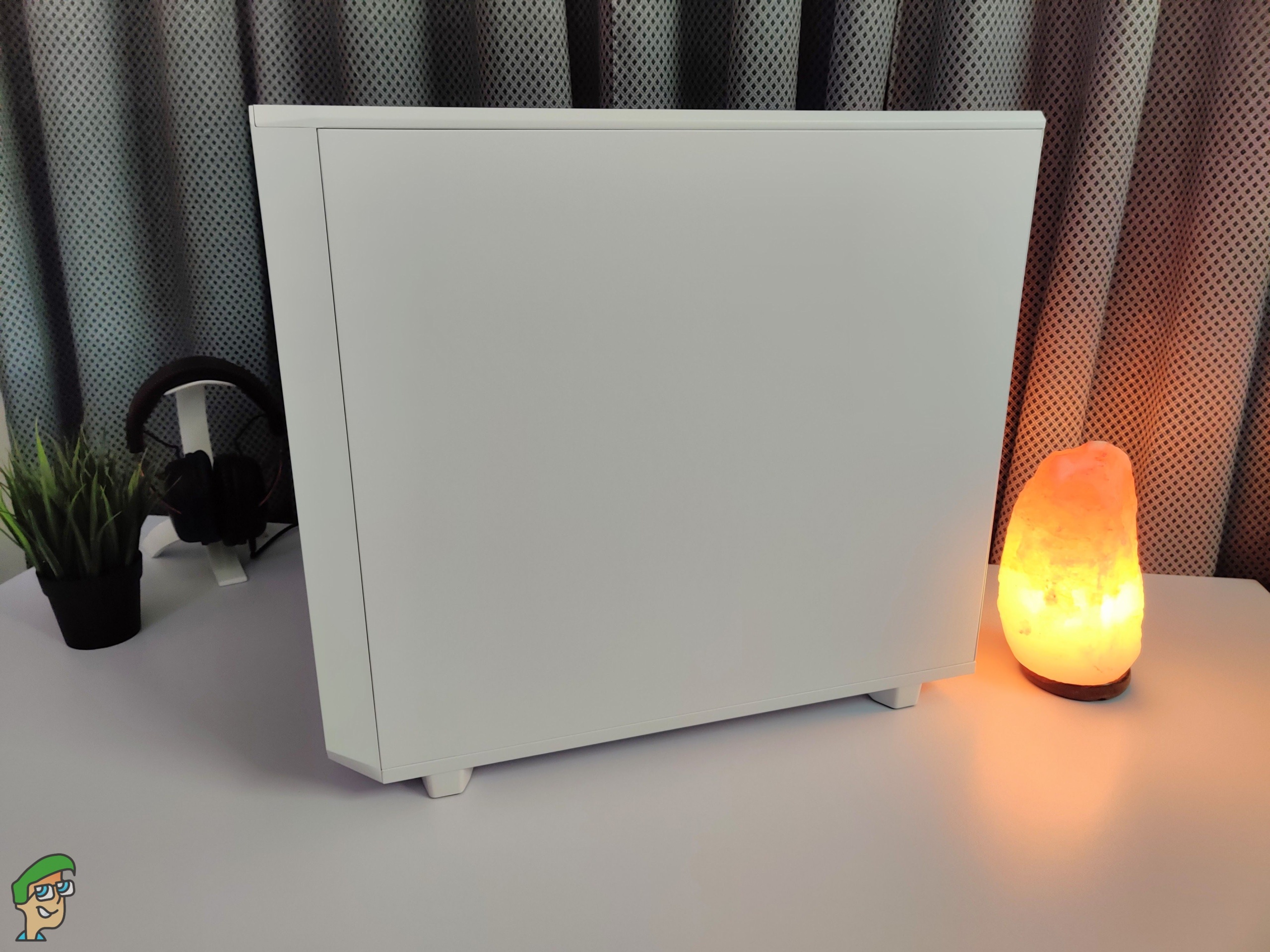 The exterior feels quite solid overall. There don't appear to be any weak spots, and we feel comfortable when building inside this chassis.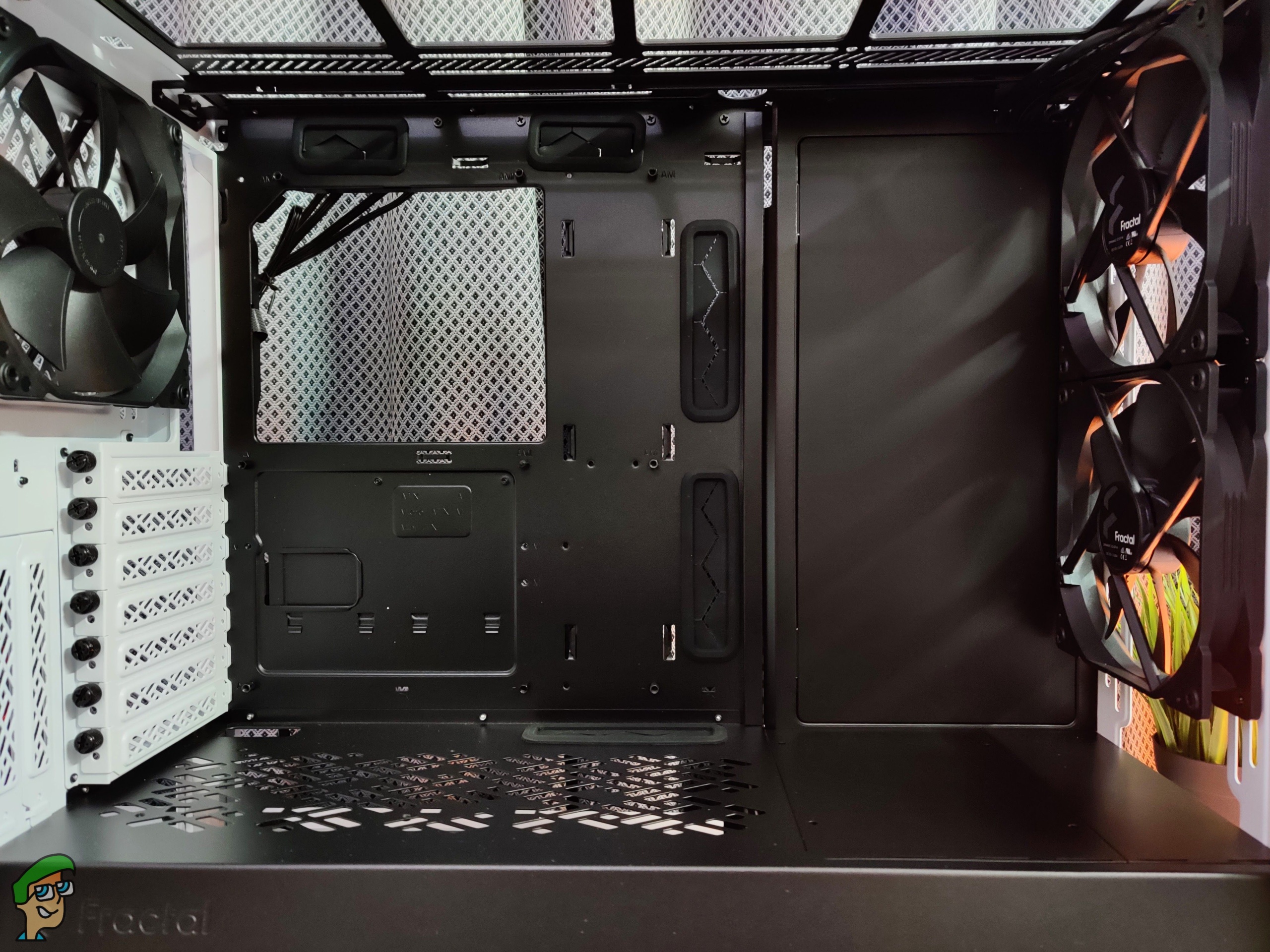 All of the side panels feel excellent, and they have a clever design quirk. Both of the side panels have latches that hook onto the metal notches inside of the chassis. Unlike the sliding motion you do on almost every other case, this one requires you to push the latches into the notches. This makes building inside the case much easier.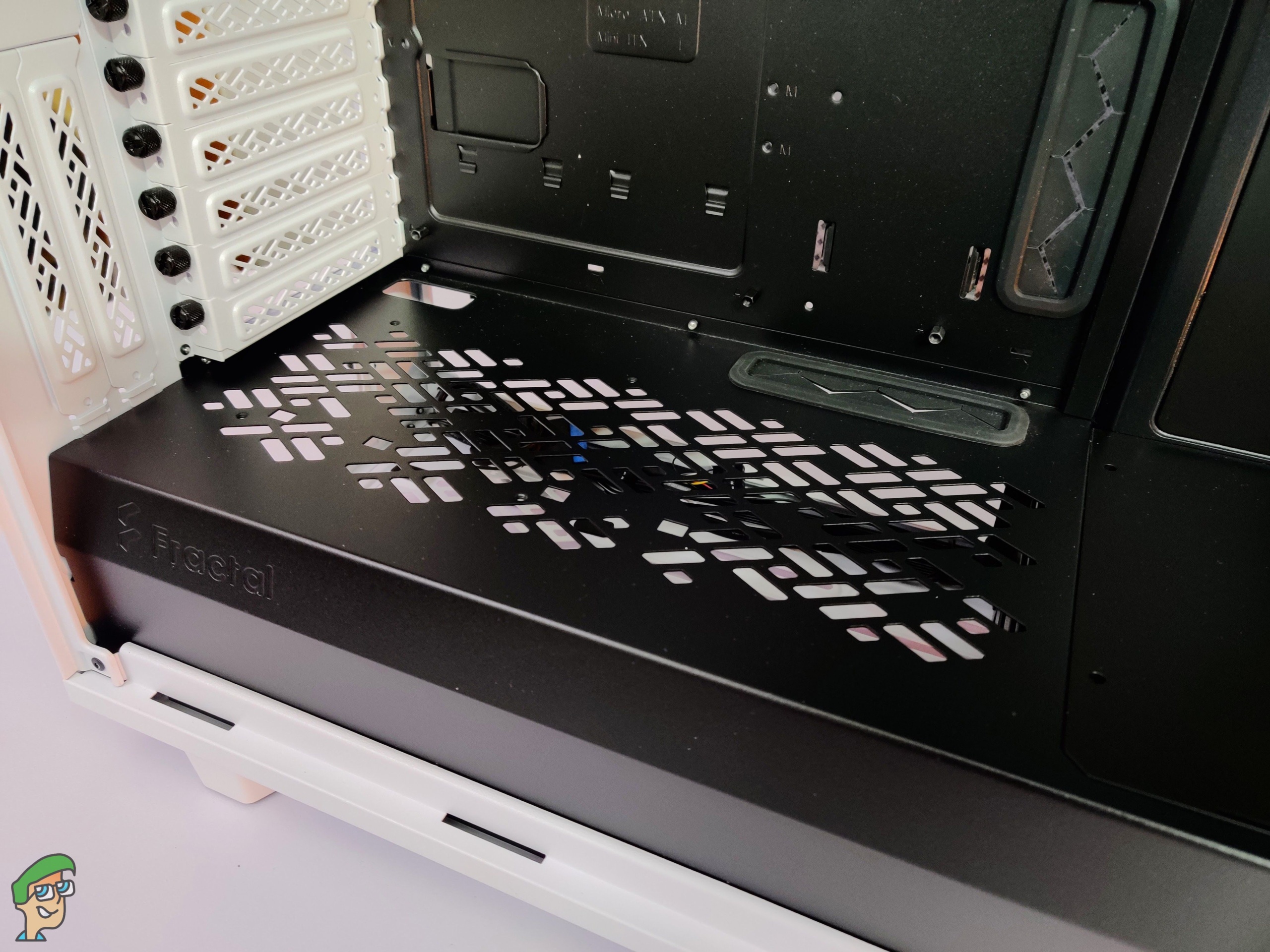 We'll talk about the interior for a moment here. This spacious design is incredibly flexible and versatile. You can have two styles of configuration inside this case. The first includes having additional drive trays installed right behind the front fans.
More Case Roundups: Best HTPC Cases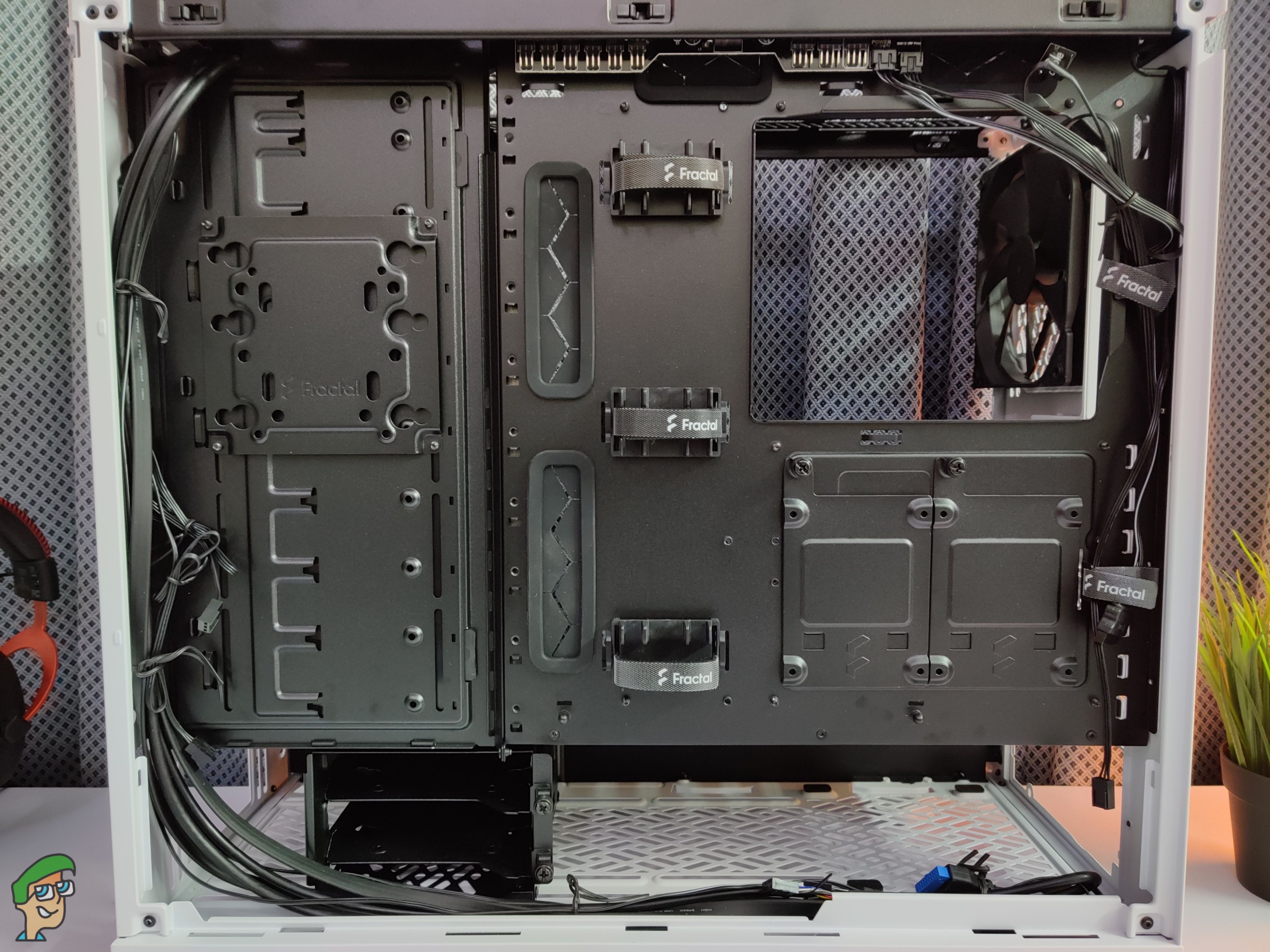 This allows you to have more drives, and you're not going to run out of drive space in this case anytime soon. The other configuration is what we can refer to as the "open' configuration.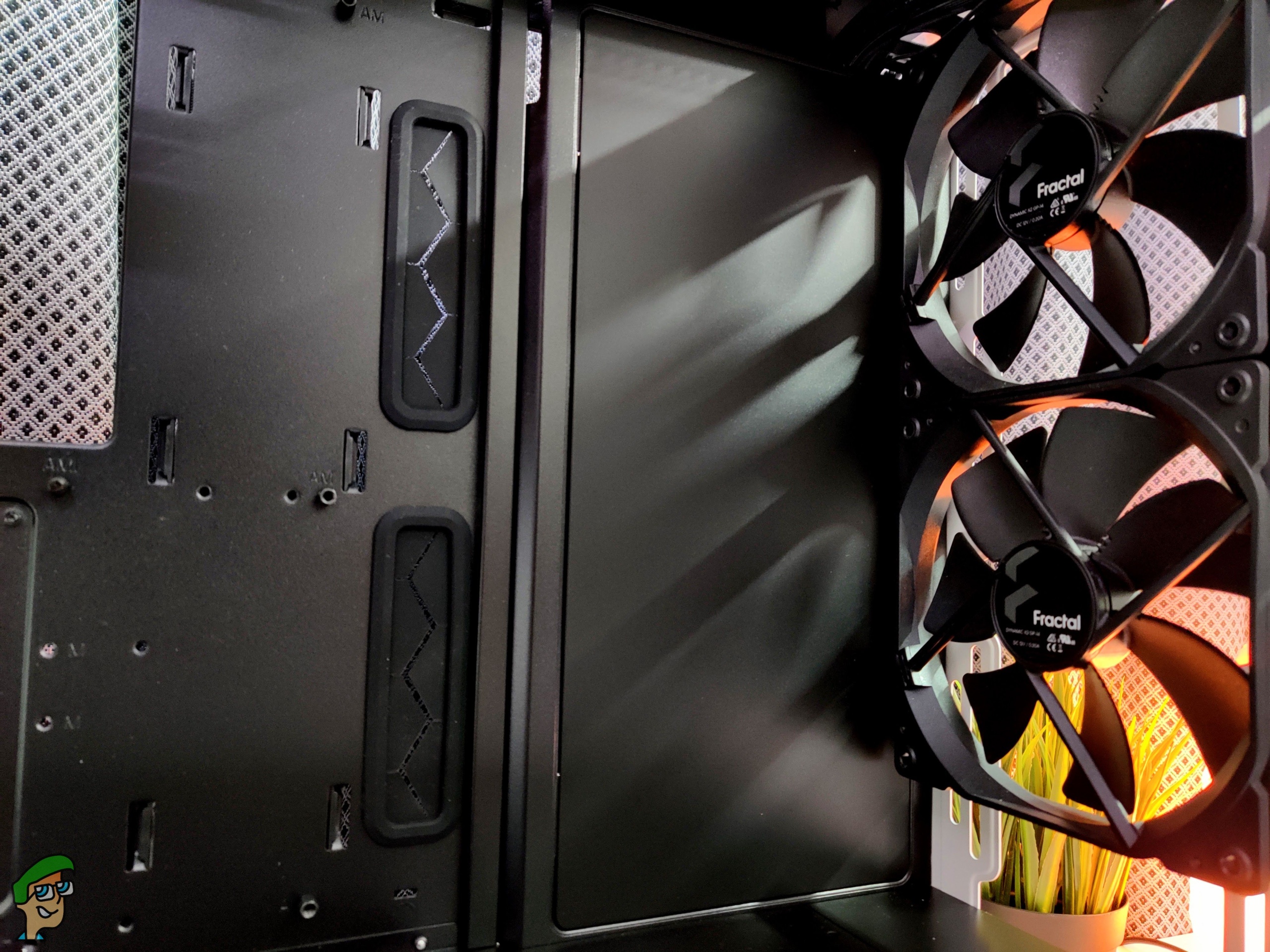 This spacious configuration allows you to have complete control over your building process. You can fit a custom water loop here, use several radiators, hard-line tubing, and still have space leftover. This also means that cable management and moving around in this chassis is easier. The case also supports a large motherboard up to 285mm E-ATX standards.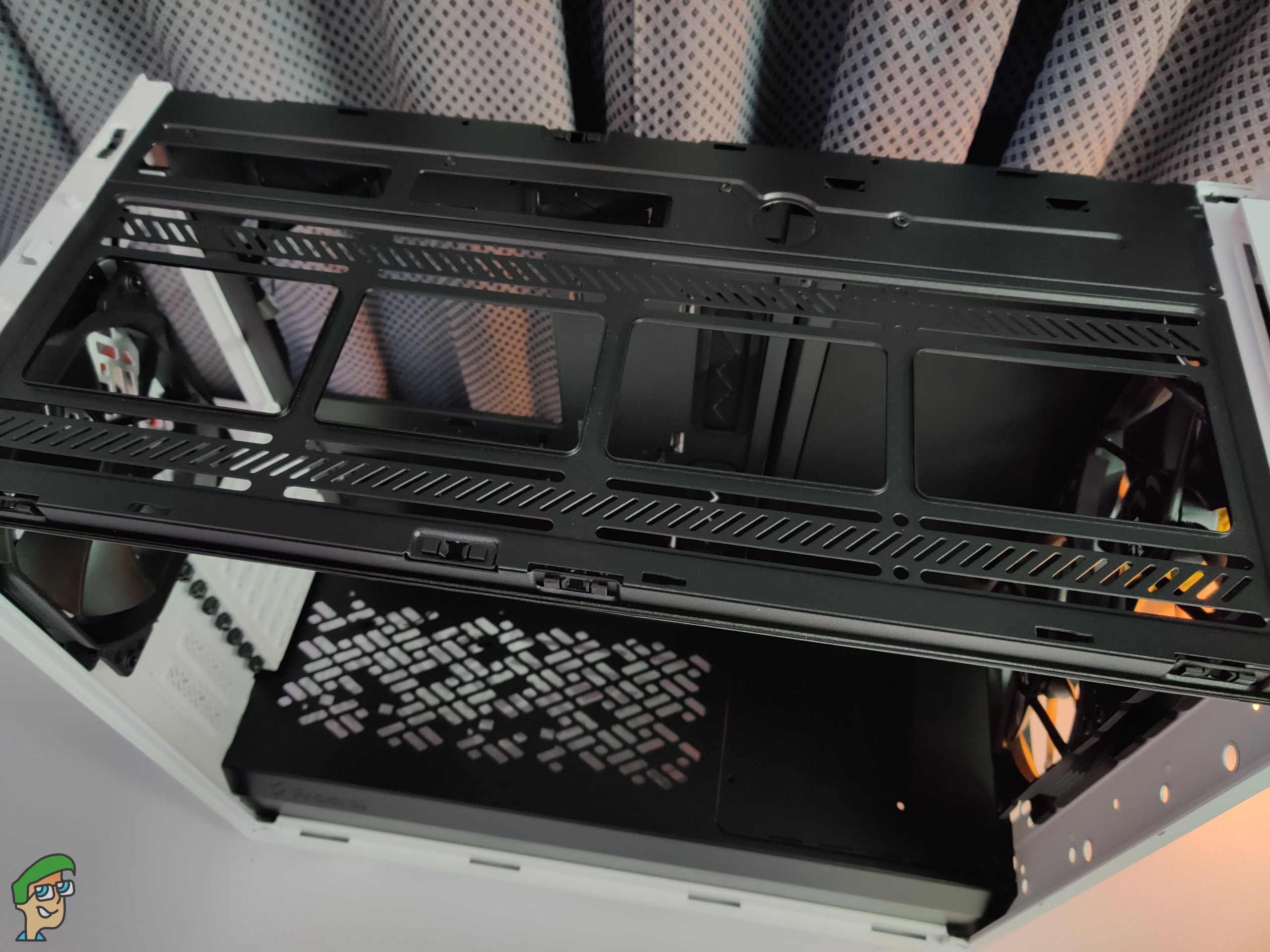 Speaking of which, let us get numbers out of the way very quickly. The rear has support for a 120mm radiator, the front can house a 360mm one, a 280mm one in the basement, and finally a 420mm radiator at the top. That's quite a lot of support for those of who you need it. Needless to say, this thing is very multi-faceted. That's not all, this thing allows you to install up to 11 hard drives along with four SSDs.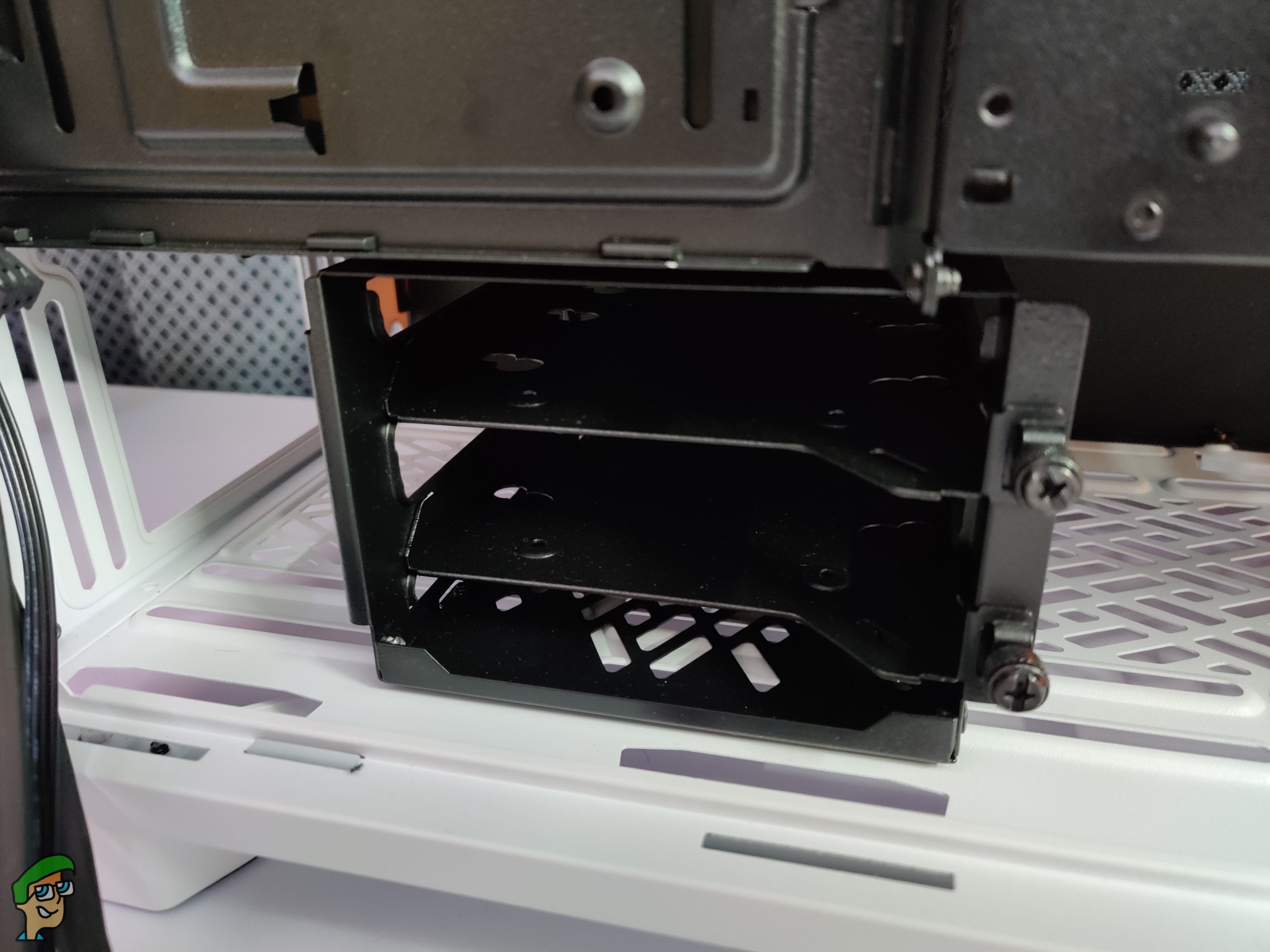 The box comes with six HDD trays, two SATA SSD brackets, and one Multibracket. The company also sells additional drive bays separately. In total, you can have 19 physical drives inside this case. Needless to say, that is way too impressive.
Front I/O And Nexus Fan Hub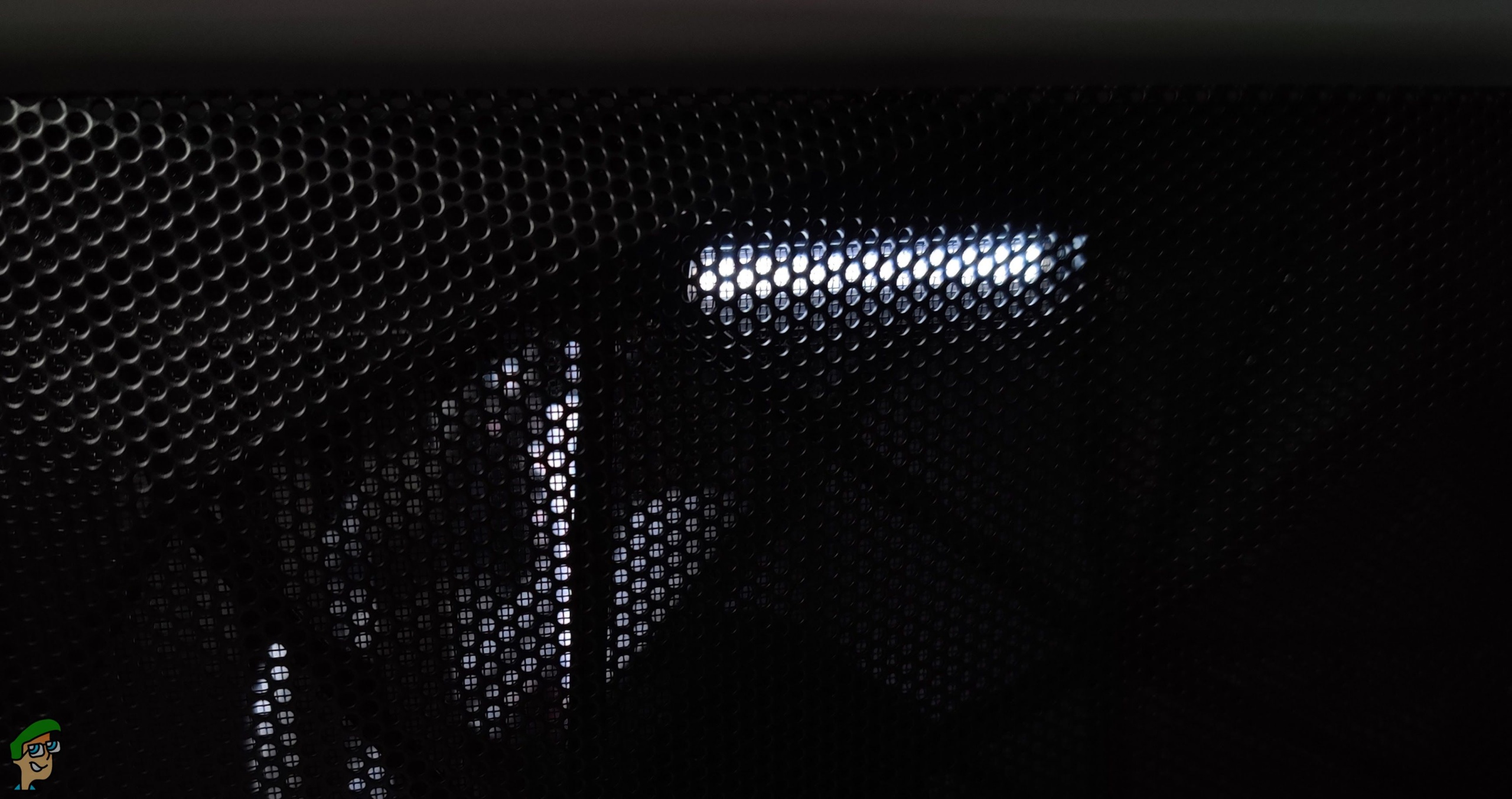 We found a cool aspect of the design in the front panel in our Fractal Meshify Design 2 review. It has a tiny LED strip or bar that lights up when the PC is turned on. It is extremely subtle, but if you look for it, it adds to the design in a nice way. Now, let's talk about the I/O.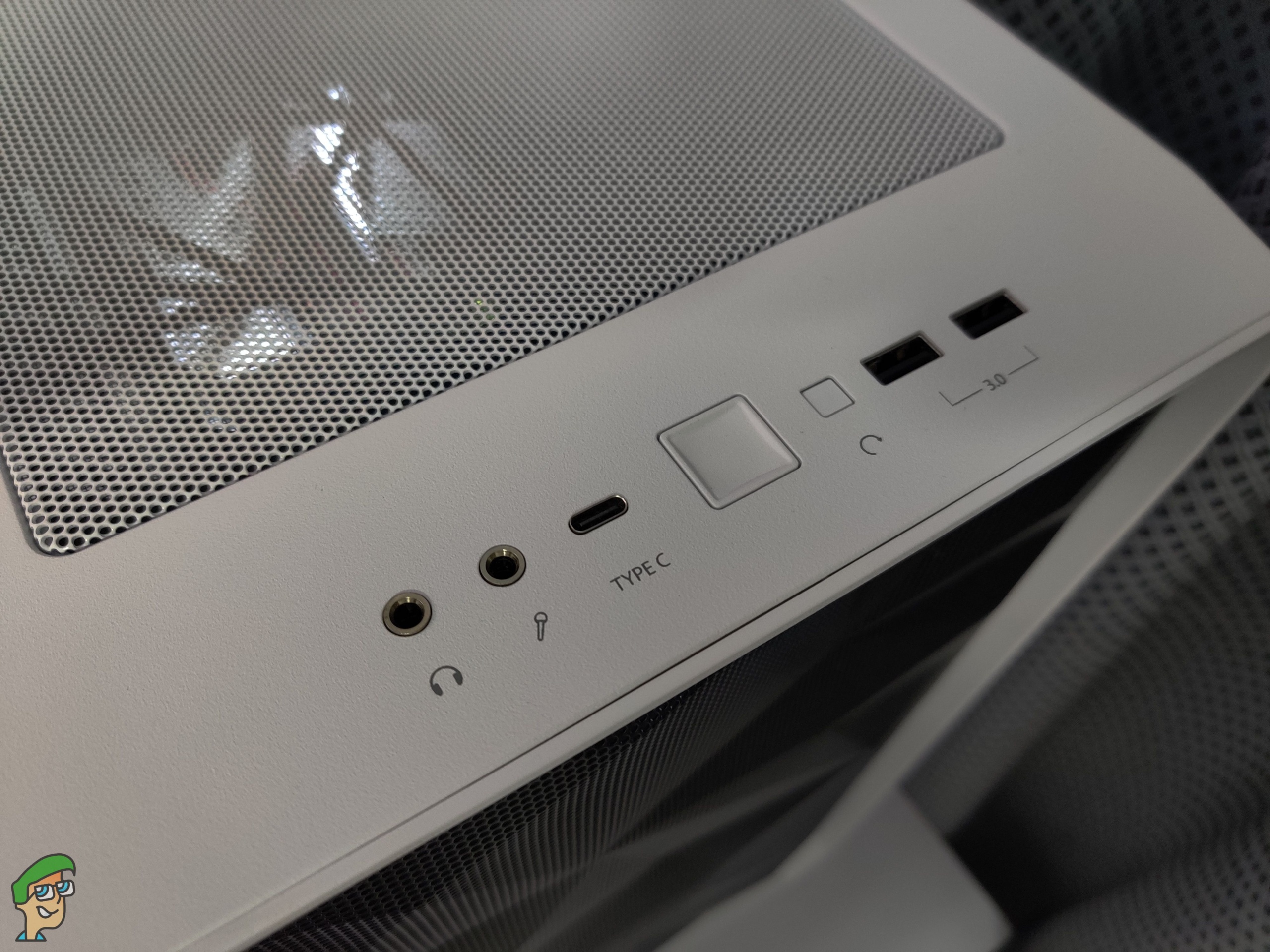 We get one USB 3.1 Gen 2 Type-C port, two USB 3.0 ports, separate mic and audio ports, a rectangular power button, and a reset button.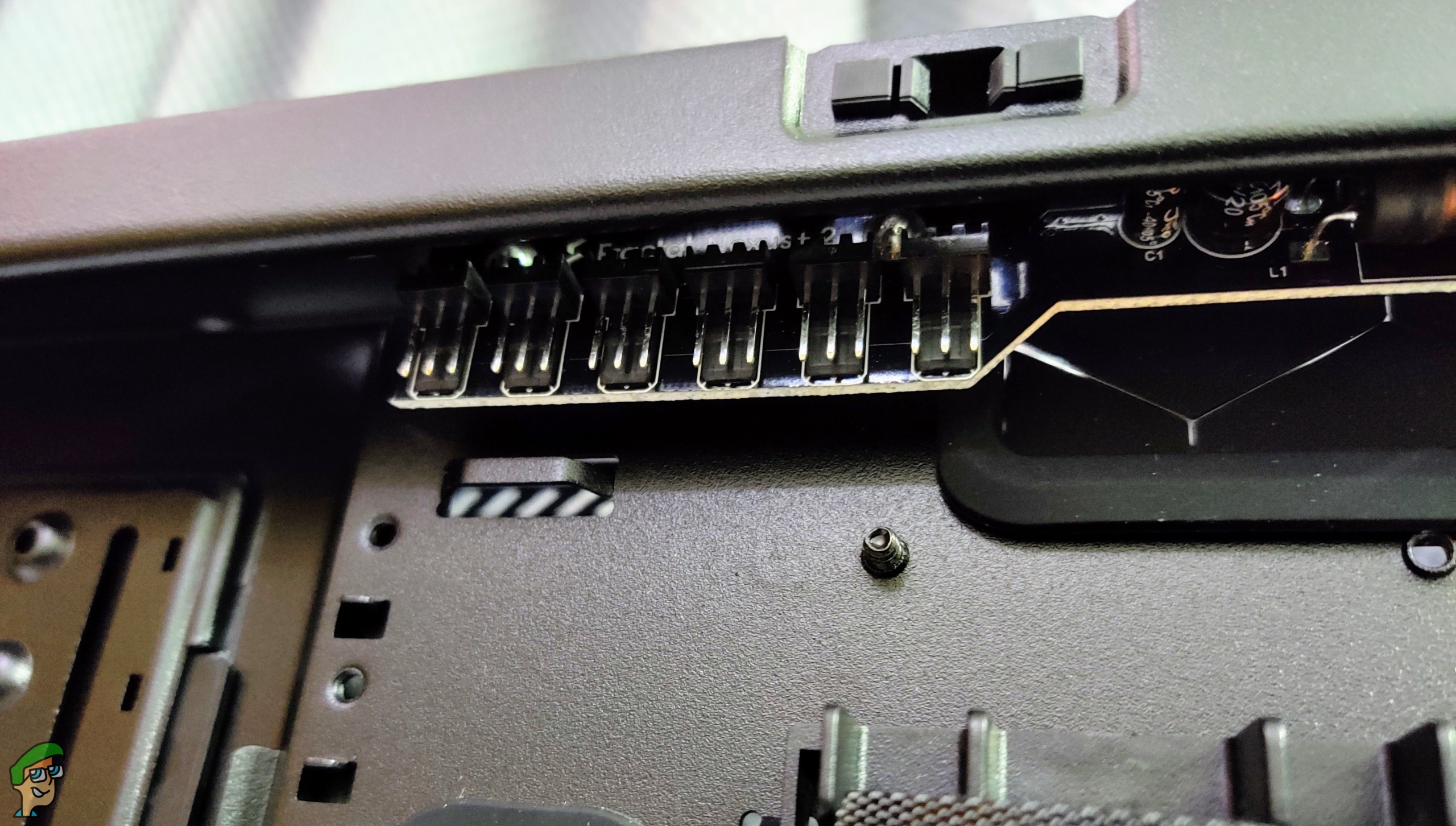 The Front I/O is not tethered to the bezel, which means you don't need to worry about the cables or wires getting torn. This was an old problem with previous cases, and we're glad to see it finally go away.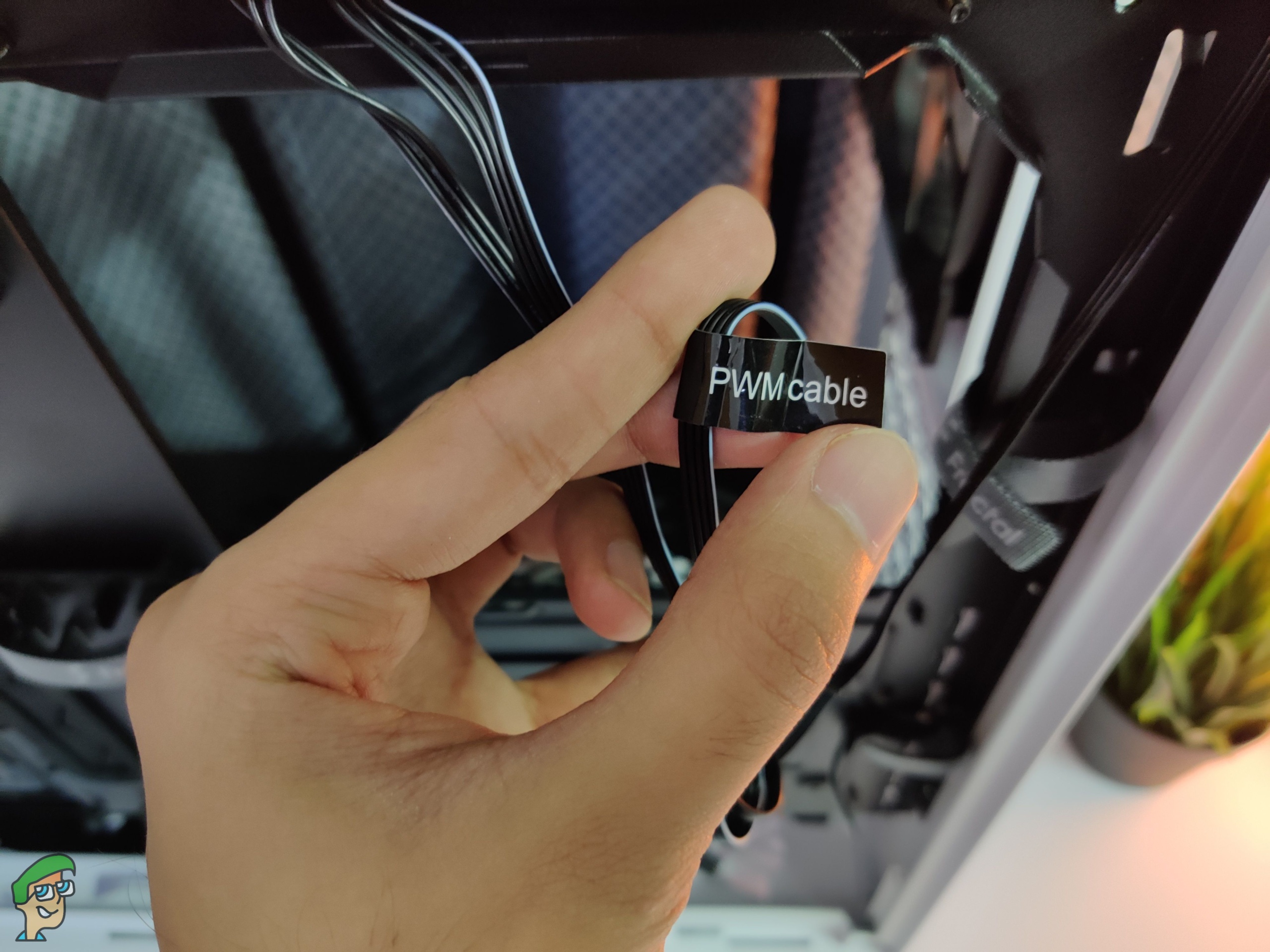 Moving on, the Nexus Fan Hub is something a lot of people tend to gloss over when talking about this case. It is called the Nexus+ 2 fan hub specifically. This is a very slim hub that is tucked away behind the metal side panel of the case.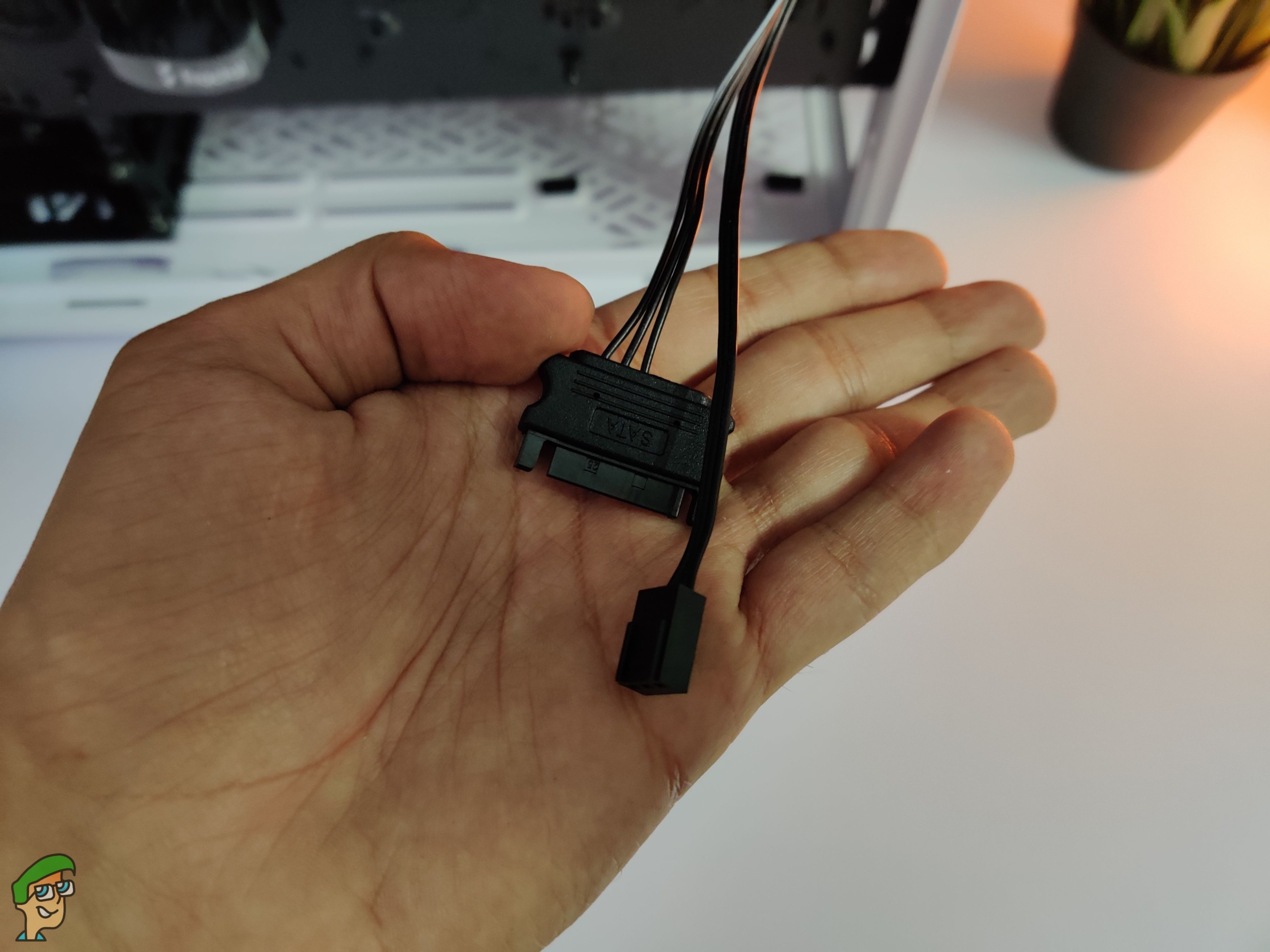 It can connect three 4-pin PWM fans and six 3-pin fans. There is no external control here, as this hub plugs directly into the motherboard. It helps a lot with cable management. This is one of those things about this case that will spoil you.
Fans, Dust Filters, and Hard Drive Space
The Fractal Design Meshify 2 comes with three Dynamic X2 GP-14 out of the box. Yes, these are preinstalled and the chassis has room for a total of up to nine fans. Considering that these are stock fans, they are quite solid and get the job done well. Fractal claims that these fans have a life expectancy of 100,000 hours. These fans use Long Life Sleeve or LLS bearings for reliability. Two of these are at the front, and the third one is mounted at the rear of the case.
Related Roundup: Best PC Cases For Watercooling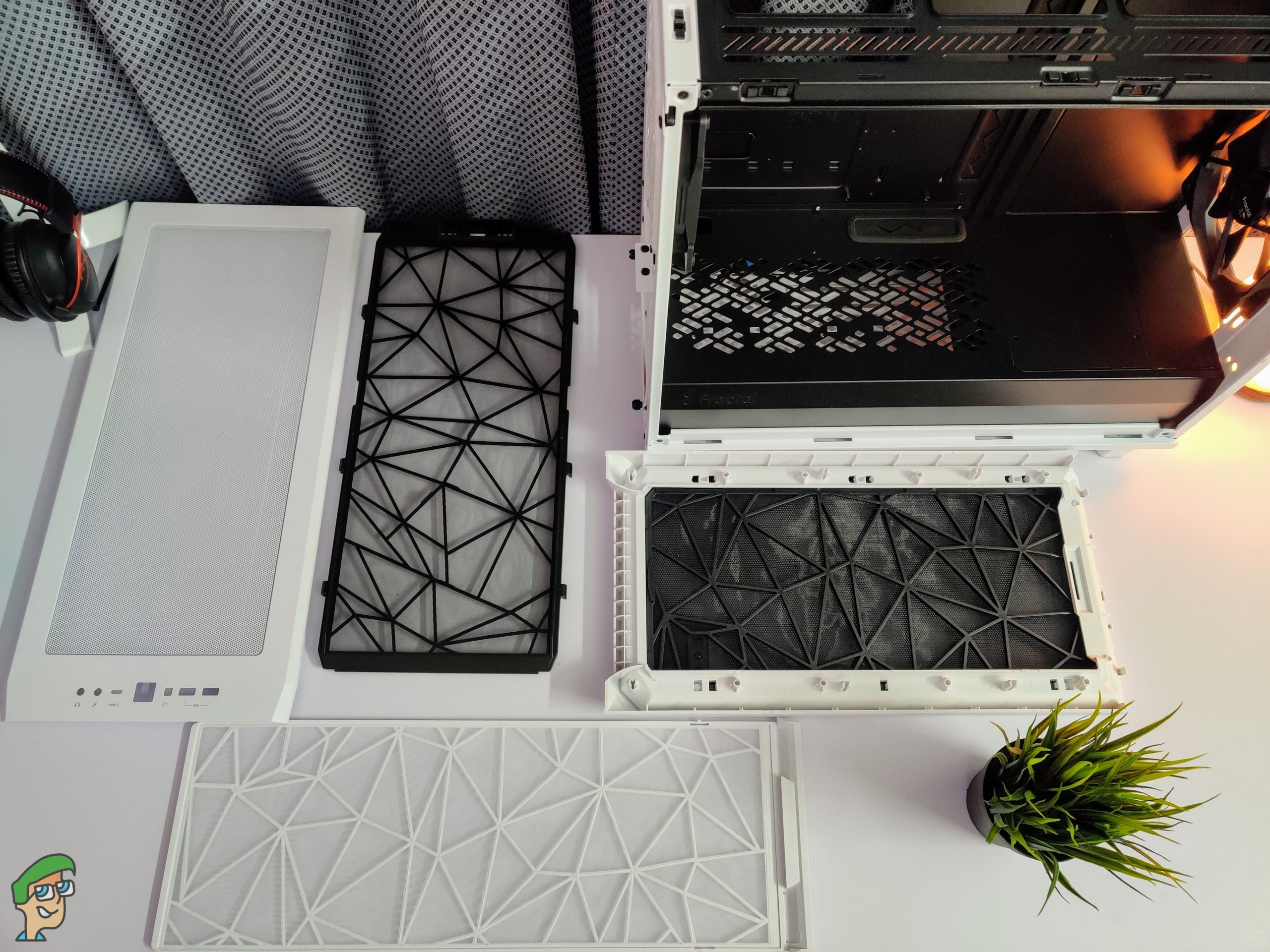 We also observed the inclusion of intake filters during our Fractal Meshify 2 review. Now, dust filters aren't exactly the most exciting part of any case. However, they're vital for extending the lifetime of your system components. It has dust filters at the bottom, front, and top. All of these are nylon filters that can be removed if you want for more airflow. You can easily remove the top filter as well. Some people like to do this since they use the top of the case for exhaust. There isn't much point in collecting dust from the exhaust.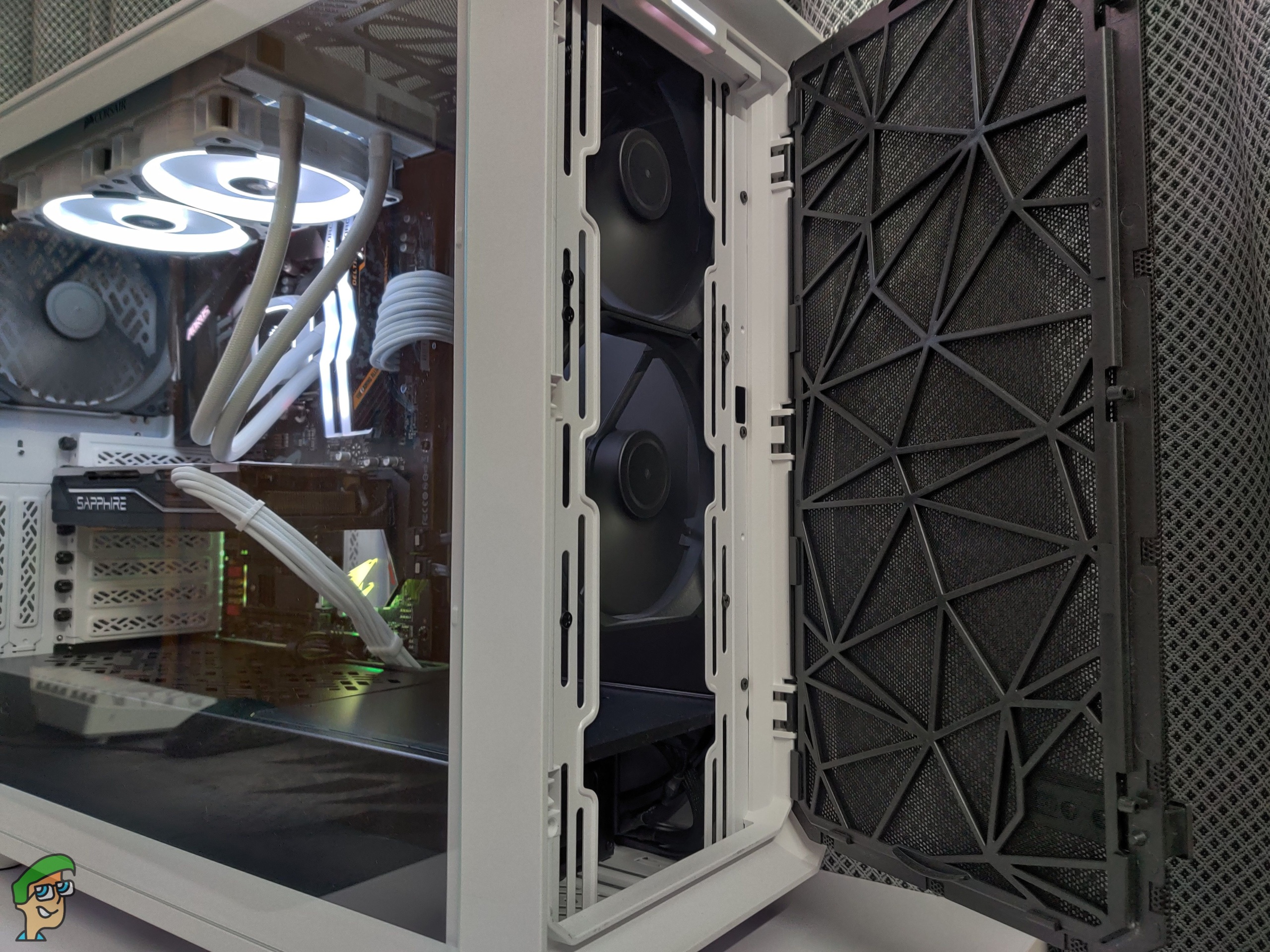 However, that's not the best part about these filters. It's the fact that they are so easier to get to this time around. The front of the case has a door that opens up to about 75 degrees. This means you can easily get to the fans and clean them. If you want to remove the dust filter, the front door pops out from the hinges. This feels intuitive and reliable. If you want to remove the whole front bezel, you can yank it out like you normally do. Both the bottom and top filters are easy to remove as well.
Helpful Roundup: Best Tempered Glass Cases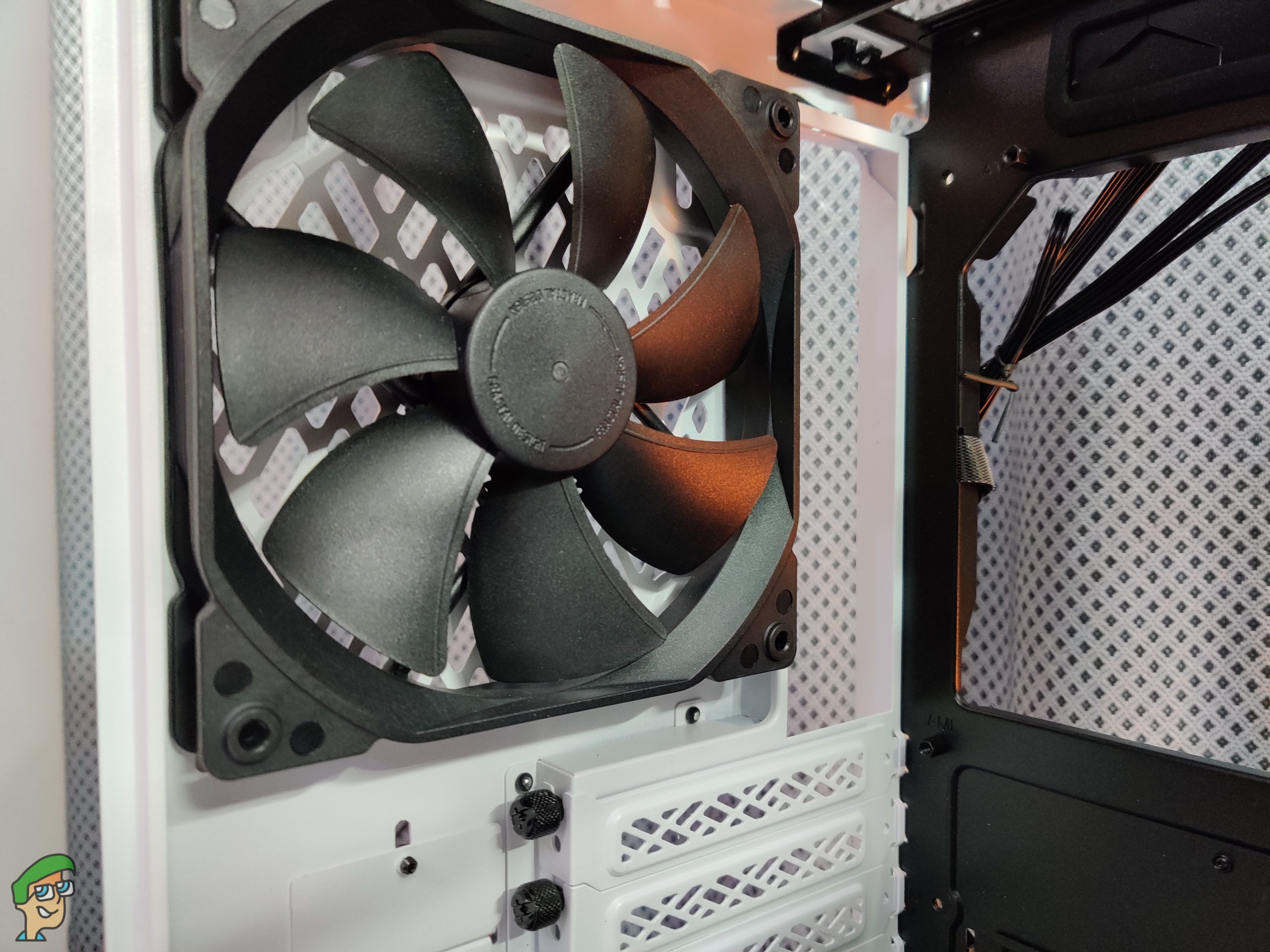 An extremely interesting aspect of Fractal Design cases is the support for excess physical drives. There's a lot of flexibility here. You can convert to a storage-style layout inside of this case. Out of the box, you can install eleven hard drives and you get four dedicated SSD mounts on top of that. Fractal Design also includes multibrackets for drives. You can use these multibrackets to mount a hard drive to any fan mount.
The interior can be changed by utilizing a movable wall for custom builds. This same wall is what provides space for your drives. The tool-less side panels also allow for easier access to these drives.
Fractal Design Meshify 2 Build
We feel that too many people overlook the building process when shopping for a case. This always happens when you get a case that seems like a good value, but ends up being a nightmare to build inside. Fortunately, none of that is the case with the Meshify 2. It's a comfortable and intuitive process to build inside this case. But don't just take our word for it, we'll explain why.
First off, everything is incredibly easy to access. The front door pops out easily, the dust filters are easy to remove, and there's a lot of room to work with. The Meshify 2 is almost a full-tower case, but it's wider because it has extra space for hard drives. So, it falls somewhere between a mid-tower and full-tower case. Personally, this is something we are huge fans of. Of course, it's a given that building inside a large case is easy, but there's more to the story.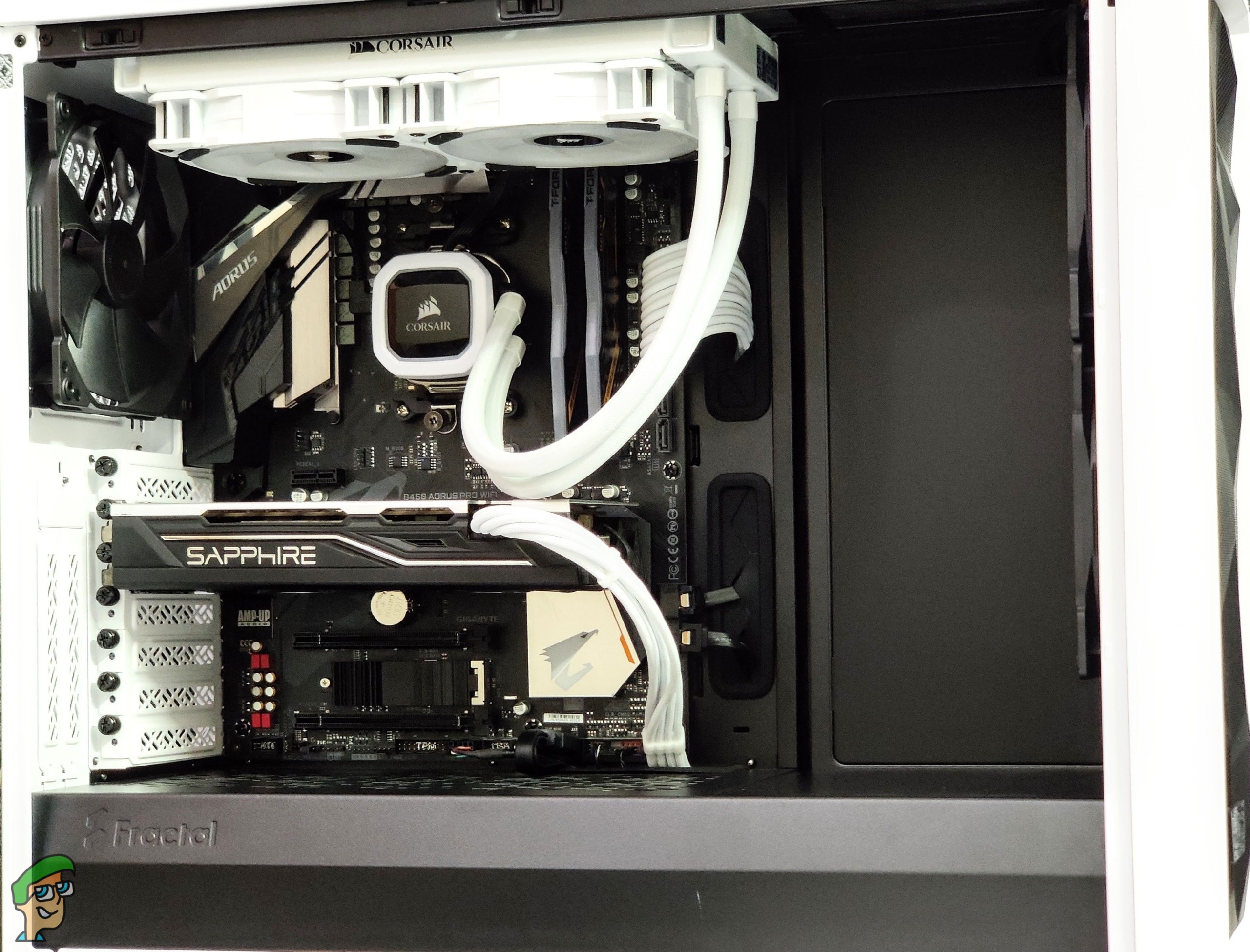 First off, you can remove the top housing of the case just by removing the metal panel from the ridges. Once that's done, remove the dust filter and you can take out the metal support for a radiator. So, if you want to attach a radiator, you can do so outside of the case. This is incredibly helpful if you're doing a custom water cooling loop. It also allows you to manage cables and reach that 8-pin CPU cable easily.
Apart from that, there's a lot of flexibility when it comes to installing radiators. You can install a radiator virtually anywhere in this case. There's even a place to install it in the basement near the power supply. Of course, you'll have your work cut out for you if you go that route, but it's there for those who need it. Other than that, all of the rubber grommets are soft yet feel firm. Passing cables through these is quite effortless.
Related Read: Best Budget Cases Under $50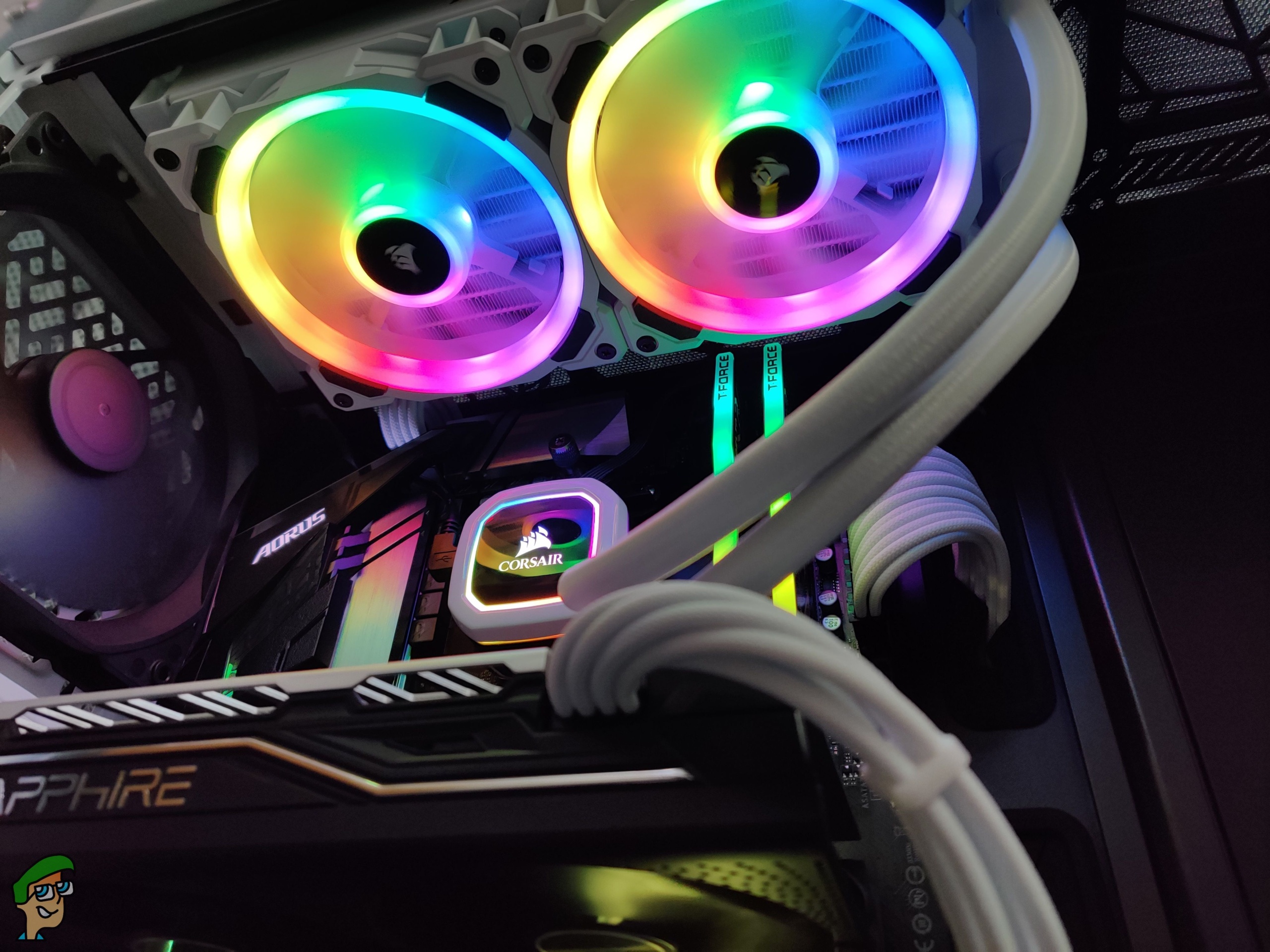 Other than that, we love the fact that Fractal Design makes cable management so easy. They have holes where you can use zip ties to tie down cables as well. Other than that, they already include a cable routing channel and velcro straps. Stuff like this goes a long way and takes the pain away from managing cables. Little things like the nexus fan hub, the easy access to the power supply, and various hard drive trays improve the experience by quite a bit.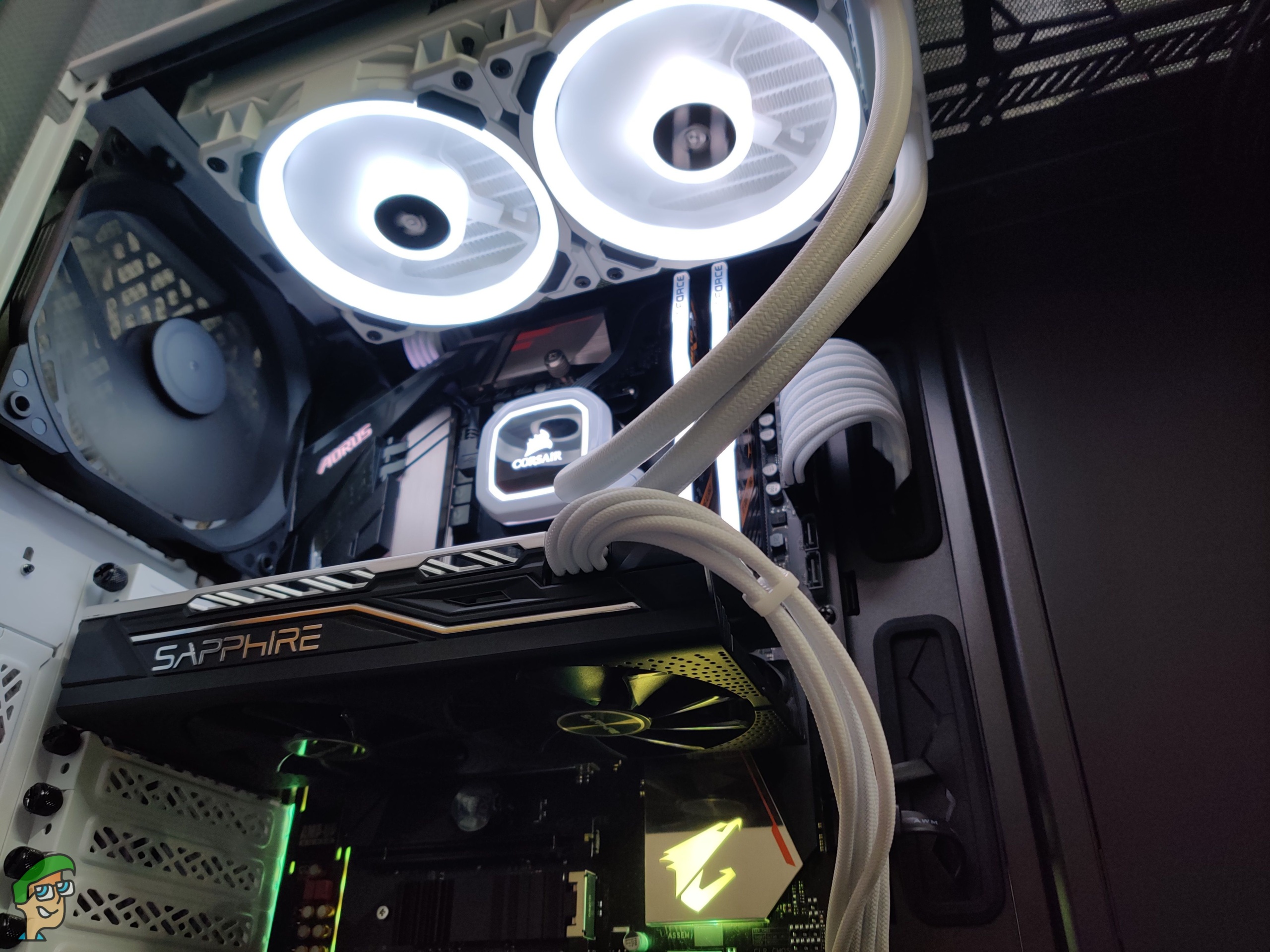 Once you're finished, the end result comes out looking quite good. Depending on how your rig looks, there's a lot of negative space inside this case. You can further utilize this space to make it more personal by adding decorative stuff.
Fractal Design Meshify 2 Benchmarks
Testing Criteria and Specifications
In our Fractal Design Meshify 2 review, we performed two kinds of tests. First, we tested the acoustic performance of the case, and then we tested the cooling performance. For acoustic performance, we placed a microphone at 20 cm distance from the side panel of the case, facing upwards. Then we set the fans of the system at 0%, 30%, 50%, 75%, and 100% and noted the respective readings on the microphone. For testing the cooling performance, we used the same fan settings and for all of these settings, we ran AIDA 64 Extreme stability test for stressing the CPU and Furmark with Xtreme Burn-in at 1080p resolution. Then we noticed the thermal readings of both the processor and the graphics card. The ambient temperature was around 28 degrees while the ambient noise was around 32 dBA.
CPU: AMD Ryzen 5 3600
Motherboard: Gigabyte B450 Aorus Pro WIFI
Cooler: Corsair H100i Platinum SE 240mm AIO
RAM: TEAMGROUP T-Force Delta RGB DDR4 16GB (2x8GB) 3200MHz CL16
GPU: SAPPHIRE Radeon RX 570 4GB PULSE
Storage: Kingston A2000 Nvme
Acoustic Performance
The acoustic performance of the Fractal Design Meshify 2 seems somewhat expected. Usually, there is not much difference in the acoustic readings at lower fan speeds but as the fan speeds increase above 50%, the noise increases by a lot. However, we see that the noise increases by only 5 dBA when the fan speed is increased from 50% to 75%, going up to 48 dBA, and only by around 3 dBA when the fan speed is increased to 100%. Conclusively, this does not mean that the case is less noisy, it just means that the case is noisy at medium fan speeds as well, unlike many high-end cases. Ultimately, the Meshify 2 is obviously not a silent PC case but it is somewhere in the middle where it's neither silent nor noisy, considering the open mesh design, we are highly satisfied with the acoustics of this case.
Thermal Performance
The thermal performance of this case is better than every case we've tested so far, thanks to the open mesh design. Even though AIDA 64 Extreme is one of the most CPU-intensive software and it puts a lot of stress on the CPU. Still, the mesh design managed to keep things chill and quiet simultaneously. We are more than satisfied with the airflow of this case. Our hardware was mediocre and we feel like this case can easily handle anything you can throw at it. The airflow of this case is nothing but impeccable.
As for the GPU, temperatures are satisfactory, the maximum temperatures of 68 degrees seem fine, as per the fixed GPU fan speed of just 30%. The Furmark is quite similar to AIDA 64 Extreme and with the Xtreme Burn-In checked, temperatures like this are impressive. With the slower fan speeds, the temperatures stayed close to below 70 degrees; an effective result, considering the 28-degree ambient temperature.
More Fractal Products: Fractal Design Celcius+ S24 Cooler Review
Our Thoughts On Fractal Design Meshify 2
Overall, there are a lot of ways you can look at this case. The Meshify 2 is versatile, flexible, aesthetically pleasing, and an overall joy to build in. Other than that, the airflow is also quite excellent and it out-performs a lot of cases out there. We've seen too many cases that look good yet perform horribly. It's good to see that high airflow cases are finally making a comeback.
Speaking of which, this sector of the market is starting to heat up quite a bit. Manufacturers are coming back to cases that focus on airflow. Good examples include the Lian Li Lan Cool 215, Phanteks P400A, and Cooler Master TD500. All of those are great, and so is the Meshify 2.
However, what separates the Meshify 2 from everything else is the fact that it will spoil you. Everything is so cleverly designed, intuitive to work with, and the overall experience is very enjoyable. Customization and ease of use go a long way when it comes to PC building, and this is why we appreciate the Fractal Design Meshify 2 so much.
Fractal Design Meshify 2 Score
Pros
Robust looks
Exceptional airflow and performance
Clever design choices
Excellent cable management
A joy to build in
Cons
Slightly pricier than competitors
Form Factor: Mid-Tower/ATX | Fan mounts: 9 | Storage Drive Bays: 11 | Expansion Slots: 7 | Side Panel: Tempered Glass | I/O Ports: 1 x USB 3.1 Gen 2 Type-C, 2 x USB 3.0, 1 x Audio/Mic | Weight: 10.5 kg | Dimensions: 240 mm x 474 mm x 542 mm (W x H x D )

VERDICT:The Meshify 2 is the perfect blend of performance, aesthetics, and versatility. A lot of cases out there might do one or two things better, but the Meshify 2 is truly an all-rounder. It's a case that anyone can pick up and enjoy building a PC in. We highly recommend considering it as an option.