5 Best Dual PC Cases For The Most Insane Custom PC Builds
The world of PC Gaming is vast and vide. We're seeing new and innovative ideas pop up day after day. The gaming industry is by far one of the fastest evolving industries in the world. However, sometimes we get products that are a bit over the top. Dual PC cases are one of those products. Essentially what a dual pc as can do is combine two PC's in one case as the name suggests. This makes the life of people who need to run two separate systems much easier.
So, people like streamers, content creators, and professionals who have two separate PCs can now use one case to use both of them either separately or at the same time. This groundbreaking technology is surely a fantastic approach to solve issues both in space-saving and cost-saving via the use of dual PC cases. Today we review some of the best dual PC cases out there in the market and we hope we can help you decide on what kind of dual PC case you want for yourself.
Pros
Solid and thoughtful design
Great aesthetics
Reasonable price
Spacious
Cons
Comparatively low number of fans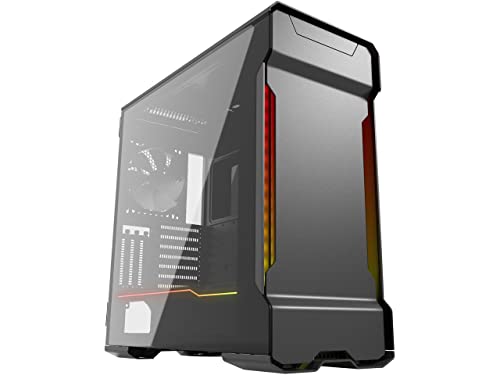 Dimensions: 9.5 inches x 20.5 inches x 20.5 inches | Weight: 15 Kg | Form Factor: MidTower | Supported Motherboard Form Factors: E-ATX, ATX, Micro-ATX, Mini-ITX | Drive Bays: 10x 3.5 inches ( 4 included ), 9x 2.5 inches( 6 included ) | Fans: 7x 120 mm fans can be installed, 3x 140 mm fans are included and 3 more can be installed | Radiator Support: 120 mm - 420 mm
Whenever you are looking for CPU casings the name Phanteks is bound to come up sooner rather than later. Phanteks is one of the world's leading manufacturers of PC casings of all shapes and sizes. With products like the Phanteks Evolv X, it is easy to see why they are at the top of the food chain in this particular computer-related department. The Phanteks Evolv X was released some time ago and it is still going strong. While the price may seem too much for a casing at first glance, once you are done filtering through the bundle of features and comparing the price with other dual system casings it feels rather reasonable.
The Phanteks Evolv X is a mid-tower casing. All sizes of the motherboard from extended ATX to mini-ITX are supported in this casing. There are 7 PCI slots included in the casing. The PCI slots are well spaced out so they do not become clustered and are easy to access. There are a total of 4x 3.5 inch and 6x 2.5-inch drive bays included while having space to add a lot more. This is sure to give enough storage options to satisfy every user. The Evolv X has the option of having 3x 140 mm fans in the front, 2x 140 mm fans at the top, and 1x in the rear. While for 120 mm fans you can have 3x at the front, 3x at the top, and 1x in the back.
The front panel of the Evolv X includes 1x USB 3.1 Type C, 2x USB 3.0, and a couple of buttons that can be used to tweak the RGB color and mode. There is also a microphone and headphone button along with a power button on the front I/O panel. There are also dedicated fill and drain ports for water coolers. You can also install radiators of both 120 mm and 140 mm sizes.
The side panels can both be opened with ease for easy and trouble-free access. There is also an air venting system integrated at the top of the casing. Apart from that, there is rubber padding at the bottom of the side panels to ensure the side panels do not get loose as well as to give better soundproofing levels. There is an easy cable managing system as well built into the Evolve X design. All in all, this is a very good casing design and build.
Perhaps the only downside of the Evolv X is the limited number of fans that can be added to this casing. The design of the Evolve X is very attractive. There is also inbuilt RGB present on the front panel as well as on the sides of the casing. There is a cable to connect with your motherboard which allows you to sync the RGB of the casing with that of your setup. With all of these features and much more than the Phanteks Evolve X has to offer, the price point seems a very reasonable one. Not to mention that many of the other top dual system casings are much more expensive than the Phanteks Evolve X.
2. Corsair Obisidian 1000D
Pros
Very attractive
A lot of cooling options
Feature rich
French door mechanism for wire management
Dimensions: 27.4 inches x 12.1 inches x 27.3 inches | Weight: 29.5 Kg | Form Factor: SuperTower | Supported Motherboard Form Factors: E-ATX, ATX, Micro-ATX, Mini-ITX | Drive Bays: 6x 2.5 inch, 5x 3.5 inch | Fans: Up to a total 18 fans | Radiator Support: 120 mm - 480 mm
Corsair is one of the most popular companies in the computer world. Corsair also makes a ton of products specifically for the gaming community. In most of the products that Corsair makes they have managed to take one of the top spots in the list. The CPU casing category is no exception as Corsair makes some of the best CPU casings out there. The Corsair Obsidian 1000D is an OG when it comes to dual system casings. It is not a particularly new casing but it is still right up there with the best. This is one of the most feature-rich casing in the market and it is also one of the most beautiful.
This is a super tower form-factor casing, which means it is going to be quite big. Be sure not to take it lightly, as this thing weighs well above 30kg. The Obsidian 1000D supports motherboards of all sizes. You can fit in an extended ATX motherboard or a mini-ITX motherboard and still have ample space to add in the other computer system in this casing. You can also install up to 6x 2.5 inch and 5x 3.5-inch storage units and there are 8 SSD mounts as well. One of the major features of the Obsidian 1000D is its extensive cooling options and capabilities. You can fit up to 18 fans in this casing. Adding in a liquid cooling system will give even more cooling to the casing. Hell, you can even add radiators of varying sizes.
The fans are really easy to install via the fan trays that can be pulled out for easy installation of the fans and radiators. There is also a ''French door' mechanism as dubbed by Corsair in this casing for easy management of wires which are bound to be an issue when you have 2 full PC systems in one casing. The building of this casing is very modular. On the front panel of the casing, you have 2 USB 3.1 Type C slots and 4x USB 3.0 slots along with headphone and microphone jacks and the power button for the primary setup. The power button for the secondary setup is on the back of the casing.
The Corsair Commander along with the Corsair ICUE software gives very user-friendly and easy management of the RGB and the fans installed in the casing. This is a very attractive and aesthetically pleasing CPU casing. The major downside of the Obsidian 1000D is its high price point. This casing costs more than double the Phanteks Evolv X. If you are willing to pay the high price for this casing, then it will not disappoint but the price will be the biggest cause for concern for customers.
Pros
A good number of drive bays
Stylish
Not expensive
Integrated RGB options
Dimensions: 9.4 inches x 22.6 inches x 23.6 inches| Weight: 14.30 Kg | Form Factor: Full Tower | Supported Motherboard Form Factors:E-ATX, ATX, Micro-ATX, Mini-ITX | Drive Bays:12x 3.5 inches (4included), 11x 2.5 inches (allincluded) | Fans: Up to 15 fans | Radiator Support: 120 mm - 480 mm
Some companies tend to make a particular product better than the competition. It is similar for Phanteks and PC casings, especially dual system casings. Phanteks seems to have cracked the code for making top-level PC casings some time ago, and are still setting the bar quite high for other companies to compete with them. Originally called Enthoo Luxe 2, Phanteks has changed the name of this dual system casing to Enthoo 719.
The Phanteks Enthoo 719 a full tower casing. You will be able to fit in a motherboard as big as an extended ATX form factor and another mini-ITX motherboard as your secondary setup in this dual system PC with relative ease. The Enthoo 719 can support up to 15 fans installed in the casing. A unique thing about this casing is the really high number of storage drives you can install in it. There are a total of 12x 3.5-inch drive bays out of which 4 are included. There are also 11x 2.5-inch drive bays in the Enthoo 719. Apart from that, there are 8 PCI slots in this casing.
This PC casing is slim and high. The space is quite efficient in this casing which gives space for the secondary system. You get a customization choice here as well. You can either choose to install a secondary system with a mini-ITX form factor or a second power supply. This is a really good-looking casing. It is one of the most stylish casings in the market if you are looking at the pure design.
RGB is available in this case, but it feels quite minimal. RGB fanatics do not need to fear, however, as there are a lot of options in the casing to add RGB. There are 4 slots where you can either install SSD's or install fans. These fans can have RGB. Then there are the SSD slots close to the back of the casing. These can have RGB SSD's or RGB strip around the SSD for RGB those lighting effects.
There are obviously even more RGB options since no modern-day gaming-oriented casing is complete without some RGB lighting. Such as the line going down the front panel of the casing. The Enthoo 719 is compatible with ASUS Aura RGB, MSI Mystic Light, Razer Chroma, Gigabyte Fusion 2.0, and even ASRock Polychrome RGB. As this covers all prominent motherboard manufacturers, you should have no problem syncing the casings RGB lighting with the rest of your setup. The build quality is a bit questionable as it seems a bit too flexible in some places or a bit too thin in others. Hopefully, this will not prove to be a cause for issues down the road but it is worthwhile to notice before you spend close to what the Phanteks Evolve X can be bought at.
Pros
Can hold 2 full PC systems
A ton of connectivity options
A lot of space
Cons
Complicated assembly
Aesthetically bland
Dimensions: 26.7 inches x 18.7 inches x 26.7 inches | Weight: 28.9 Kg | Form Factor: Super Tower | Supported Motherboard Form Factors: XL-ATX, E-ATX, ATX, Micro-ATX, Mini-ITX | Drive Bays: 3x 5.25 inch, 14x 3.5 inch, 14x 2.5 inch | 120 mm Fans: 7x front, 8x top, 2x rear, 6x bottom, 8x right | Radiator support: 120 mm - 600 mm
Thermaltake is a relatively well-known computer products company that makes gaming hardware and accessories. CPU casings are also very much within the range of things they produce. They tend to make some very interesting products and that creativity has not stopped in their PC casings. The Thermaltake Core W200 is perhaps the most unique CPU casing that you will see because of its size. It is a genuine behemoth, especially if we start comparing it to other casings on here.
The complete spec list of this casing is way too long for us to fit it all in this brief review, but we will attempt to cover the main points and features. There will still be a lot to talk about, so it's best we leave that for an in-depth review. So, let's see what this massive casing has to offer apart from taking up a lot of space. First of all, this casing requires assembly upon delivery. Assembling this casing is a complicated and time-consuming process. There are a lot of pieces to put together as the W200 is all modular in its making. Aesthetically, this is not the most attractive of casings. This is rather bland in design and looks.
The Thermaltake Core W200 can hold 2 fully-fledged computer setups. Unlike other dual system casings, you can have 2 full-size motherboards as well as 2 independent power supplies for the 2 setups in one casing. The 2 setups both have their own power buttons. There are more than 20 drive bays that can be installed in this casing. You can have a ton of fans installed with sizes varying from 120 mm to 200 mm. Tou can install up to 600mm radiators in this case with ease. You can even have motherboards as large as XL-ATX in this casing and still have a lot of free space. Space is not at a premium in this casing. It is rather freely available and you might end up having too much space in most cases.
The Core W200 has Dismantlable Modular Design or DMD. While this does give freedom and ease when packing or traveling, there are some concerns. The build quality feels sort of flimsy and not very long-lasting. This might be a major cause of concern as you do not want to pay the top dollar that this casing comes at and not be sure of the build quality. The wire management also does not feel quite as good as some of the other dual system casings that we have mentioned in this list. All in all, this casing gives a lot of space but it does have shortcomings.
Pros
Low budget
Efficiently used space
Separate chamber for secondary system
Cons
Limited Drive bays
Needs more space for fans
Dimensions: 10.7 inches x 17.9 inches x 18.3 inches | Weight: 9.5 Kg | Form Factor: Mid Tower | Supported Motherboard Form Factors:E-ATX, ATX, Micro-ATX, Mini-ITX | Drive Bays:2x 3.5 inch, 7x 2.5 inch(5included) | Fans: 9x 120mm fans, 4x 140 mm fans | Radiator Support: 120 mm - 360 mm
MetallicGear is a new company in the computer world. Think of MetallicGear as a subsidiary of Phanteks. Phanteks is most famous for its CPU casings. Over the years, Phanteks have made some of the most iconic and most loved CPU casings. MetallicGear seems to be following in their footsteps.
The MetallicGear Neo Qube comes in 2 colors, black and white. This is a very light casing, weighing under 10 Kg. This is also relatively small for a dual system computer casing even though it is a mid-tower casing. You can fit in a full, extended size ATX form factor motherboard for your primary system and a mini-ITX form factor motherboard for your secondary setup. The drive bay options are rather limited as you only have 2x 3.5 inches and a maximum of 7x 2.5-inch drive bays. There are 5x 2.5-inch drive bays included with the casing. If the 3.5-inch drive bays are maxed out, then you only have the option of adding 3x 2.5-inch drive bays.
The number of fans you can add is also on the low side as you only have a maximum of 140 mm fans that you can install in this casing. You can add 9x 120 mm fans, however. Looking at the Neo Qube, you will immediately be reminded of the Lian Li 011 Dynamic casing. The Neo Qube is almost identical to the much loved Lian Li product in looks. They are very hard to tell apart from each other and if they were placed side by side it would be nearly impossible. One of the best features of the Neo Qube is its efficient usage of space. There are so many things that can be put into the limited size that this casing has to offer it is very astonishing.
The dual-chamber system is also admirable as the two chambers are cut off from each other. Hence, reducing any risk of wires tangling up and the like. This also makes it easier to manage the 2 different setups. The price point is also a big plus for the Neo Qube. There is nothing really wrong or missing in this casing. Only some minor cut downs on connectivity are bound to occur in such a limited size and space.