Best White PC Cases: Performance and Aesthetics
A lot of factors come into play when you're choosing the best white PC case for yourself. The size, availability of ports, support for fans, and additional drive bays, and more. Alongside, we will look at budget white PC case, value, dual-chamber, and few more types of white cases. All of those are valid and important in helping you decide which one you want to go for. However, there is another important factor that probably trumps all of these, and that is the design. No one wants a box-like PC case with nothing to offer being used with their build. That might just end up dulling your whole rig. Lately, minimalistic builds have seen a rise in their preference in the gaming community. White PC cases are on a rise in popularity as we noted in our Fractal Design Meshify 2 White Review.
White PC cases are not always the ones people go for. Black cases have the advantage of easily being able to blend in with just about any type of surrounding that you might have in your room as we noted in our Cooler Master MB511 Review. Choosing a white PC case for your PC might be a bit tricky, but getting it definitely improves the flavor and taste of your overall build. So, the question arises, which one is the right choice for you? How can you decide if one case is better than the other? Allow us to help you with all of those and give you the 5 white PC cases that you should be looking into.
The Best White PC Cases You Can Buy Today
| # | Preview | Product Name | Award | Details |
| --- | --- | --- | --- | --- |
| 1 | | NZXT H510 Elite | Best Overall White PC Case | Check Price |
| 2 | | Corsair Crystal Series 680X | Best Dual Chamber White PC Case | Check Price |
| 3 | | Thermaltake H200 | Best Value White PC Case | Check Price |
| 4 | | Corsair iCUE 220T | Best RGB White PC Case | Check Price |
| 5 | | Phanteks Eclipse P300 | Best Budget White PC Case | Check Price |
| | |
| --- | --- |
| # | 1 |
| Preview | |
| Product Name | NZXT H510 Elite |
| Award | Best Overall White PC Case |
| Details | Check Price |
| | |
| --- | --- |
| # | 2 |
| Preview | |
| Product Name | Corsair Crystal Series 680X |
| Award | Best Dual Chamber White PC Case |
| Details | Check Price |
| | |
| --- | --- |
| # | 3 |
| Preview | |
| Product Name | Thermaltake H200 |
| Award | Best Value White PC Case |
| Details | Check Price |
| | |
| --- | --- |
| # | 4 |
| Preview | |
| Product Name | Corsair iCUE 220T |
| Award | Best RGB White PC Case |
| Details | Check Price |
| | |
| --- | --- |
| # | 5 |
| Preview | |
| Product Name | Phanteks Eclipse P300 |
| Award | Best Budget White PC Case |
| Details | Check Price |
Last Update on 2023-10-02 at 15:55 / Affiliate links / Images from Amazon Product Advertising API
Making your pick from the hundreds of options that are available on the market is never an easy task, and this is exactly the scenario when looking for the white PC case out there. There is not a single case that can appeal to every user out there, so every individual user has to look for their perfect white PC case. However, that is not to say that we can't help in the process by providing some suggestions. With that in mind, here are our picks for the best white PC cases you should consider.
1. NZXT H510 Elite
Best Overall White PC Case
Pros
Excellent Design
Sturdy Build Quality
Included 2x AER II aRGB Fans
Included NZXT Smart Hub
Excellent Cable Management System
Cons
Mediocre Airflow
No Support For 360mm Radiators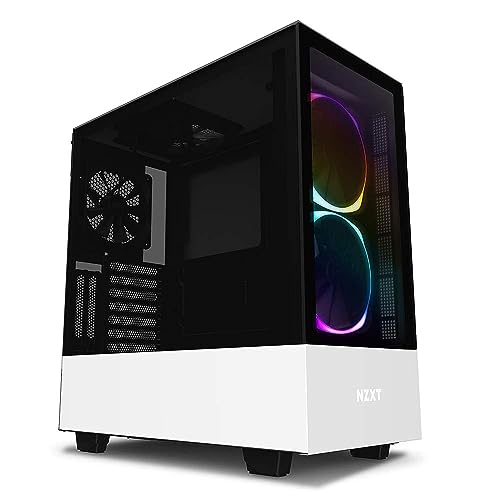 Motherboard Form Factor Support: Up to ATX | I/O Ports: 2x USB 3.1, Audio I/O, Power button, Reset button | Tempered Glass: Yes
The NZXT H510 Elite is a top-notch quality PC case that works wonders for anyone that owns it. It accompanies some astounding highlights. The case has an all-steel development that furnishes the case with added quality. Additionally, its development guarantees that the case is likewise solid. It is made with smart innovation and highlights.
Related Review: Nzxt H700i Mid Tower Case Review
This wonderful PC case comes with two 140mm AER RGB fans that look elegant. NZXT builds on the already great H500 look, and the addition of a front glass panel makes it even better. The fans are quite different from others on the market, and they look unique. They have this soft glowing look to them, and the unorthodox shape just adds to the overall aesthetic value here.
This guarantees ideal airflow. Furthermore, the Hue 2 lighting channels included guarantee dynamic personalization. On the off chance that excessive noise annoys you, you will be satisfied to realize that the case accompanies versatile noise decrease. It upgrades cooling and noise balance, along these lines, ensuring the best gaming performance for you. Installing or removing the board is quick and simple. Also, the case accompanies a full-size tempered glass panel. This permits you to show off your amazing build. This case supports motherboards of sizes Mini-ITX, Micro-ATX, and ATX.
Many people are not fans of NZXT cases for the fact they have "bad" airflow. We don't know where this notion started from, but it doesn't matter for most people. If your build consists of a single GPU, you'll be fine with this chassis. Sure, enthusiasts might be bothered by this "lack of airflow". However, for most people, the difference is marginal from other computer cases.
Downloading the NZXT Cam programming enables you to control the Smart Device as well as component monitoring, GPU overclocking, and an FPS overlay in games. The NZXT H510 Elite packs premium highlights, high-quality materials, and a set of features mostly found in considerably more costly cases. The H510 Elite is easily the best overall white PC case.
2. Corsair Crystal Series 680X
Best Dual Chamber White PC Case
Pros
Dual Chamber Design
Three Tempered Glass Panels
Easy To Work In
Three Pre-installed Fans
Good Cable Management
Cons
High Price
Delicate Device Trays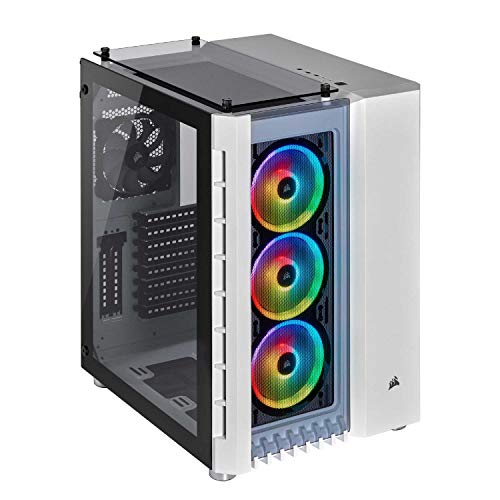 Motherboard Form Factor Support: Up to ATX | I/O Ports: 2x USB 3.0, Audio I/O, Power button, Reset button, RGB button | Tempered Glass: Yes
The Second in our best white case is the Corsair Crystal Series 680x – It is one of the costly PC cases accessible in the market. However, it legitimizes the value point, because of what it offers. The Corsair Crystal Series 680X is greater, better, and improved. The case indeed comes very much ensured. It is encircled by glass boards around it. If we talk about the base of the PC case, it is lifted with four feet. The feet guarantee appropriate wind flow. The case comes with three pre-installed LL120 RGB fans which are a bonus. You have the option of installing either three 120 mm fans, or two 140 mm fans.
More PC Case Roundups: Best Open-Air PC Cases
It has an amazing form and looks aesthetic. Further adding to the comfort is the double chamber internal design. This essentially lets you take care of the entirety of the links behind and away from the watcher's eyes while still showing off the lit-up guts of your PC. The design and structure of the 680X make it easy for simpler cleaning just as to keep dust out. This case is by far the best dual chamber white PC case on the market. You can find our selection of the dual PC Cases in this article.
Aside from the storage device trays, each component works incredibly well. The storage device trays are made of plastic and are not unreasonably solid. Generally speaking, it can uphold up to eight fans and four radiators, including one 360mm radiator. A wonderful and fabulously planned white PC case, the 680X appeals to individuals who value comfort without having to sacrifice a ton in the aesthetics department.
Pros
Sturdy Build Quality
Relatively Compact Size
Front Panel Lighting
Minimalistic Design Language
Cons
Only One Standard Exhaust Fan Included
Poor Airflow
Cramped Cable Management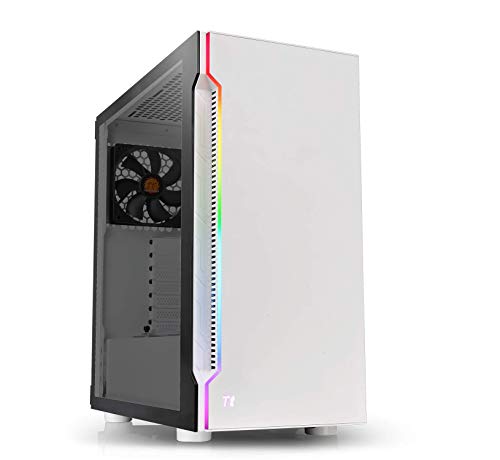 Motherboard Form Factor Support: Up to ATX | I/O Ports: 2x USB 3.0, Audio I/O, Power button, Reset button, RGB button | Tempered Glass: Yes
In case you're looking for a PC case that isn't simply quick and clean in the working, yet rather serves you in the fundamental just as significant computerized needs like no other; at that point, this Thermaltake H200 is certainly the most ideal choice for you to invest in. The quality standpoint of this PC case guarantees that you benefit from a spotless outside definitely. Additionally, that is not all to its quality standpoint, as this PC case likewise has a front RGB lighting and illuminated aside logo show. The lighting highlight of this PC case gives you an assortment of lighting choices to pick from.
To provide you with a more clear PC gaming view, this PC case accompanies a 4-millimeter safety glass comprised of standard mounting. This gives you a more clear and better understanding of the screen; adding straightforwardness to your general user experience. For superior airflow inside the PC case, and to guarantee that all the inside cables aren't noticeable, this PC case accompanies a unique ventilated plan. The presence of a hinged tempered glass door in this PC case permits you to easily maintain the performance of this gadget; without facing the battles of taking the entire entryway off. Is it classifiable as one of the best airflow PC cases? Yes, it is.
Its measurements being 3.5 inches x 2 or 3.5 inches x 1 + 2.5 inches x 1; all combine to make it a sensibly little PC case. This makes carrying and storing the case easy for anybody and everybody. Perhaps the only issue we see with the H200 is that it only comes with one non-RGB 120mm rear fan out of the box. The all-around built steel instance of this PC case adds greater quality and solidness to its utilization, in contrast with other lightweight materials utilized in the cases. At a great price point, it is the best value white PC case. Also easily falls into the category for the PC cases under $70.
Pros
Included 3x Corsair SP120 RGB Fans
Decent Airflow
Included Corsair Node Core Controller
Easy To Work In
Cons
No Included Exhaust Fan
PCIe Covers Are Black
Front Design Is Unremarkable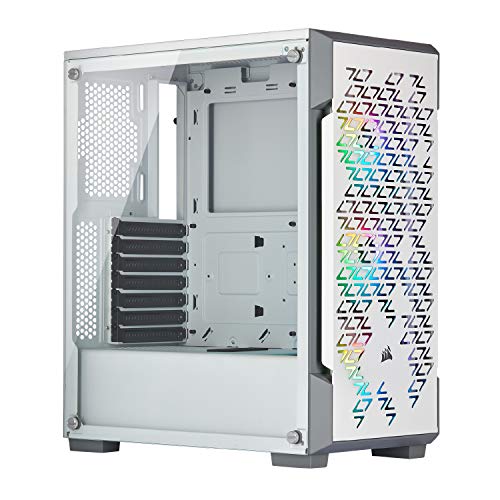 Motherboard Form Factor Support: Up to ATX | I/O Ports: 2x USB 3.0, Audio I/O, Power button, Reset button | Tempered Glass: Yes
This PC case is another extraordinary alternative at the cost; as its outstanding viewpoint and brilliant execution, all include greater quality and utilization ease for the users. In computer case you're looking for a smart PC case that is nothing less than an ideal choice, the Corsair iCUE 220T is the one to go for. For a superior and smart cooling experience, this PC case allows you to illuminate your PC while enabling a fan highlight alongside it. This means that the three included Corsair SP120 RGB Pro fans (which are some of the best RGB fans on the market) are lined up with every 8 LEDs that are individually addressed inside the case.
For a splendid lighting impact RGB controlled by the Corsair iCUE programming; this PC case accompanies a lighting node center that gives the lighting impacts directly out of the box. For a more tough and strong usage experience, this 220T RGB PC case is built with strong steel alongside a front plate. This doesn't just add to the solid toughness of this case but also adds a snappy look to the general case's standpoint. For a more clear perspective on all the parts inside the PC case and to have the most impact of the led lights, it comes with an edge-to-edge glass side panel window. The whole RGB ecosystem makes it easy for us to label this case as the best RGB white PC case on our list.
On the drawback, the case does not include any exhaust fans. You can easily use any aftermarket high CFM fans from our suggestions. This additionally includes more class and utilization straightforwardness to the general PC case. The finely built front board configuration includes more straightforwardness for the maintenance and cleaning of the dust filters inside the case.
5. Phanteks Eclipse P300
Best Budget White PC Case
Pros
Minimalistic Design
Great For Stormtrooper Themed Builds
Relatively Affordable
Cons
Mediocre Airflow
No Included RGB Fans
Unremarkable Cable Management
No Support For 360mm Radiators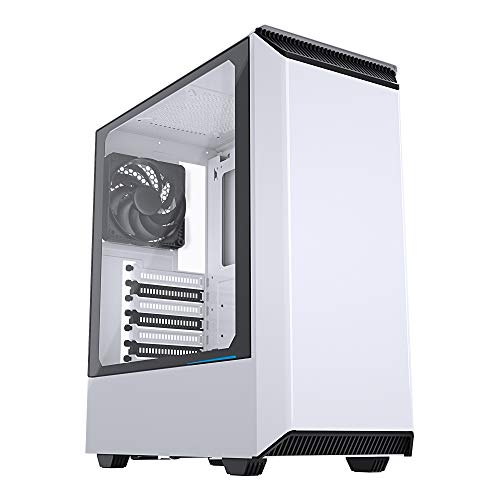 Motherboard Form Factor Support: Up to E-ATX | I/O Ports: 2x USB 3.0, Audio I/O, Power button, Reset button, RGB button | Tempered Glass: Yes
The Phanteks Eclipse P300 is a near-perfect computer case in any perspective, regardless of whether you're looking at it from build quality, airflow, or its layout standpoint. Building an entry-level gaming PC sometimes can be challenging. With the price cut, normally it means that you get a lower quality item as well. But, that's not the case with the Phanteks P300 Case The steel and the ABS plastic that has been utilized for this case are of excellent quality. On the off chance that you are looking for incredible highlights in a budget-friendly PC case, you should consider the new Eclipse 300. This case also easily fits into the best PC cases under $50 category.
It has a full metal outside the plan. This consequently adds to its strength and sturdiness. Also, this comes with an integrated PSU cover. It additionally has a tempered glass board which helps in showing off the guts of your PC. This thus gives your room or your office a perfect look. Out of the box, you get only one fan installed in this computer case, however, you can find a metal mesh filter on top which helps filter the air and dust out.
The RGB power light takes into consideration more noteworthy RGB customization. The downlights include ten hues. It is additionally synced with RGB motherboards. On the drawback, this PC is a little on the heavier side. All in All, it accompanies a simple installation. The setup hardly takes any time and should be possible in a couple of simple steps. With the strong build quality and reasonable price tag, it sure is the best budget white PC case on our list.
How To Choose PC Case
Picking the best white PC case for your particular build can be a bit of a challenge for first-time PC builders as well as for experienced builders. This is because there is no PC case that fits the demands of each and every user and their individual build. Each PC case has its own particulars and nuances that you must learn about and judge whether or not that case fulfills the purpose that you want from it in your particular setup.
First of all, you should decide the size of the case that you want. There are basically 4 types of computer cases out there on the basis of size. Firstly, there is the ATX form factor, which can be labeled as the standard mid-tower configuration. Smaller cases in the micro-ATX form factor also exist, and so do extremely compact cases using the mini-ITX form factor. In addition to these 3 sizes, the case industry is also rife with extremely large full-tower cases, which are now becoming less and less common due to their humongous size.
After this step, you should focus your attention on compatibility. A PC case should, first and foremost, be able to hold and support each and every one of your PC components. Think about the motherboard size, the radiator size, the number of fans, the number of SSDs and HDDs, the size of your CPU cooler, and the size of your graphics card. You should also think about cable management and aesthetics, since the computer case is a showpiece for your particular build, so it should definitely look nice.
Keeping these steps in mind, you should be ready to choose the perfect PC case for your build. It might even be one of the best white PC cases that we mentioned on our list today, or it might be something entirely different. You can also check out our detailed PC case buying guide if you want to learn more about buying a PC case.
Frequently Asked Questions
Which brand PC case is best?
Just like with any other product, it is not the best idea to purchase a PC case based on the brand name alone. All brands have made good and bad products, so it would be a wise approach to focus on the individual product in question, rather than the entire brand itself. With that said, there are certain case brands that are popular among general users and enthusiasts alike, such as Corsair, NZXT, Cooler Master, Phanteks, Fractal Design, Thermaltake, and Be Quiet! etc.
Do white PC cases turn yellow?
This is a common misconception with white PC cases that needs to be eliminated. Until and unless your PC case is directly exposed to sunlight, or the panels are made of plastic, it shouldn't have any yellow discoloration even with extended use. This also depends on the quality of the material that is used in the fit and finish of the panels, and how much the manufacturer paid attention to the small details of the case. Nonetheless, you shouldn't notice any significant discoloration in modern white PC cases.
Are full tower cases worth it?
Full-tower PC cases are becoming less and less popular even among enthusiasts due to their unwieldy size and weight. They are usually extremely expensive as well, with little to no actual benefits over standard mid-tower ATX cases. The one main benefit of full-tower cases in the past few years was water cooling, and now even that is possible in standard mid-tower cases such as the Lian Li O11 Dynamic. Therefore, we can safely assume that full-tower cases are not worth it now.
Should I get a mini-ITX case?
If you plan to build a compact PC with a mini-ITX board, then the mini-ITX case options on the market should be attractive to you. Unlike full-tower cases, this niche is growing day by day with more and more enthusiasts turning to small-sized cases rather than bulky mid-towers. This is the reason behind the massive sales boom of mini-ITX cases. If you can manage to build inside a mini-ITX case and all your components fit inside it, then by all means go for mini-ITX cases as well.