Honor MagicBook Pro Review – Expensive But Incredible Performance
Amidst the saturated laptop market, Honor is one of the few brands that has consistently lived up to not just their reputation but also to their promise to the fans.
Be it the Honor smartphones with a great price per performance ratio or their laptops, with the need to keep up with the advances in the CPU chipsets and thus, bring the people laptops truly worth remembering. Their MagicBook lineup is a testament to that. With the first iteration of the MagicBook Pro coming out with Intel CPUs, Honor promised to release one with Ryzen CPUs as well with their better over-all performance and value for money.
Honor MagicBook Pro Review
Announced in Honor's Smart Life event, the Honor MagicBook Pro came with similar yet improved specs and feature set over the previous laptops in the MagicBook lineup. The initial lineup announced was equipped with Intel's 14nm Comet Lake processors however, Honor confirmed later on that they would be releasing Ryzen variants as well. And now, lo and behold, the Ryzen lineup is here. On our hands today, we've got the Honor MagicBook Pro with Ryzen 5 4600H CPU and 16 Gigs of RAM. This comes next to the normal Honor MagicBook 14, and before Honor MagicBook 2021.
We'll be taking an in-depth look at what the new MacBook Pro by Honor has to offer and if it is as good as we had hoped it would be. Let's get right into it.
Unboxing
Coming to you in normal cardboard packaging, the Honor MagicBook Pro is neatly packed in the box with all the essentials you need. You can find the usual sticker on the side with a brief list of the specs that this laptop has. As usual, the laptop is packed inside a sleeve as well as has packing foam to protect it from damage during transportations.
The box contents are as follows:
Honor MagicBook Pro laptop

USB-C charger along with adapter

Documentations
System Specifications
CPU: Ryzen 5 4600H
GPU: AMD Radeon
RAM: 16 GB DDR4
Storage: 512 GB NVMe PCIe SSD
Charger: 65W Fast Charger
Keyboard: Backlit keyboard
Display: 16.1-inch FullView IPS Display
Resolution: 1920 x 1080
Battery: 56Wh
Dimensions
Length: 369 mm
Width: 234 mm
Height:16.9 mm
Weight: 1.7 kg
I/O Ports and Buttons
3x USB 3.2 Gen 1 (Type A)
1x USB Type-C
1x 3.5mm audio jack
1x HDMI 2.0
Fingerprint power button
Design and Build
Most of the MagicBook laptops by Honor have followed almost the same designs. As these are mostly intended for office work and for students, the simplistic design works quite well in their favor. With the metal chassis and the similar color scheme as we've seen before in MagicBook laptops, the MagicBook Pro comes out as not only lightweight Ultrabook but also quite sturdy and robust, definitely helping Honor earn points in that department.
Quite often, MagicBook's design has been compared to Apple's Macbooks, and for good reason. Along with rocking a minimalistic and simple design with almost the same grey dominant color scheme, MagicBooks also gives the same feeling when you open the laptop up. That is not to say that there's anything bad about it as we're rather fond of how it all comes together with the MagicBook. The metal chassis provides a solid foundation for the structure and has very little flex, proving its robustness and sturdiness.
Similar to the previous iterations of the MagicBook, the MagicBook Pro is available in the same grey shade colors, named Space Grey. On the top, you can see the polished edges and a very smooth finish which helps preserve the elegance of the MagicBook Pro. This laptop is quite thin which makes for easy probabilities and carrying capabilities in Laptop Backpack. The density of this laptop is sufficient enough to let you feel that it is not as susceptible to damage as you might think.
Looking at the bottom of this laptop, you can see the vents for airflow and ventilation and a slight bump which helps lift up the laptop. The lift of the MagicBook Pro is not that good because that little crest is not quite enough to give this laptop a good lift. We've seen Asus's ErgoLift – Zenbook 14 UX425JA, in which the laptop is designed in such a way that when you lift the lid, it automatically lifts the laptop up a little and gives it room to breathe. For lightweight tasks, which the MagicBook Pro is mostly intended for, you shouldn't face a lot of problems. However, the temperature may end up getting a bit high when you start to put it under a lot of stress. We'll be talking about the temperature throttling in-depth in a later section.
Unlike the previous MagicBooks, the MagicBook Pro has speakers on the top right beside the keyboard. The power button and the fingerprint reader are on the top right top side of the speakers too with a little cutout for it. This helps the audio capabilities of the MagicBook Pro in a number of ways. The airflow and positioning of the laptop will not block the speakers and reduce the volume. The screen to body ratio is also pretty high which results in very thin bezels. This low screen to body ratio really helps the 16.1-inch screen for more immersion. This is further complemented by the fact that the webcam is placed in one of the Fn key rows instead of on the top bezel.
I/O Ports, Speakers, and Webcam
As usual, the I/O ports are located on both sides. The MagicBook Pro uses a USB Type-C charger which was something we immediately liked. Starting with the right side, you can see that the MagicBook Pro has 2 USB ports and also a 3.5mm audio jack.
Similarly, on the right Honor offers you another USB port along with an HDMI cable and a USB Type-C port which is also what you use for charging the MagicBook Pro, which can be a bummer for some people as you lose access to your type-c device when plugged in. The I/O port selection is pretty standard with this laptop. You might find yourself running out of native ports soon, especially if you attach an external mouse and keyboard. However, these ports make sense when you look at the design of the MagicBook Pro. The fewer amount of ports contribute to its thinness and thus, portability.
As stated earlier, the speakers of the laptop are situated on the top rather than on the bottom or sides. This helps in preventing the sound from being muffled. Since laptops are portable computers, you're not always going to be putting them on a flat surface where you can ensure that the speakers are not blocked. Having them placed there saves you the trouble of finding that sweet spot to put your speakers in. As for how the speakers perform, they're quite decent.
There's nothing too special about the speakers of the MagicBook Pro. While they do have a better position than most laptops, the quality is still nothing too astonishing. The volume is not as loud as we had hoped, but it's enough to get you through the day. For the intended purposes, the MagicBook Pro speakers should suffice as it really isn't a flagship laptop intended for the best of the best users.
We've seen MagicBooks adapt a different webcam design and the MagicBook Pro carries that forward. Instead of having the webcam placed on the top bezel, it is hidden inside one of the Fn keys (between F6 and F7). Pressing that opens up the webcam and it pops out. If you're very cautious of your privacy, you won't have to put up a black tape on top of your webcam and end up ruining the overall aesthetics of the laptop. This provides more privacy. However, it comes at the cost of somewhat awkward positioning during photos or calls. Your Zoom call attendees may end up seeing you from a less than ideal angle. For the price that the MagicBook Pro has, the quality of the webcam turned out to be quite mediocre at best. Coupled with the awkward angle, your video call experience might not turn out to be very good.
Honor MagicLink 2.0
By now, it really would be surprising if someone wasn't familiar with Honor smartphones. Before laptops, Honor really put themselves out there and released a number of notable smartphones both budgeted and flagship. And now, it seems evident that they are set out to make a mark in the laptop market as well. Similar to smartphones, a great laptop does not only comprise high-end specs but great performance and other features as well. And that's where Honor MagicLink 2.0 comes in for the Honor MagicBook Pro laptop.
Honor MagicLink 2.0 is an NFC protocol that lets you pair your supported Honor smartphone to your laptop. This creates a very seamless and convenient ecosystem for you to work so that everything of use is right in front of you. After connecting your Honor smartphone to your MagicBook Pro, you can manage multiple devices at the same time using multi-screen. You should know that MagicLink 2.0 works only on Honor smartphones with NFC and EMUI 10 or above or MagicUI 3.0 or above.
Once connected, you can answer calls on your MagicBook Pro, use the camera for video calls, use the mouse to interact and operate the apps on your phone, and even edit the files. All of this makes for an incredibly easy and efficient working environment as you have yourselves and an ecosystem that perfectly connects your devices and makes working fun and easy.
The Processor
The Honor MagicBook Pro, as we talked about earlier, comes in two different variants. Originally, the MagicBook Pro came equipped with Intel's 10th Gen processors. A little later Honor released their Ryzen lineups for the MagicBook Pro, and that's what we have in our hands. The one in our hands today for this review has Ryzen 5 4600H in it.
The Ryzen 5 4600H CPU has 6 cores and 12 threads and has the latest 7nm chipset design. It also supports hyperthreading. It has an 8mb cache and TDP wattage of 45W, however that is usually subject to a little bit of change as per the requirements of the vendors. Based on the 7nm designs, the Ryzen 5 4600H promises better performance per Watt. The CPU has a Turbo Boost speed of 4.0GHz.
The GPU
Honor MagicBook Pro with the Ryzen CPU comes with AMD Radeon Graphics. There are no dedicated graphics with this laptop, and that does hold it back a little. However, a dedicated GPU would have resulted in a thicker laptop and that is just not what the MagicBook Pro is about. It is designed and intended for students and office work, with light laptop gaming and editing on the side. With that in mind, it makes sense that there is no dedicated GPU in the MagicBook Pro and instead, it makes use of the integrated GPU with the Ryzen 5 4600H. Light games like League of Legends, Counter-Strike Global Offensive, Dota, and even Valorant will work fine on this laptop.
The Display
The Honor MagicBook Pro laptop features a 16.1-inch FullView display with a 90% screen to body ratio. This results in extra-thin bezels of just 4.9mm on the three sides. Normally, the top bezel is also a little larger because the camera is there however, with Honor's addition of putting the camera in one of the Fn keys, the top bezel is also quite thin.
The 1920x1080p resolution on an IPS display with 100% sRGB color gamut works to great wonders on the MagicBook Pro. IPS panels offer greater color accuracy and range. It has 300 nits of brightness and a contrast ratio of 1000:1, pretty standard numbers that we have seen in laptops before. The MagicBook Pro screen also has been certified by TÜV Rheinland and produces fewer blue light emissions, which are harmful for your eyes. IPS panels don't really have quite good viewing angles so you should not have qualms there.
Keyboard and Trackpad
Laptop keyboards are often subject to a few design flaws, which are sometimes nothing more than personal preferences. Likewise, in the case of MagicBook Pro, the keys were a little less than ideal for me. The keys have a keystroke of 1.3m however, they are rather small. There is very little lift off the keys and in typing, I found my fingers actually digging a little deep.
Over long typing, I found my fingers getting a little tired and having trouble keeping up with my usual typing speed because the keys were not very comfortable to use. The travel time between the keys is short, which is normally good however, in this case, I found myself longing for more distance between the keys because of how packed it all was. I doubt many will even notice this, let alone find it to be a problem because some people are quite used to keyboards like this. However, I found the switch to be quite problematic at first.
The trackpad is pretty standard and does not have dedicated buttons. Instead, the buttons are built-in on the trackpad, like we've in many laptops. This of course saves space and gives you more room to work with. The standard gestures are featured and you can do the same pinch to zoom in or zoom out and other trackpad gestures for your tasks.
Cooling Solution and Thermal Design
The Honor MagicBook Pro has quite an efficient cooling design that works wonders for it. As is the case with most laptops, the Honor MagicBook Pro's air vents are located at the bottom. I talked about the fact that the crest alone is not sufficient enough to give the MagicBook Pro a decent lift up from the surface. However, that did not really cause much of an issue in most of the cases.
Dual fan design with thicker pipes in the MagicBook Pro helps keep the temperature at optimum levels. In most cases, you will not even notice the temperature goes up, let alone the fan gets noisy. The dual heat pipes and fans help in about 15% better heat dissipation. On top of that, the fans remained quiet for the most part. The noise of the fan did become noticeable when we put the MagicBook Pro to test when doing the benchmarks. However, that just goes to show that it was working overtime to keep the temperatures at bay and prevent thermal throttling.
Testing Methodology
For the benchmarks and in-depth testing, we used the likes of Geekbench 5, Cinebench, PCMark 10, and 3DMark TimeSpy for the CPU tests. For the SSD, we used CrystalDiskMark for the Read and Write speeds. We also tested out rendering times in Adobe Premiere.
For all of the tests, the laptop was plugged in and full performance mode was toggled on. No extra cooling solutions were used and the laptop's own ventilation and cooling system were solely responsible for these results.
CPU Benchmarks
The Honor MagicBook Pro has the Ryzen 5 4600H CPU installed in it and we used the appropriate benchmarking tools to test the prowess of this CPU.
Starting out, the first test was carried out using 3DMark TimeSpy and the scores were recorded.
From the above screenshot of the test, you can see that the score comes out as 4918, which is pretty fantastic. Despite being intended and designed for somewhat average use, the Ryzen 5 4600H proves to be a fantastic piece of hardware and does not disappoint.
Next, we used Geekbench to test out the single-core and multi-core performance of the Honor MagicBook Pro.
Honor MagicBook Pro GeekBench Single/Multi Core Performance
| Single Core Performance | | Multi Core Performance | |
| --- | --- | --- | --- |
| Single Core | 1097 | Multi Core | 5884 |
| Crypto | 2107 | Crypto | 4476 |
| Integer | 968 | Integer | 5680 |
| Floating Point | 1209 | Floating Point | 6561 |
For those who are not familiar with how Geekbench measures scores, it basically just assigns a series of tasks to the CPU to run. The score displayed shows how quickly the processor was able to process and complete those tasks. Higher numbers mean it took less time for it to complete them. You can see that the single-core and multi-core scores come out as 1097 and 5884 respectively, making the ratio come out as 5.3.
Following that, we used Cinebench R15 and Cinebench R20 to test out the CPU prowess.
From the Cinebench R15 results, the score of single-core comes out as 170 with an MP ratio of 7.79. The single-core score of 170 is quite impressive and further solidifies the Ryzen 5 4600H is a great CPU for you to get your hands on.
In the Cinebench R20 scores, the single-core performance is 438 with an MP ratio of 6.97. Cinebench uses 3D/4D rendering and uses its own scoring metrics to display the stats. AMD's Zen architecture has been living up to their promises and the Ryzen 5 4600H can attest to that with these scores.
Lastly, PCMark 10 was used which tests the CPU's rendering and content creation performance. For performance free of any potential hurdles, a score close to 3400 is recommended. Higher than that is of course appreciated.
The above results can really put the final nail to the coffin and prove that this laptop is quite fantastic in its works. With a score of 4843, the MagicBook Pro comes out as a great laptop to have. For the intended audience, these scores will be fantastic and effortless usage and even video rendering should not prove to be that big a hassle for you.
GPU Benchmarks
MagicBook Pro has an integrated Vega GPU and in this section, we will be showing you the results of GPU benchmarks. For this, Unigine Superposition and GeekBench 5 OpenCL were used.
For the first GPU benchmark, we used Unigine Superposition, which is one of the most demanding benchmarks for your GPU. It uses highly detailed and interactive environments to test out the GPU prowess.
For an integrated GPU with only 512Mb of VRAM, the score of 536 on the Unigine Superposition is pretty fantastic to see. Rest assured, you can easily play League of Legends and game of somewhat same requirements on this with ease.
Next up, we have the scores of Geekbench 5 OpenCL.
In this, we can see that the score comes out as 11169. This is actually higher than some Nvidia laptop GPUs as well so it was quite pleasant to see the MagicBook Pro perform well in these tests.
Display Benchmarks
The Honor MagicBook Pro has a 16.1-inch FullView Display with an IPS panel. It has a resolution of 1920 x 1080p. In our usage, we were able to really enjoy the experience that the MagicBook Pro was able to deliver to us. Of course, it's nothing too special but it still is a promising display and we're going to be testing it out to its max potential in this section.
For our benchmarks, we used Spyder X Elite and calibrated the display too. We'll be showing you before and after calibration results and will also discuss the different parameters that are brought into question.
Right out the box, the pre-calibrated color accuracy, reproduction, and range were a little off. You can see that from the before and after calibration pictures and compare the results.
As we stated earlier, the MagicBook Pro's display has 300 nits of brightness. For our brightness and contrast test, we the brightness from 0 to 100% with 25% increments. The results are shown above. Even with brightness at a mere 4.1, the contrast ratio was still 300:1 which is quite high. We were able to get 349.8 nits of brightness which is more than enough.
As advertised, the MagicBook Pro display was able to give us 100% of sRGB coverage which is quite fantastic. Other than that, the above screenshot shows 76% of AdobeRGB, 76% of P3, and 71% of NTSC coverage. These results are quite good and rather impressive. Even with content creation, video editing, or digital arts on the side, the MagicBook Pro should yield great results for you.
We can see here that pre-calibration, the delta E values were way off. Darker colors and shades did have Delta E of less than 2 but the maximum was at 5.37 resulting in an average score of 2.76.
After calibration, the Delta E values came down quite a lot. All of the values except one were less than 1, resulting in fantastic post-calibration color accuracy. The average Delta E values after calibration came all the way down to a mere 0.99.
Next, we checked color uniformity for 4 different brightness levels: 50%, 67%, 83%, and full 100%. The results of these can be shown in the above set of pictures.
In the above set of screenshots, we're showing you the luminance uniformity tests that we did for the same 4 brightness levels as the color uniformity test.
We used Spyder X Elite for our display benchmarks and measured the parameters before and after calibration. You can see the difference in the above two screenshots which show you the before and after calibrated views of a picture. The difference is quite noticeable and pleasant as well.
SSD Benchmarks
The Honor MagicBook Pro on our hands came with a 512 PCIe NVMe SSD. For our test of the SSD, we used CrystalDiskMark to test out the read and write speeds along with 4K speeds.
In CrystalDiskMark, the read and write speeds come out to be 3436.43 Mb/s and 2722.83 Mb/s. These numbers should assure you that you will not encounter any in your work as they are quite impressive. You really should see these numbers fly when you use the USB-C port for transferring data. What's even more impressive are the 4K speeds of 47.83 Mb/s and 152.21 Mb/s for reading and write respectively.
Battery Benchmarks
The Honor MagicBook Pro comes with a 56Wh battery and is charged using the USB-C port on the side. Upon fully charging it, up to 11 hours of continuous usage can be dished out using this laptop. Keep in mind that these numbers are not always going to stay the same. For example when gaming or really pushing the MagicBook Pro to its limits, you will most likely notice the total battery time go down. Still, long battery life is what you should expect with this laptop.
Another great feature that this laptop has is fast charging. In the box, you'll get a 65W Fast Charger which you can plug into your wall socket and let your MagicBook be charged in no time. We noticed that the MagicBook Pro was able to charge from 0 to a full 100% in just under 2.5 hours, an impressively short amount of time considering how long the battery lasts. In order to test out the battery of the MagicBook Pro, we did three tests. In the first, laptop was left on idle with 50% brightness and we noted the time it took for it to completely die. In the second, the brightness was again at 50% however, we used it regularly by browsing, watching Netflix and Youtube and etc. And lastly in the third, the brightness was raised to a full 100% and heavy stress was put on the laptop and the time it took for the battery to drain was noted.
The numbers are quite impressive, albeit not the best we've seen so far. Still, a regular usage time of about 9 hours should be quite sufficient for many people. And if you run out, the 65W Fast Charger will let you get back in in no time.
Performance in Content Creation Software
Evident from the CPU and GPU benchmarks, the amazing prowess of the Ryzen 5 4600H should be visible by now. We took things up a notch and decided to test it out in content creation software as well. To test out how well it can handle video rendering. For our test, we used Adobe Premiere Pro and used a 4K video with a duration of 1 minute and 32 seconds and 60fps.
For Adobe Premiere Pro, presets of 4K, 1080p, and 720p were used. The results can be seen above and they are quite decent. It took 6:45 mins for 4K video, 5:25 for 1080p and 5:18 for 720p.
Thermal Throttling
The temperature and thermal throttling handling capabilities of the MagicBook Pro were very pleasing to witness. Even when putting the MagicBook Pro to the test, there was barely any performance degradation. The dual fan and dual heat pipe design come out to be quite sufficient for the tasks that the MagicBook Pro sets out to do. For that reason, it surely deserves credit.
In normal benchmarks, we rarely witnessed any thermal throttling with the MagicBook Pro. PCMark 10, Adobe Premiere Rendering and Superposition went smoothly and with ease, without causing any notable temperature spikes. It wasn't until the stress test of CPU, FPU, Cache, and system memory through AIDA64 when we noticed the temperature hike.
During that, the CPU Diode temperature reached 105C and the GPU temperature was at 71C in 2-3 minutes with the CPU clock was varying between 3.6GHz to 3.9GHz. As a precautionary measure, we ran this test for only 5 minutes and stopped it after that. Despite reaching a temperature of more than 100C, we did not notice any thermal throttling. The only notable one was achieved when we really put the MagicBook Pro to test with a very demanding and stressful test using Aida64.
You really should be fine with just about anything that the MagicBook Pro is going to be used for. The dual fan and dual heat pipes ensure that no thermal throttling is achieved when using the MagicBook Pro. In our CPU, GPU, and even content creation software, that is the Adobe Premiere Pro, the temperature remained in optimum levels and we had nothing to worry about.
Acoustic Performance/System Noise
In using the MagicBook Pro, the fans remained at very quiet levels. In just about all the tasks, except benchmarking, that we used the MagicBook Pro for, the fan level was very close to the 25dB level. If you're not familiar with what the noise levels are and the unit of their measurement, you can take the following for reference. A quiet room will have a sound level of around 26-28 dB. As long as the noise is below the 30dB threshold, it is barely audible to the human ear. That is if you're not really paying attention to it and are trying to listen to the sounds. The noise and thermal performance of this laptop can be further made better if you choose to use an external cooling pad.
Be that as it may, you can rest easy knowing that the fans of the MagicBook Pro will not cause you any troubles. You can pay full attention to the work you're doing and not be bothered by the noise of the fans that we've sometimes seen in laptops.
Conclusion
Honor's MagicBook lineup of laptops has continuously impressed us over and over. In MagicBook 14, we talked about what a great addition to your needs it was and Honor steps things up a notch with the MagicBook Pro. The MagicBook lineup of laptops is clearly helping Honor imprint a dominating footprint in the laptop market.
The simplistic design works great wonders for the Honor MagicBook Pro laptop. With clear cut and smooth edges, and slim design is just about perfect for anyone. MagicBook laptops have clearly been keeping up with the trend and while it does not have a Thunderbolt port, it comes with a USB-C port that is also used for charging. That results in really fast charging so you can save time and have your laptop ready on the go. Great results and scores should further invite you into accepting the amazing prowess of the Honor MagicBook Pro.
In addition to that, the benchmarks of all the parameters came out to be quite fascinating. Further, Honor MagicLink 2.0 lets you connect supported Honor smartphones to your MagicBook Pro laptop and make for a seamless and efficient working environment. In the future, Honor might have plans to work on their webcam and speaker quality, however, nonetheless, the ones provided in the MagicBook Pro should suffice. For the price that it boasts, MagicBook Pro really gives value to its customers and truly harnesses the power of Ryzen 5 CPUs. Be it for every day usage or CPU intensive work, the benchmark results should be satisfying enough to prove to you that the MagicBook Pro packs quite a punch.
Honor MagicBook Pro
A fantastic laptop for all your needs
Pros
Great build quality and a sleek and professional-looking design
Very little thermal throttling
Dual pipe
and dual fan design keeps the temperature at bay for most tasks
Very fast fingerprint power button
Cons
Webcam quality is quite subpar
When plugged-in you lose access to the USB-C Port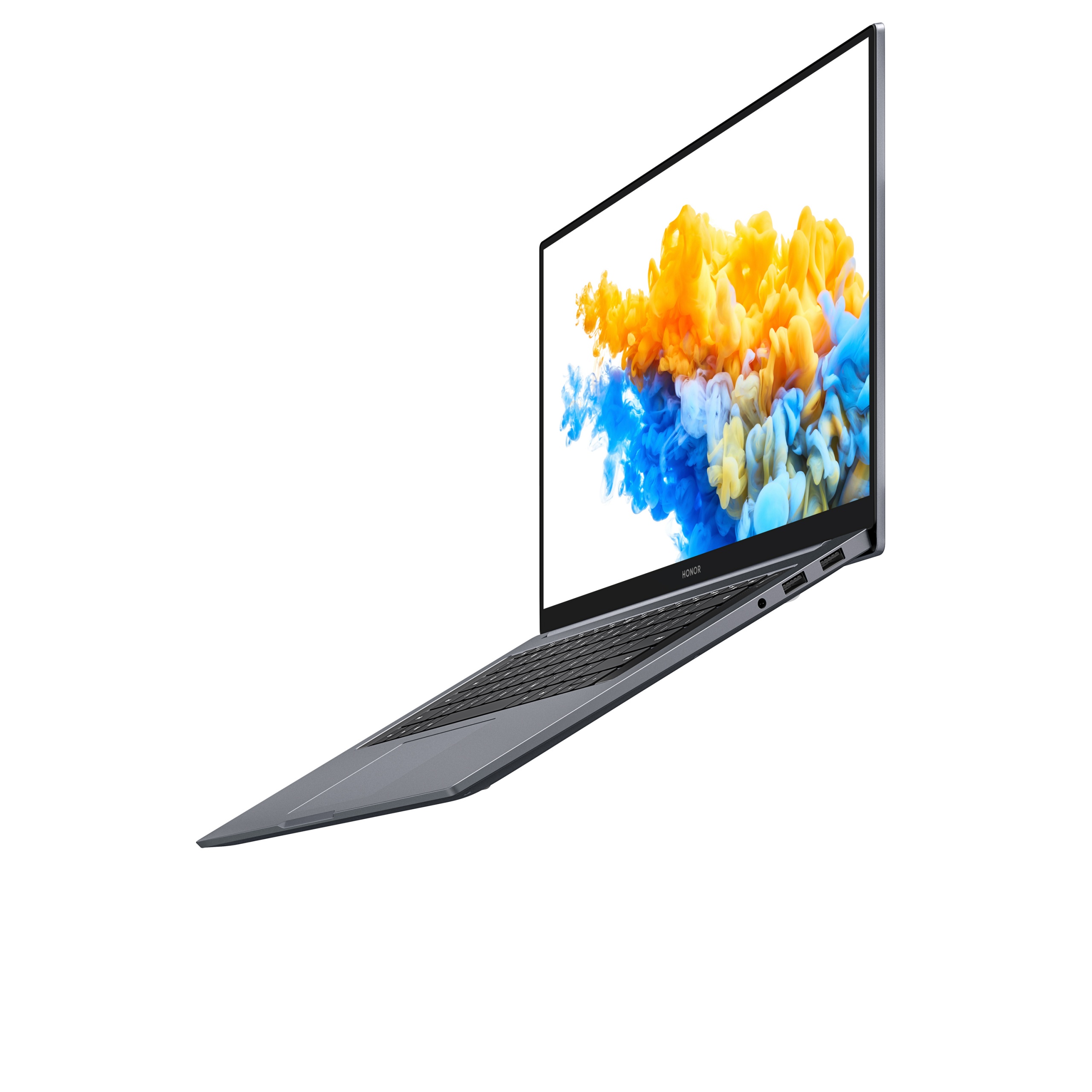 Processor: Ryzen 5 4600H | RAM: 16GB dual-channel DDR4 | Storage: 512GBPCIe NVMe SSD | Display: 16.1-inch FullView IPS | GPU: AMD Radeon Renoir

VERDICT: Honor's MagicBook Pro may come off as a little bit expensive for some people, however, it is a great laptop to have. With fantastic results in CPU and GPU testings and elegant design, the MagicBook Pro offers a very sweet spot between great performance and aesthetics.