Honor MagicBook 14 Review – Justified With The Price Tag
Huawei needs no introduction in the tech world. Having consistently put out smartphones like Honor 9 that have always been well praised and often given the likes of Samsung and Apple a tough competition, they have built an enormous fan base. Enter 2020 and Huawei brings out the Honor Magicbook 14, a fantastic looking notebook with pricing that attracts all. Huawei has managed to prove themselves in the smartphone world plenty of times. With the Magicbook 14, they're set out to make a mark in the laptop market. This is also the brother Laptop of Honor MagicBook Pro and the latest Honor MagicBook 14 2021.
Honor MagicBook 14 Review
There are a number of laptop brand names that have already established their roots. In order to compete with them, it was important that Huawei delivers a laptop worthy of you taking money out of your pocket yet without raising the price to an absurd amount. The Honor MagicBook 14 variant in our hands comes with a Ryzen 3500U CPU and that's the one we'll be reviewing today. A full metal chassis and a very professional and sleek looking laptop is what the MagicBook 14 is. But, the underlying question is whether this is worth investing in or not. So without any further ado, let's find out!
Unboxing
Honor MagicBook 14 comes in very standard packaging that most laptops have. In a cardboard box is this Honor laptop wrapped around a sleeve for protection. All of the contents are packed nicely together and it makes for a rather simple and beautiful presentation of what you're getting. The box contents are as follows:
Honor MagicBook 14 laptop
USB-C charging cable and brick
Documentation
System Specifications
Battery: 57.4Whr(TYP)8 hours
CPU: Ryzen 5-2500U
GPU: AMD Radeon XFR mobile graphics
Storage: 8G DDR4 +256G SSD only
Charger: 65W Type-C charger
Sound Effect: High / deep bass separated design (Dolby Atmos Sound System)
Keyboard: Backlit keyboard
Display: 14" FHD IPS Display (5.2 mm thin bezel)
Dimensions
Height: 221 mm
Width : 323 mm
Depth: 15.8 mm
Weight: 1450g
I/O Ports
1 x USB-C(Multi-functional)
1 x USB-A3.0
1 x USB-A2.0
1 x HDMI
1 x 3.5 mm
Design and Build Quality
The Honor MagicBook 14 has a clean and simple design that seems to be rather understated. Being a professional monitor mostly intended for work-related tasks, this works well in this laptop's favour. Something, we thought that HP Pavilion x360 does as well. Smooth and polished edges and an aluminium chassis make for a very elegant looking design that this monitor boasts. The MagicBook 14 is definitely one of the better-looking laptops that we've come across. This laptop is available in 2 different colours, Space Gray and Mystic Silver. Despite having a full metal chassis, its weight is only 1.38kg which is absolutely perfect. The metal chassis adds a certain density to the MagicBook 14. Its weight is low enough to make for easy portability while the density reassures that this laptop is durable. With the weight and dimensions that the MagicBook 14 has, it easily fits in your Laptop Backpack, where you can carry it around anywhere you like.
The design of the Huawei MagicBook 14 is really exquisite and looks more premium than what the price entails. The top panel has the Honor logo which is off centre and sits a little to the left. Around the edges and the Honor logo, MagicBook 14 has a metallic blue finish which gives off a beautiful looking effect when light shines on it. Huawei cuts right to the point and delivers a laptop with a minimalistic design that looks just as good as some of the more expensive laptops on the market. Flipping the MagicBook 14 over shows you the rubber feet as well as the vents for airflow. The rubber feet give this laptop a little bit of height when placed on the surface so it helps with smoother airflow.
The I/O ports, as well as the speakers, are located on both sides. We'll be getting in more depth about the two below. Opening up the lid of the laptop, you'll see that the MagicBook 14 has nice and thin bezels. This laptop has an 84% screen to body ratio and the bezels on three sides are 4.8mm. The screen can be rotated to a full 180-degree angle. We'll be getting more into how that is particularly useful for this laptop later below.
MagicBook 14's keyboard has nice travel time about it which makes for easier and faster typing. In terms of noise, the keys do have clicky feedback but they do not produce that much noise. The keys have LED lighting under them with two illumination levels for you to choose from. In the F-row, one of the buttons is for the pop-up camera that this laptop has. Honor puts your privacy concerns to rest with the addition of a pop-up camera that you can let out only when you need it. The angle of the camera might not be of liking to everyone, but it's a minor inconvenience compared to everything else that you're offered.
On the top right corner, you can see the power button which also acts as a fingerprint scanner. Having a fingerprint scanner on the power button is awfully convenient. Since it is quite fast, all you need to do is hold your finger over the power button and you immediately can get right in.
Seeing the MagicBook 14 from the side, you can observe the slant design of the bottom panel. This further helps in giving this laptop a certain amount of height which improves airflow. Lastly, we're left with the trackpad. The left and right buttons are integrated onto the trackpad itself, which is quite common to see these days. It has a nice and smooth feel to it which I'm sure everyone can quite easily appreciate.
There is very little not to like about the MagicBook 14 when it comes to how well it looks and is designed. The metal chassis ensures that this laptop is well protected and can withstand normal amounts of damage that might befall on it. On the other hand, Honor's unique selection of colours with the blue accents on the edges makes sure that no compromises are made when it comes to aesthetics.
The Processor
When it comes to choosing your MagicBook 14, Honor gives you the option of either an AMD Ryzen 5 3500U or 3700U. The variant that we have in our hands comes with the Ryzen 5 3500U. Announced early in 2019, this Picasso APU offers about an 8% performance improvement over its predecessor, the Raven Ridge. For those unfamiliar with the term, Picasso is a series of desktop and mobile APUs that operate on Zen+ CPU and VEGA GPU microarchitecture. Their fabrication is based on 12nm processes, as compared to Raven Ridge's 14nm. They consume less power and are more powerful.
The Ryzen 5 3500U is an 8 thread (4 Zen+ cores) processor, with the cores operating on a 2.1Ghz base frequency and 3.7Ghz boost frequency. These are not the highest numbers we've seen, however, they are still pretty impressive. With 8 threads and a low TDP of just 15W, the power consumption is very efficient. With this APU, up to 32Gb of DDR4-2400 dual-channel RAM and Radeon Vega 8 graphics are supported. The integrated Vega 8 graphics have a 1200MHz frequency and supports DirectX12. DX12 and 8 Gigs of DDR4 RAM is pretty much what's necessary for laptops these days, so it's great to see Honor keeping up with that.
The Ryzen 5 3500U is not categorized as a CPU intended for gaming so you can't expect to play any high-end latest gaming titles on this laptop. That being said, many of the relatively older gaming titles can be played on the MagicBook 14. When the clock frequency is boosted to 3.7GHz, the TDP is 35W, which is quite higher than base 15W but still, relatively power efficient. We'll be talking more about our stress tests and what the results of those were in the benchmark section below.
The Ryzen 3500U is more than enough for just about any work that you would require from an office-class laptop. Multi-tasking, video rendering and some gaming on the side are all a cinch with the 4 cores and clock frequency that this CPU has.
The GPU
The Radeon Vega 8 is an integrated GPU used by the Ryzen 5 CPUs. The MagicBook 14 is really not the right pick if you also want to run the latest titles on this laptop. As such, the Vega 8 is a mediocre level GPU at best. With that being said, it does offer some improvements over the Raven Ridge integrated graphics. Most notably, the DirectX 12 Feature Level 12_1. As I have already stated, this is not ideal for the latest games. However, being a Radeon GPU, it does have AMD FreeSync Technology. Though I doubt it'll be of much use to people looking for a laptop of this category.
The Vega 8 has a variable TDP between 12-25 Watts and its performance changes and depends upon the selected TDP, as is the case with GPUs. The MagicBook 14 has 1Gigs of DDR4 VRAM and 8 cores. We'll be getting more into the benchmark results how well it can hold its own later on. This GPU, for the most part, is well suited for video rendering and photo editing software like Adobe Premiere, After Effects, Lightroom etc. Vega 8 in the MagicBook 14 has a core clock of 1200MHz, which is pretty power efficient. However, it can go up to 1500MHz when Boosted.
The Display
No matter how great a laptop overall is, one thing that never goes overlooked due to how important it is is the display quality. Having brightness levels that are high enough for you to easily see what's going on in your screen when sitting in sunlight is a vital subset of determining the quality of the display. After all, what good is your portable computer if you're not going to be able to get the full value of the screen?
The MagicBook 14 has a 14-inch Full HD display with 4.8mm bezels and an 84% screen to body ratio, as mentioned before. The display is an IPS panel with a max resolution of 1080p. The tiny bezels have been something that I have really come to like when using the MagicBook 14. My focus is rarely ever hindered by them and I value the quality of the screen more because of that. Being an IPS panel, the viewing angles are exceptional as always. The pictures come off as crisp and it felt perfect for a working laptop. One thing that I was a little disappointed with was the low brightness levels. Obviously, it's not like the ASUS Zenbook Pro 15, that comes with 4K 60hz Screen, but it still gets the job done, given the price point.
As I wrote earlier that having the freedom to sit comfortably under the sun and use your laptop is something that is a dominant factor for some. The MagicBook 14's screen only has 250-nits of brightness, well under even the 300-nits threshold. This is not a problem at all for when you're working indoors, as I do, but may be problematic outdoors. The display is TÜV Rheinland certified and has a blue light filter in it which prevents excessive blue light from causing strain on your eyes over long periods of usage.
I/O Ports, Speakers, Webcam and Honor Magic-Link 2.0
Honor MagicBook 14's ports are distributed on both the left and right sides. The number of ports that are offered does seem a little bit of a let down because there aren't many. On the right, you can see one 3.5mm audio jack and one USB 2.0 port. Going completely free of USB 2.0 is going to be a waste of throughput because connecting keyboards and mice to USB 3.0 will just be wasting resources. Therefore, I understand why we need to have at least one USB 2.0, especially on a laptop where you may need to connect an external mouse.
On the left-hand side, there's USB 3.0/Type-C and Type-A port along with one HDMI port. It is great to see the Honor MagicBook 14 is using Type-C ports because they're much more power-efficient while offering almost double the transfer speeds. This laptop makes use of the USB Type-C to charge its battery as well. While this is, of course, better, it does mean that you're going to be losing your Type-C port when charging.
MagicBook 14's speaker grilles are located at the sides and honestly, this is a better position than being on the front. Not always are we placing our laptops on an ideally flat surface like a tabletop. By having the speakers on the sides allow them to not be blocked by any potential object that may otherwise end up reducing the volume. The speakers are Dolby-Atmos certified so you know the stamp of quality is there. That being said, these aren't the loudest sounding speakers that I've come across from a laptop, but the audio quality easily exceeds that of many budget laptops that are offered in this price range.
I talked about the positioning of the webcam earlier but let me go in a bit more detail here. In the top F-row of the keyboard, the key before F7 is actually one for the webcam. Pressing that pops open the camera and doing so again will close it. Many people have privacy concerns regarding their webcams since the traditional positioning of the webcam provides no actual way of concealing it. Of course, there's always the black tape over the webcam remedy but you're not going to get away with it without making your laptop look ugly. While the angle does provide privacy benefits, the angle of it feels a little odd. In your Skype or Zoom calls, the other side will end up looking at your neck and chin most of the time as it is a rather steep and low angle. Luckily, the quality is good and we compared it to ASUS Zenbook 14, where this had better quality.
We already are familiar with Honor's name due to their footprints in the smartphone industry. This is not to say that Honor's laptops have not gained the praise that they sought out, but there are still ways to go before their name gains in popularity in the laptop market. Having an ecosystem that promotes a seamless connection between your devices is an important part. Your phone is just as important to you as your laptop these days. With the MagicBook 14, you get the Magic-Link 2.0.
It is essentially an NFC protocol that lets you pair up and connect your phone with your MagicBook 14. However, you can only connect certain Huawei and Honor phones so you should keep that in mind. This may not be of use to you if you're not a Huawei phone user, but you'll easily appreciate its worth if you are.
Keyboard and Trackpad
Being a 14-inch laptop, the MagicBook 14's keyboard does not have the numeric keypad in it. The keyboard is standard chiclet styled keyboard with about 1.3mm key travel time in between. The keys are not completely silent, but compared to other laptops they generate low noise. Unless you're smashing the keys on the keyboard, no one else is going to be really bothered by them. The keys have LED lights underneath them which can be toggled on or off.
As usual, the top Fn keys are also used for other multimedia functions. One of the keys is used to change the lighting of the keyboard. Other than that, the selection is pretty generic- volume control, brightness control, airplane mode etc.
The trackpad of the MagicBook 14 has quite a smooth and nice feel about it. It does not register any ghosting effects and detecting multi-gesture inputs are done with ease. The LMB and RMB buttons are not separated from the trackpad. Instead, they are integrated with the trackpad itself, much like Apple's Macbooks. In fact, the keyboard and trackpad both have similar designs which is not too bad since there aren't any downsides to that.
Cooling Solution
Seeing cooling vents on the side are generally better because the sides are almost always open when you're using a laptop. Putting your laptop on your lap can somewhat block the airflow of the vents that are on the bottom, but the sides remain open. However, due to the MagicBook 14's slim design, the cooling vents are reserved only for the bottom. They're not overkilled and unlike ASUS Vivobook S14, these do a decent job at keeping your laptop cool. After all, you don't really require big pipes and loud fans from a laptop of this niche.
The somewhat elevated design of the MagicBook 14 does help in giving it a bit of height over the surface. That results in better cooling but the height advantage is really not that much. Using laptop pads and cooling fans will make sure that your laptop temperatures never go high, however, that may not be quite necessary. These 12nm processors do offer a bit of a power consumption advantage.
Testing Methodology and In-Depth Analysis
Having talked about the "physical" aspects of the Honor MagicBook 14, it is time for us to move on to the benchmark and performance. Before I get in on that, you should know how the tests were obtained. We'll be explaining these through the results as we talk about them but a general overview is important as well. The tests were performed with the laptop plugged in the wall outlet to maximize the performance. No extra cooling pads were used and the ambient room temperature in which we performed these tests was about 25-degrees Celsius.
Cinebench R15, Cinebench R20, Geekbench 5, 3DMark Advanced Edition, and PCMark 10 Advanced Edition were used to testing CPU performance. Unigine Superposition, Geekbench 5, and 3DMark Advanced Edition were used for GPU. And Furmark, CPU-Z stress test and AIDA64 were used for thermal throttling test of this laptop.
Moving on, screen testings and colour uniformity testings were done after calibrating the screen with SpyderXElite. For media-encoding tests, we used Adobe Premiere Pro and Handbrake. Acoustics test was done by placing a microphone 20-cm away while getting the results. The results of all of these tests will be mentioned below and I will try and talk more about them wherever need be.
CPU Benchmarks
The MagicBook 14 that we have our hands on has the Ryzen 5 3500U CPU in it. The results of our benchmarks for the CPU testing will be for those.
Starting out, the first test was done in Time Spy in which, MagicBook 14's CPU scored 2555. Seeing as gaming is not this laptop's primary focus, this score is quite good for the work-related tasks that you may need to do.
Huawei MagicBook 14 GeekBench Single/Multi-Core Performance
| Single Core Performance | | Multi Core Performance | |
| --- | --- | --- | --- |
| Single Core | 759 | Multi Core | 2997 |
| Crypto | 1713 | Crypto | 3352 |
| Integer | 656 | Integer | 2846 |
| Floating Point | 823 | Floating Point | 3264 |
Geekbench 5 was used to measure the single-core and multi-core performance. In very simple terms, Geekbench just assigns and runs a series of tasks on a processor and measures the time it takes for it to complete those tasks. Higher the score in Geekbench 5, lesser is the time required by said processor to complete that task. In our tests, MagicBook 14's processor scored 759 in a single-core test and 2997 in a multi-core test, making the ratio of the two to be 3.7.
Next up, we have the scores of Cinebench R15 and R20. In R15, Ryzen 5 3500U had a score of 139 with an MP ratio of 4.56. This single-core performance and score of this processor are actually quite impressive. Theoretically, this processor can manage a bit of relatively heavy gaming however, you will be bottlenecked by GPU anyway. I will be getting into that later on.
In Cinebench R20, the single-core score was 292 resulting in an MP ratio of 4.72. Cinebench R20 benchmarks use a more complex and demanding test as compared to R15. In fact, it is 8 times more computational power dependant. Therefore, these two results cannot be really compared. But, it is evident that despite a higher demanding test, these scores were quite decent.
Finally, PCMark 10 was used which gave us a score of 3161. PCMark's scores help in determining how good the processor will be for office related work, such as content creation and video rendering software. For smooth video renderings, a score of about 3400 is recommended however, MagicBook 14's performance stats are still quite decent. You can easily get good value from it due to its overall well-rounded performance.
GPU Benchmarks
MagicBook 14's processor uses a Vega 8 GPU, which is an integrated one. This is a 1GB GPU with a core clock speed of 1200MHz. Our first test was done on Unigine Superposition which yielded a score of 470.
The score of 470 is actually higher than Nvidia Geforce MX250 but only by a margin. However, in both cases, the GPU will bottleneck and prevent demanding gaming titles from being played.
And lastly, the Geekbench 5 OpenCL benchmark test resulted in a score of 8004 for the Vega 8, which is not that great.
Display Benchmarks
The display of this laptop is nothing special and we knew it from the start because getting a professional-quality display is not possible in this budget. However, this display should be fine for people who simply want to work in office applications or browse the internet, watch movies, etc. Let's have a look at the benchmarks of this display. We used SpyderX Elite for the benchmarks and the images below describe various parameters of the display.
As you can see here, the display came with slightly off gamma value, at 2.27, which got improved by a little and finally got to 2.24. The black levels are pretty normal and similar to other screens in the market.
In the above picture, we can see that the brightness level of the display is abysmal and could not even get to 250 nits. Although the static contrast ratio of the display is good with high brightness, it gets a huge downfall as the brightness is reduced, going as low as 200:1 on the lowest brightness.
The colour gamut of the display is similar to other low-end screens and has a 68% sRGB coverage and 50% AdobeRGB and DCI-P3 coverage, while good screens cover at least 99% sRGB colour space.
The colour accuracy of the display is very impressive in the non-coloured areas, having delta E of less than 1, however, the coloured-values have a much higher deviation, going as high as 9,84.
This result is pretty interesting because the average delta E value got increased from 3.14 to 3.41 after calibration. We checked the values and it came to our notice that though the deviation in coloured-values got less, the grey ones got worse and that is why the average delta E got raised to 3.41.
With the screen uniformity test, we saw that the display had up to 15% difference, which is quite a lot and that is why this display is not particularly good for professional workloads like photoshop, video editing, etc. Still, for an average user, this display is more than enough, so if you're looking to buy this laptop for work/school purposes, fret not.
SSD Benchmarks
Honor MagicBook 14 uses a PCIe NVME SSD of 256Gb. It is to be noted that a variant with 512Gb is available but we had the 256Gb one. The first test is from CystalDiskMark.
In CrystalDiskMark, the sequential read and write speeds are 1795.40 Mb/s and 1524.92 Mb/s respectively. These numbers are impressive and prove that no hindrance will be caused in your work. The 4K speeds are 30.89 Mb/s for reading and 59.31 Mb/s for writing. Not the best we've seen but they're more than sufficient for your everyday tasks, even if they do get a bit demanding from time to time. For a laptop that has a price tag that this has, these results are pretty good.
Battery Benchmark
The battery timing of the laptop is pretty impressive and one of the reasons for that is the use of power-efficient hardware. We did three tests with the laptop for the battery performance; first, we left the laptop in idle mode, where there were no tasks performed but the screen was on with 50% brightness for the whole time. Next, we fully charged the laptop and performed usual tasks like web browsing, Youtube, etc. with 50% brightness and did this until the battery gave up. In the last, we raised the brightness to 100% along with Unigine Heaven benchmark and ran the test till the battery got depleted.
The battery timing on idle mode is super impressive at 15 hours and even with the usual work, it lasted more than six hours, which is pretty good for a slim laptop like this. With extreme endurance test in the last, it lasted around two hours, which is similar to some high-end gaming laptops and the reason for this is that those gaming laptops have much higher power consumption and their large battery is compensated with that and the resulted battery timing gets similar to this one.
Performance In Content Creation Software
As stated earlier in the CPU benchmark results, the MagicBook 14 is a good enough choice for video rendering softwares such as Adobe Premiere Pro. For our test, we used a 4K video with 1 minute and 32 seconds of duration and 60 FPS for the test. We utilized Handbrake and Adobe Premiere Pro for the tests, where we used 4K, 1440p, and 1080p resolution along with fast encoder preset, H.265 codec and Constant Quality 15 in Handbrake and used 4K, 1080p, and 720p (H.264) high-quality presets in Adobe Premiere Pro. The results of the tests are provided below.
Thermal Throttling
Honor MagicBook is not a laptop that should be suffering from thermal throttling because it comes with very power-efficient hardware and this hardware demands very low power. Despite this fact, there was a slight thermal throttling in the laptop, the reason for which is probably the use of a light-weight cooling solution. We used HWMONITOR and HWInfo64 for checking the parameters and stressed the laptop with AIDA64 Extreme.
The laptop uses a CPU with a low TDP of 15 watts, however, most of the time it stays at around 12 watts. When we initially ran the test, the power consumption of the CPU was around 12 watts, with clock rates roaming around 3.2 GHz on all cores. But as time passed and the temperature got past 70 degrees, we noticed a decrease in the clock rates and the power consumption of the CPU, going as low as 3.0 GHz and 9.7 watts respectively. Overall, this thermal throttling is not so problematic, as there is not a lot of difference in performance. But the fact remains that even this could have been prevented through the use of a better cooling solution.
Acoustic Performance / System Noise
The graphs above are showing the noise level of the MagicBook 14 in ambient mode, idle and when there's high load. For noise levels, the Decibel scale is used to measure the sound levels and ideally, you want it to be as low as possible. For a little bit of reference, the sound level is around 26-28dB when in a quiet room. From our tests, we observed that the sound level was 32.5dB for ambient and idle mode. Anything less than 30dB is barely audible to the human ear. Therefore, these sound levels should really not be any trouble for you. You can easily focus on your work without having to worry about a distracting laptop fan bothering you. Similarly, the load noise of 39.9dB is relatively quite low as well. This can be decreased down a little more if you're using an additional laptop cooling pad fan.
When testing for the noise, we make sure that all the parameters are fixed and remain constant. Keeping that in mind, it is quite clear that the MagicBook 14 has low noise levels which are simply ideal from an office-grade laptop. Rest assured, the MagicBook 14 will not distract you and you can instead focus on your work or the awesomeness of this laptop.
Conclusion
We've already been pleased with Huawei phones as they have consistently satisfied their fans. And with the MagicBook 14, it is evident that Honor is just as dedicated in making a mark with their laptop. It seems like a jack of all trades but master of none choice, however, that is easily justified with the price tag that his laptop has. For this price, it does outperform certain laptops that may otherwise not be considered its contenders.
A minimalistic and simple design is enhanced even more with the Space Grey colour and Azure Blue Chamfer. These tiny details to attention are what catches your eye and lure you into praising this laptop even more. And it is just so satisfying to see vendors finally embracing the USB 3.0 mark. While you do lose the Type-C port when charging, it has its benefits as well. Most notably, the fast charging. In just 30 minutes, you can fast-charge this laptop up to 40%.
The Honor MagicBook 14 is a fantastic student laptop that gives great value for money. From its design to its performance, there is very little that is not to like. And if you're using Huawei phones that support Magic-Link 2.0, you'll be even well pleased with the use of that. As of yet, Honor may not be enough to dethrone other powerful companies but it's evident that they're on the right track. For now, the MagicBook 14 sits atop a throne that it definitely deserves.
Honor MagicBook 14
Best Budget Laptop for Students
Pros
Space grey colour with chamfered blue edges make for a remarkable design
Fast-charge 40% battery in 30 minutes
Speakers on the side make for high volume without being blocked
Efficient power consumption
Cons
You lose the Type-C port when charging
Webcam positioning is kind of awkward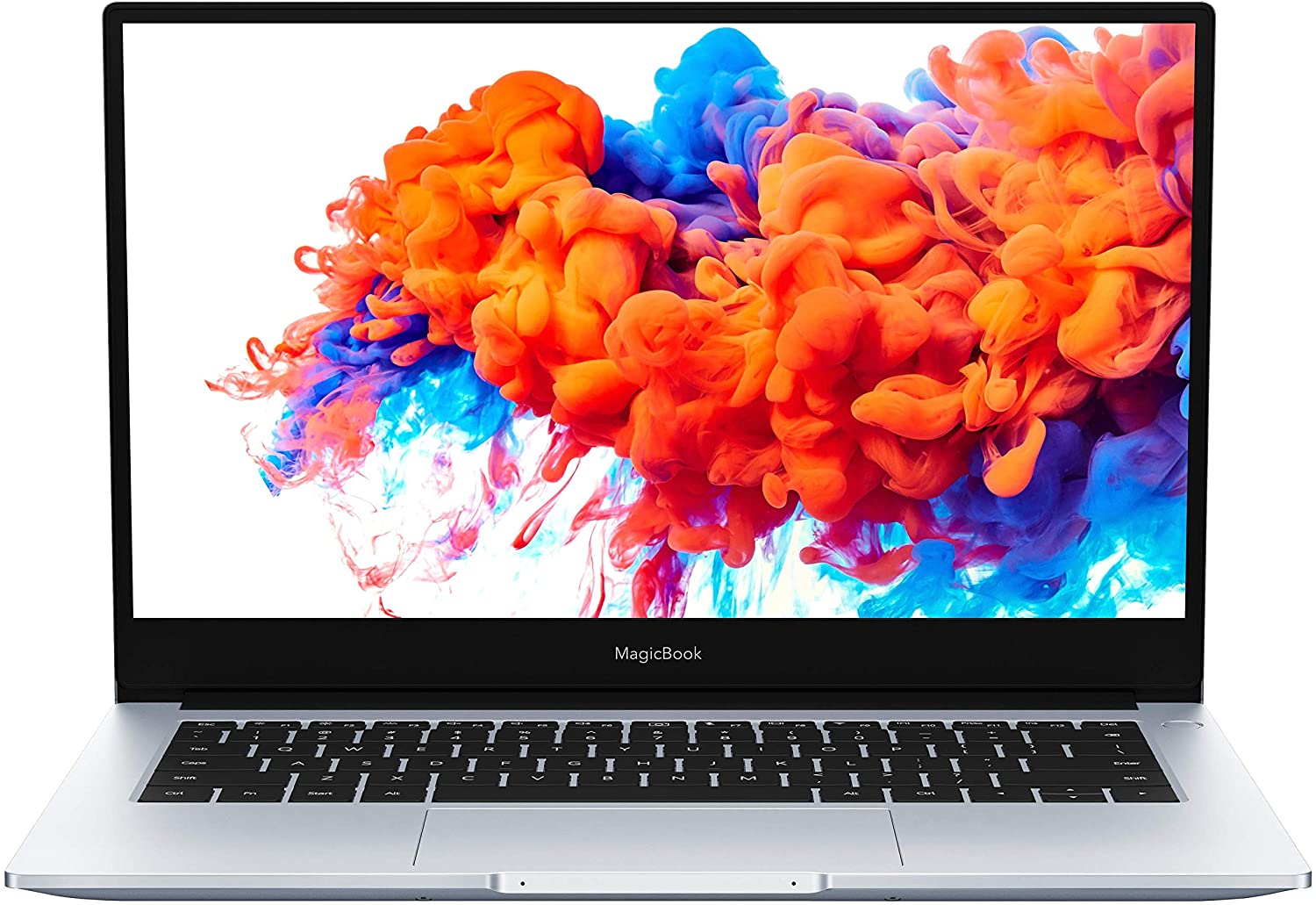 Processor: Ryzen 5 3500U | RAM: 8GB DDR4 | Storage: 256GB PCIe SSD | Display: 14-inch Full HD IPS Display | GPU: AMD Vega 8 1GB

VERDICT:Honor MagicBook 14 is a fantastic choice for your everyday related tasks. Without skimping out on any major fronts, the MagicBook 14 gives you a very well balanced performance along with a very elegant looking design. The quad-core processor comes out to be a pick that is going to be perfect for just about everyone out there.
Price at the time of review: N/A (USA) and £550 (UK)