5 Best External Sound Cards For Audiophile Gamers In 2020
Gamers always focus on trying to get the best experience possible while playing their favorite games. Subsequently, they end buying the best equipment for their setup. Of course, they also try to maintain a certain budget. But a lot of gamers tend to overlook the importance of good audio. Sure, a good headset is a decent start, but what if you want more out of your audio experience?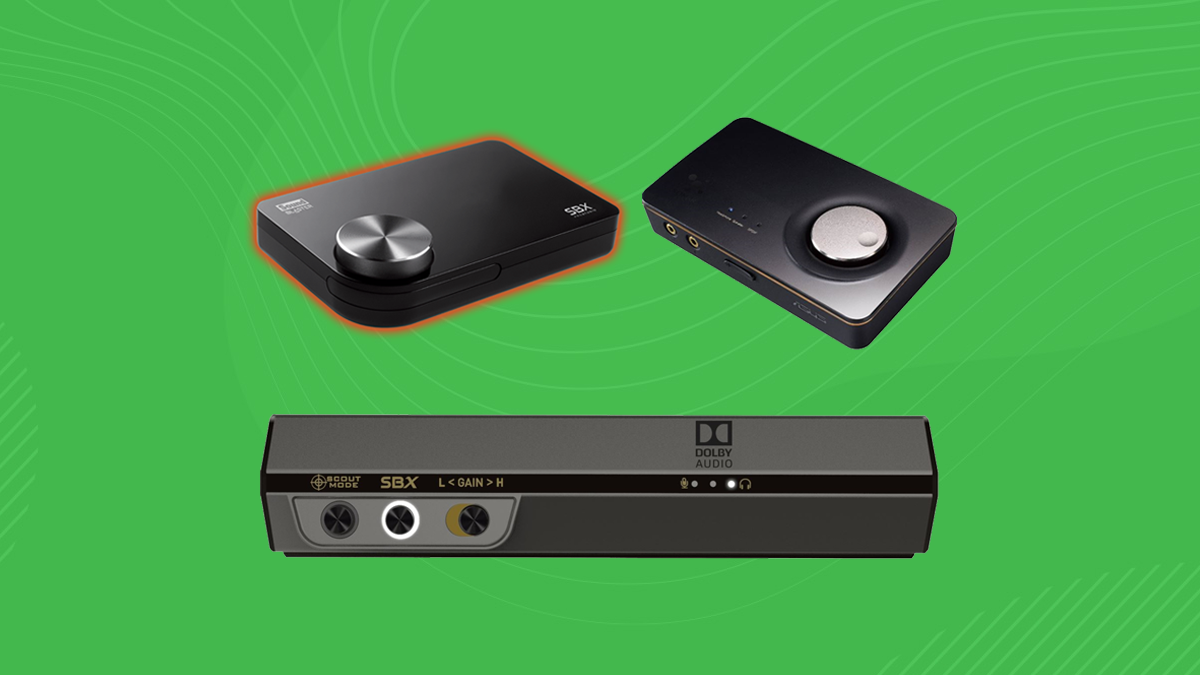 Well, a sound card could be a solution worth trying. A sound card is a combination of a DAC and amplifier. It processes the audio signal for you, instead of the motherboard. It can also provide better volume and clarity. A sound card will generally have crispier performance than onboard audio.
That explanation should give you a vague idea of how they work. Here are five of the best soundcards available today.
Creative's Sound Blaster X3 is arguably the most versatile sound card on this list. Think of everything you'd want from a sound card. The list probably includes value, strong performance, and maybe some gaming features. The Sound Blaster X3 has it all, and it's a no brainer for the price.
Design-wise, aesthetics are a strong point for this soundcard. It looks more premium than it actually is, which is a good thing. The black exterior means it will blend in your setup nicely. You have the option to power it via USB-C. It has a large volume wheel, so you don't have to hunch over it.
We get 5 3.5mm analog outputs on the back, so you can go for that 5.1 speaker setup. There's even an optical out here. You get a lot of EQ modes, which are also customizable in the software. The headphone and microphone ports are on the front.
Flexibility is an important word here. You can fine-tune the mic to your liking, and it has zero latency. You get the SuperXFI (SXFI) as well, which works well for listening to concerts and watching movies.
The only downside to this soundcard is that the setup for the software is a bit convoluted. It can power headphones with an impedance of up to 600Ω.
Schiit has garnered a lot of attention over the past few years. That's all thanks to their industrial design aesthetic, strong build quality, and crisp performance. Whenever you buy a DAC/Amp from them, you know you are getting high-quality stuff. The Schiit Hel Gaming Dac/Amp is no different.
We have got to talk about the design first. The black and red colorway looks bold and alluring. It isn't one of those boring audio interfaces, this one is going to look great on the desk. The buttons and the switches are extremely high quality. The Hel gets a lot of points for both construction and aesthetics.
The mic quality is very crisp overall. There is little to no distortion, and everything sounds crystal clear.  One thing we love about Schiit's products is that you don't need any software at all. Everything works like a charm out of the box. Before I forget, the volume knob is buttery smooth and feels nice to the touch.
As for performance, you get a lot of it from this thing. The Hel is a powerful audio interface. You can drive 200mW of power into 300Ω. Not bad at all. Sound quality is crisp, clean, and loud. The only downside is the lack of optical or RCA outputs.
Not all audio setups include giant interfaces with cables all over the place. Some people require something simple, and maybe even portable. AudioQuest has been working in that department for a long time now. So it's not a surprise to see that their DragonFly USB DAC/Amp is so successful.
The DragonFly is about the same size as a normal USB flash drive. You can throw it in a bad, or easily slide it into your pocket. It is also quite lightweight, considering all that's packed inside. With the help of a few dongles, you can get it to work with Androids and iOS too.
There is no need to charge this thing since it draws power from the USB port. On the opposite side, we have a single 3.5mm headphone jack. If you want, you can use powered speakers with this too. The 32-bit Sabre Dac built inside does wonders for audio.
The performance is very impressive. It improves details, gives the audio more range, and provides a richer experience. Inside, the Amp is also quite powerful and can bring any headphones to life. While it's not going to replace your high-end home setup, this thing is a portable beast.
Unfortunately, there's no microphone input. Apart from that, the price may be a bit steep for some.
The Astro MixAmp Pro is more than your average Amp and DAC You can get the MixAmp Pro along with the Astro A40 headset in a bundle, or just standalone. Either way, it's an excellent solution for those who want extra control over their audio experience.
Design-wise, the entire look of the MixAmp Pro has been updated from its predecessors. The two knobs are now in a horizontal position instead of a vertical one.  There's a 3.5mm jack on the front and indicator for PC and PS4 settings. The bigger knob is for volume control, while the right knob is the mixer for game audio and voice chat.
You can determine how much game audio you hear and how loud your teammates are. A button on the bottom helps in switching between the EQ presets. The top button is used for activating Dolby surround sound or presets.
The software is very powerful, and you can even fine-tune what your audience hears on the stream (If you're a Twitch streamer). You can also fine-tune the mic. Performance-wise, it's up to par, but not all that mindblowing for the price. It's not going to replace your Sennheiser or Schiit interface any time soon.
However, it's a bit pricey for what it offers. A lot of headsets are building in chat mix and other features like those already. Still, if you just want that fine-tuning it's not a bad buy.
Perhaps you're not an audiophile, but need something to combat the static produced from on-board audio. If you're not worried about having the best sound signature but just want clarity, a simple USB adapter will do the trick. The Ugreen USB Audio Adapter is one of the better options.,
Fortunately, there isn't much to explain here. The adapter has two inputs for both your headset and microphone and on the other end lies a USB connector. Plugin your headphones along with the mic cable into the adapter, and plug the adapter into the USB port. That's it we're good to go.
So why are other sound cards so expensive? Well, it's all about the high-end internals, R&D, and the engineering that goes into them.  This adapter doesn't have a high-end DAC, nor the most powerful Amp built-inside.  However,  its plug and play functionality, simplicity, and value are things that make it worth buying.
Unfortunately, there are some downsides which should be obvious. It doesn't really improve headphone sound quality all that much. It is quite barebones, and the build quality is very questionable for the long term.