Windows Introduces Copilot in Latest Beta Build 22631.2129
Microsoft today announced the introduction of Windows 11 Insider Preview Builds 22621.2129 and 22631.2129 to the Beta Channel, bringing a slew of intriguing new features to the platform. Among the new features is the Windows Copilot Preview, an AI-powered tool first announced at the Build conference in May. The Windows Copilot provides an integrated UI experience to Windows Insiders in the Beta Channel via a controlled feature release. It integrates perfectly with your desktop material, allowing you to do everything from toggle 'Do Not Disturb' mode to summarizing page information.
Alongside Copilot, many other features have been introduced which are detailed below alongside instructions on operating them. For this build, Windows has specifically left a note saying anyone who joins the Insider Beta channel today won't be able to access this specific update to keep safe from any kind of bugs.
IMPORTANT NOTE: If you are a NEW Windows Insider joining the Beta Channel today, you will not be offered this update to prevent the possibility of your device getting into a bad state. A very small subset of EXISTING Windows Insiders may also not receive this update for the same reason. This issue will be fixed in a newer Beta Channel update soon. Thank you for your patience!
Windows Copilot
Windows announced its Copilot back in its Build Conference in May, and finally, it has arrived in the latest beta channel update. The Copilot allows users to easily interact with an AI Assistant that you can command to do many functions. It will make the user experience more seamless and reduce the time taken to do basic stuff that was once a difficult job.
According to Windows, Copilot will run in a sidebar and will not disturb the original content displayed on the screen. The feature will not be available for all users instantly but will be deployed slowly to everyone.
In this first preview, you can ask Windows Copilot a range of questions or to take actions such as:

"Change to dark mode."
"Turn on do not disturb."
"Take a screenshot"
"Summarize this website" (Active tab in Microsoft Edge)
"Write a story about a dog who lives on the moon."
"Make me a picture of a serene koi fishpond with lily pads."

Just click the "…" icon at the top right of the side bar in Windows Copilot to submit feedback on any issues you run into.
To get started, just click on the new button on the taskbar (or WIN + C) to launch Windows Copilot. Windows Copilot will use the same Microsoft account (MSA) or Azure Active Directory (AAD) account to sign in to Windows.
Please note that not everything shown at Build for Windows Copilot is included in this first, early preview. For example, Windows Copilot has a basic set of Windows settings plugins but no third-party plugin support yet. Over time, features will be added as we refine the Windows Copilot experience with Windows Insiders.
[We are beginning to roll this out, so the experience isn't available to all Insiders in the Beta Channel just yet as we plan to monitor feedback and see how it lands before pushing it out to everyone.]
Dev Drive
Dev Drive is a new type of storage volume that may be used to increase performance for critical developer workloads. Dev Drive is based on Resilient File System (ReFS) technology and offers file system improvements and tools to let developers control their performance and security profiles. It was created to meet the demands of developers by hosting project source code, working folders, and package caches. It is not intended for ordinary consumer workloads such as document libraries, bundled program installation, or non-developer tools.
To setup a Dev Drive, you can create one in free space on an existing drive or create a VHD/VHDX. This is done via Settings > System > For developers, or via the command-line. A Dev Drive must be at least 50GB or higher in size and we recommend having 8GB or higher RAM on your device.

Performance mode, a new capability of Microsoft Defender Antivirus, is designed for Dev Drive to minimize impact on developer workloads.
Narrator Interaction with Excel
The narrator now provides a more concise and efficient reading experience while working in Microsoft Excel. Announcements are prioritized based on the information you need to skim a workbook and are customizable using convenient keyboard shortcuts. Review the Enhanced Narrator support in Excel documentation for further information.
To enable the enhanced announcements, you need to be on the latest Windows Insider and Microsoft 365 Insiders builds and start Narrator using the keyboard shortcut Control + Windows + Enter. The updated experience will be available through the Microsoft Store, so it may take a few minutes to be available on your PC. We look forward to you trying out our new changes and would love to hear your feedback and suggestions.

FEEDBACK: Please file feedback in Feedback Hub (Win + F) under Accessibility > Narrator.
Voice Access Gets New Text Authoring Experience
Windows has now added the ability to correct a word if voice access is spelling it wrong. This is an added feature that was not available before and will have a large impact on the usage of voice access.
You can say "correct [text]" or "correct that" to correct a specific piece of text or last dictated text. The correction window appears with a list of options labelled with numbers.
You can say "click [number]" to select any option from the list. If you choose an alternate word from the window , the selected text will be replaced by the word. You can also say "spell that" to dictate the correct spelling of the text.
Users can directly use the "spell that" or "spell out" command to dictate the right spelling of non-standard words such as usernames, topics, etc. A spelling window appears where you can dictate letters, numbers, symbols, phonetic alphabet, etc. You get suggestions as you spell out the text. You can say "click 1" to enter the text you spelled out or say "click [number]" to pick a suggestion (if any). All words and phrases dictated using spelling experience are added to Windows dictionary and show up as suggestions when you try to spell the text next time.
| | |
| --- | --- |
| To do this | Say this |
| Correct a specific word or text | "correct [text]", e.g., "correct site" |
| Correct selected text or last dictated text | "correct that" |
| Spell a word letter by letter. | , "spell that" |
Voice Access can be Used in More Areas
You can use voice access to login to your PC and access other areas on the Lock screen. You can turn on voice access from the accessibility flyout on Lock screen or have it on automatically every time by checking the setting to "Start voice access before you sign in to your PC" via Settings > Accessibility > Speech.
You can follow the instructions on the voice access bar to get your focus on the password field and use your voice to dictate your password or PIN. Alternatively, you can say "show keyboard" to bring up the touch keyboard with number labels on it. You can say the numbers on the keys to enter the letters associated with it. This will mask the actual password you are entering from being heard by anyone in your vicinity.
Windows Hello for Business
With Windows Hello for Business (WHFB), Windows provides organizations with a strong, phish-resistant credential, helping customers move to a passwordless future. Enterprise customers can now set the EnablePasswordlessExperience policy that promotes a user experience on AAD joined machines for core authentication scenarios without requiring a password. This new experience hides passwords from certain Windows authentication scenarios and leverages passwordless recovery mechanisms, such as WHFB PIN reset, if necessary.
Once the policy is set, it removes passwords from the user experience, both for device logon as well as in-session auth scenarios like password managers in a web browser or "Run as" admin scenarios, and User Account Control (UAC). Users will navigate through their core authentication scenarios using WHFB in place of passwords. If the user fails to sign in, recovery mechanisms such as PIN reset or web sign-in can be used to help the user recover their credentials without IT helpdesk engagement.
Improved Screen Casting
Windows casting is a great feature for those who use external displays, specifically wireless ones along their computers. Windows has now made this feature more seamless by adding a few things that have been missing since it was launched.
According to the company, it's enhancing discoverability and making it easier to use by suggesting Cast with a toast message when it identifies multitasking actions, such as often navigating between windows to accomplish a job or utilizing Snap Assist.
Furthermore, the feature will provide inline instructions under the Cast flyout in Quick Settings to install the Wireless Display optional feature and improve computer discoverability to other devices via the "Projecting to this PC" settings page.
When doing multitasking activities on your PC such as often switching between windows to complete a task or using Snap Assist to organise your screen space, we will provide the suggestion to Cast via a notification toast.
We will now provide inline setup of a PC from within the Cast flyout in Quick Settings, with step-by-step guidance for users to enable:

Installation of the optional Wireless Display feature.
Discoverability of the PC to other devices, via the "Projecting to this PC" Settings page.
Furthermore, Wake-on Approach, Lock-on Leave, and Adaptive Dimming are all part of Presence Sensing and may now be activated throughout the out-of-the-box experience setup process when configuring your device's privacy settings.
Wake on Approach, Lock on Leave, Adaptive Dimming are all powered by Presence Sensing in Windows and now can be enabled via the OOBE ("out of box experience") setup process when choosing your privacy settings for your device. This will give more control of the presence sensing features and app access to presence information when setting up a new device with a compatible sensor.
Changes and Improvements in Build 22631.2129
[Start menu]
For people logged into a Windows 11 Pro or Enterprise editions with an AAD account (soon to be Microsoft Entra ID), we are providing a richer preview when hovering over files such as Word documents under Recommended on the Start menu. For this initial release, thumbnails will not be available for all files and a later update will enable the experience for more files and for MSA users. Additionally, when right-clicking on cloud file recommendations, there is now an option to quickly share these files.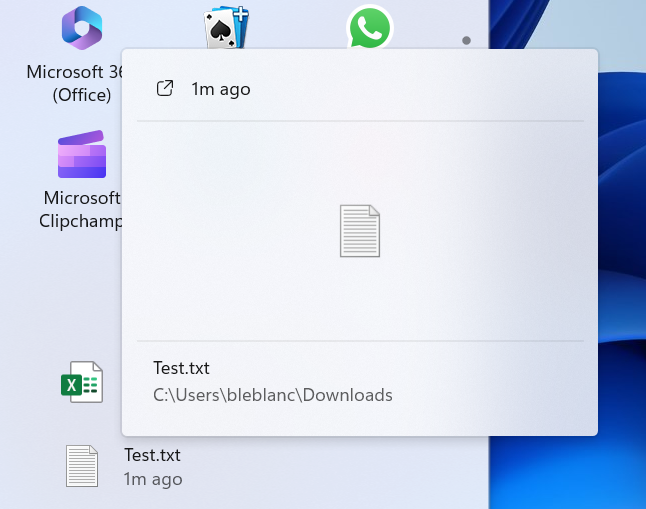 [Taskbar & System Tray]
Notifications will now show as a bell in the system tray and when new notifications come through, the bell will colorize based on your system accent color. When there are no notifications and the clock is visible, the bell will be empty. Notification counts are no longer shown.
[ADDED] As noted in our Beta Channel flight here, the settings for never combined mode for the taskbar were showing up under Settings > Personalization > Taskbar > Taskbar behaviors but do not enable the experience. We have temporarily removed the settings for this to fix the issue. The feature will be coming to a Beta Channel flight soon.
[Task Manager]
We've updated the Task Manager settings page to match the design principles of Windows 11. The design has a similar look and feel to the Settings in Windows 11 and provides a cleaner UI separating categories into different sections. We will also be enabling this in the Dev Channel soon.
[Settings]
We are improving the user experience when changing time zones, including cases of low confidence in location data. It displays a non-dismissible notification for accepting or rejecting the change and prompts the user for confirmation before adjusting the time zone.
We are also improving the user experience while changing the time zone via Settings > Time & language > Date & time. If location settings are disabled, a warning is now shown to the user, urging them to enable location settings to ensure accurate time zone adjustments. This warning provides helpful information to the user, helping them understand why their time zone may not be correct and guiding them towards resolving the issue.
Fixes in Build 22631.2129
[File Explorer]
The keyboard shortcuts to set focus to the search box (CTRL + F, CTRL + E, F3) should work now.
Fixed an issue where the dropdown in the address bar could appear totally blank.
[Taskbar & System Tray]
Fixed an issue that was causing quick settings not to open when selecting the network, volume, and battery icons in the system tray.
Fixed a few issues causing explorer.exe crashes and leading to taskbar reliability issues.
[Notifications]
Fixed an issue causing Insiders to unexpectedly see a notification suggesting you turn off notifications for an app named NotifyiconGeneratedAumid_*.
[Input]
Fixed a high hitting ctfmon.exe crash in the last two flights, which could impact the ability to type.
[Task View & Desktops]
Adjusted the desktops switching animation to ease into the animation a little more.
[Task Manager]
Fixed an issue where some of the app icons in the Startup Apps section of Task Manager were very tiny.
Fixed an issue where the selection color wasn't displaying correctly if you were using a contrast theme.
Fixed an issue where focus wasn't getting set correctly to search if the Task Manager window was small enough that search was collapsed to an icon.
Fixed alignment of Task Manager icon and name in the title bar.
Known issues
[General]
We're working on the fix for an issue causing explorer.exe to crash on the login screen when attempting to enter safe mode.
[File Explorer]
We're working on the fix for an issue causing File Explorer to crash when going to Home. If you encounter this when opening File Explorer, you may need to use Search or the Run dialog to open File Explorer directly to a specific folder (for example, C:).
In some cases, the context menu background in File Explorer may appear transparent.
In some cases, the icons on your desktop may all go blank. If this happens, using the refresh option in the desktop context menu should resolve it.
[Taskbar]
We're working on a fix for an issue causing the safely remove hardware icon to not appear when expected in the system tray.
[Input]
We're investigating reports that typing with the Japanese and Chinese IMEs is not working correctly after the last flight.
[Narrator]
You may see some of the strings are NOT localized to the selected language. This will be fixed in a future flight.
You can also read the recent updates on the new version of Windows Dev Channel here.