Seneo 2 in 1 Dual Wireless Charging Pad Review
Wireless charging has been around for a long time now. But you know something is finally gaining traction when Apple jumps on it a couple of years later. There's absolutely no doubt about it, moving forward, wireless charging is definitely the future.
Before we talk about the amazing product on our hands today, here's a quick recap as to why it even exists. AirPower was supposed to be an Apple product that could charge your iPhone, Apple Watch, and even AirPods all at once. Sadly, due to technical issues, they had to cancel the product altogether.
With Dual Charging support, this could be the perfect value for Apple users.But that doesn't stop third-party manufacturers from putting their own spin on it. Today, we have a great example of that from Seneo. We've got the Seneo 2 in 1 Dual Wireless Charging Pad in our hands, and after a lot of testing, it's proved to be a great cheap solution for charging both your phone and Apple Watch.
Seneo's take on a Dual Wireless Charger is definitely compelling. It's got all the basic functionality down, with a lot of surprising features as well. However, there are a few annoyances, let's find out if they are worth putting up with for the price.
Design and Closer Look
This wireless charger from Seneo actually looks a bit bland and generic at first. But that's not exactly a bad thing. I mean what type of person needs to actually show off their wireless charger? Anyway, the design isn't really the main focus here.
The product page actually states this as a "Nightstand Charger", more on that later. But it's an all-black generic look. We actually appreciate the fact that they didn't go with an over the top look. You can easily fit this nifty pad in most environments.
Let's have a quick look around shall we? The top of the charger has a very nice look and feel to it. The charging area for the phone is quite wide, so most phones should fit quite easily. The charging area is clearly indicated and it's actually quite diffucult to mess up the placement when you put your phone down. At the back is a micro-USB port that is used for powering it. Which is sad because for starters, it's not USB Type-C, and secondly, it's not even Lightning Cable.
What really drew my attention was the convenient Apple Watch charging slot on the left side of it. No, it doesn't actually have its own wireless charger for the Apple Watch. But you can fit the one the comes inside the box, into this rubberized slot. You can route the cable through the cable channel, and it goes to the bottom where it plugs into a USB port.
As for build quality, the material used is mostly hard plastic. This shouldn't be too much of an issue though, as the charger will be on a table all the time, so I'm not concerned too much. One more thing, the top surface actually has silicone strips around the phone and Watch's charging area. So nothing will be sliding around.
The Setup Process
Nothing too complicated or complex is going on with this nifty little wireless charger, so the setup process is actually very simple. As I mentioned above, it has a separate entire slot and routing channel for the Apple Watch. To get started, you need to slide the cable of the Apple Watch charger through the channel, neatly tuck it away underneath, connect it, then close it off with the plastic cover.
After that, you need to attach the plastic unit that is going to hold the charger. Plug in the charger, and you're good to go. There are silicon stripes around that area, so your Apple Watch won't get scratched when you place it or take it off.
As for the smartphone, well the charging area clearly indicated so just drop your phone on to it, and it should start charging. There is no power adapter in the box, so you'll have to find one yourself for powering the charger itself.
Intuitive Dual Charging
I really love how intuitive this overall experience this is. Sure you can't juice up any other smartwatch you have, due to the design that restricts it just to an Apple Watch. But for folks who own both an iPhone and the Apple Watch, this is definitely a must-have feature these days. No one wants a lot of chargers in the house that they are potentially going to lose anyway.
So this is definitely a seamless and minimal way to charge both of these products. Furthermore, if you own an Android phone, you can juice that up too. Pair it with a QuickCharge 3.0 adapter and it should juice up your phone nicely. Although it's not exactly the fastest solution in the world. Speaking of which, let's move on to performance.
It even works with AirPods. If you want to replace your phone and fully charge your AirPods, just place them on the phone area and they'll start charging. I love that the AirPods have conveniently rapid charging, so this is an appreciated feature.
The Nightstand Feature
Seneo is trying to sell this as a wireless charger for your bedside table, although you can basically use it anywhere. Well, you don't really want bright flashing LEDs to be blinking all night when you're asleep. This is something I personally hate about those cheap knockoff chargers and their annoying bright lights. Thankfully, this wireless charger has a nearly invisible charging LED light, which isn't intrusive in any way.
But let's talk about the actual Nightstand feature. Apple incorporated this feature into the Apple Watch, so when you place it upwards, like on the charger, it mutes all notifications and just shows the time, date and alarm at one glance.
This is exactly what makes the Seneo charger perfect for bedside nightstands, or environments where you need a little peace and quiet. That's pretty much the basic tour around the charger. Let's move on to the charging performance.
Performance
Before I talk about performance, there is one glaring omission. As I mentioned there's actually no power adapter included in the box itself. If this was priced higher, I wouldn't be so forgiving as I am right now. It's a minor annoyance that shouldn't cause any issue because of the nice price tag.
Furthermore, there is another thing to keep in mind. If you want to use the max 7.5 wattage of power this charger utilizes, you're going to need a Quick Charge 3.0 or similar power adapter to grasp its full potential. If you're going to be using a weaker power adapter, it's not going to perform as well as it could.
With that said, 7.5W of power isn't really all that impressive. But I can't really place blame on the company. They were mostly targeting Apple fans with this product, hence the Apple Watch slot. So, 7.5W is the max limit because iPhones are capped to that power limit. Hence, if you're going to be charging an Android phone with a 4000mAh battery, it will take a while.
The charging rate on the iPhone is sort of slow when compared to Android's quick charging technologies, but Seneo isn't to blame here. The iPhones only support 7.5W of fast wireless charging. It takes about 2-3 hours to complete a charge. Depending on the battery capacity of your phone, that time might be shorter or longer.
However, I personally think that most people would just put their phones and watch on this, let them charge overnight and forget about them, then pick them up with full battery in the morning. For that purpose, it works really great. And unless you're only getting 2 hours of sleep everynight, you'll wake up every day with both devices charged.
Final Thoughts
In all honesty, I wasn't expecting much from a $30 wireless charger. Especially from a company that is not yet popular. But surprisingly, Seneo has made a really robust product and it does what it advertises. I can't ask more from them considering the great value. And for those wondering, it does work with cases up to 5mm in thickness. So if you have a thicker case, this shouldn't be an issue.
Overall, I was quite satisfied with the Seneo's attempt at an AirPower alternative. It's not quite there in terms of features, but for $30, it's easy to recommend to most people.
Seneo 2 in 1 Dual Wireless Charging Pad Review
The Best 2 in 1 Wireless Charger
Pros
Dual charging works flawlessly
Convenient Nightstand mode
Minimal look makes it fit into any environment
Cons
Not the fastest for Android phones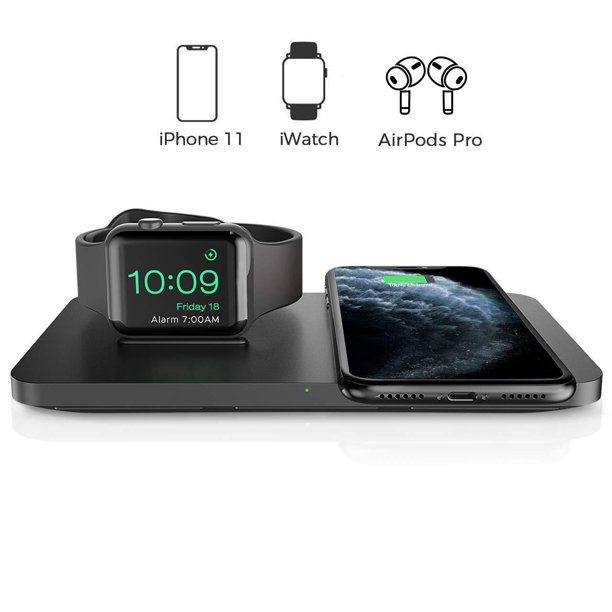 Compatibility: iPhone and Android | Apple Watch Support: Yes | Power Output: 7.5W | Case Support: Works with cases up to 5mm in thickness

VERDICT:There's really not a whole lot you should end up expecting from a $30 Wireless charger. But as a nifty little 2 in 1 Wireless Charger, it gets the job done perfectly, and we can't ask for more for the money. For people with an Apple Watch looking for a dual wireless charger that will power up your phone as well, this is the best value you'll find.