Mpow T5/M5 TWS True Wireless Earbuds Review
Mpow is not a name that everyone is familiar with yet. But you should definitely be keeping a close eye on their products. Especially if you're looking for amazing value in the headphones department. A relatively good chunk of their products have received positive feedback and some have even landed on the top charts of most e-commerce platforms. From our perspective, we've seen that they excel in making great quality headphones at a very competitive price.
Speaking of headphones, today we're actually talking about earbuds. We assume you already know what earbuds are all about. If you really want to make your life free of tangled cables, wireless earbuds are the way to go. They're extremely portable, easy to use, and most of them have convenient charging cases.
But not everyone is willing to shell out their hard-earned cash on overpriced earbuds. If you are looking for great sound quality, long battery life, and an overall premium feel, Mpow might just have you covered. We have the Mpow T5 TWS wireless earbuds on our hands for a full in-depth review.
The T5 TWS earbuds look astonishingly good on paper, but how well do they really hold up? And are they really the budget champion they claim to be? Let's find out.
Note: The Mpow T5 and M5 wireless earbuds both are identical, the naming scheme differs regionally.
The Unboxing Experience
The Unboxing is quite straightforward and simple. Before we crack open into the box itself, I do have to say that I admire the bright red color. It gives a lit bit of personality to the product inside. Anyway, the front of the box includes a picture of the earbuds, and the main features as well.
Pull the tab at the top, and you can pull out the white plastic encasing in which all the contents are held. We get the earbud units themselves, the charging case, a basic micro-USB cable for charging, a lanyard for the case, and the user guide. We also have the interchangeable ear tips and a piece of paper with a warning on it.
This small warning tells us not to use a high voltage charger to power up the charging case, as that can cause a malfunction.
Design and Closer Look
Now that we are through with the unboxing, we're going to give this portable package a closer look. Let's talk about the charging case first. I was immediately in admiration of the overall feel from just the case itself. It's a decent-sized case, small enough to throw it in a bag. Although, I wouldn't try fitting into a jeans pocket or something similar to that. It has a unique pill shape to it and feels very nice in the hand.
The case is mostly made out of plastic all around. Despite that, Mpow has made sure that this would feel very premium. The top and bottom surface both use a faux leatherette material, which honestly feels delightful in the hand. There is a simple plastic layer around the lid, but that doesn't throw off the aesthetic at all. I also liked the minimal logo at the top, with the Mpow branding embossed in a simple black colour.
The hinge also feels responsive and tight, and it has a satisfying click to it. This is mostly due to the magnets inside the lid, which keep the case solidly shut. There are 4 LEDs at the front to indicate the battery life, and at the back, we have the Micro-USB charging port. The earbuds can be tucked inside, and they stay snug because of the magnetic contacts.
Moving on to the earbuds themselves, they also feel astoundingly good as well. They seem to have just the right amount heft to them, meaning they should be quite comfortable. The top of both earbuds has a glossy finish with the Mpow branding, while the rest of it mostly has a matte finish. There's a bit more of that glossy finish near the magnetic contacts as well. The foam ear tips also feel very nice in the hand.
Overall, I would say Mpow has absolutely nailed the design and aesthetic of this pair of earbuds. The whole package is robust as well. We actually ended up dropping the case, and we didn't find signs of any damage. So we can confidently say these should hold up in terms of durability as well.
However, the Aesthetics of the T5 isn't flashy or fashion orientated, the company specifically focused on performance. If you're a fashion head you might not be interested in these.
Pairing Process and Touch Controls
Mpow has definitely opted for a level-headed approach with these earbuds. The design itself actually says a lot about that approach. Likewise, the pairing process is also conveniently simple. First off, you have to obviously make sure your phone's Bluetooth settings are turned on and in pairing mode. The T5 TWS earbuds work exactly as you would hope they would. Once you pull the earbuds out of the box, they are automatically in pairing mode and you just have to press the connect button on your phone.
After the initial pairing process, the earbuds will automatically connect when you pull them out of the charging case. You don't have to worry about turning them off either, as they automatically shut down every time you put them back into the case. You can even leave one earbud in the case and use the other one. Furthermore, if you take out the aforementioned earbud again, it automatically pairs and plays in sync.
As for the button controls, they're easy to use as well. A single press will pause/play the music, while a double press on the right side increases volume, and the double press on the left side decreases volume. If you hold down the left button, it takes you the previous song. And as you probably imagined, holding down the right button skips the track. You can even activate your voice assistant with three presses on the right earbud.
All of this is seamless, convenient and very easy to get the hang of. Once you get into the flow of things, the whole pairing process and controls are very helpful. We just wish the earbuds wouldn't make that slight beep during button controls. But that's really just nitpicking. Also, you will hear voice prompts to let you know that your earbuds have been paired, disconnected or connected as well.
Comfort
As for comfort, these earbuds have a very tight and snug fit. The ear tips sit comfortably right inside the ear canal, so the passive noise cancellation is almost perfect. These are almost perfect for the gym as well, as they have an IPX7 sweatproof rating. That doesn't mean you can submerge them in water, but they can withstand sweat quite well and even the occasional splash of water.
However, they're not exactly the most comfortable pair of earbuds I've ever tried. Sometimes, these earbuds can be a little too secure inside the ear canal. This might sound like a small annoyance but after lengthy listening sessions, my ears started to itch a little and I kept adjusting the earbuds.
Throughout the day, I kept raising my hand to adjust them. Plus, you might get the occasional odd look if you wear them outside. If you have small ears, these earbuds are big so they can look a bit weird to some people. This is because of the size and the pill shape of these earbuds.
But in reality, if getting the rare strange look doesn't matter to you, this shouldn't be an issue at all. Overall, they aren't the most comfortable pair, but they're not the worst either. Still, comfort is mostly much the main critique I have with these earbuds.
Battery Life
We've put the Mpow T5 TWS through its pacing during our almost full week of testing. By far, the aspect we were impressed the most by was definitely battery life. If we plug in the cable into the charging cable, it takes just about 2 hours to fully charge the case itself, while the earbuds tucked in are also simultaneously charging.
On their own, both earbuds can last up to 5 hours per full charge. Now, that might not sound like a lot, but here's where the exciting stuff happens. The charging case itself can juice up the earbuds 7 times on just one single charge. So when you're done listening, you can just tuck them away in the case, and the next you pull them out they'll be ready to go. If you do the math, that basically extends battery life to 35 hours of playback.
Another important thing to remember is the type of charger you actually use. As we mentioned before, Mpow advises you not to use a higher voltage charger like a fast charger with higher watts. This could cause a malfunction or even cause a short circuit. It's good they placed this warning in the box, as most people would have just any charger the found. So remember to use a relatively low powered charger, preferably one with a 5V 1amp output, or just a USB port on your PC.
Sound Quality
So without further ado, let's just get on to the one thing that everyone wants to know about, the sound quality. Often times, I don't exactly expect mind-blowing audio quality from a budget pair of headphones. Plus, when the pair in question happens to be wireless earbuds. However, I was in awe when I actually listened to this pair of amazing earbuds. They have shockingly amazing sound quality.
The highs are absolutely perfect on this pair. They are actually a little bit sharp as well, which I know a lot of people will definitely prefer. Instruments with a higher frequency and especially vocals sound very crisp and detailed.
To a lot of people, the mids will sound near perfect as well. They don't get muddled in any way and the detail is quite crisp. If you enjoy music with a lot of instruments playing in the back, and with distant vocals, I think you'll enjoy the mids as well. However, to the trained audiophile ear, they might not be the absolute best out there, because the soundstage feels limited at best. But that's just a minor nitpick.
Finally, the bass is also quite satisfying. It's neither overwhelming, nor overpowering, but it definitely has that deep, reverberating, and punchy feel to it. The low-end is absolutely phenomenal here.
It's a bit of a V-shaped sound signature, meaning the highs and bass is a bit more emphasized. But thankfully, the mids don't get muddled and the detail definitely isn't lost. However, the soundstage really isn't that wide, but that's because it is restricted due to the design. Overall, as you can probably guess, we absolutely love the sound quality of this pair.
What Else Should You Know?
Overall, the Mpow TWS has impressed throughout the testing period. We've covered all the major aspects of the review above, but there are some little things you should keep in mind here and there. First off, the earbuds don't have any issue at all with connectivity, unless you're using a phone that doesn't support the AptX codec.
AptX ensures that there is no distortion during the wireless operation. So there is a bit of inconsistency for devices that don't support AptX. It's not too often but sometimes the audio does skip a bit. But this is something a lot of wireless earbuds go through, and it's not as bad here at all.
Let's get back to the good stuff now. Another surprisingly great facet of these earbuds was actually the microphone quality. In all honesty, I was pleasantly blown away by how clear and crisp the microphone quality actually was. It even uses noise cancellation during the call to block out excessive noise. This was definitely a pleasant surprise.
Speaking of noise cancellation, that feature only works during a call. There is no actual active noise cancellation here. The earbuds rely on the physical design itself, so passive noise cancellation is doing all the magic here. It's not exactly ANC, but it's decent for the price.
Final Thoughts
The Mpow T5 TWS earbuds should pretty much be a no-brainer for anyone looking for a pair of great truly wireless earbuds. The $50 is just the icing on the cake. Not only are these the best budget wireless earbuds, but they're also close to being the best wireless earbuds in general. The price point definitely helps in making this a truly competitive product. If you've been interested in earbuds for a while now, this is the best you can get on a budget.
Mpow T5 TWS True Wireless Earbuds review
Best Value Wireless Earbuds
Pros
Fantastic design
Superb battery life
Audio quality is impressive
Cons
Occasional connectivity issues
Comfort could be better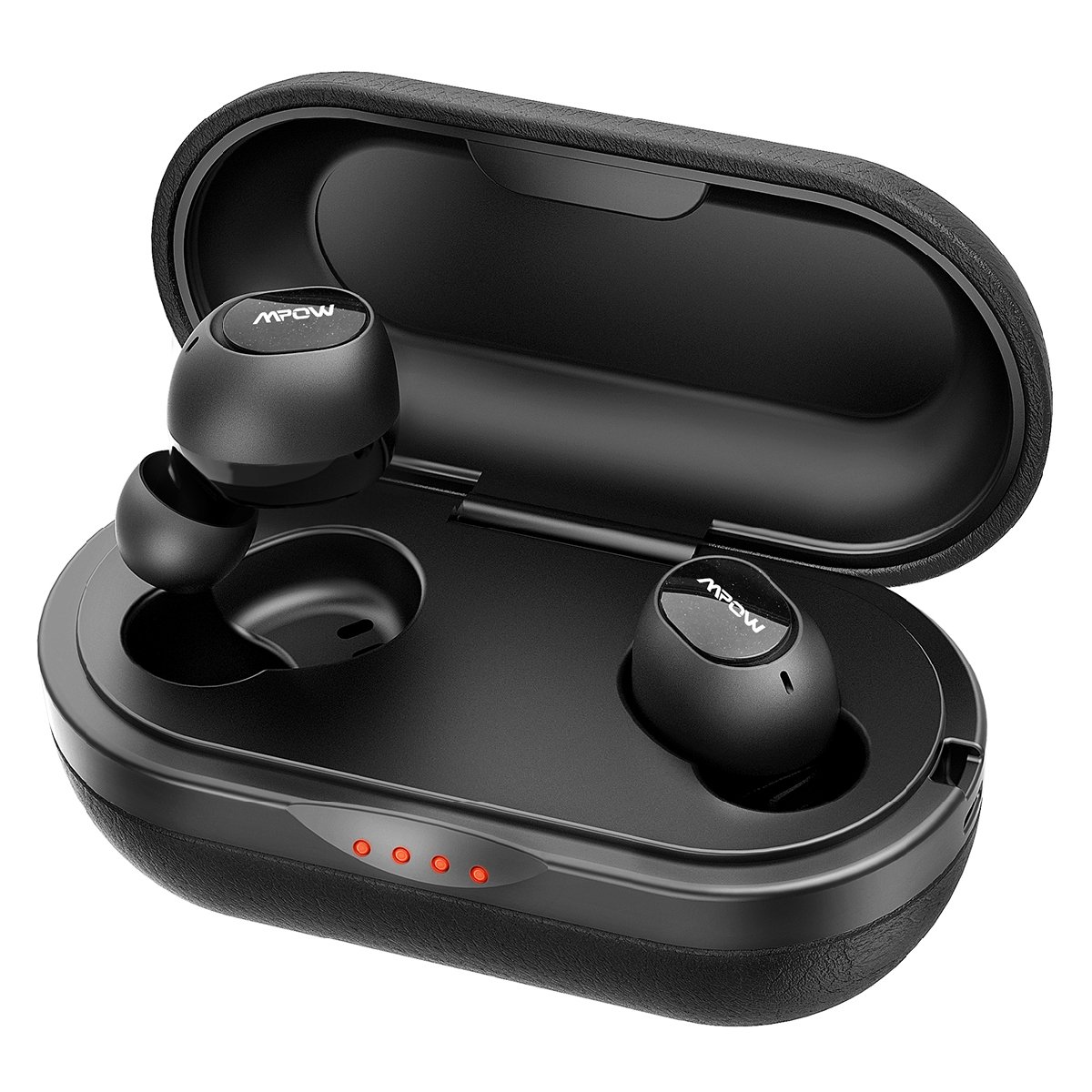 Connection: Bluetooth 5.0 with AptX | Battery Life: 5-6 of playback | Charging case: Can charge earpieces fully 7 times | Waterproof Rating: IPX7 | Weight: 331g

VERDICT:Great wireless earbuds are commonly expensive. Thankfully, the Mpow T5 TWS are a surprisingly good exception to that. For the price, you'd be hard-pressed to find better-sounding earbuds. The value proposition here is definitely compelling and we fully recommend these.