Mpow Flame 2 Sport Wireless Earphones Review
The first thing that we need to get out of the way is that there is no shortage of amazing wireless earphones that cater specifically to the people who visit the gym frequently. However, if you are looking at something that lasts, you will most likely be disappointed as the market is flooded with top of the line sports wireless earphones that are made specifically for the gym. Take a look at the Powerbeats or the Jaybirds. In such a market, it is difficult to create a name for yourself.
The earphones in question are the Mpow Flame 2, an updated version of the original Flame that managed to get a lot of attention. The Flame 2 come with some tweaks, namely a dynamic sound, increased battery life, Bluetooth 5.0, newer chip, an improved design, and more stable ear hooks that allow you to wear these without any chances of the earphones coming off. All of this at an astonishing price of just $23.99.Surprisingly, this is where Mpow steps in and draws the line; a company that recently started making waves on the tech YouTube channels, and in all honesty, surprised us with the traction that it has received in a matter of few months.
Are these earphones cheap or are they actually presenting a great price to performance ratio? That is what we are going to find out in this review.
Unboxing
As someone who has unboxed a lot of earphones and headphones, I have to say that I am used to the plain design that most companies come up with. Mpow is no different as far as the unboxing is concerned, but hey, given the price tag on these, I dare not take away any points as far as the packaging is concerned.
The front side of the box has a vector diagram of the earphones along with the model name at the bottom right, the name of the earphones on the top right, the company's logo on the top left along with their slogan that says, "Dream. Explore. Inspire", and a large text in white telling you about how these earphones are made for sport. The front side might feel crowded at first but the company's use of red and white does make a statement.
The backside of the box is a lot simpler as it reads all the specifications of the earphones, along with another vector diagram and the information about the company and some necessary labels. There is nothing fancy or special here, and I like it that way.
The real magic lies underneath the box, or what it seems like, at first glance. You see, the red part is just the sleeve that has the black box nicely tucked inside it. I really like the red and black approach that Mpow has taken. Taking the sleeve off, you are presented with a nice looking black box which has Mpow's logo printed in the centre in red colour. I have to say, I like where this is going.
As soon as you open up the box, there sits a black carrying case with red accents and Mpow's logo right in the centre. Underneath the carrying case, you have your usual set of documentation and that is it.
Opening the case, you are presented with the earphones, along with other accessories such as multiple silicone ear tips as well as memory foam ear tips (ours were badly out of shape), a shirt clip, different sized ear wings, and a micro-USB cable. I have to say, the inclusion of a micro-USB cable was an eyesore as I was expecting at least Type-C, now that it has become a lot more common but hey, we can't complain much, because of the nice price tag.
Below are the contents that you will be getting.
Mpow Flame 2 wireless earphones.

You have to hand it to Mpow.

4 sets of ear tips of different sizes.
2 sets of ear wings.
1x Micro-USB Cable.
Shirt clip.
Documentation.
Needless to say, Mpow has definitely delivered as far as the packaging is concerned, but that makes me wonder if they have cut corners somewhere else? That is what we are going to find out.
You do not see earphones priced in this bracket packed with so much that often, and I am in a surprise by the thought that Mpow has put in these.
Design and Build Quality
Considering how we are looking at one of the most affordable pair of headphones, the one thing that does raise some concerns from my side is just how durable the earphones are going to be in the long run, and are they designed to satisfy the design nerd in me?
Well, let's start with the design; the Mpow Flame 2 is designed in a way that they are fairly large. The ear hooks and the entire unit itself is large on my already big head, and in all honesty, I wish they were a bit discrete. I have been using the FiiO F9 Pro for the better part of the year and they are among the most discrete earphones that I have used. Flame 2, on the other hand, is pretty big. This is mainly done to house the large battery, and other electronics as there are no controls on the actual wire, so that is something I understand.
On the right ear side, you have the volume up and down buttons, they are small if you have large fingers as I do, but they do have bumps on them to help you get a feel. Underneath the same side, you will have the micro-USB charging port that is covered.
As far as the build quality is concerned, I do have some qualms about it. For starters, the earphones feel really lightweight, and while this factor is normally associated with good quality, the plastic on the housing feels cheap, and can easily pick up scratches in the long run. Another thing that I have to address is that these earphones use a flat cable, and while many people do admire a flat cable, it is not my cup of tea as in my experience, it is much easier to break.
To sum up the design and build quality, I would say that you get what you pay for. There is nothing over the top about either of these factors, but given the price tag, it should not be an issue.
Comfort
Comfort is, undoubtedly, one of the most important factors when it comes to a good pair of earphones or headphones. Without the comfort being there, I simply cannot imagine myself using something for a longer period of time.
Thankfully, when it comes to comfort, the Mpow Flame 2 nails it. I had these earphones as my daily driver for about 4 days, and I used them everywhere. Whether I am editing reviews or working out at the gym, not once did I feel the need to adjust anything. The lightweight nature of these earphones really shines when it comes to bringing comfort to the table, and I have to say, I am pleased.
One thing I would point out though is that if you do not have generically shaped ears, you will need some time to adjust, which you can do by using the included ear tips or ear wings to achieve the maximum comfort.
Sound Quality
When I first got my hand on these earphones, this was the one thing that concerned me the most. I kept asking myself if earphones this cheap are going to be good when it comes to sound quality. Before I take you any further, I am going to say that, with a slight adjustment, you can make them sound really good but do not expect them to be loud.
Bear in mind that these are sports earphones, which means that the main focus here was to ensure that the earphones survive against sweat when you are running or generally working out. As far as the sound quality is concerned, I paired them with my Galaxy S10+ coupled with PowerAmp that I use as my go-to music app. I was previously using the FIiO F9 Pro, and they do not require the equalizer to be tweaked in any way, as they deliver perfect sound on a flat equalizer band.
However, the moment I plugged them in and played Slipknot's Solway Firth, I quickly realised that I am going to have to tweak the equalizer, and so I did. I used my older preset and increased the preamp so I can drive out more sound from them, and they worked to some extent. However, at this point, I was certain that this change in the sound signature is because of the software tweaks.
Don't get me wrong, the dynamic sound of these earphones makes them ideal for all sorts of music, but lows feel muddy in some songs like Doomed by Bring Me the Horizon. But at the same time, if you are playing Lamb of God or Pantera, you will hear a different sound altogether. The dynamic sound does work well, and I would not go as far as calling it a gimmick, but I would have preferred if they made the sound flatter so it can be tweaked just the way you want.
The highs that represent higher frequencies such as cymbals, as well as vocals, are there, but they are not pronounced as they should be. The same goes for mids and lows that represent background vocals instruments, as well as bass.
Another note that I would like to add here is that Mpow Flame 2 does not come with active noise cancellation. As far as the passive is concerned, it only gets as better as the fit is. This means you will have to fiddle a little with the provided ear tips as well as ear hooks.
In short, the sound quality is average at best, mainly because there is not much sound separation, to begin with. If you are looking to get these earphones just because you want to go to the gym and have something that does not get in the way of you working out or running, then these are great. If you are an audiophile who wants to be able to listen to every single frequency, you might want to look elsewhere.
Battery Life
I cannot review a pair of wireless earphones without talking about battery life. Being an avid music lover, I listen to music throughout the entire day. Even when I am working, there has to be a track playing on my phone so I can be in my zone, and I prefer to listen to music at the full volume because that is how I am able to enjoy it, in the first place.
That being said, the advertised battery life of Mpow Flame 2 is 12 to 15 hours. I was sceptical about this because this is a pair of in-ear headphones and not your full-sized headphones. But I have to say that after 5 days of testing, the advertised battery life does hold up.
For me, on full volume, the earphones lasted around 12.5 hours. This is impressive because, during the entirety of the use, I was listening to music on maxed-out volume, watching videos, and taking calls as well. The earphones were on the run continuously, and I was really impressed with it.
Another really impressive thing is that these earphones are 100 percent charged out of the box, which is not something that you get to see a lot. Mpow has done a fantastic job as far as the battery life is concerned and I could not be happier.
Conclusion
The market for wireless earphones or headphones is saturated at best. With players like Sony, Samsung, Bose, as well as Jaybird making waves after waves. In such a saturated market, it becomes almost impossible for a smaller company to establish itself. Surprisingly, Mpow has managed to do just that.
The Mpow Flame 2 is not groundbreaking by any means. However, they serve as a testament that if you cut the right corners, you can create an affordable product that not only manages to hold up but also performs really, really good.
The grievances I have with these earphones could easily be fixed by the company, however, for that, they will have to bump up the cost.
Mpow Flame 2 Sport Wireless Earphones
Pros
Great battery life
IPX7 rated
Good for working out
A decent amount of accessories included
Comfortable right out of the box
Cons
Average sound at best
Build quality feels cheap
Still using Micro-USB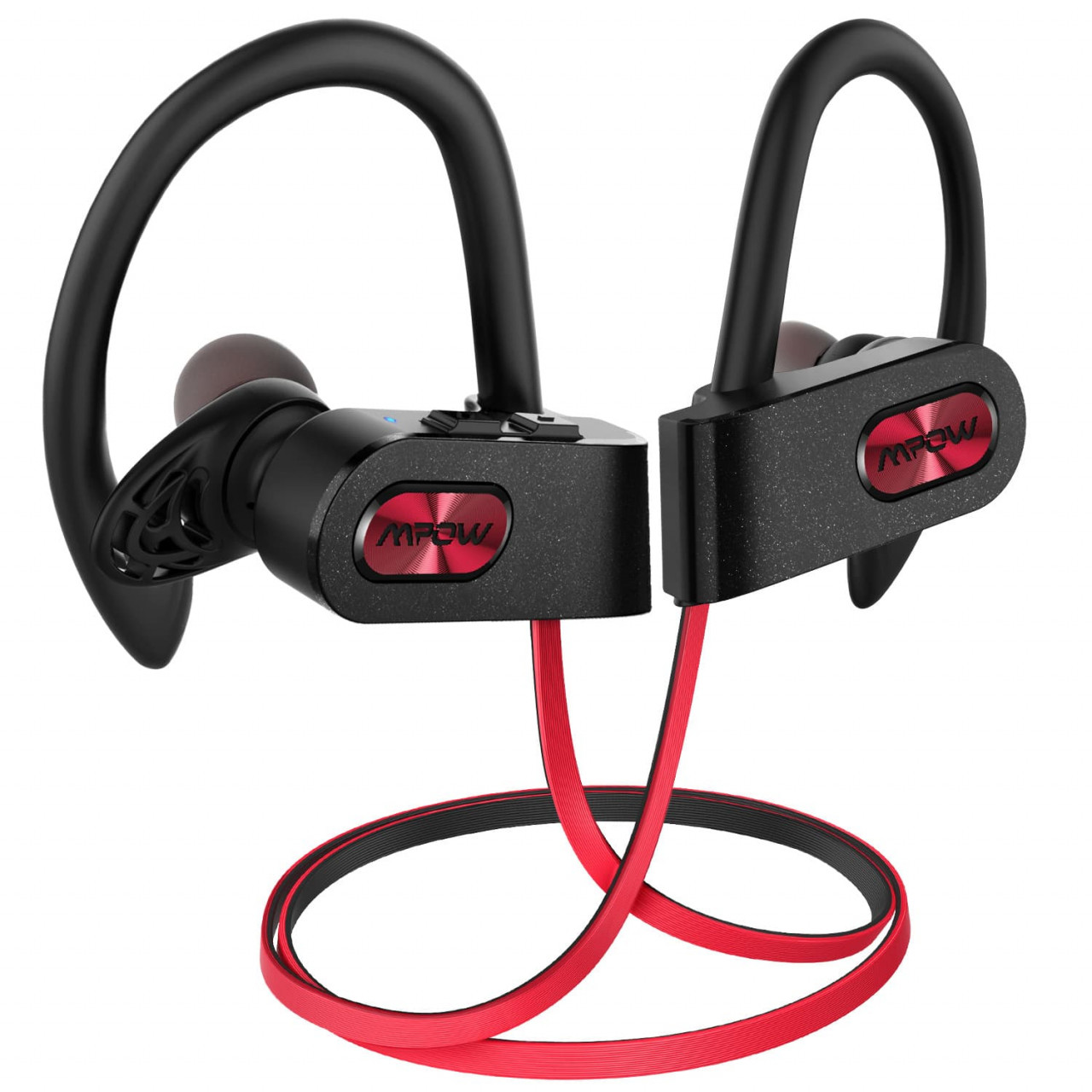 Bluetooth: 5.0 | Battery Timing: 12-15 hrs/300 hrs standby | Battery: 150 mAh | Charging Time: 3 hrs |

VERDICT:For the price you are paying, it is really hard to go wrong with the Mpow Flame 2 earphones. Granted they are not the best wireless earphones in the market, but you are getting so much for such a little price. It is hard to ignore them.