9anime is one of the most popular anime streaming websites out there on the internet. This website has been in the market for quite some time and has reached its way in mobile applications, FireStick, Kodi, and the web. All latest shows are uploaded in due date and there are several links to download the episode directly too.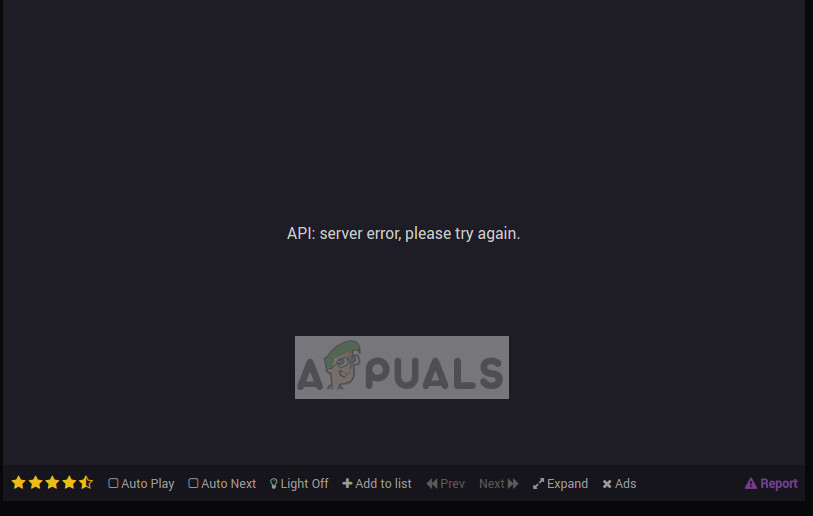 Recently in the past year, numerous users started reporting that they experienced an error when trying to stream different episodes. The full error message states "server error, please try again". This error message primarily occurs when an add-on blocks 9anime's stream output when trying to block ads. This is also known as the terminology of a false positive.
What causes the 9anime server error?
All the possible reasons why 9anime might throw you a server error are:
Ad blockers are treating the site's stream output as a false positive and block it thinking it is an ad.
9anime servers are down or undergoing maintenance. This is very common for huge streaming sites, especially those who distribute anime without distribution rights.
The browser data is either corrupt or outdated. Clearing cookies and cache usually fixes this issue.
Before you start implementing the solutions, make sure that you have an open internet connection on your computer/device. An open internet connection means that there will be no firewalls and restrictions. If you have firewalls in place, make sure you disable them before proceeding.
Solution 1: Turning off Ad blockers
Ad blockers are known to cause false positives every now and then. Even so, some websites have a new mechanism implemented on their website to restrict users from using ad blockers when streaming content. If you have any ad blocker active on your browser, make sure that you disable it completely or whitelist the 9anime site. One of the most common adblockers known to cause issues was Ublock.
Make sure that you identify your Adblocker present at the top-right side of the browser. You can click it once to view the statistics.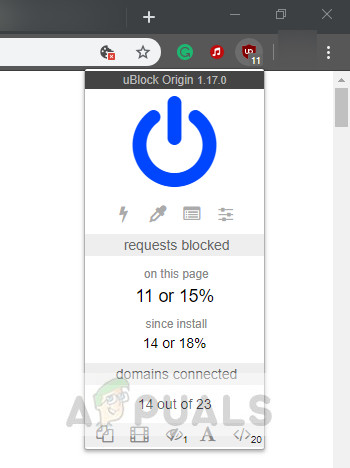 Now right-click on the ad blocker and select Remove from Chrome. Wait for the process to complete and restart your browser.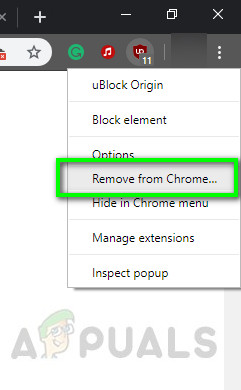 After restarting your browser, check if you can stream content successfully.
Solution 2: Checking server status
Like mentioned before, this error can also occur if the 9anime servers are either down or undergoing maintenance. There is always a set time of maintenance for a server to improve its efficiency and refresh the entire web page. In either of the case, you will see frequent posts of the inaccessibility of 9anime in the relevant forums.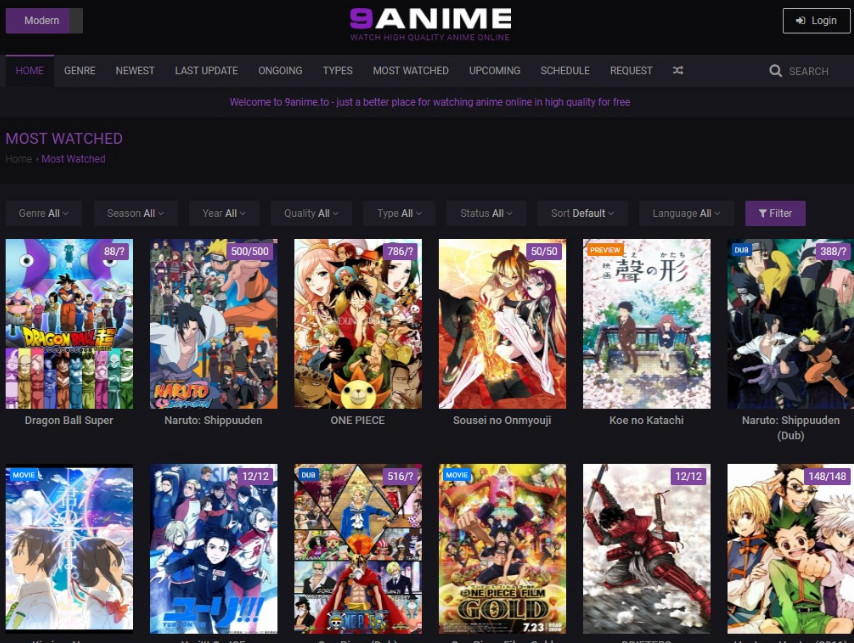 Search around in 9anime forums or other related communities and look for error messages of a similar kind. If you see a pattern of people experiencing the same issue, it probably means that the server is not accessible and you would have to wait before trying again.
Solution 3: Clearing browser cookies and cache
Websites store temporary data on your computer so they can save personalized settings locally and load things quicker rather than fetching from the internet. Furthermore, unique user visits to a particular website are also stored in the cache/cookies for the efficient working of the website. If this data gets corrupt or outdated, you might experience the error message "server error, please try again". We will refresh this data and see if this fixes the issue.
Open your Chrome browser and type "chrome://settings" in the dialogue box and press Enter. This will lead the browser's settings to open.
Now scroll to the bottom of the page and select Advanced.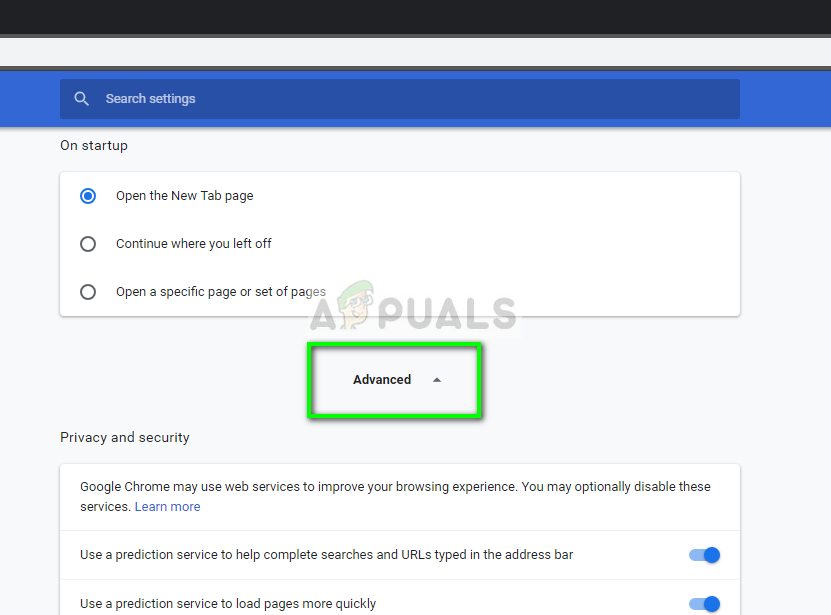 Once the Advanced menu has expanded, under the section of "Privacy and Security", click on "Clear browsing data".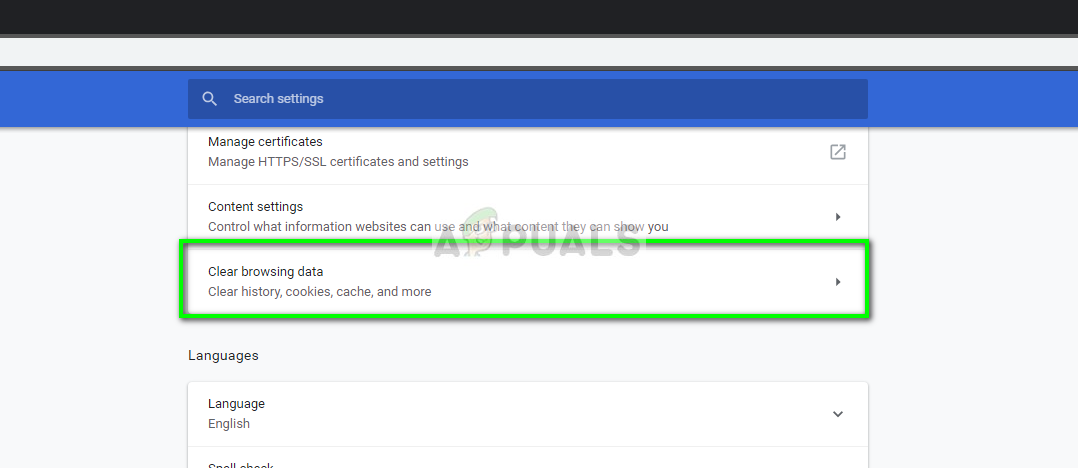 Another menu will pop up confirming the items you want to clear along with the date. Select "All time", check all options, and click "Clear browsing data".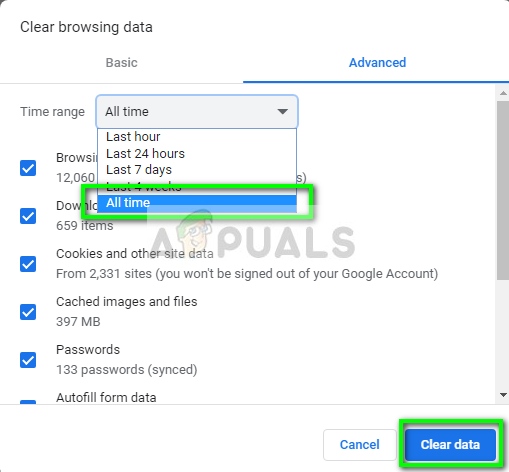 After clearing the cookies and browsing data, restart your computer completely. Now try streaming the 9anime and see if the error persists.