The 5 Best Workstations: Ultimate Pre-Built Performance PCs For Professionals
Workstation PCs have been an exclusive market for a long time now. These desktop computers were once quite expensive, and not accessible by the average person. However, technology has caught up a lot in the past few years. Thanks to that, we have hardware that is capable of professional work at a lower cost.
But that doesn't mean that these workstation PCs are for the average consumer now, far from it. In fact, most of these are overkill for the average joe. These machines can handle music production, film making, CAD design, and more. If you're someone who'll benefit from raw horsepower, you'll need a powerful build to get you by. With that said, there are a lot of options to pick from, and it's hard to pinpoint the right computer for you.
There's no need to worry, as we're here to help. After a lot of extensive research, we were able to locate some of the best PCs for a diverse audience. Your line of work doesn't matter, as you'll hopefully find something suitable in this list. With all of that out of the way, here are five of the best workstation PCs available in 2022.
1. CPU Solution CEV-6715 Video Editing PC
Pros
Perfect for rendering
High airflow case
Powerful Quadro GPU
Lots of ports
Fast card reader
Processor: Intel Core i9 9900KF (8 cores at up to 5GHz) | RAM: 32GB DDR4 2666MHz | GPU: Quadro RTX 4000 | Storage: 512GB + 1Tb Intel M.2 NVMe PCIe SSD
Our first pick for workstation PCs is aimed at video editors. However, that doesn't mean this powerful machine is limited to video editing. A PC like this can handle most things you'll throw at it. It's a great combination of price, raw performance, and speed. The CPU solutions CEV-6715 PC is versatile and, as you can probably guess, an absolute powerhouse.
This workhorse product uses an Intel Core i9 9900KF. It has 8 cores and 16 threads, a base frequency of 3.6GHz, and it can turbo up to 5.0GHz. You also get 16Mb of Intel Smart Cache. The cooling is much better than the predecessors, and the chip performs well thermally inside the Fractal Design Focus G case. It's a great performer in both single-core and multi-core tasks.
The CEV-6715 uses an ASUS Prime Z390-P desktop motherboard. This motherboard provides two USB 3.1 Gen 2 ports and four 3.1 Gen 1 ports. You get one Displayport and one HDMI port, along with Realtek gigabit ethernet. The PC utilizes 32GB of memory, an Intel 512GB PCIe NVMe SSD, and another Intel SSD with 1TB of storage.
You even get an optical drive bay, which is very surprising to see. It also has a multi-card reader with UHS-II support. Video editors will appreciate this addition, as this gets rid of the need for an external card reader. Finally, the icing on the cake is the Quadro RTX 4000 with 9 gigs of GDDR6 VRAM.
Nvidia's Turing architecture is perfect for both video editors and streamers. If you're a streamer, you can also take advantage of the excellent Nvidia NVENC encoder. Both the CPU and GPU combine to give rendering performance that will blow you away. The GPU works well with Adobe software, as they have a lot of support for RTX.
The numbers speak for themselves. Blender, Premiere, Illustrator, and DaVinci Resolve all perform incredibly well. One minor downside is the lack of integrated graphics, which help sometimes in troubleshooting issues.
2. Supermicro AS-E301-9D-8CN4 IoT Computing PC
AMD Epyc Powered Workstation
Pros
Impressive form factor
Powerful SOC
Great performance in benchmarks
Great cooling efficiency
Processor: AMD Epyc 3521 Embedded (8 cores at up to 3.1GHz) | RAM: 4 x DDR4 2666MHz DIMM slots (Up to 512GB) | GPU: N/A | Storage: 2 x 2.5-inch bays, 1 x M.2 NVMe Slot, PCIe 3.0 x16 slot
The Supermciro AS-E301-9D-8CN4 doesn't have the easiest to understand model name, does it? Well for people who need server PCs probably face this problem every day. In all seriousness, this Supermicro PC is one of the best-embedded servers available today.
First off, the form factor is quite impressive. This chassis comes in at 1.5U rack units. At the back, we have two USB 3.0 ports, a management IPMI port, four Gigabit Ethernet ports, and a VGA port. We would have liked to see 10 Gigabit Ethernet instead. The DC power input is lockable, which ensures secure power.
You can access storage by removing the four screws on top. You can use this PC for IoT (Internet of things) computing. It is powered by the AMD Epyc 3521, which is an extremely powerful SOC. Like most embedded servers, you'll have to install the memory and storage yourself. So we can't provide accurate numbers as to how this performs.
Out of band management is standard on server builds. Supermicro sets the industry standard here, as they include a WebGUI for traditional management. In benchmarks, the Supermicro PC performs incredibly well in C-ray thanks to the clock speeds and high core count. 7zip compression is also much faster than Intel's Xeon processors. As for server related benchmarks, both OpenSSL and Whetstone showed great results.
This powerful server build uses three fans, so it draws more power than other configs. The Supermicro AS-E301-9D-8CN4 performs well and at a lower power consumption than many Intel Xeon builds. Overall, this is a great test platform. We just wish it had 10 Gigabit Ethernet.
3. Adamant Custom 32-Core Workstation Computer
Top Of The Line Workstation
Pros
Extremely high-end processor
Lots of storage bays
240mm liquid cooler
Dual-band Wi-Fi and Bluetooth 5.0
Cons
Faster RAM would have been better
A custom build will cost you less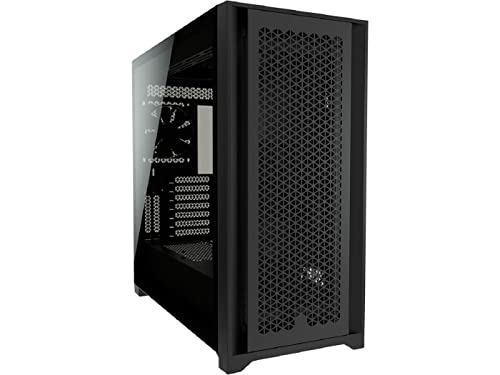 Processor: AMD Threadripper 3970X (32 cores at up to 4.5GHz) | RAM: 64 GB DDR4 2666MHz | GPU: Nvidia GeForce Titan RTX | Storage: 10TB HDD + 4TB M.2 NVMe SSD
The next workstation on our list is arguably the most top of the line PC you can get right now. At least, in the consumer market range. If you're just planning to do some light video editing and gaming, turn away, this thing is absolutely overkill. However, if you are a CAD designer or a proper filmmaker you might just benefit from this PC.
The Adamant Custom workstation is a thing of absolute beauty. This 32 core monster workstation will destroy anything you throw at it. It uses a Threadripper 3970X. With 32 cores and 64 threads, this processor is incredibly powerful at multi-core performance. However, the numbers don't end there.
The Ryzen processor is cooled by a 240mm liquid cooler. This is great if you want to overclock it. Apart from that, we are happy to see abundant storage space here. A 10TB HDD storage drive and 4 terabytes of Intel M.2 NVMe PCIe SSD are both included. You just might get away by not deleting all those video files.
As for GPU horsepower, you'll be pleased to see a Titan RTX here. This GPU uses 24Gb of VRAM and has a boost clock of 1770MHz. It has a 7000MHz (1400MHz effective) memory frequency. While this GPU is great for heavy workloads, we would have liked to see a Quadro GPU instead. The newer Ampere graphics cards from Nvidia will outperform this as well.
We also 802.11 ac Dual-Band Wi-Fi, a 12X SATA Blu-Ray, and Bluetooth 5.0. This PC does have it all. However, it is very expensive. Now that might not be an issue if you look at this as an investment for your career but stay with us a moment.
You could build this same system with the same specs and save considerable money. However, you won't get a warranty (at least for the whole unit), service, or customer support. That will come down to what you prefer.
4. Empowered PC Grandia Workstation Desktop Computer
Pros
Tremoundously versatile
Small form factor
Decent cooling for GPU
Cons
Hard drives can heat up at times
Poor cable management
Processor: AMD Ryzen 9 3950X (16 cores at up to 4.7GHz) | RAM: 128GB DDR4 3200MHz | GPU: Nvidia GeForce RTX 2080Ti | Storage: 2TB M.2 NVMe SSD + 8TB HDD
The Empowered PC Grandia is the most versatile PC on this list. It's neither the most powerful, nor does it specialize in any specific category. However, the small form factor paired with the high-end specs makes it a jack of all trades. Let's quickly go over what type of people can benefit from this portable powerhouse.
When we say the words portable powerhouse, we mean it with this workstation. This PC is built inside the Silverstone Grandia PC case. It has the form factor of an HTPC. However, it's quite a powerful machine just to use as an HTPC.
It uses an AMD 3950X at its core. Also, it has 16 cores and 32 threads. On top of that, it has a base clock speed of 3.5GHz and turbos up to 4.7GHz. Not bad for a high core count CPU. You also get an RTX 2080Ti, 128 gigs of RAM, a 2TB SSD, and 8 terabytes of HDD storage. The power supply is 750W, which is enough to power this beast safely.
For such a small case, the airflow is quite good. It has positive air pressure, which means it is quiet and prevents dust. You also get an 802.11 ac Wi-Fi USB adapter, a backlit gaming keyboard, and a gaming mouse. The included accessories aren't anything impressive. The included cable management could use a lot of work as well.
While cooling is quite good, the hard drives can heat up quickly. That's not great for the long term. This small PC can be used as a gaming computer, an HTPC, a portable tool for developers, and much more. Other than that, if you need a portable PC that can handle anything you throw at it, look no further.
5. New Apple iMac with Retina 5K Display (2020)
Pros
Nanotexture matte display
Updated SSDs
Radeon Pro 5000 graphics
Updated Face time camera
Cons
Outdated design
Expensive
Huge bezels
Processor: Intel 10th Gen Core i5 (6 cores at up to 4.8GHz | RAM: 8GB-16GB DDR4 2666MHz | GPU: Radeon Pro 5300 | Storage: 256GB-8TB SSD
It's interesting how this works, but if you are a professional worker in the digital space, you know when you need an iMac. Maybe you want to work with XCode, or you prefer Final Cut Pro over Adobe Premiere. Also, there is the fact iMacs have seamless integration with the entire Apple ecosystem.
Regardless of all that, as we said, you know when you need an iMac as a workstation. Unfortunately, they can end up being quite expensive, and sometimes even underpowered. However, the 2020 iMac is one of the better updates we've seen to this lineup. It also happens to be the last Intel iMac, as Apple will move to its own ARM architecture in the coming years.
However, you don't need to worry about that update. If you need a tool right now for creativity or productivity, you should not hesitate. The 5K screen on here still looks incredible. It does feel outdated due to the large bezels, but a new nanotexture matte glass does make it look good. This helps in dramatically reducing glare.
Furthermore, are various configurations available with this 2020 27″ iMac. The processor ranges from a six-core 10th gen core i5, all the way up to the ten-core i9 processors. Graphics are also updated thanks to the Radeon 5000 series. Hard drives are long gone, and Apple has replaced them with SSDs. So, you can go from 256 all the way up to 8TB of fast SSD storage.
As usual, you get four USB-A ports at the back and two Thunderbolt 3 Type-C ports. Fortunately, the Facetime camera has been updated to 1080p, which was long overdue. As much as we love this iMac, there is one big issue.
Compared to all the fast screens, versatile designs, and competitive prices available today, the 27-inch iMac feels very dated. As a result, just know what you are sacrificing when buying this 27-inch iMac, especially compared to a Windows machine. The Magic Mouse needs to go away as well, as it's not really the most comfortable thing in the world.