The PlayStation 5 launched back in November 2020, during the middle of the quarantine period. Even though it launched nearly 3 years ago, it's only recently have actual gamers begun to acquire the console for themselves. While the wait may have been long for some, it definitely was worth it. For those still waiting, you have to make sure that you have the essentials prepared when your PS5 arrives.
By essentials, we're referring to your controller. It directly impacts your gaming performance and experience. While the DualSense is a ground-breaking controller on its own, there are always some looking for the next level. That's why we've put together a comprehensive review of the best PS5 controllers currently available. Let's find the one that's right for you.
Table of Contents:
1. DualSense Edge
Best Premium PS5 Controller
Pros
Haptic feedback and adaptive triggers
2 extra function buttons
Very detailed customization options for the sensitivity
Configurable game profiles
Several kinds of replacement sticks
More ergonomic design
Cons
Battery life is very disappointing
The competition offers more features for the same price range
Glossy finish is a fingerprint magnet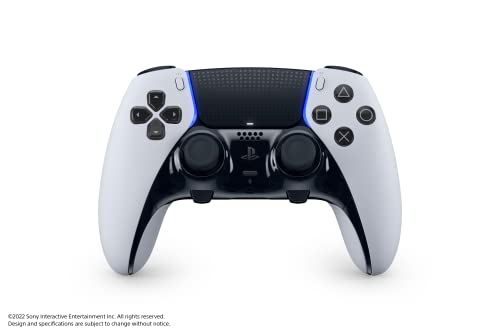 Extra buttons: 2 remappable back buttons | Battery life: Up to 7 hours | Connectivity: Wired USB-C, Bluetooth | Warranty: 1 year | Built-in Microphone: Yes | Headphone Jack: Yes
Even though the DualSense is one of the best controllers out there, Sony surprised everyone by unveiling the DualSense Edge controller, a premium, improved version of the original DualSense controller with a handful of new features. This was a first from Sony, as it usually let third parties design the "pro" version of its controllers. In essence, this is PlayStation's answer to the Xbox Elite controller.
In addition to all the features found on the standard DualSense, including the revolutionary adaptive triggers and haptic feedback, the Edge's biggest upgrades are in its build. Rounded trigger buttons, redesigned touchpad, 2 function buttons found below the analog sticks, and a bit more weight on the chassis, allow for more comfort and enhance your gaming experience.
That's not all; the native software allows even more versatility with the ability to remap the back buttons, configure the sensitivity of the analog sticks, the haptic feedback, adaptive triggers and set up the deadzones. Moreover, you can swap out the analog sticks for different ones. You can also setup gaming profiles for different games and use the function buttons to switch to your desired profile in a flash.
Although the DualSense Edge improves a great amount over its conventional counterpart, it also seems to worsen the most prevalent issue found in its traditional version; awful battery life. The DualSense Edge only allows a disappointing 4-7 hours of playtime. Considering that you're paying $200, it isn't wrong to think that you deserve more hours of uptime.
Another issue, this one prevailing from the DualSense's predecessor, the DualShock 4 is the stick-drift issue. And although, the DualSense Edge comes with swappable sticks which alleviates the issue quite a bit, it wouldn't hurt to see Sony finally find a fix for this annoying problem (hello hall-effect).
2. SCUF Reflex Pro
Best Overall Third-Party Controller
Pros
Haptic feedback and adaptive triggers
Swappable ergonomic analog sticks
Custom design for the chassis
Configurable game profiles
Several kinds of replacement sticks
4 removable and remappable back paddles
Cons
Battery life isn't much of an improvement
SCUF has mixed reviews in the community
Pricey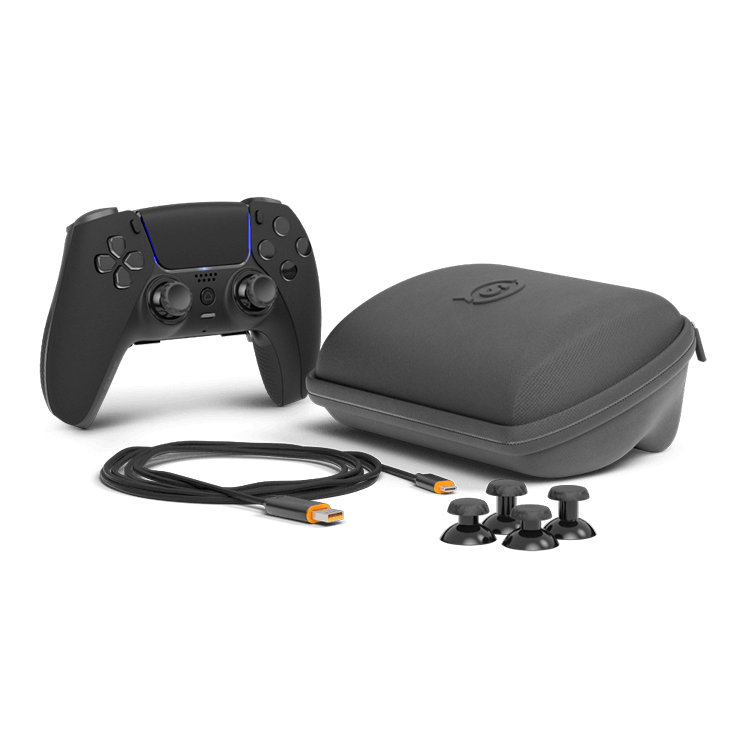 Extra buttons: 4 re-mappable back paddles | Custom Design: Yes | Configurable Profiles: Yes | Battery life: Up to 9 hours | Connectivity: Wired USB-C, Bluetooth | Warranty: 1 year limited warranty
The SCUF Reflex Pro is, arguably, the best third-party controller for the PS5. SCUF, a brand known for making premium and custom controllers, hits the bullseye again with their latest release. It has all the DualSense features; haptic feedback and adaptive triggers, along with its own arsenal.
Although the SCUF Reflex Pro looks nearly identical to the DualSense, don't be fooled; it's a completely different beast. The chassis is coated with a more ergonomic grip, the sticks are swappable, and textured for a firmer grip. Moreover, the back of the controller features 4 removable and re-mappable paddles that are easily accessible and can be configured for any function you want them to perform.
The Reflex Pro also allows you to create 3 customizable profile settings that you can configure for the different types of games you play. These profiles can be switched via a button on the rear bumper, and upon switching profiles, you'll see that the LED will change color depending the profile you're using.
But the most appealing thing about the Reflex Pro is that it can don a custom design of your choice. Yes, you heard that right! If you have a PS5 with custom faceplates and need something to go hand-in-hand with it, the Reflex Pro allows you to choose a design for your controller of your own choosing; you can either outline one yourself or choose from a variety of existing popular designs.
However, even with all these features, the SCUF Reflex Pro doesn't allow you to configure the sensitivities and deadzones of the sticks. And with a price tag of $230, it's disappointing that SCUF couldn't manage to fix the DualSense's underwhelming battery life; their take on the DualSense only offers up to 9 hours of playtime.
3. Victrix Pro BFG
Best Choice for Versatility
Pros
Modular design allows for a lot of customization
Configurable game and audio profiles
Excellent battery life
Large amount of assortments
Extremely versatile
Compatible with PC
Cheaper than most premium controllers
Cons
No haptic feedback and adaptive triggers
No vibrations
No built-in microphone and speakers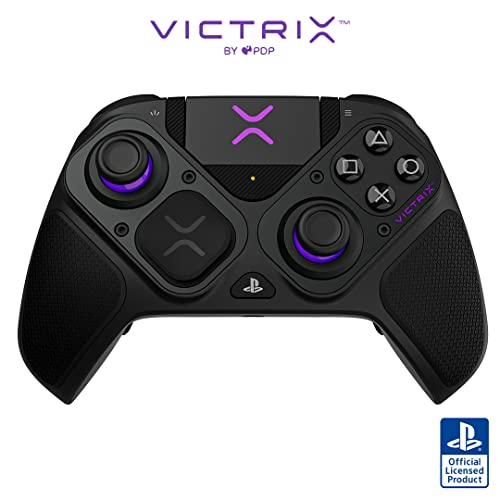 Extra buttons: 4 re-mappable back paddles | Modules: Fight Pad, D-pads, Sticks | Compatibility: PS5, PS4 and PC | Battery life: Up to 20 hours | Connectivity: Wired USB-C, Bluetooth | Warranty: 2 years
If the Scuf Reflex Pro hasn't caught your attention, the Victrix Pro BFG surely will. Designed with diverse gaming genres in mind, the BFG offers unparalleled variety. Its innovative modular design lets you swap out pads, sticks, and buttons to customize your controller based on the game at hand. You can tailor the controller exactly the way you want to suit your playstyle, removing any compromises from the equation.
The assortment of attachments that come with the BFG are nothing to scoff at. A taller and a shorter analog stick for better aiming, multiple D-pads, a six button module for fighting games, 4 remappable back paddles, customizable triggers, several swappable stick gates, configuration for 3 separate audio and game profiles, and rubberized grips on the front and back give it the necessary ergonomics.
The BFG is comfortably light, but has the right amount of weight to it. It also has "Tournament Lock" mode that negates the input from accidental presses of system buttons, as in tournament scenarios this may lead to disqualification. Even though it was built for the PS5, it's also compatible with the PS4 and PC. It also has an excellent battery life of up to 20 hours.
The only disadvantage of the Victrix Pro BFG is that it doesn't produce any kind of vibrations, let alone haptic feedback. Adaptive triggers are also not a feature of the BFG. However, since not everyone is a fan of those, it remains a great option considering its competitive $180 price tag.
4. HexGaming Rival Pro
Best Choice for Custom Designed DualSense
Pros
The remappable back paddles allow for more versatility
Faster trigger response time (only if you opt for FastShot triggers)
You can design your own controller according to your own specifications
Custom vibration modules
Better grip
Comes with replacement analog sticks
Better battery life
Cons
No haptic feedback and adaptive triggers
Very expensive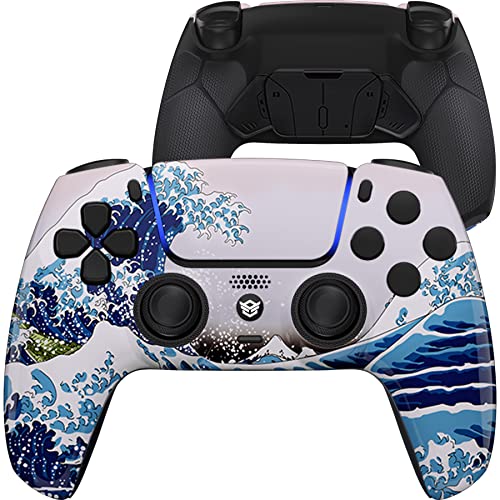 Extra buttons: 4 re-mappable back paddles | Custom Design: Yes | Battery life: Up to 9 hours | Connectivity: Wired USB-C, Bluetooth | Warranty: 3 months | Hair Triggers: Yes | Custom Vibration Modules: Yes
The HexGaming Rival Pro is HexGaming's take on the DualSense controller. Visually identical to the DualSense, the HexGaming Rival Pro has its own features that set it apart from its twin. With 4 re-mappable paddle buttons on the back, swappable sticks, a rubberized grip on the chassis for easier holding, this is only a taste of what the $290 Rival Pro has to offer
One of the best features of the Rival Pro is that it allows you to have a custom design for your controller, like the Scuf Reflex Pro. But that's not where the customizing part ends. Additionally, HexGaming allow you to outline the analog sticks on the controller according to your preferences; meaning that you can customize the height, grip and more, of the analog stick. You'll also receive replacement sticks.
While the customizable analog sticks help you to give your best performance in games, and the trigger buttons take your game to the next-level. The "FastShot" trigger buttons of the Rival Pro have been redesigned to increase responsiveness, particularly in shooter games. It reduces the travel length to the point where it feels like a clicky button, alleviating for any potential input delay.
It's worth nothing that the Rival Pro doesn't support the traditional DualSense adaptive triggers and haptic feedback, although the FastShot triggers and custom vibration modules are a worthy consolation prize. Unfortunately, the battery life doesn't get a step-up as it is on par with the standard DualSense and some reviews have actually criticized it.
5. Razer Wolverine Pro V2
Best Choice for Extra Functionality
Pros
A lot of customizable buttons for extra functionality
Excellent battery life
Faster response time
Different profiles for different types of games
Increased customization through the Razer app
Cons
No haptic feedback and adaptive triggers
Limited attachments
Xbox style layout can be unfamiliar
No built-in speakers or microphone
Back buttons might be inconvenient for most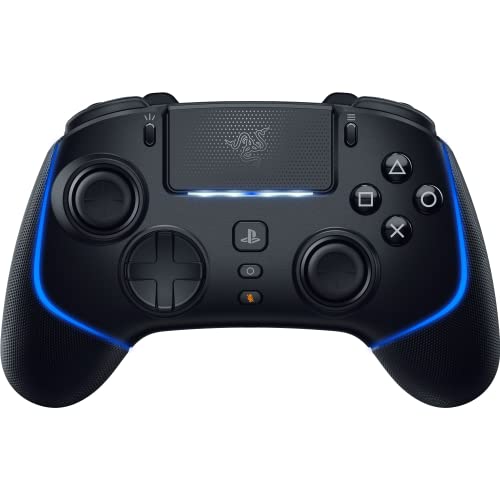 Extra buttons: 4 re-mappable back paddles, 2 extra buttons besides triggers | RGB: Yes (Chroma RGB) | Hair Triggers: Yes | Battery life: Up to 28 hours (no RGB) | Connectivity: Wired USB-C, Bluetooth, 2.4GHz Wireless | Warranty: 1 year
Razer, one of the most renowned brands in gaming, introduced the Wolverine V2 Pro last year. Although it's a controller intended for the PS5, it features an analog stick layout traditionally found in Nintendo and Xbox controllers. This can be a problem with PlayStation gamers, who're accustomed to the more traditional side-by-side stick layout, but also a potential upside depending on your preference.
The most defining part of the Wolverine is the amount of customizable buttons it has; 4 on the back and 2 right next to the L2 and R2 triggers. Furthermore, Razer's Mecha-Tactile Action Buttons technology allows the face buttons to be reduce input delay and produce a very clicky sound, unique to Razer controllers. This technology has also been implemented on the controller's D-pad.
Additionally, Razer's HyperTrigger technology allows the triggers to keep up in responsiveness with the face buttons and D-pad, while retaining the clicky feel. A lock present beside the triggers allows you to configure how much you have to press it for it to register, very similar to the Xbox Elite controllers. This can help out when hopping between different types of games where hair triggers are not suitable.
It wouldn't be Razer without any RGB lighting and naturally the Wolverine sports the Razer Chroma RGB. To customize the lighting, map out the utility buttons, adjust the sensitivity and configure profiles, you'll have to use the Razer app, available for iOS and Android. The Wolverine comes with interchangeable stick caps and is compatible with PC too.
One of the best things about the Wolverine is the insane amount of battery life it has; up to 28 hours. This is a huge improvement over the DualSense and DualSense Edge. Although the 28 hours of battery of life is subject to the condition that the Chroma RGB is turned off. If enabled, the life is reduced to 10 hours.
Although the Wolverine has the most amount of extra buttons, these buttons are unusable to a certain degree, due to their uncomfortable and unusual position. The fact that the controller is a bit wide than most, further adds to the problem.
The Wolverine also doesn't have the DualSense's haptic feedback and adaptive triggers. Another big blow is the fact that there is no carry case for it, which would really be for the charging cable as there only 2 additional attachments.
6. Victrix Pro FS
Best Fight Stick for the PS5
Pros
Lightweight
Removable joystick and wire for easier portability
Increased responsiveness
Tactile buttons
Ergonomic design
Swappable buttons and stick
Premium and durable parts and body
Cons
Some buttons can be extremely sensitive
High cost
Buttons: Sanwa Denshi 30mm | Build Material: Aluminum | LED Lighting: Present on each side | Connectivity: Wired USB-C | Warranty: 2 years | Compatibility: PS5, PS4, PC
For most of us, our love for fighting games comes from grinding Street Fighter or Mortal Kombat at our local arcade. While arcades are relatively a thing of the past now, the arcade fight stick design managed to receive a release as a standalone product. And for many, these fight sticks offer a hit of nostalgia, and capture the true essence and experience of fighting games. For the PS5, the Victrix Pro FS does just that.
The Pro FS is one of the most aesthetic, stylish fight sticks out there. With RGB lights on each side, it's hard to deny the beauty of this fight stick. The buttons are built with top-of-the-line Sanwa Denshi parts, which makes them incredibly responsive, durable and tactile. Although the buttons can sometimes be a bit too sensitive, that doesn't really put a damper on how impressive they perform in fighting games.
The Pro FS is ergonomic, and the fact that you can replace the sticks and buttons is another awesome feature. Seeing how lightweight it is, and how you can remove the joystick and wire, allows you to carry it around easily. It's easy to see how remarkable this fight stick is, and why it carries a $383.99 price tag with it.
7. Thrustmaster T248P Racing Wheel
Best Racing Wheel for the PS5
Pros
Good force feedback
Built-in LCD display
Leather grip on the wheel
Light wheel base
Magnetic pedals
Good range of adjustability
Lots of buttons for extra functionality
Priced better than its competitors
Cons
Poor quality paddle shifters
Sound/feel of the gears grinding can be annoying
Build quality can be better
Force Feedback: Hybrid Drive | Buttons: 25 | Steering Wheel: Leather grip and LCD display for telemetry data | Pedal Board: 3 pedals | Brake Pedal Type: Magnetic | Warranty: 2 years
The Thrustmaster T248P is an entry level racing wheel and features Thrustmaster's HYBRID DRIVE technology It comes with a 3-pedal set and it is priced very competitively at just under $400. In comparison, the ever-so-popular Logitech G29/G920 also costs $400 but uses older tech and provides less features.
The T248 uses a part-belt, part-gear system to deliver force feedback, which allows for a more realistic experience. The built-in LCD display on the wheel adds a more realistic effect by displaying the speedometer, or other telemetry data, but only in supported games. It also has 3 profiles to adjust the force feedback. The magnetic brake pedals are sturdy, and have adjustable break resistance.
The wheel has an ergonomic leather grip and also sports 25 buttons which allow greater functionality, as they're re-mappable. But the brake pedals feel quite cheap, and the force feedback makes the wheel a bit harder to steer. Because the T248P is an entry-level product, the wheel quality can feel a bit cheap.
However, rest assured that the Thrustmaster T248P is well worth the money and one of the best race wheels you can get at this budget. If you want to shelve out cash for the top-dog option then T-GT II, also from Thrustmaster, and the Fanatec GT DD Pro are great options, both certified by PlayStation themselves with the latter being a direct-drive wheel.
Direct Drive wheels represent the pinnacle of racing sim technology. Unlike traditional gear or belt-driven wheels, Direct Drive wheels connect the steering wheel directly to a powerful motor. This results in an incredibly responsive and realistic force feedback, mirroring the nuanced feel of a real car's steering system. They offer a high degree of precision and reliability, providing hardcore racing enthusiasts an unparalleled virtual driving experience.
Making Your Choice
While these are some of the best PS5 controllers out there, the amount of options available out there are too vast to encapsulate in one piece of text. So before your wallet takes a hit, make sure you've found 'the one' through proper research. Like a trusty sidekick in a heated boss battle, the right controller can truly elevate your gaming experience.