PDF files with Windows 10 can be opened without the need to install additional software. In fact, Microsoft Edge, the default Web browser, provides native support for this type of file. But this is a minimal function option that may not meet the needs of users accustomed to using a third party software that are far more feature rich. Most of the people prefer to use Adobe reader to view their PDF files as the software provides a flexible approach to opening, editing, and formatting the files.
Why this happens?
Windows 10 File association protection mechanism is actually what that prevent any form of direct changed to the User Choice in the registry for each form of file. Whenever any no file association is found in the registry or in case any of the application incorrectly makes the hash void to "UserChoice registry key" to the set association then it triggers resetting of files for that program, making it switch back to the default Windows 10 set association.
This means that Edge will or may take over the PDF file default setting due to any reason, after an update or any other cases, and you will be notified about the app reset default setting by the Action Center. What are the possible solutions to this problem? Let us have a glance:
Method 1: Set Adobe Reader as default
Click the Start button and type Default Apps in the search.
Click Default Apps scroll down and choose "Choose Default Apps by File Type"
Scroll down until you see .pdf in the left pane and then you should see Edge next to it in the right pane. Click Microsoft Edge and choose Adobe Reader. This will switch the default pdf program from Edge to Adobe Reader.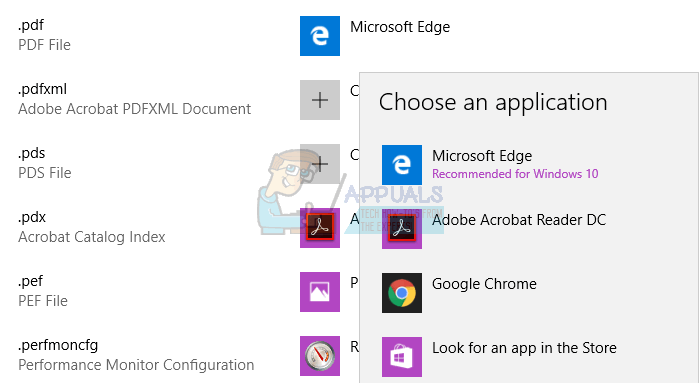 You must have Adobe Reader installed in order for this to work.
PRO TIP:
If the issue is with your computer or a laptop/notebook you should try using the Reimage Plus Software which can scan the repositories and replace corrupt and missing files. This works in most cases, where the issue is originated due to a system corruption. You can download Reimage Plus by

Clicking Here
Method 2: Prevent MS Edge from hijacking default PDF program
Click Start -> type cmd -> right click cmd and choose run as administrator.
Paste the following command in a single line and enter:
for /f "usebackq" %i in (`reg query hkcr /f "AppX"`) do reg query %i\DefaultIcon | find "MicrosoftEdgePDF" && reg add %i /v NoOpenWith /t REG_SZ /f
Ensure to copy the exact backticks in between the parenthesis.
It will solve your problem. OR
Hold the Windows Key and Press R. Type regedit and Click OK.
HKEY_CURRENT_USER\SOFTWARE\Classes\Local Settings\Software\Microsoft\Windows\CurrentVersion\AppModel\Repository\Packages\Microsoft.MicrosoftEdge_25.10586.0.0_neutral__8wekyb3d8bbwe\MicrosoftEdge\Capabilities\FileAssociations
(Here Microsoft Edge v25.10586.0.0 refers to Microsoft Edge build number so choose yours accordingly)
From the right pane, note the Prog ID assigned to the .pdf file type.

Now go to the path: HKEY_CURRENT_USER\SOFTWARE\Classes\AppXd4nrz8ff68srnhf9t5a8sbjyar1cr723
Create a new string value in the right pane (REG_SZ) and name it as "NoOpenWith". It will prevent .pdf file association being hijacked by the Edge.

PRO TIP:
If the issue is with your computer or a laptop/notebook you should try using the Reimage Plus Software which can scan the repositories and replace corrupt and missing files. This works in most cases, where the issue is originated due to a system corruption. You can download Reimage Plus by
Clicking Here