Honor MagicWatch 2 Review
Honor has been cementing its place in the tech world more and more. Their footprints have been extending beyond the world of just smartphones. Previously, I've talked about the Honor MagicBook 14 laptop and how great a find that is. In the realm of smart wearables, Honor's MagicWatch has had its fair share of success as well.
Smartwatches are a great way of complimenting your smartphone and making use of even more features in unison with your phone. A fitness tracker and other essential, or even additional, features are a given with the Honor MagicWatch 2. But there is another highlight that really brings the MagicWatch 2 into the spotlight.
Honor teamed up with 4 pioneers and icons in the world of art and digital graphics to deliver a watch that goes above and beyond. Smartwatches are usually designed with a look that is going to work with just about every type of outfit that you will be wearing.
Personalizing your possession and adding a touch that makes it yours is on the mind of just about every consumer. Honor's move of teaming up with these 4 renowned artists has delivered straps that truly are works of art. Each artist has integrated their style of art into the different strap designs, making the Honor MagicWatch 2 look more alive than any other smartwatch. The Honor MagicWatch 2 variant on our hands is the 46mm one with the Ficus strap designed by Giovanni Ozzola.
Unboxing
The Honor MagicWatch 2 comes in a very standard black box. Pulling the box open, you'll find the MagicWatch 2 being securely packed. Inside the packaging, the contents are as follows:
Honor MagicWatch 2
USB-C cable
Charging dock
Warranty card
Quick Start guide
Design
The Honor MagicWatch 2 and Honor's GT2 smartwatch have very similar designs. The MagicWatch 2 is available in 42 and 46mm versions, both rocking a really good look. Around the edge of the OLED screen is a tachymeter and the buttons, which I'll be getting into later. Both the 42mm and 46mm versions have removable straps which, although it is pretty common for a smartwatch to have, work great with MagicWatch 2's ability to let you customize your watch. There is quite a noticeable price difference between the 42mm and 46mm variants and that's because the change is not just limited to the size of the screen. Microphone, a longer range for the Bluetooth connection, and bigger battery life, just to name a few.
The MagicWatch 2 is a really sleek looking smartwatch that is a testament to how Honor has polished their footprints in markets other than just smartphones. On the top, you have a 1.39-inch AMOLED display with nice and thin bezels and a resolution of 454 x 454. Being an AMOLED display, the black color looks really good here and the display is very vibrant. This is further complemented by you being able to change the face of the watch, which I'll talk about later. The two crows on the side don't stick out too much either and let the watch sit comfortably on your wrist when you're wearing it. In between these two crowns is a little speaker that can come in quite handy.
Turning the watch over, you can find the heart-beat sensor that is essential for a fitness-oriented smartwatch. To charge the Honor MagicWatch 2, you must place it on a charging dock that attaches itself magnetically. The two contact points for the magnetic attachment can also be seen at the bottom. The build quality, material strength, and durability are all top-notch with the Honor MagicWatch 2. 316L aerospace-grade stainless steel is used for the metallic casing of this watch. This material is quite lightweight and is free of any corrosion that may otherwise ruin the watch. The 46mm watch weighs about 41g, making it light on your wrist and easy to wear.
Removing the strap of the Honor MagicWatch 2 is quite easy, all you need to do is pull the little pin on the band and you can remove the strap. There's a tiny pin that locks the band with the metal of the watch, keeping the band in place. However, there's also a downside to this. If the pin on the band and the lock on the watch are not perfectly aligned, the pin scratches with the surface of the watch. Over time, this can cause quite a lot of marks and scratches which will be quite annoying to look at. This problem is not found in Apple Watch. And seeing as how Honor MagicWatch 2 brands itself on its ability to be customizable, this pin-lock design is not as well-executed as it should be.
MagicWatch 2 Artist Collection Straps and Customization
I talked about how Honor went a step ahead and released special bands by working together with 4 renowned artists. Jacky Tsai, Giovanni Ozzola, Wang DongLing, and Zhou Li have come together to bring you some really fantastic looking straps to add to your collection. Giovanni Ozzola designed straps are made available to you in a few different artworks. In my hands, I have the Ficus band designed by Giovanni Ozzola. The artwork on these bands is guaranteed to make you look twice towards your Honor MagicWatch 2; once for checking the stats while working out and another to appreciate Giovanni Ozzola's artwork. Ozzola explores different mediums in his artworks and the Ficus band is nothing short of a great piece of art.
These art collection straps are made by Braloba Leather Goods, known for their superior quality leather straps for watches. The Honor MagicWatch 2 straps are made up of leather and fluoroelastomer, making them durable, lightweight. This material selection also adds quite a bit of damage resistance to them. One of the art collection straps by Jacky Tsai is actually 3D-printed with woven fabric in it, giving it a very unique look that does not otherwise meddle with the artwork. These straps are available in different variants and you can choose the ones that appeal to you most. You can even go a step beyond and change the face of the watch using the Huawei Health app. There is a lot to choose from and you can easily find one that goes with how you want your watch to look.
Giovanni Ozzola has captured the leaves in the Ficus strap in different lighting conditions which add a very in-depth feeling to the art on the strap. As these bands are designed by artists known for their phenomenal artworks, so too are the different faces for the Honor MagicWatch 2. Through the Honor Global Watch Face Design Contest, a number of designs were selected as themes for Honor's MagicWatch 2. These faces can be changed and you can add the designs and custom look to your watch that some smartwatches skip out on.
Software and Features
With Honor expanding their horizons, it only makes sense that they adopt an ecosystem of their own as well. The Honor MagicWatch 2 uses Lite OS which has found its way in Honor smartphones as well. On one end, Honor's aggressive approach is to be praised and there are certainly quite a few bits which Lite OS gets right. However, in comparison to Wear OS by Google's smartwatches, Lite OS feels a bit short.
Lite OS lets you attend or make calls using your smartwatch by having it connected to a phone via Bluetooth. Honor MagicWatch 2 alerts you of notifications and etc using vibrations along with sound alerts and screen pop-ups. The strength of the vibration can be adjusted which is quite an understated advantage that MagicWatch 2 holds over some of its competitors. There are a bunch of fitness monitoring modes and apps that are going to be of great benefit to you.
The MagicWatch 2 also supports NFC Touch and Transfer function. With supported phones, you can enable NFC Touch and Transfer on both your smartwatch and phone and hold the phone over your smartwatch to transfer the digital photos from your mobile to your MagicWatch 2.
The activity records show you clean and simple data of all things relevant. In addition to that, there are 15 goal-based fitness modes and 13 running courses that you can choose. MagicWatch 2 also has a stress and sleep monitor in addition to the necessary heart-rate monitor. This watch is water-resistant up to 50 meters for 10 minutes, meaning you can even go swimming with this watch on. The rating for the water-resistance of this watch is 5ATM.
Using Huawei's TruSleep technology, the MagicWatch 2 monitors REM, light, and deep sleep patterns and duration, helping you sleep soundly and peacefully. Along with TruSleep, TruRelax and TruSeen monitor your stress and heart-rates respectively. MagicWatch 2 uses all of these to give you not only highly accurate results but also helps with the 15 different fitness modes and 13 running courses available.
The Honor MagicWatch 2 has a storage capacity of 4 GB whereas 2 GB is available for offline music storage. While there are certainly quite a few things that the Lite OS gets right, there is certainly room for improvement. The notifications displayed are only there for that, display. You cannot reply to them using MagicWatch 2. Media files or even voice notes are not possible with the MagicWatch 2. The microphone is there for only the voice guidance that this watch supports.
Battery Life
Being powered by Huawei's Kirin A1 chipset, we're given one of the most promising aspects of the MagicWatch 2. Of course, the exact numbers are not always going to be accurate because usage time varies in accordance to the usage and settings. However, Honor's claim of 14-day battery life is pretty great.
The Kirin A1 chipset requires less power while processing data at a fast rate, hence prolonging the battery life. Once fully charged, I tried to use my MagicWatch 2 as I normally would and was able to get very close results to the ones based on Honor labs. The battery life is definitely not going to be on your list of worries when looking into the Honor MagicWatch 2. Even with the "Always On" display mode turned on, the battery life did not disappoint.
Conclusion
The Honor MagicWatch 2 is a fitness smartwatch that gets a lot of things right. On one hand, you have the necessary features required from a smartwatch that the MagicWatch 2 quite successfully delivers. And on the other, the different design patterns available to you that are crafted by the minds of innovative and renowned artists is definitely a huge plus. The Ficus band, that I had, definitely took me a little by surprise because I was not expecting it to be that good. There are a few more straps available in the artist collection of the Honor MagicWatch 14 that you definitely are going to like very much.
The OS and software end of the MagicWatch 2 requires a little bit of work and I hope that future firmware updates are going to acknowledge and fix them. A little graphical overhaul and just overall improvements and tweaks are going to go a long way. However, these are minor inconveniences compared to what the MagicWatch 2 gets right. A vibrant display, a 2-week battery life, and a fantastic collection of faces and straps are all at your disposal. The Honor MagicWatch 2 is here to solidify its footprints in the smartwatch market and it has definitely taken a great step.
Honor MagicWatch 2
The Best Versatile Smartwatch
Pros
The art collection straps look absolutely fantastic
14-day battery life
NFC Touch and Transfer
Robust design
Monitor your stress levels along with sleep patterns
Cons
Cannot reply to notifications through the MagicWatch 2
No direct way of controlling songs downloaded off of a streaming service
Pin-lock design for the band is prone to leaving scratches behind on the watch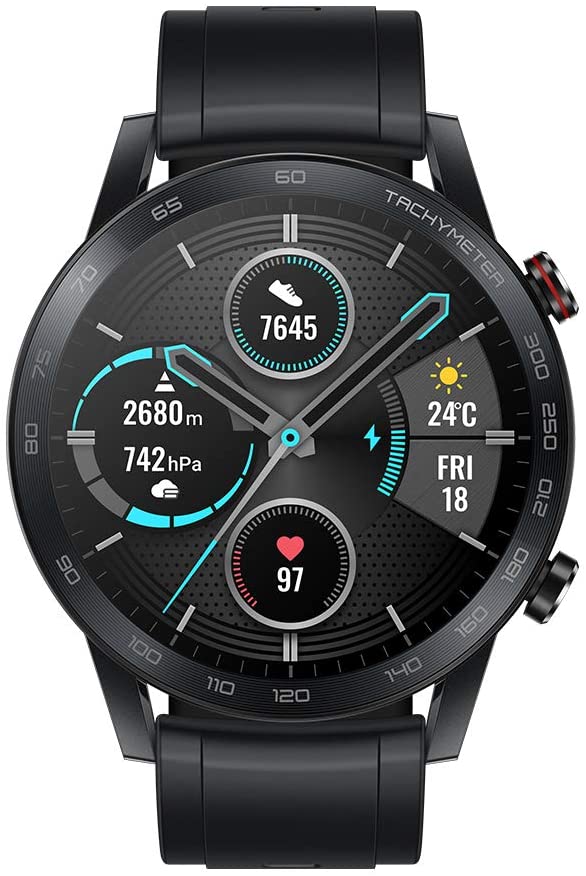 Processor: Kirin A1 chipset | Battery-life: 14-days | Storage: 4 Gb | NFC Touch and Transfer: Yes | Monitors: Heart-rate, Stress, Sleep patterns, Oxygen

VERDICT:Honor MagicWatch 2 is definitely a watch that you should be looking into if you're in the market for a fitness-oriented smartwatch. The MagicWatch 2 leaves some room for improvement but gets plenty of things right which really nail this for a smartwatch at this price. Its long battery life, many different fitness modes, and programs and of course, the art collection straps are just a few promising aspects that you can appreciate quite easily.