Roblox is a huge multiplayer online game creation platform where users can design their own games and also play other games created by other users through Roblox studio. This application is one of its kind and mostly features Lego-like features in itself.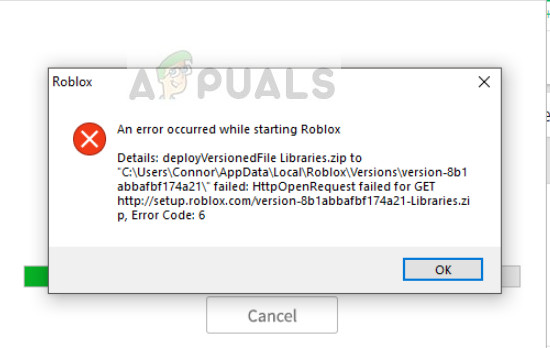 Players using Roblox often experience the error message which states "An error encountered starting Roblox". This prevents them from launching the application and playing the game. This scenario has been here since quite some time with causes ranging from problems in internet connectivity to user permissions.
What causes the error 'An error encountered starting Roblox'?
Since this is an online game, most of the causes of the error are associated with internet connectivity. The reasons why this error occurs are but not limited to:
You do not have an open internet connection. Proxies and VPN's can hamper the connection and force the game not to launch.
You do have sufficient administrator privileges on your Windows account. You should have an elevated status in order to play Roblox without any issues since administrative modules are used while playing.
There is some Antivirus software prohibiting the game from communicating with the server.
Roblox servers are down and not accessible. This happens all the time and Roblox is well known for poop maintenance of servers.
Before you move on, make sure that you are logged in as an administrator on your computer.
Solution 1: Disabling Proxies
Proxy servers are used by organizations to make use of a single external IP to map into several internal ones. This reduces the cost of accumulated various external IPs and this way the internet can be divided in a cost-efficient manner. However, there are several programs including Roblox who do not sit well with this mechanism and fail to launch. Hence we will disable any kind of proxy and try launching Roblox again.
Press Windows + R, type "inetcpl.cpl" in the dialogue box and press Enter to launch Internet settings.
Once the new window pops up, click on Connections tab present at the top and select LAN settings from the bottom.
Now uncheck any type of proxy set on your computer.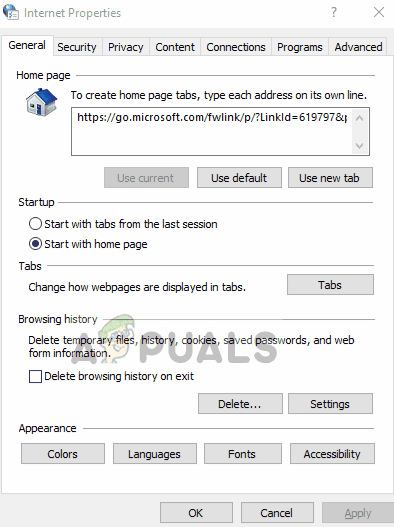 After saving changes, restart your browser and check if you are able to access the platform.
Also, make sure that you have an open internet connection. You can easily check this by accessing the same game from your mobile or another computer. If the problem is with your internet connection, make sure you resolve it first.
Solution 2: Disabling Antivirus Software
There were also many reports which suggested that Antivirus software such as Avast doesn't work well with Roblox. Since the game requires uninterrupted internet access with several administrator modules for operation, the Antivirus software calls in a 'false positive' and blocks the access.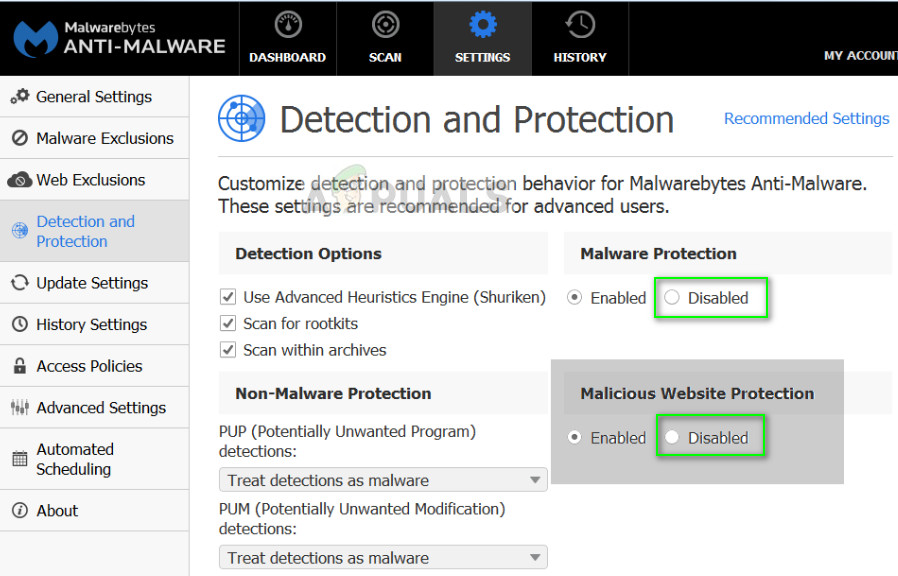 You can try temporarily disabling your Antivirus software and check if this fixes the issue at hand. You can check our detailed article on How to disable Antivirus and perform the steps according to the Antivirus utility installed on your computer.
Solution 3: Adding Roblox to Firewall exceptions
Roblox is also reported by being blocked by Windows Firewall despite the fact the Microsoft has officially launched the game on their store. This usually happens if a new Windows update rolls out along with the security update. We can try adding an exception to your Firewall and see if this makes any difference.
Press Windows + S, type Firewall in the dialogue box and open the application.
Once in the firewall settings, click on Firewall & network protection from the left side and click Allow an app through firewall.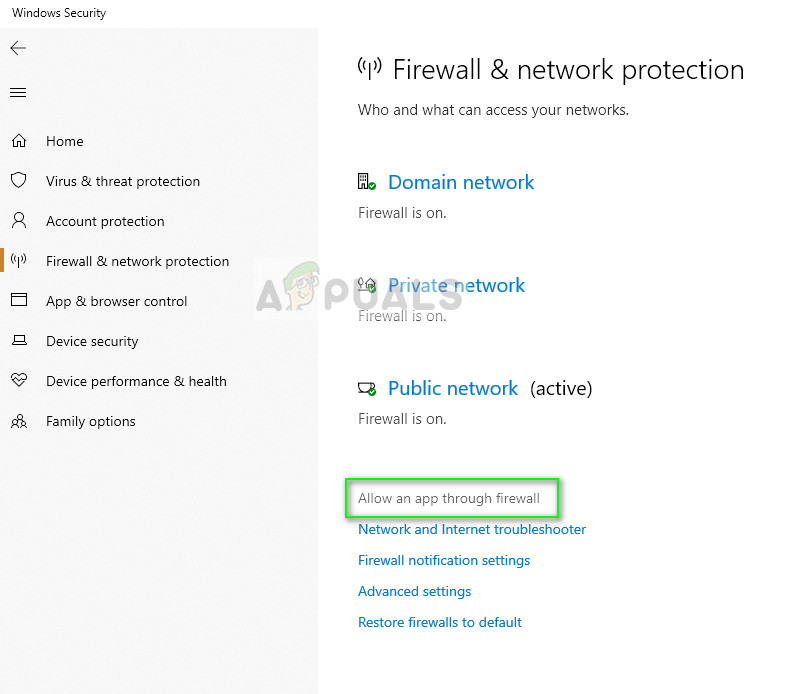 Now click on Change and then check the browser and the game in both public and private networks. This will make sure that they are whitelisted.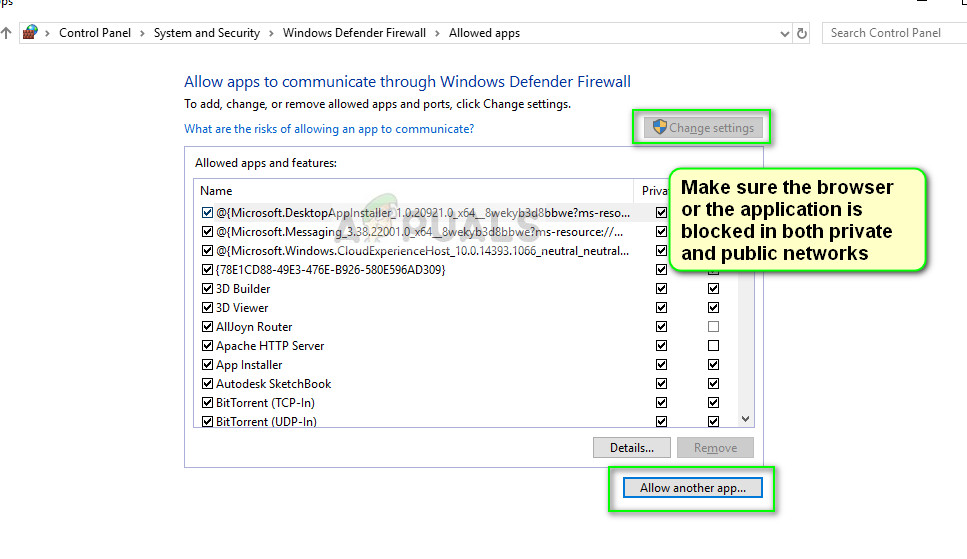 If you are using the Windows application for playing the game, you can select Allow another app and then navigate to the installation directory of Roblox. This will whitelist the application.
In addition to the above solutions, you can also try the following fixes:
Try a different browser. If you are using a single browser to play the game, try a different one and see if it launches there. If it does, it is a sign that you need to clear all cookies, cache, and temporary data from your browser.
You can try to reset your router. Sometimes routers get stuck in wrong configurations and resetting them might grant you a new IP and fix the issue.
You can try running the game in compatibility mode. You can set the compatibility for Windows 8 or 7.
If you are using the Windows application, it is wise to reinstall the game. You can uninstall it (Windows + R and appwiz.cpl), remove all temporary files, and after downloading the latest version, install the game again.
Also, consider power cycling your computer and router both. Turn them off and take out their main power supply. Let them sit for around 5 minutes before starting them again.