Best Capture Cards for Streaming
The gaming market has been booming for some time now. In our current era, it is not just about playing the game itself any more, rather the roots are now expanding to sharing the experience. More and more people are looking to test the fruits of this by generating content to share with other people. The concept of streaming has become such an integral part of gaming that the success of a fresh game is measured by the number of people watching content related to it.
With the rise of this, increasingly more people are getting into streaming and/or creating videos related to games. However with a market this wide, how is one to make their mark in the gaming world? By using dedicated capture cards that will seamlessly allow streaming in high resolution and separate them from the rest of the pack.
In this list, we will take a look at the best and the finest capture cards available. The selection of a dedicated card means having to weigh the pros and cons of various factors. So, let us do our part in helping you make your choice for the capture card that will help pave the way in the content creation and streaming sector.
Elgato is a seasoned company with a well-established foundation in the capture card genre and for good reason. Their cards are well structured, easy to set up and use and offer the best performance for the price. The market and demand for the 4K experience are not going to stop anytime soon. With streaming and capturing in 4K becoming more and more popular, Elgato took a jab at it with their 4K60 Pro.
At first glance, it is evident that the design department did their jobs very well, with texture patterns on the exterior. However, underneath the sleekly designed exterior is contained a beast capable of insane capturing power. The 4K60 Pro is the only card capable of capturing 4K footage at 60FPS at up to 145Mbps. This is arguably the best in the market right now and is the safest bet for future-proofing your rig in all its entirety. Recording footage with a quota this high would mean an enormous storage space to be dedicated to the videos however that is also not a problem. Thanks to Elgato, their software has an encoder in it that does the encoding for you while recording, and thus effectively reduces space.
The design of this card can be a bit deceiving, as people have assumed that the cover is also acting as a heatsink. However, it was seen that there really wasn't any need for a heatsink as temperatures were within the expected range, provided the card is exposed to proper ventilation. In terms of performance, the card performed exceptionally well and did exactly what Elgato claimed. 4K footage was captured easily at 60FPS with no issues on the playback either. It has a PCI-E 4x interface and, for minimal lag and latency, using the HDMI pass-through is advised. However, it is important to note that there aren't a lot of games for consoles that support 4K at 60 FPS so keeping that in consideration is important.
To sum it up, the Elgato 4K60 Pro is, no doubt, an insanely efficient product served to ease game capturing. And for what it offers and does, the price tag is very right justified. But with all that, comes the price of expensive hardware to house it. A GPU of GeForce GTX 10 series and a Core i7 CPU is recommended if you want to harness this card's full capabilities. Moreover, an important point to consider is whether or not your ISP supports 4K streaming. The card is the best choice for 4K footage capturing but maybe not the best one for the average folk.
2. Elgato Game Capture HD60s Pro
Pros
Internally capture sound
Option to automatically export to MP4 for easier editing
Instant Gameview with USB 3.0
Cons
Boot time is increased
Software bottlenecks editing options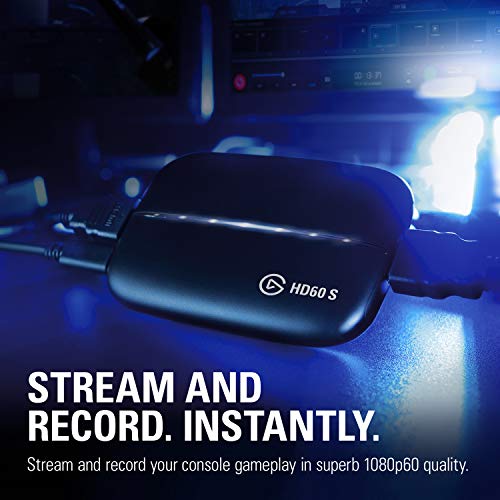 Frames: 60 | Compatible with: PC, MAC, Xbox One and PS4 | Resolution: 1080p
Coming in as second is another one of Elgato's products, the Game Capture HD60s Pro. Although not capable of supporting 4K, this bad boy still has quite a lot to offer for the seasonal recorders.
The Game Capture HD60s offers a range of features right out of the box. The design is a little box-like shape with rounded edges with very sturdy and strong plastic being used. Unlike the previous one in our list by Elgato, this card is an external card without the PCI-E 4x interface to plug it in. Instead, Elgato has used USB 3.0 which obviously is not as fast as the internal PCI-E 4x but it still is more than enough to do the job. Moreover, since this is a plug-and-play card, it can virtually be used anywhere and is compatible with consoles as well as MAC.
In this small and compact-sized card, Elgato has added in the ability to record at 1080p with 60 FPS at a rate of up to 40Mbps. Not bad as far as plug-and-play cards go. This is the ideal game footage capturing card which makes streaming on the fly, a walk in the park. It not only has built-in streaming capabilities for various platforms but also has an internal sound card. This will save you a lot of time and trouble as there is no need to manually add the voice in the recordings later on. Another neat feature that comes with this card is the ability to create a "master copy". What that means is that you can stream at 1080p at a lower bitrate and make another copy for further editing at a higher bitrate.
The HD60S by Elgato is an excellent addition to the portable capture cards. It does exactly what it promises and does it well. A couple of compromises had to be made since it is an external capture card but they are not enough to cause any major performance drawbacks. Although the software Elgato provides with this is not the ideal one, it can still fulfill the essential and basic requirements.
3. AverMedia Live Gamer Portable 2 Plus
Pros
Video pass-through is exceptional
Laptop friendly
Minimal latency while streaming and recording
Cons
Noise with Xbox elite controller
Video tearing with AverMedia's software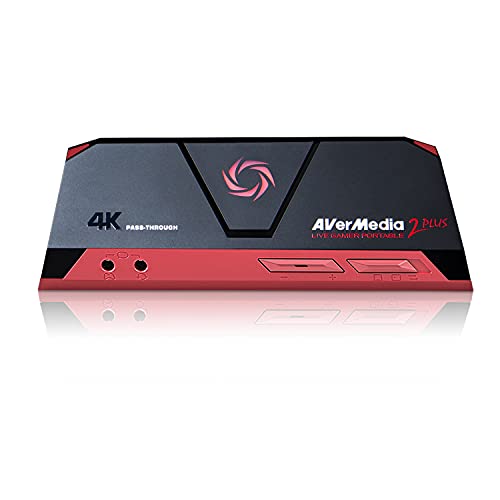 Frames: 60 | Compatible with: PC, MAC, Xbox (360 and One),PlayStation (3 and 4) | Resolution: 1080p
Where capture cards by other vendors would require you to have a PC attached, AverMedia swoops in to save the day. Their addition to the capture cards requires no PC for it to do its job. This is almost a necessity for the content creators who go to conventions like E3 to capture game footage in real-time.
The Live Gamer Portable 2 Plus by AverMedia is a triangular-shaped low-weight card with an internal processor since it is an external card. The software, RECentral 3, that it deploys with allows you to stream and capture footage simultaneously. It can not record footage in 4K resolution however it does allow pass-through at that resolution. You have the ability to record at 1080p directly to your PC or the micro SD card. The ability to save at an external storage device is probably what makes the Portable 2 Plus stand out so much. Moreover, at the front, you will see a slider that will allow you to copy the footage to either the card or the PC directly. This allows for on the fly switching between the two modes.
Another additional option with this card includes the ability to capture voice chats as well. This may not seem much at first however having this along goes a long way and saves much more time while editing. There are some flaws as well that are sometimes quite challenging to work around. People have often reported having FPS drops while recording and therefore, it does not record at full 60FPS at times. However, AverMedia has released firmware and software updates to address that which seems to have improved this significantly.
The Portable 2 Plus is a very loved and adored sound card option with good reviews. Some top-of-the-shelf features have been omitted but this is still worthy and effective enough to have secured the third spot in our list.
At this point, it should come as no surprise to anyone fairly involved in the gaming market to see that Razer is on our list. After all, it is not in Razer's motto to not cut anything gaming-related. Like their other products, this does not come cheap however it still has some unique features which should make people think second about not buying this.
The Ripsaw itself is a small, external hard drive-shaped box with matte black finishing. At the front is an LED that glows green when Ripsaw is ready to go. It supports USB 3.0 and can capture videos at 1080p at 60FPS. Moreover, the leading software like OBS and XSplit is compatible with Ripsaw and recognizes it instantly.
But the hard selling point of this product isn't all this, it's the ability to be able to get hooked up with older consoles. Occasionally, gamers want to relive the legacy games all over again. But capturing footage with that can be a drag. However, Ripsaw has audio-in ports and video capture ports for the old school devices. The secondary audio-in means that a respectable sound card is built in this which provides crisp audio for live streaming commentary. The Razer Ripsaw is an easy contender for almost any casual gamer out there who's looking to stream in peace.
5. Roxio Game Capture HD Pro
Pros
Plethora of editing and transition options in the software
Does not drop frames despite constant usage
Cons
Deploys USB 2.0
Only a USB cable is supplied in the box
Only compatible with Windows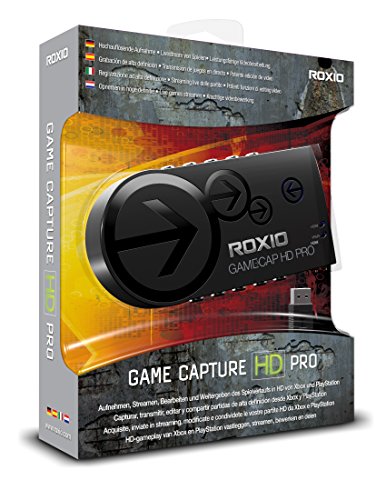 Frames: 60 and 30 | Compatible with: PC, Xbox (360 and One),PlayStation (3 and 4) | Resolution: 1080p and 1080i
It wouldn't be fair to not entertain the requests and demands of the more average and quick solution-looking audience. For the 5th spot, we have Roxio's Game Capture HD Pro. The name might not hold anything special in it but this capture card still does the job quite well and is one of the best budget cards out there. Not only that, it is one of the best capture cards in general for beginners looking to join in on the content market.
This card has a rather obsolete design as compared to what the higher-end cards are offering. However, underneath the shell is quite a powerful card for the newbies. It uses USB 2.0 for both recording and power purposes. This can raise the question of performance but, this being more on the lost cost of the spectrum of prices, should not be a major problem. It is capable of recording at 1080p at 30FPS and 1080i at 60FPS, which is quite pleasing given its low price tag.
There are standard cables for audio and video but it cannot entertain the older generation consoles which, quite frankly, feels like a shot Roxio should have taken. However, the included software works marvelously, providing several editing options for the users. Add that to the microphone support and the ability to encode and export the videos in various formats, and you've got yourself extremely well software for beginners to work with.
All in all, Roxio Game Capture HD Pro is a great underdog and entry-level capture card. It allows for streaming and recording simultaneously, albeit not at the same level as the other cards in this list. However, for the cheap price that it has, it is definitely a recommended card for people who are just starting their content generation career.