Pioneer VSX-1130-K 7.2-Channel AV Receiver Review
You get yourself a home theatre system but it just isn't the way that you had hoped it would be and you begin to wonder what is missing? After pondering through and through and being struck by this dilemma, you arrive at a conclusion that an AV receiver is what you need. Whether its to amplify your existing media that you stream or to add the final touch to your home theatre's missing piece of the puzzle, an AV receiver pretty much works as the bridging element here.
Pioneer VSX-1130-K AV Receiver
Best 7.2 Channel Budget Amplifier
Pros
Built-in Bluetooth and Wi-Fi
7 HDMI inputs and 2 outputs
HDCP 2.2 copy protection compliant
Equipped to handle 4K UHD video
Cons
Over-complicated remote control
Doesn't support DTS:X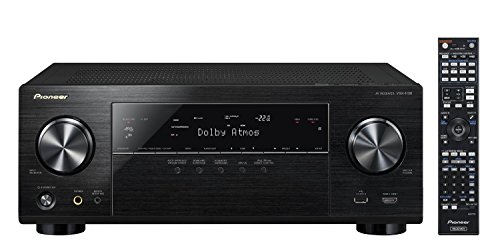 HDMI Ports: 7 Ins/ 2 Outs | Maximum Video Support: 4K/60Hz | Networking: WiFi and Bluetooth

VERDICT:Pioneer VSX-1130-K is the king of the hill under the $600 range. It only works to impress and packs nothing less than a fully loaded home theatre solution that you would come to expect when you invest in it.
Pioneer would probably be the first name to come to your mind when you think about audio and video gadgets as it stands out as a prominent player in the market and has a diverse range of solutions for every type of audio or video that you can come across.
The VSX-1130-K is the successor of its last year model the 1124, it takes on the high road as an improvement by adding on some HDMI ports instead of the previous analogs to make room for the future. Let's face it that HDMI is the way forward in terms of audio and video as the era of AV composites is long gone. Now to get you well acquainted with the situation, we have jotted down all the facts and figures that you should know about below:
Design
The design features a dark grey and black chassis with two silver knobs upfront on each side and rocks a screen which is adequate in terms of the display dimensions. It is definitely a worthy improvement as compared to its predecessor, the 1124, the analog inputs might have been compromised but you get the additional HDMI inputs to compensate for the negligible difference.
The front also hosts 1x HDMI input, 1x USB terminal along with an MCACC mic and 1x Phone out for iPods and Phones. Rest assured there have been no compromises on the build quality or the performance of the unit as it is packed up to the neck with features.
It weights at a significant 21.6lbs but that's something to take into consideration as the solid and gripping materials that are at play here would definitely take up their space.
On the rear end of the receiver, you are greeted by a plethora of ports that would pretty much cater to every entertainment need you can think of starting from 6x HDMI Ins (5x Assignable, 1x HDMI/MHL), 2x HDMI Out (1x Main, 1x HDZONE), 1x Ethernet, 2x AV Composite, 1x Digital Coaxial and Optical each, 2x Subwoofer pre-out and Speaker 9 Channel out (Front, Center, Surround).
The list is not over yet as these are the captivating grounds that we have covered otherwise there is a lot of untapped power in this receiver that will unfold as you begin to experiment with the available features. The design of the receiver is elegant along with the muscle that it boasts under its hood.
Specifications
VSX-1130-K is the flagship receiver in the pioneer line to satisfy even the most demanding home theatre enthusiasts. It has 100 watts by 7 channels providing a superior audio and video performance along with the latest features like built-in Wi-Fi and Bluetooth, HDCP 2.2 Copy protection for 4K Sources, Dolby Atmos, MCACC pro room calibration, hi-resolution audio playback, and simple setup and control make this feature-packed receiver stand out and formulate a league of its own.
It includes the latest technology such as Dolby Atmos, Dolby Atmos is a revolution in surround sound technology. Now you would have the ability to play sound anywhere in the room, even above you. The 7 channels and the subwoofer outputs, the VSX-1130 can support either 5.1.2 or 5.2.2 Dolby Atmos configurations.
While movies encoded in Dolby Atmos provide the best surround experience, Dolby hasn't forgotten all the TV show and movies available that are not encoded with Atmos. The VSX-1130 also has Dolby Surround technology which will utilize the height speakers in an Atmos system from all content that is not encoded with Dolby Atmos, creating an Atmos surround experience with your current audio and video library.
MCACC pro automatically recognizes your Dolby Atmos-enabled system, calibrating the overall speaker effects as well as room layout, giving your home theatre complete sound experience and not letting you worry about the ambiance for a change.
For users who value sound quality, it utilizes Sabre 24 digital to analog converters to make sure all of your hi-resolution content from Blu-ray, CD, AIFF, Apple Lossless, FLAC, DSD, and WAV stays turbulence-free and clear. All these supported formats also would have their bandwidth limitations but as far as the majority is concerned, they would definitely suffice for everyday power runs.
With great audio, great video and multiroom capabilities as well as being very easy to set up and operate all combined in the VSX-1130 to make it look like an ideal choice for any home theatre enthusiast.
Features
It encompasses a discrete direct energy amplification type which delivers a smoother and rich audio experience along with a 7.2 channel and Dolby Atmos. This is coupled with auto surround, advanced surround and headphone surround capabilities to make this worth your time and money. Another minimal yet useful feature would be the inclusion of dialogue enhancement and digital noise reduction that surely does the trick while streaming your favorite TV shows.
In the video segment, you receive a 4K Ultra-HD Passthrough with a video scaler and it is 3D ready out of the box. The HDMI inputs and MHL capabilities are also worth a mention as they pave the way for you to stream your content seamlessly from your 4K TV box or your phone even.
Most of us stream movies, music, and TV from our phones, streaming devices and gaming systems, the VSX-1130 has a feature unique to Pioneer called Advanced Sound Retriever we can look at an audio signal and determine how much compression it has and imply an appropriate amount of processing to greatly improve its sound quality.
Another benefit of advanced sound retriever is that it's not just on two-channel audios but multichannel as well. The VSX-1130 has 6 HDMI inputs and 2 outputs that can pass the highest quality ultra HD 4K video to your 4K TV. It was designed to be the center of a whole home entertainment system besides providing a fantastic experience in your main room, it can also supply entertainment to another room. The secondary zone or the HD zone is for both audio and video utilizing the second HDMI output.
There is a 6×2 HDMI matrix in the VSX-1130 so you can watch one source in the main room and a completely different source in the second or HD Zone. You can even assign internal amplifiers to follow the HD zone in case you want to power a pair of speakers in that room. The HD Zone not only plays HDMI sources but can also play any source from the network or USB as well.
New features help setting up your network AV receiver easier. Download or startup the AV App from your phone or tablet and follow the simple instructions. The app will copy network settings directly from your phone to the receiver. There is no need to enter names or passwords.
Functionality
The remote is a bit of a messy situation here as the small tacky buttons might be a there to just overcomplicate things for an average user unless you're a power user who's always in need of pretty much every button on the remote which is less likely to happen. However, to even out the odds so that you don't miss out on any of the experience while trying to fiddle with the tricky remote, you get free to download proprietary app available for iOS and Android.
Once connected to the network, you can use the app to complete the entire setup for the home theatre system. The app will lead you to step by step with easy to follow instructions, pictures, and illustrations on all of your connected devices as well as leading you through the MCACC calibration process.
Once you have connected to your network, download Pioneer's free iControl AV5 app to your phone or tablet. Now you can easily control your receiver with this easy to use icon-based remote control in the palm of your hand.
The screen on the panel of the receiver itself also hosts an icon-based GUI as this is an attempt to make it more intuitive and responsive for the user as the previous days of drop-down menus and hours of messing with the remote to get the settings just right have been exterminated.
Verdict
Pioneer VSX-1130-K was built to withstand anything that you can throw at it as a consumer. The variety of media that it is capable to handle along with the convenient management simply make it a must-have for those picky audiophiles and cinema enthusiasts.
It can take on 4K UHD video support with Dolby Atmos, 7.2 channel surround sound system and can function with two separate sources simultaneously with its HDZone feature. This allows you to stream Netflix on one location and maybe tune in to the TV show that you are fond of the most in the next room.
It also comes backed up with a 1-year part and labor warranty from Pioneer. With a gadget this powerful such as this at your disposal, the possibilities just evolve to being limitless. If you want the absolute best in this price then this absolutely a go-to AV receiver.
Price at the time of review: $600
Pioneer VSX-1130-K 7.2-Channel AV Receiver