Google Just Made It Easier to Opt Out of Ad Tracking! Try This and Increase Your Privacy!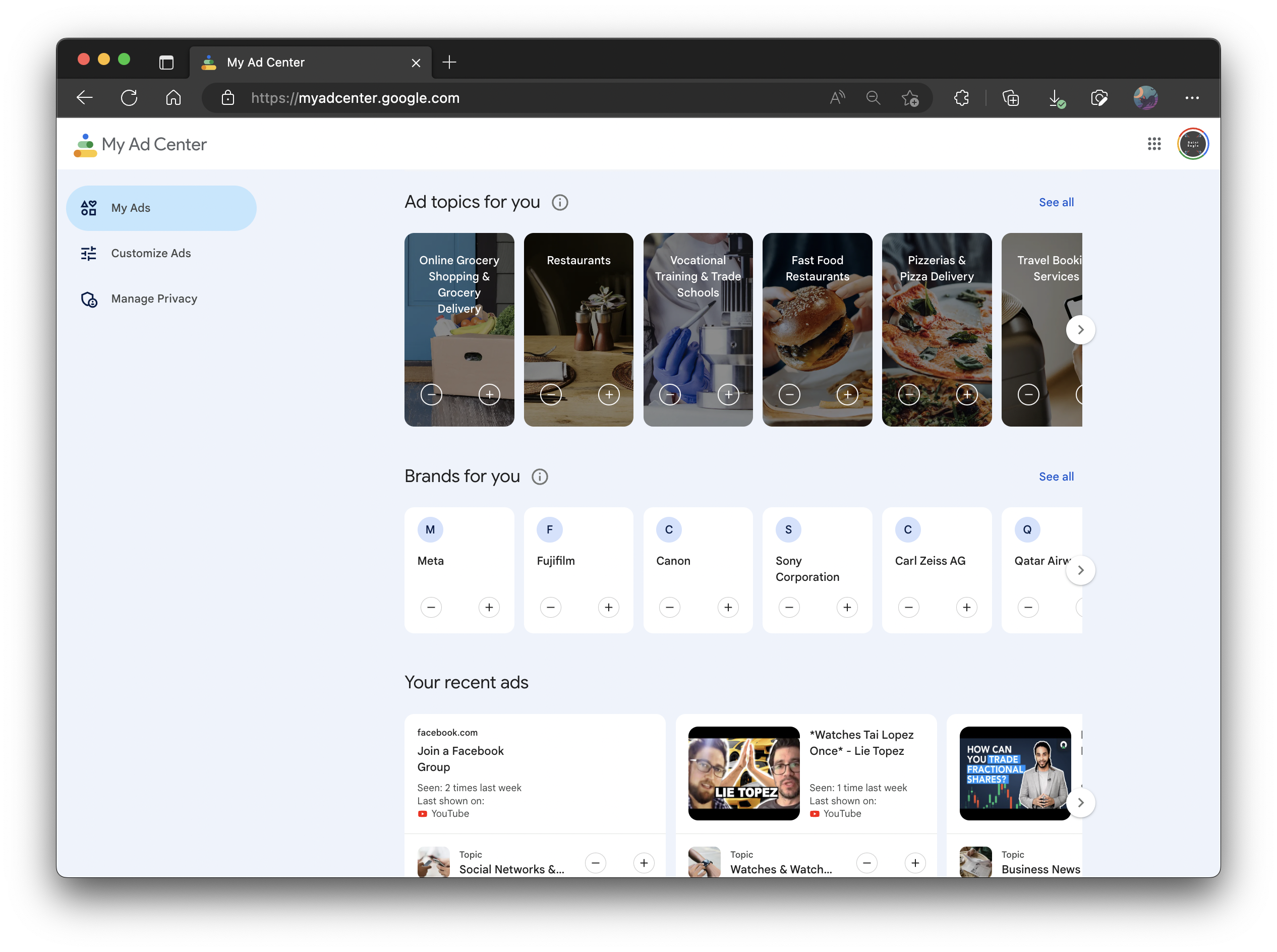 Internet marketing doesn't have to be complicated or out of your hands. You should be able to control the advertisements you see whenever you use the internet, whether you're checking out how-to videos on YouTube or searching for new recipes on Search.
To give you more say over the advertising you see across Google services like Search, YouTube, and Discover, they recently launched a global rollout of My Ad Center. You can disable advertising that might offend you and access details about the data used to customize your ad experience.
Google's My Ad Center: What is it all about?
With the new "My Ad Center," the ultimate goal is to make it even easier for you to control the ads you see. If you don't want to see "Personalized ads," you can disable them easily from the top right corner of the My Ad Center Hub, which has a sleek new Google look.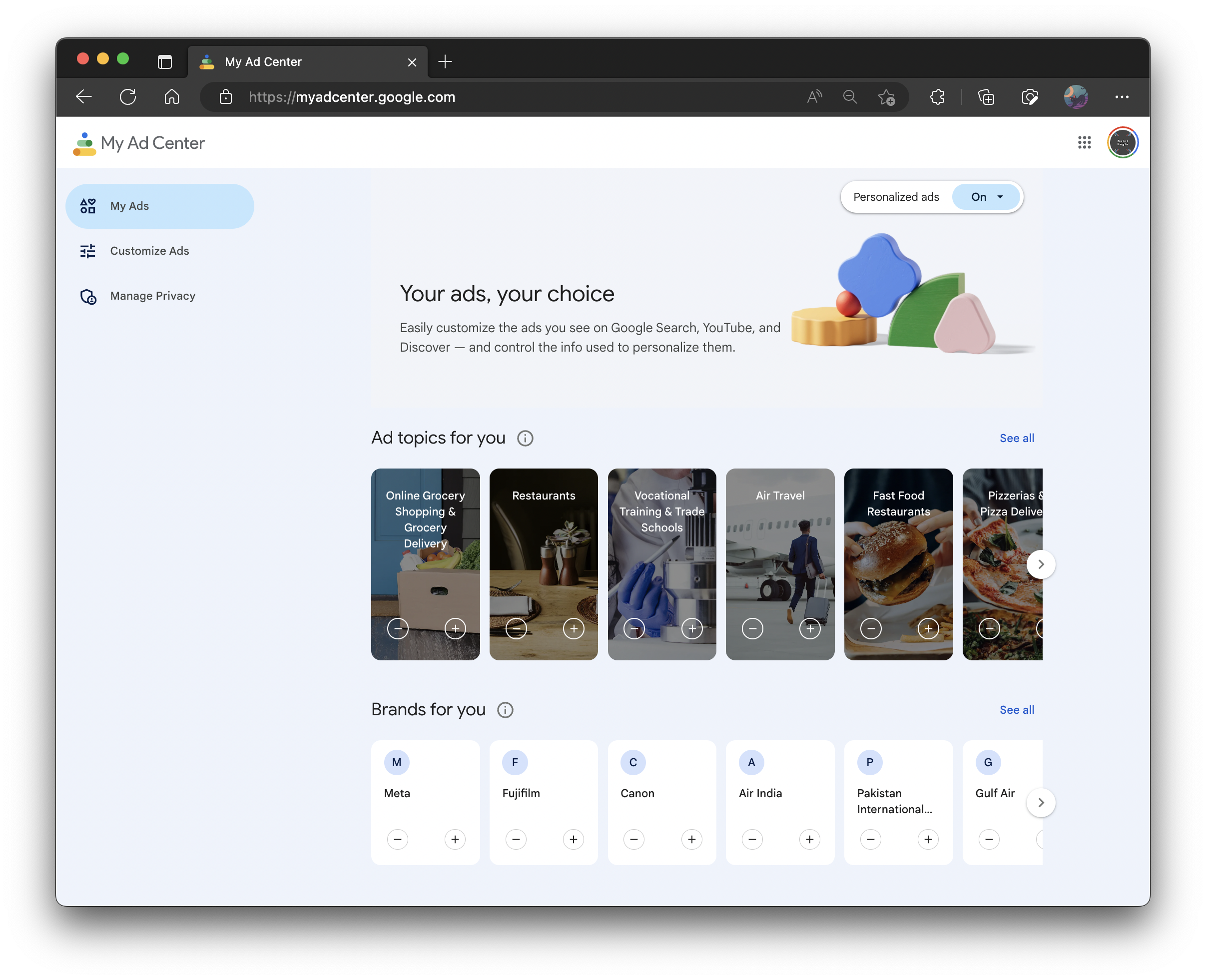 Each topic is represented by a card (accompanying cover art) with a plus and minus sign to indicate how much or how little you would want to see ads stuff about it. The likelihood of seeing them while logged into any of those three Google products is affected by the plus/minus symbol.
If you're in the market for a hybrid, you can see fewer advertisements for hybrid cars, while someone who has already bought a tablet as a present can see fewer advertisements for tablets. The third and final option contains a list of "Sensitive" themes that can be restricted, while the second tab allows you to do the same for specific brands.
You can also access a carousel of recently seen advertisements by going to the "My Ads" section in My Ad Center. In "Manage Privacy," you can select which information can be utilized to personalize the ads you see on Google, which includes adding, editing, and disabling census information such as age, relationship status, and education.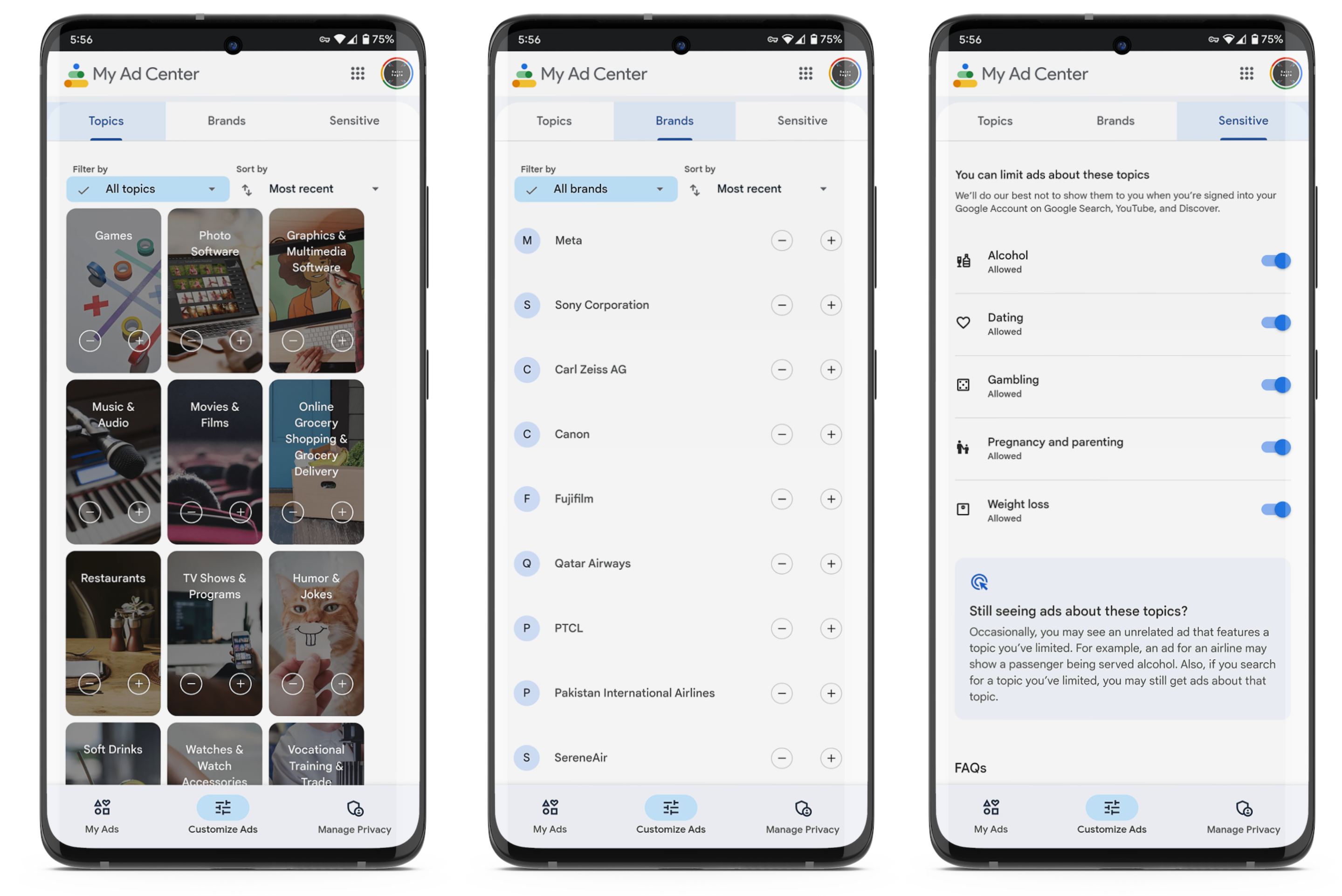 More Ads Personalization
All personalization of advertising can be disabled if desired. This setting is conveniently located in the middle of My Ad Center, making it easy to access. You will still see advertisements even if you opt out of personalized ones, but they may not be as interesting or helpful. If you are using a Google Account, this will affect all of your Google-connected services.
It's possible that you'd rather not interact with ads that deal with a particular subject. The My Ad Center allows you to filter off advertisements on topics like drinking, dating, weight loss, gambling, having children, and more. You can see this in action in the screenshots attached above (third one in particular).
Expanded controls within ads
While it's great to have access to My Ad Center, the truth is that sometimes users want to make adjustments the second they see an ad. The improved ad customization options are great news for those people.
Users of Google's ad platform can adjust and gain information on targeting without leaving the ad itself. Users will have the ability to like, block, or report ads, and they will also be able to adjust the targeting to see more or less of a particular brand or topic.
Yet, the most significant shift may be the addition of transparency tools within the ad controls. The "About this Ad" section will no longer exist, but new transparency features will explain to users why they are seeing the ad and what actions they may take to prevent it.
Increased transparency capabilities will reveal the account categories utilized to display the ad and the advertiser who paid for it (through Advertiser Identity Verification).
In the past, readers could view "Why this ad?" details that detailed the basis for the advertisement's selection. However, this unprecedented and crucial transparency on the ad's financial backers is a game changer.
How it works
Clicking the option (three dots) next to an ad format in My Ad Center will cause it to be shown to the user less frequently. According to Google's samples, users can select to see advertising for items like footwear on sale or presents for friends and family around the holidays.
Users have the option to disable ad personalization entirely. Ads will still be shown to anyone who opts out of Google's personalization services, but Google warns that they may be less relevant and helpful.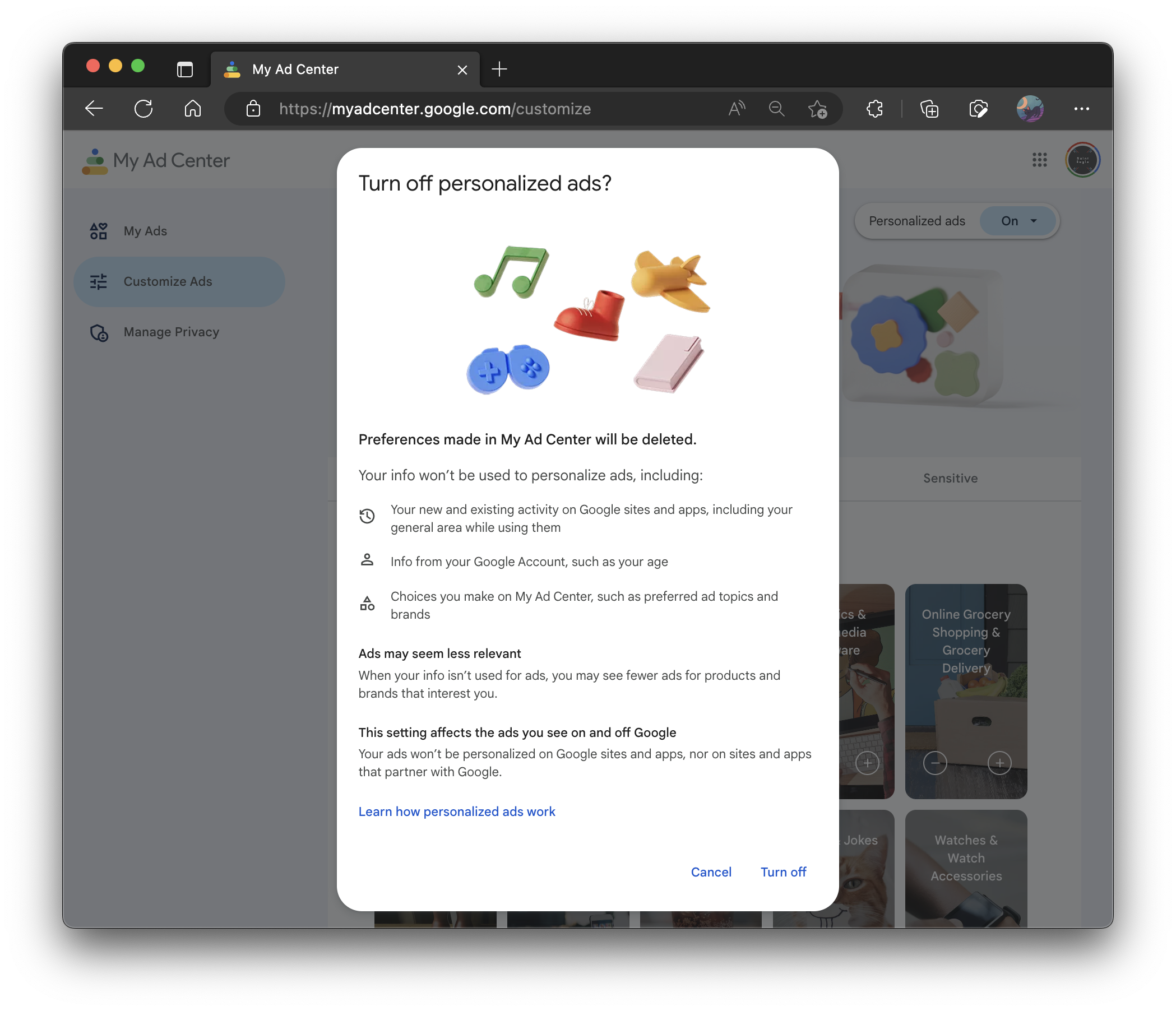 More privacy controls
The updated My Ad Center gives you more say over what data Google collects and how it's used. You have some control over how Google uses your data to serve to advertise.
If you've had YouTube History switched on in the past, it has been utilized to customize ads to your preferences. You may now disable your YouTube viewing history for ad personalization in My Ad Center, which will not affect the relevance of the suggestions you see in your feed.
Where can you control your ads?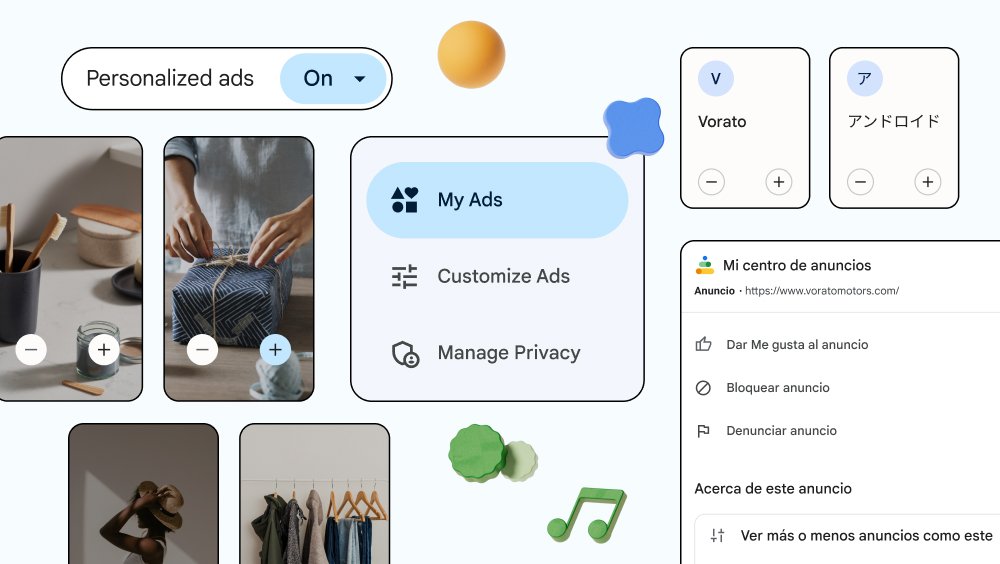 You can manage the ads you see using tools like My Ad Center and About this Ad. You can do a lot with ads on Google's services, including YouTube and Search, and on sites that work with Google to show ads, like blocking them, reporting them, finding out who paid for them, and more.
My Ad Center on ads
The ads you see on Google sites such as Search and YouTube will take you directly to your personal My Ad Center dashboard. You can do the following in the My Ad Center:
Block an ad
Report an ad
Like an ad
Personalize the ads you will see
Get to know this advertiser better
Look at the data that went into serving you that ad.
Block an ad
You can prevent seeing adverts you don't want to see by using My Ad Center and About this Ad. If you block an ad, it will be removed from all Google services and partner sites where you are logged in for as long as possible.
On Google
If you want to avoid seeing an ad while using a Google service (like Search or YouTube), do the following:
Click "More" on the ad
Select Block ad.
Report an ad
Google places a high premium on ensuring that advertising is user-friendly, yet malicious ones occasionally slip through the cracks. Google allows users to report ads that break the company's advertising guidelines.
To report an ad:
If you see an ad on a Google service, click the "More" button. If you're seeing Google advertising on partner sites or applications, you may dismiss them by tapping the "X" in the upper-right corner of the ad. So why is this advertisement being shown?
Select Report ad.
On the "Report an ad" screen, choose An ad violates additional Google Ads policies.
You must complete the form.
Do not change any pre-filled fields on the form.
Please elaborate on why you believe this advertisement contravenes our policies if asked.
For instance, if you suspect an ad is phishing, you should identify the website the ad purports to come from.
Select Submit.
Final Thoughts
Your ability to customize your ad experience and restrict ads related to sensitive themes does not have the same effect on the overall volume and content of the ads you encounter. When you adjust your ad settings, you tell Google about your choices, and we do our best to provide you with advertisements that fit your preferences.
Advertising related to the brand or issue you asked to see less of may still appear, but you should start seeing ads for other companies or topics more frequently.