Intel Unveils 13th Gen CPUs: Core i9-13900K, i7-13700K, i5-13600K & More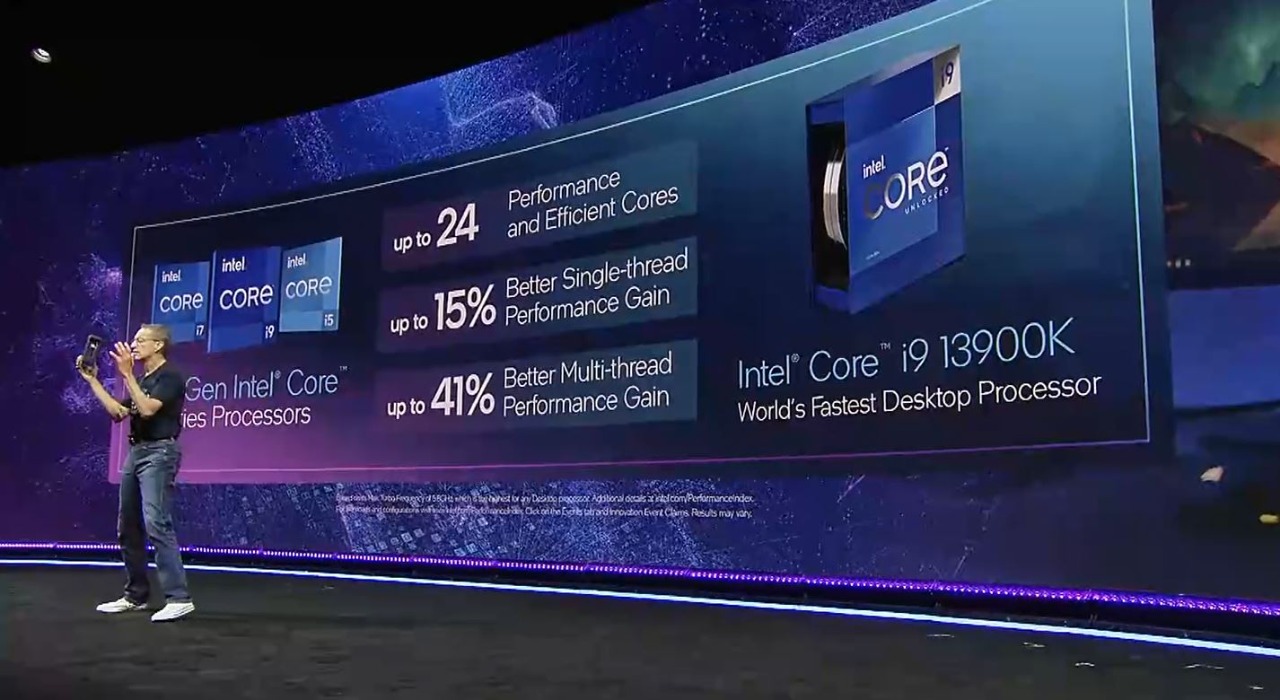 Intel has just unveiled its 13th Gen 'Raptor Lake' CPUs during the Intel Innovation Event. Buckle up because Chipzilla's latest silicon promises insane performance gains as compared to last-gen. We have the specs for Intel's top-notch unlockable K-series CPUs as those are the only ones that were formally revealed. Let us give you an overview of what to expect from Raptor Lake.
13th Gen 'Raptor Lake'
Intel's 13th Gen CPUs are powered by 2x more efficient cores as compared to Alder Lake. The performance (P-cores) utilize the new Raptor Cove architecture. Whereas, the Efficient (E-cores) make use of the old Gracemont architecture.
Raptor Lake is still fabricated on the 'Intel 7' (10nm) process node, however, that's not the key element of this generation. Architecturally speaking, Team Blue has essentially doubled the L2 cache per each E-core cluster. If we compare the flagships from each generation, the 13900K is packed with ~55% more cache than the 12900K. Similarly, the max core/thread count is now lifted to 24 cores / 32 threads.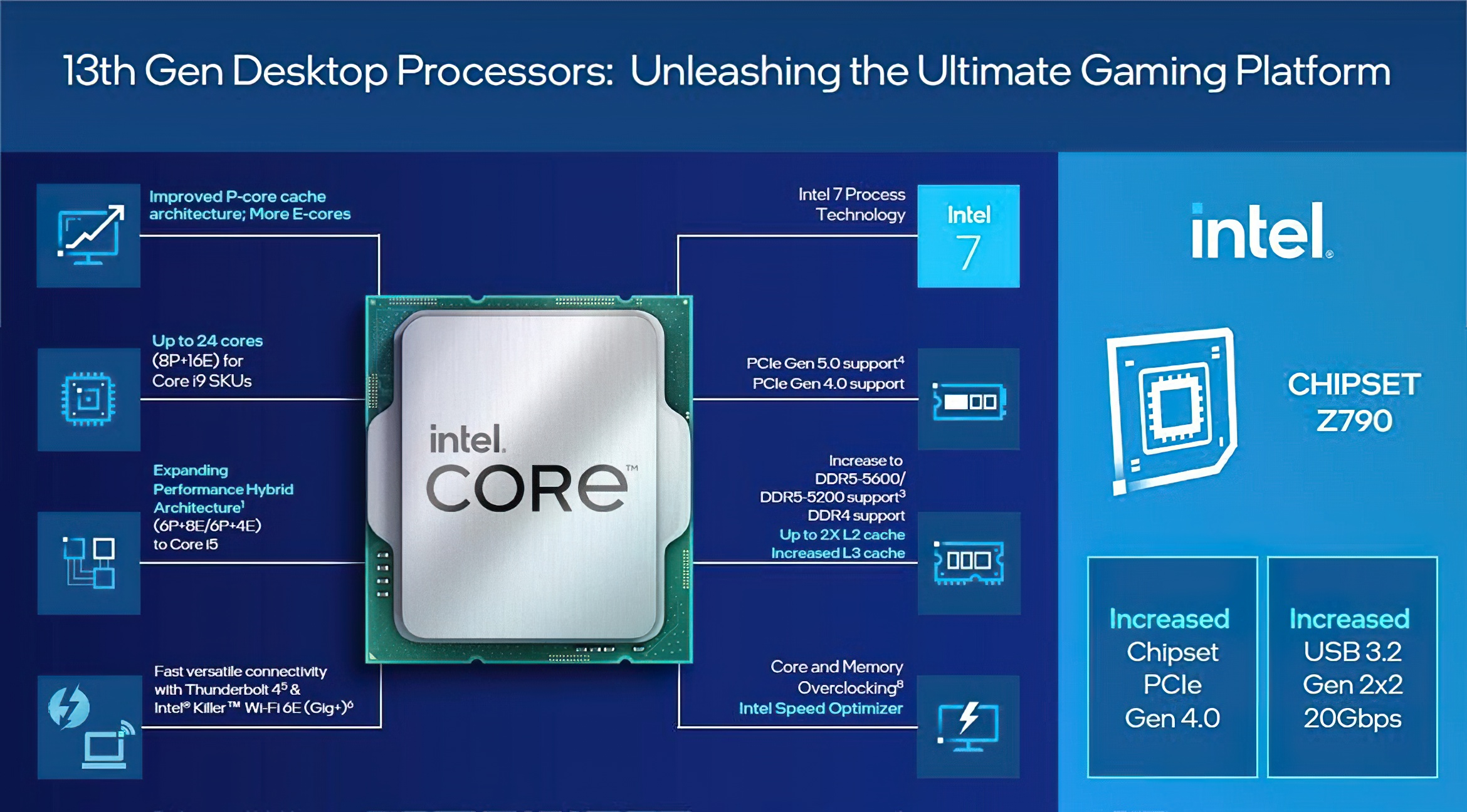 Raptor Lake doubles down on Intel's next-gen approach providing up to 16 PCIe Gen 5.0 lanes to the CPU. The best part about this generation is that, Raptor Lake is supported on last-gen's 600-series motherboards. DDR5 RAM is a necessity with AMD's Zen4, however, Intel still continues to provide support for DDR4 memory. As for those with a DDR5 kit, Raptor lake supports DDR5-5600 RAM which is 800MT/s faster than last gen.
The Raptor Lake Lineup
As is tradition, Intel only announced the K and, subsequently, the KF CPUs during this event. The budget oriented F and non-K models are set to follow in the upcoming months, possibly planned for the CES 2023. This gives us a total of 6 SKUs to share with you today. Do note that the only difference between the K and the KF variants is that the KF series lacks an iGPU. All that being said, here they are:
i9-13900K/KF
i7-13700K/KF
i5-13600K/KF
Meet the new king
Starting off, we have the Intel Core i9-13900K. This CPU is powered by 24 (8P + 16E) cores and 32 threads. Out of the box, you can experience a base frequency of 3.0GHz and 2.2GHz across the performance and efficient cores, respectively. Fear not, for these numbers can boost up to a whopping 5.4GHz (P-Cores) and 4.3GHz (E-Cores).
If you have a capable enough motherboard, Intel's Thermal Velocity Boost can pump up the clocks to an insanely fast 5.8GHz across a single Performance core on the 13900K. That is 10% higher than the i9-12900K. Intel's Thermal Velocity Boost is exclusive to the i9-12900KS and the i9-13900K.
Enough with the clocks, let's move on to the cache department. Here, we see that the 13900K is fueled by 32MB of L2 Cache (2.2x more than the 12900K) and 36MB of L3 Cache (1.2x more than the 12900K). This amounts up to a total of 68MB of cache which is slightly lower than AMD's Ryzen 9 7950X (80MB). All this power, comes in at the same TDP of 125W (Max Turbo Power of 253W).
All yours, starting from the 20th of October for $589. The iGPU-less KF variant will cost you $25 less coming in at $564.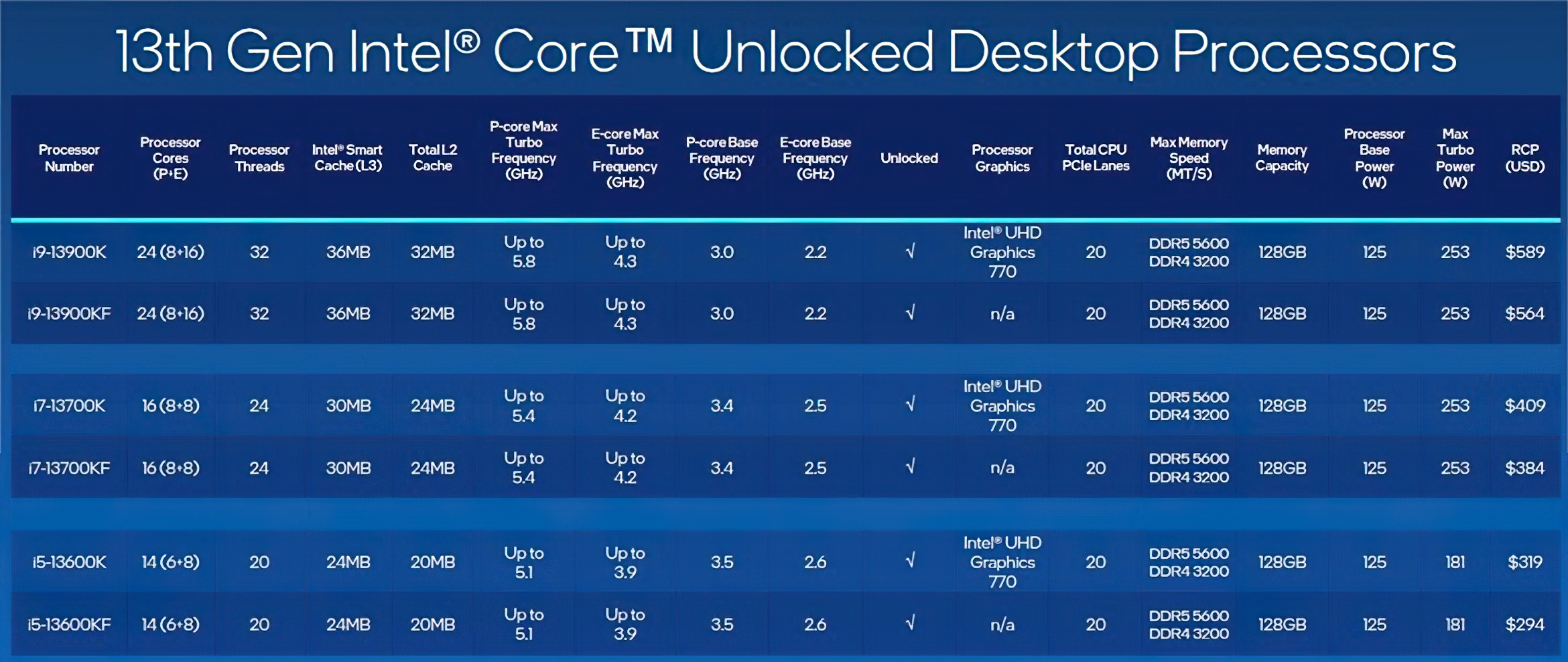 The i7-13700K
Moving on to the i7-family, we see the i7-13700K. This CPU packs a punch with its 16 (8P + 8E) core and 24 thread count, almost the same as last-gen's i9-12900K. The base clock for the Performance cores is 3.4GHz. In contrast, the efficient cores stand at 2.5GHz. This may seem slow, however under heavy loads, these clock speeds can boost up to 4.2GHz and 5.4GHz for the Efficiency and Performance cores, respectively.
With Raptor Lake, Intel has stepped up its cache game. The 13700K ships with 56MB of cache, divided across 26MB of L2 cache and 30MB of L3 cache. The TDP is rated at 125W (Maximum Turbo Power of 253W).
Being priced at $409 and $384 for the KF-variant, this CPU is directly aimed at AMD's Zen4 based Ryzen 7 7700X.
The i5-13600K
Finally, we meet the budget gamer's haven, the i5-13600K. This CPU offers an absolute killer deal for the performance you get. Driven by 14 (6P + 8E) cores and 20 threads, this is a core-count lead of 2.3x against AMD's Ryzen 5 7600X. The stock frequencies are rated at 3.5GHz for the P-cores and 2.6GHz for the E-cores, both of which can be boosted to 5.1GHz and 3.9GHz, respectively.
For the 13600K, 20MB of L2 and 24MB of L3 cache amount up to a massive 44MB of total cache, which is 6MB higher than the 7600X. Intel really outdid themselves this generation. As for the power metrics, the base TDP is 125W (Max Turbo Power of 181W).
Coming in at just $319, Intel will take a significant cut of the market share from AMD this time. The KF variant is priced even lower at $294.
The Z790 Chipset
Intel's 13th-Gen CPUs support 16 PCIe Gen 5.0 lanes along with 4 lanes for PCIe Gen 4.0 directly to the CPU. In contrast, the top-of-the-line Z790 chipset features support for 20x PCIe Gen 4.0 and 8x PCIe Gen 3.0 lanes. Adding onto that, Z790 can power up to 5 USB 3.2 Gen 2×2, 10 USB 3.2 Gen 2×1 and 10 USB 3.2 Gen 1×1 Ports. See the block diagram below for reference: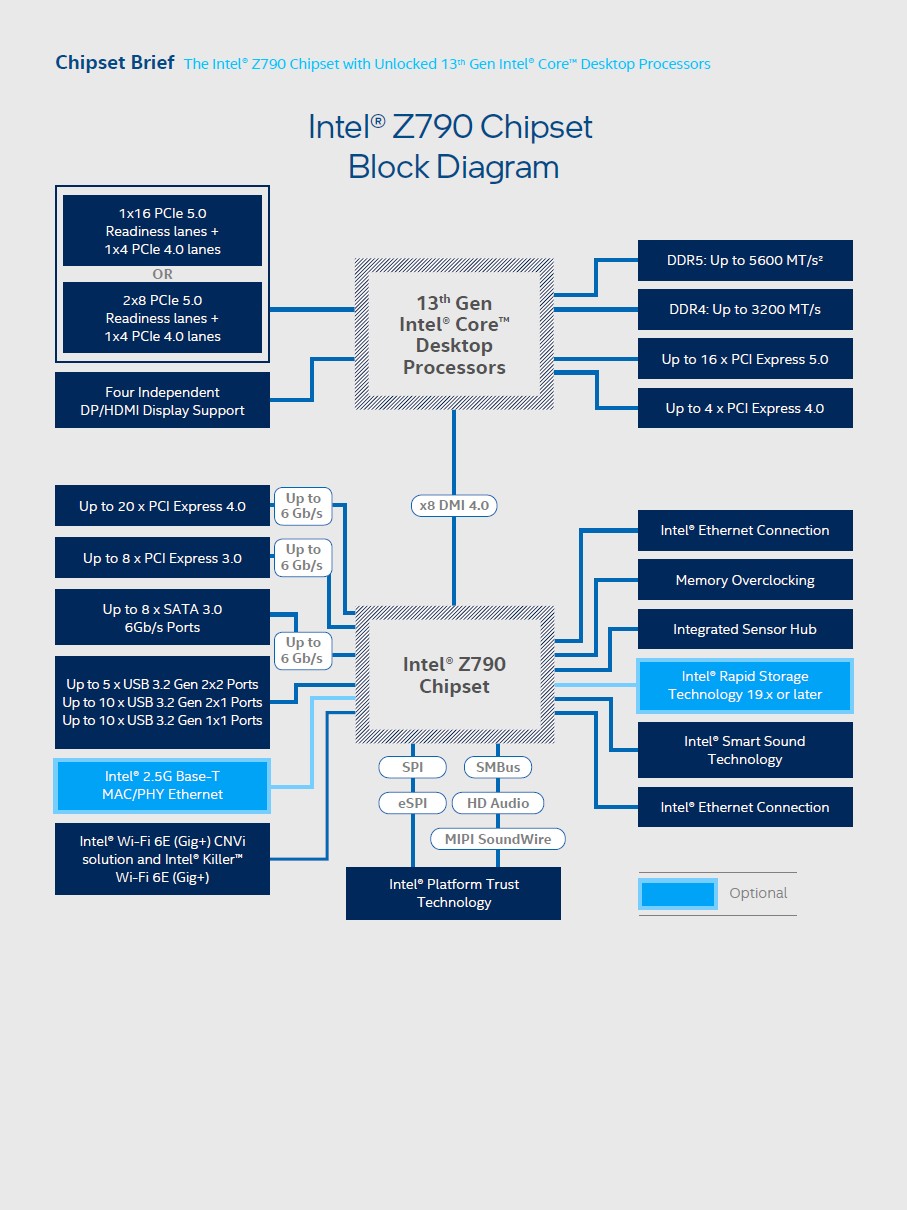 Performance Metrics
Intel promises an enormous 15% single-core uplift as compared to Alder Lake with Raptor Lake. With the additional core-count increments, the multi-threaded performance is a whopping 41% higher than last-gen.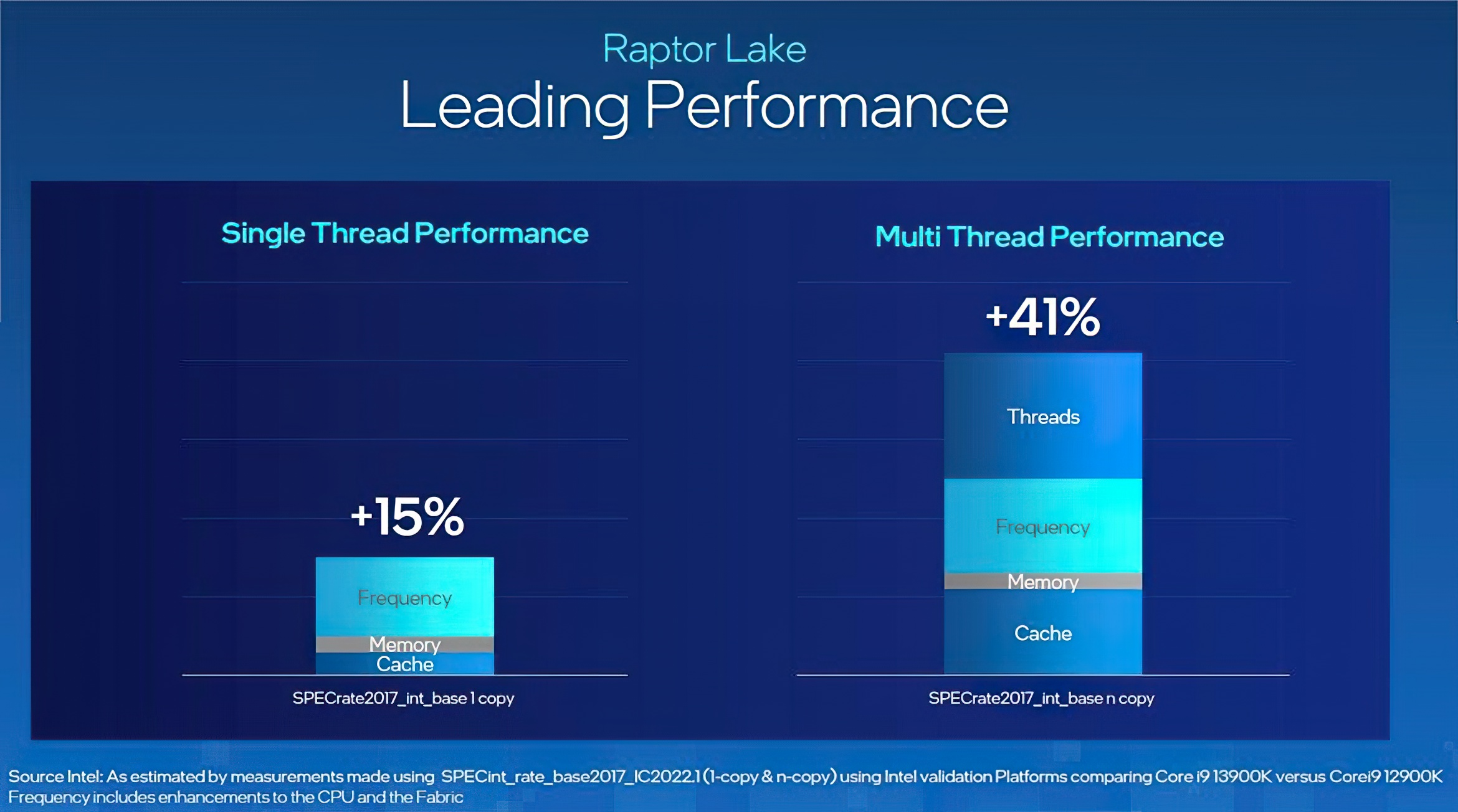 Gamers who are looking for an upgrade will be glad to know that Raptor Lake increases performance against the 12900K by up to ~15%-20%. This number does look to be a bit underwhelming, especially when put against AMD's best (5800X3D). However, only official hands-on reviews swill tell the complete story.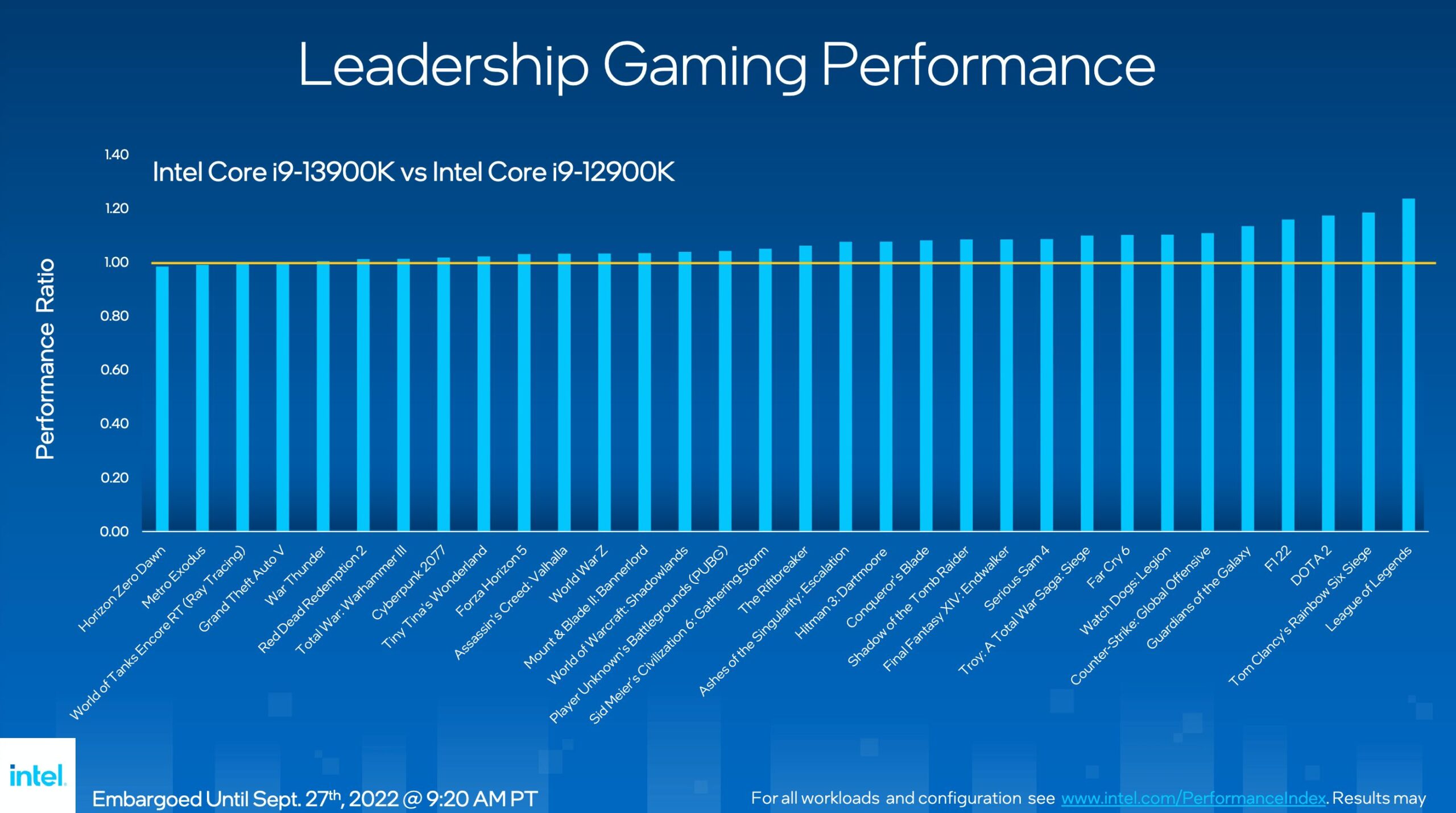 When compared against the Ryzen 9 5950X, Intel manages to obtain a lead of up to 58% in AAA titles. However, that's not the end of the story since Intel also put up the Ryzen 7 5800X3D to show how well their silicon fares against AMD's best. The 5800X3D manages to have the upper hand in a few titles, but falls short in others: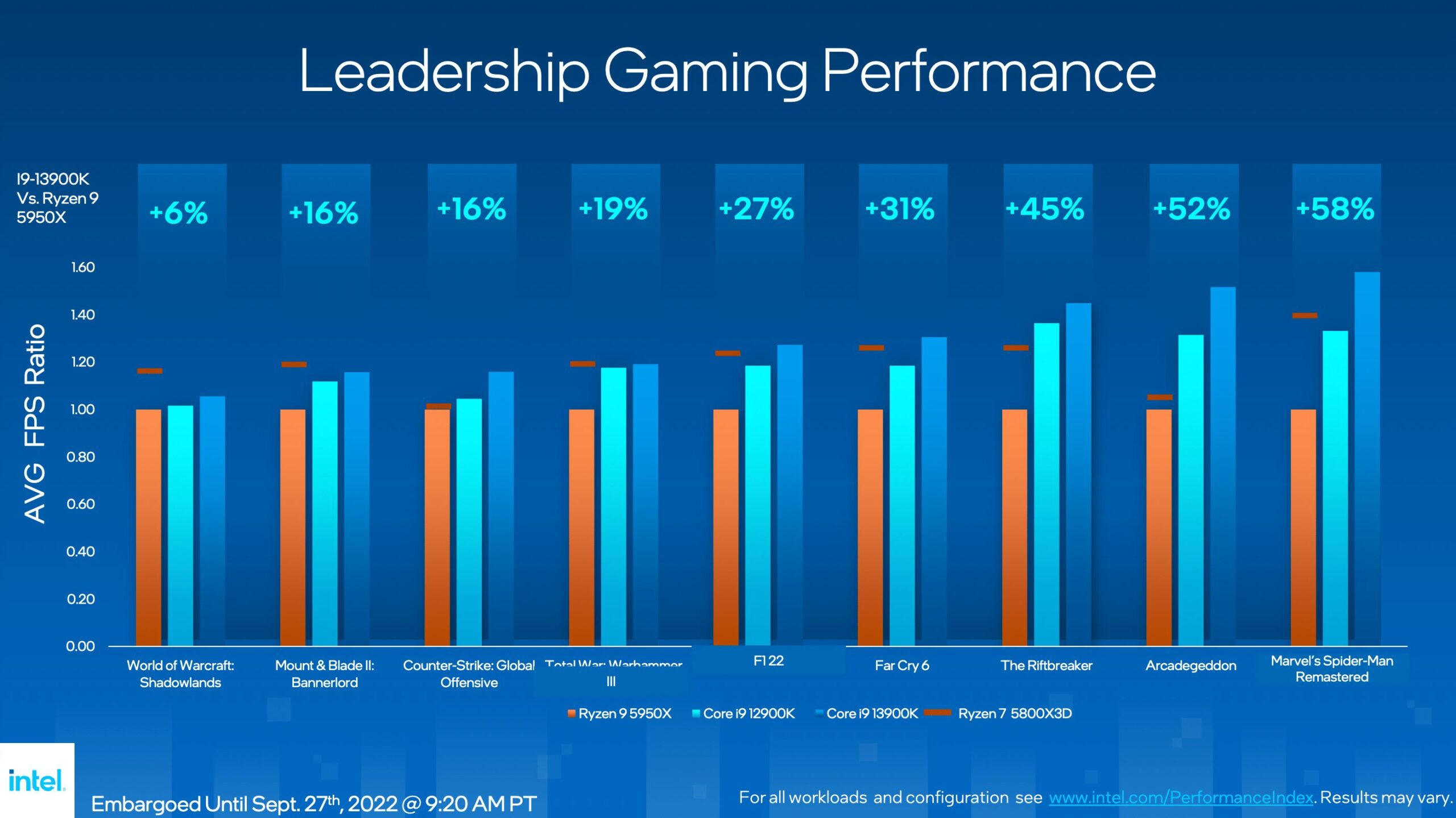 For those curious about the efficiency, Raptor Lake provides 41% more performance at the same power consumption level as the 12900K. The most interesting metric is the 13900K's compute power at 65W, which is equal to the 12900K at 241W. That is extremely impressive showing that Intel has something major planned for the laptop segment this generation.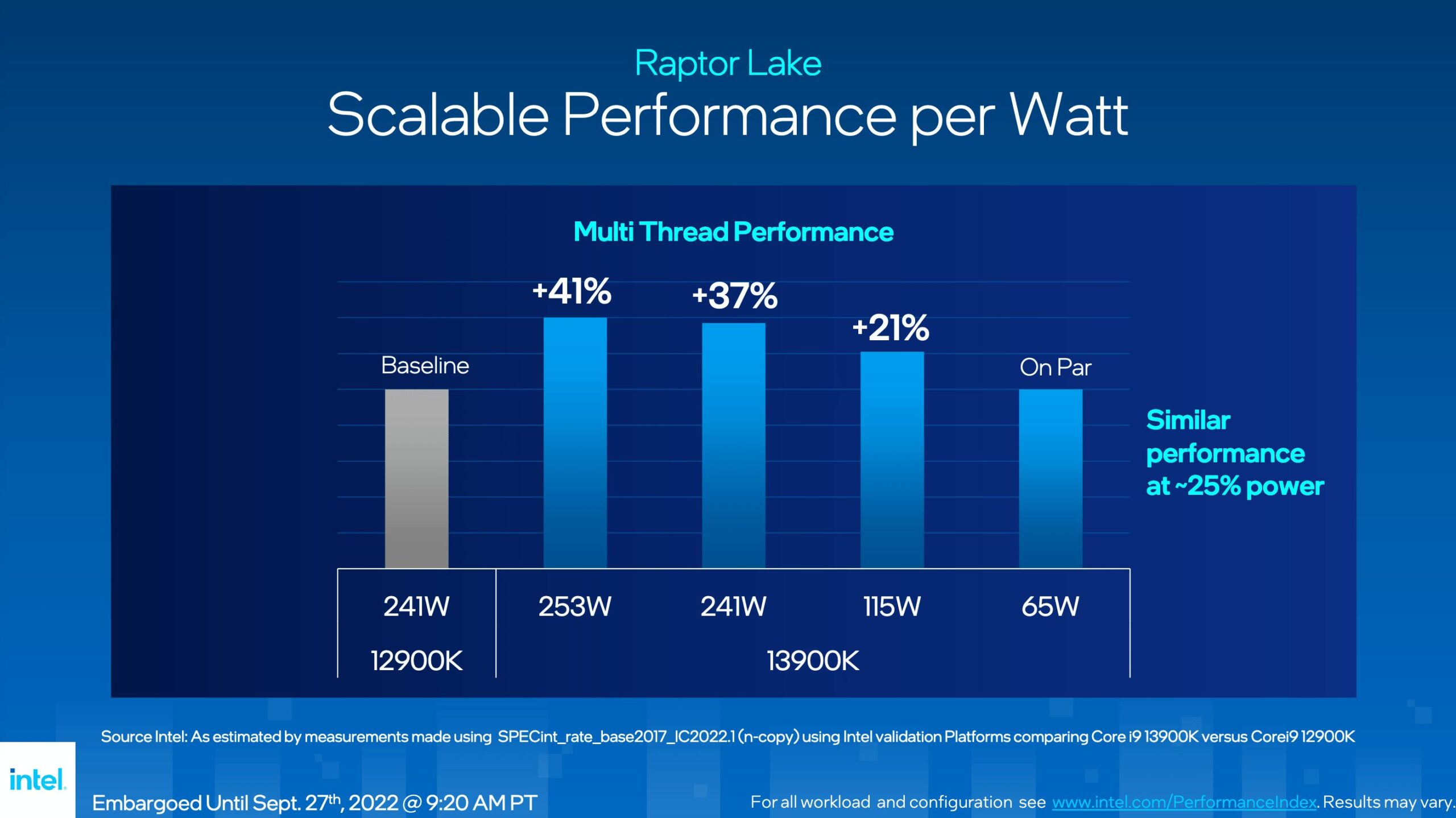 Cache Improvements
With Raptor Lake, you will see enhanced cache performance along with improved on-paper numbers. In Alder Lake, the L2 cache per each performance core stood at 1.25MB. Raptor Lake bumps this to 2MB which might not sound like a lot, but it is a 60% increment nonetheless. In addition, every E-core cluster (4 E-cores) in Alder Lake was packed with just 2MB of cache. Raptor Lake doubles this number to 4MB per each E-core cluster.
As an example, the Intel Core i9-13900K is powered by 24 cores (8P + 16E). Since this CPU is fabricated on new 13th Gen architecture, each P-core contains 2MB of cache which amounts up to (8x2MB) = 16MB of L2 cache across the P-cores. Similarly, the 13900K has 16 E-cores spread across (16 E-cores/4) = 4 E-core clusters. This results in (4 E-core clusters * 4MB) = 16MB of L2 cache divided across the E-cores.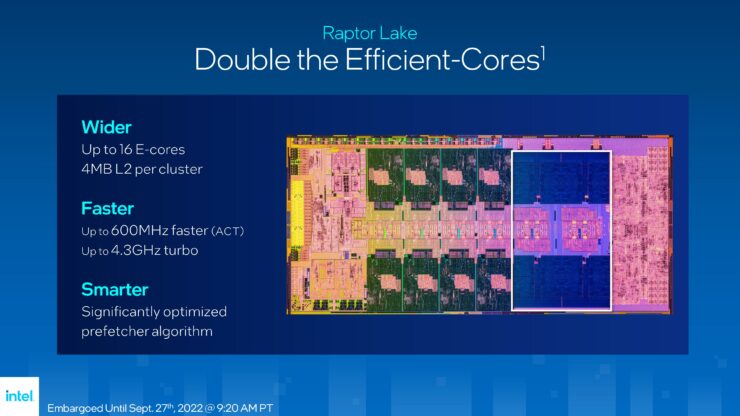 As Raptor Lake has 2x more efficient cores and 2x more cache per each efficient core cluster, this leads to a massive 4x increment in L2 cache across the e-cores (4MB in 12900K vs 16MB in 13900K). Therefore, despite not receiving a major change in the actual microarchitecture, the Efficiency cores in Raptor Lake will have overall increased efficiency and performance as compared to Alder Lake.
UHD Graphics (Xe Architecture)
Intel's UHD 770, shipping with the K-SKUs from Raptor Lake is based on the Xe Architecture. With Raptor Lake, you can enjoy features such as 8K HDR, AV1 Decode, HEVC 10b and Intel Quick Sync Video supported on GPUs from both NVIDIA and AMD, and, of course, Intel's very own Arc, too.
Intel Extreme Tuning Utility
Intel's Extreme Tuning Utility, or better known as XTU is a software used to overclock, monitor or stress-test a system. XTU offers a wide variety of tools, suiting the needs of novices and even adepts when it comes to overclocking. Now, it's getting overclocking support for DDR5 memory and E-cores along with a 1-click overclock for unlocked (K-series) 13th Gen CPUs.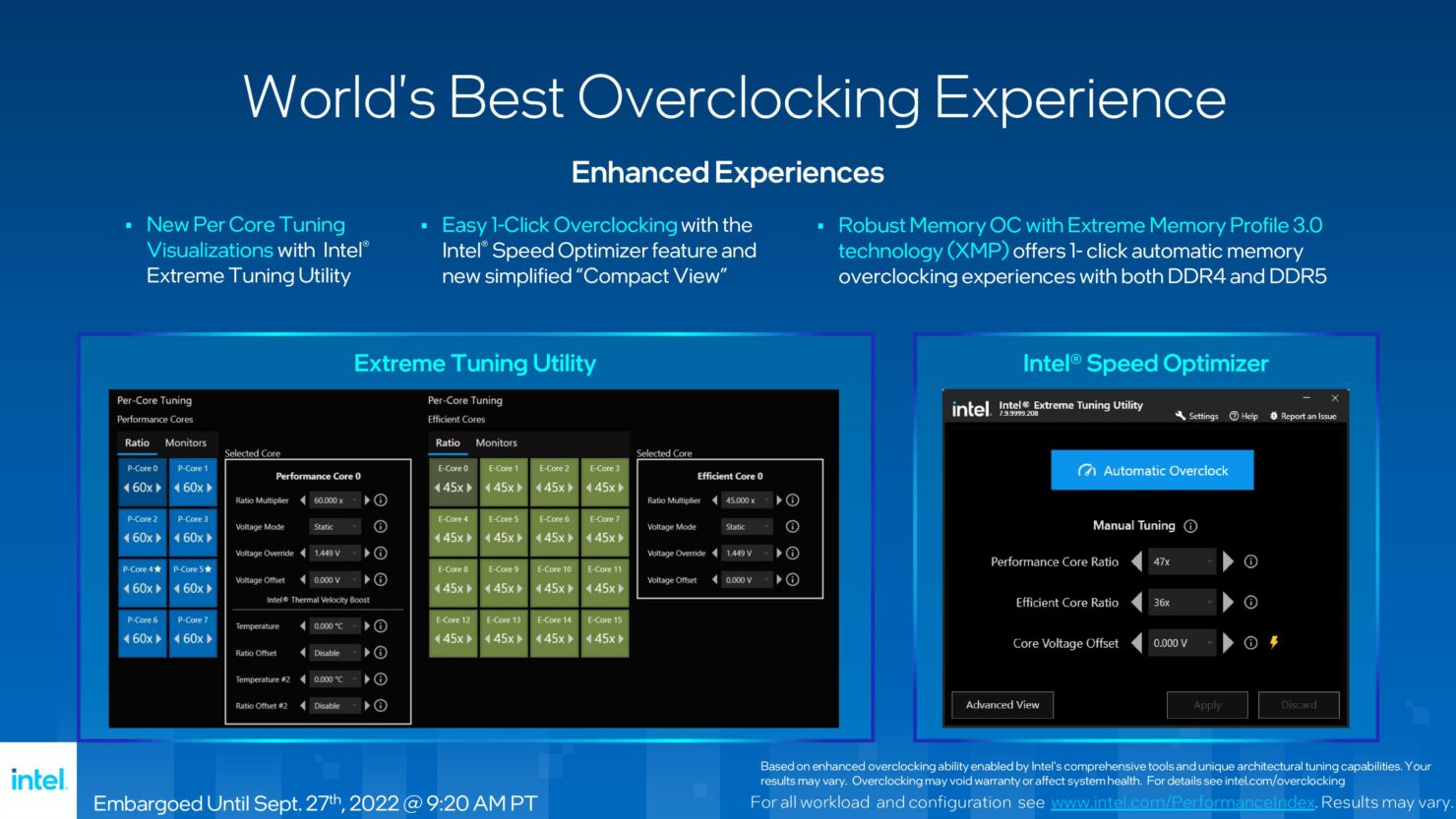 6.0GHz Out Of the Box
Intel in a 'One More Thing' moment announced that Raptor Lake CPUs hitting 6.0GHz frequencies out of the box will retail as early as Q1 2023 (early next year). This may well be the i9-13900KS, or a completely different beast if Intel changes their mind. Binning a CPU to such heights is an extremely tedious process, so this really highlights the generational leap Raptor Lake offers.
In early testing, even the i9-13900K was hitting 6GHz+ without the need of exotic cooling solutions. From the initial looks, it seems as if overclockers will surely enjoy Raptor Lake.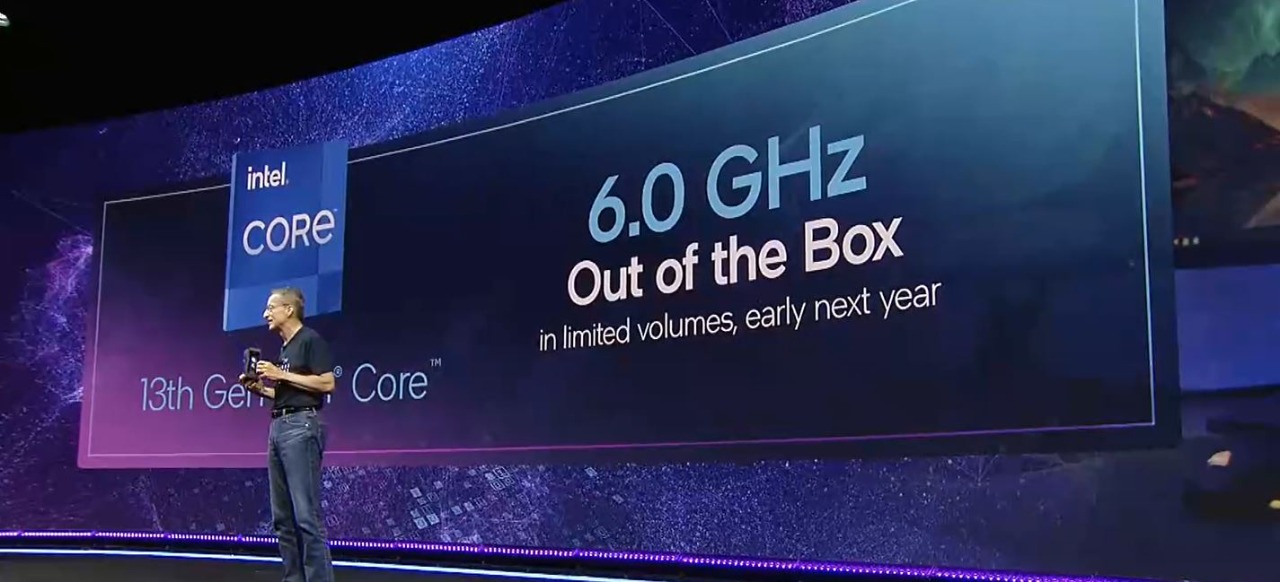 Release Date
The Raptor Lake-based i9-13900K/KF are available to pre-order starting from today (27th of September). Similarly, the pre-order embargo on the i5 and the i7 families will be lifted on the 13th of October. Expect your products to arrive by the 20th of October, where all Raptor Lake products announced thus far will hit the shelves.