HP Envy 5055 Wireless All-in-One Printer Review
There are so many printers being put out by so many brands that it's fairly easy to find the perfect printer that you're looking for. And once you've narrowed down your list of viable printers, there are still many factors to take in account for. Factors like ink cost, monthly subscriptions, running costs and many more are define the longevity of a printer. So let's say that you've perused the stores and have found a printer worth looking into- the HP Envy 5055. But how well does this actually fare in real-time? Today, we'll be going over just that.
HP Envy 5055
Best Budget AIO Photo Printer
Pros
Automatic duplex printing
Very durable construction
Google Cloud Print and Apple Air Print over WiFi direct
Good colored printing resolution
Cons
Touch input is not very responsive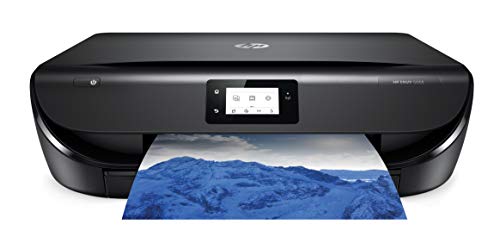 Print Resolution: 1200 x 1200 (monocolor) and 4800 x 1200 (colored) | Copy Resolution: 600 x 300 | Paper Size: A4 8.5 x 11.7 inches | Cartridge Type: HP 65 and HP 65 XL | Input Tray: 100 pages | Output Tray: 25 pages

VERDICT:The Envy 5055 by HP is one of the most sought after budget all in one printers out there in the market. With good print and copy resolutions, a feasible duty cycle and a great minimalistic sleek design, the Envy 5055 come out as a great choice. It does not cut any corners and manages to offer almost everything that is desired by an average home-based consumer.
The HP Envy 5055 is an inkjet printer designed to give quality prints with rich graphics. An inkjet printer produces hard copies by spraying tiny and minute droplets of ink onto the paper.
However, due to the inkjet printers delivering higher-quality prints, the printing speed ends up lacking behind. The Envy 5055 is no stranger to that, much to our dismay. But the print quality is fairly standard and one that does not leave anyone unsatisfied. With automatic duplex printing housed under a sturdy plastic build, the Envy 5055 does its job very well.
There are some red flags that the Envy 5055 manages to raise and they are primarily with the black and white print. Although not a major con, but smaller font prints end up in poor quality due to fewer nozzles. Moreover, the touchpad's input feels laggy and not very responsive. Along with these, there have been some cutbacks that need to be mentioned and talked about. So keep on reading to find out what they are and have a full picture of what the Envy 5055 can and cannot do.
Design
The Envy 5055 has a very compact and miniature look about it. Although it is primarily a printer for home use, the design is, nonetheless, very professional and generic. The Envy 5055, being a home printer, is much smaller than the ones targeted towards office use. It measures in at 17.52 x 14.45 x 5.04 inches and is made entirely of plastic. The black color dominates the exterior of this printer. Normally, plastic hinges are prone to less resistance which results in clicking movements at the hinges. This happens in long term usage. However, the Envy 5055 luckily feels very well built with the scanner and paper tray hinges having nice resistance to them. Normally, construction quality ends up suffering due to cuts when creating a budget home-based printer. Luckily, the Envy 5055 does not have that case.
Instead of measly buttons, the front has a touch screen for controlling this printer. The screen is a 2.2 inch monochrome touch panel with all the necessary and essential accesses. Don't let the monochrome put you off, as we found that it was able to perfectly blend in with the design of the printer itself. All the options, such as copying, scanning etc are laid out pretty intuitively and the touchpad makes it easy to navigate. Some users may find it to be a little slow and less responsive than what they're used to. And considering that the 5055 is an upgrade to the 4000 series, it's a big let down. The previous series did not have a laggy delay to the input.
At the back, you'll find that the Envy 5055 only has a USB 2.0 port and a power supply cable port. It does not support Ethernet connectivity or printing via USB. This printer has a horizontal paper loading tray which draws in the paper using rubber rollers. This works fine and the rubber rollers provide just enough force as to not bend the paper, which is great news. The input tray can hold up to 100 pages whereas the output tray can carry only 25. This means that you better be ready to readily remove the paper stack in the output tray as the 25 paper capacity is quite low.
Features
Straight out of the box, the Envy 5055 has a large number of features to offer. This is, of course, an all in one multifunctional printer. That means that with just the purchase of one Envy 5055, all your printing, copying and scanning needs will be fulfilled. Despite there is a USB port, this printer is mostly connected via WiFi. And with that and other ease of installation, this printer takes up about only 5 minutes to be up and running. And if that's not enough, there is a very simple and easy to follow guide put inside the box as well.
The Envy 5055 has a print resolution of 1200 x 1200 dpi for monocolored and 4800 x 1200 dpi for colored prints. This is a fairly standard resolution found in most budget home printers. Thee monocolored resolution of 1200 x 1200 gets the job done for the most part. Moreover, the Envy 5055 has a speed of 10 and 7 pages per minute for monocolored and colored prints respectively. Speed is certainly not this printer's best suit. That is because this inkjet printer focuses on quality by compromising on quantity. The black and white, although average quality, is still fairly better than its competitors. If printing a lot of pages in a short amount of time is what you need, the Envy 5055 might leave you unsatisfied.
Along with that, the Envy 5055 is also a copier with some pretty neat features to enhance that experience. It has a copy resolution of 600 x 300 for both colored and black and white. For copying, the speed is about 8 pages per minute for black and white and 4 pages per minute for colored. Once again, HP does not raise any major flags with this here. This speed is pretty common among many home-based printers. The maximum copying resolution is quite low but HP makes up for it by adding some pre-installed templates for copying purposes. And, as an added bonus, automatic duplexing is also present for printing and copying both. That means that you do not need to manually turn the page over for a double-sided print. This printer will do it for you.
In terms of connectivity, the Envy 5055 does support WiFi connections for quick, on the fly prints. Unfortunately, there is no USB port present for any sort of digital memory print. This was a let down as we would've liked to see that as an option. HP does, however, make up for this cut by adding in Google Cloud Print and Apple Air Print. As far as the cartridges are concerned, the Envy 5055 uses the newer HP 65 ones. This printer comes with two of these cartridges- one black and one colored. The colored cartridge makes use of cyan, magenta and yellow as its primary colors. These standard-sized cartridges do not have a lot of juice in them as they can print out just about 100 pages each. Therefore, the 65 XL cartridge might be a better choice for a higher duty cycle.
Print Quality/Performance
With a resolution of 1200 x 1200 dpi for black and white prints, the Envy 5055 falls short of a near-perfect resolution for a budget printer. For the most part, this printer will be getting the job done in printing out crisp text documents. However, it starts to degrade in quality as the font decreases. In our tests, we found that on fonts less than 9, the text became barely readable. This happens because the nozzles responsible for black ink distribution are not very densely spread. Therefore, on smaller fonts, the Envy 5055 starts to deliver quite poor quality of text which is quite hard to even read.
Inkjet prints are not so accurate on the black and white however, they are able to capture the colors very sharply. The color printing with the Envy 5055 was a sheer delight. We were very pleased to see that this printer was able to get the colors and lightings right with very thorough ink being spread on the page. It cuts down on the speed of the prints by delivering a very enjoyable colored print. It should be noted that inkjet prints have a fairly similar performance throughout the spectrum. Therefore, even after adding a bunch of zeros in your budget, the print quality will increase but not by a vast amount.
The Envy 5055 operates on standard A4 sized papers measuring at a size of 8.5 x 11.7 inches. Other sizes are also supported however you can only go down to 3 x 5 inches as that is the minimum supported size. Also, it ought to be noted that borderless printing can be done for all supported sizes so that is a plus point as well.
Verdict
The Envy 5055 is a near-perfect choice for the casual folks wanting a few printed pages every day. Alas, there are no premium and top tier features such as external storage printings. However, the Envy 5055 makes up for it by offering a very durable and pleasing to look at the hardware.
The print quality is fairly standard, as far as home-based inkjets go, and we were not displeased with that. We should remind you that quick and often prints with this printer are not the best option.
Despite that, this printer is still a very viable and strong contender for a good budget printer. With a friendly price tag that's not too heavy on the pocket, the Envy 5055 packs in quite a lot of features.
Price at the time of review: $60
Hp Envy 5055
Design - 9.5
Features - 7
Quality - 7
Performance - 7.5
Value - 7