CPU Buying Guide for H1 2017
The Post AMD Ryzen Scenario
The AMD Ryzen 7 and 5 series of processors has disrupted the consumer processor market, rendering all previous CPU guides virtually useless. For the first time in 8 years, AMD has released a processor competitive enough for Intel to sit up and take notice.
Intel has undisputedly ruled the market due to the absence of competition from AMD. AMD's 8-core (bulldozer onwards) processors getting trounced by 4-core Intel Core i7 CPUs certainly didn't help things. But now, AMD's Ryzen 7 CPUs have taken on $1000-Intel-offerings head-on, providing much-needed competition to the lackluster processor market we have seen over the past 7-8 years.
CPUs are one of the most critical parts of a computer, whether you use a PC for gaming, rendering, 3D animations, video editing, programming, or even simple multitasking.
This guide attempts to point you towards the best products within each market segment today.
PC Builds
Productivity/Workstation (Rendering, 3D Animations, Complex Computation, and so on) – These types of PCs require immense amounts of computing power, making them one of the costliest systems to build.
Gaming – Although gaming needs a reasonably good CPU as well, the task can be handled by less-powerful CPU options if you are willing to take a hit in frame rates.
Budget (Browsing, Multimedia, Casual Gaming) – A PC built around budget hardware will handle most everyday tasks reasonably well, but you shouldn't expect them to do well in any workstation tasks. On the other hand, if you can bear intermittent stutters and lower frame rates, some budget options might surprise you with their gaming prowess.
Productivity/Workstation
A workstation PC is officially defined as 'a special
computer
designed for technical or scientific applications.' This is a broad category and can involve work ranging from YouTubers' video production needs to scientists' complex computation programs and analyses requirements.
However, these days many gamers have started adopting CPUs from this category to stream 1080p video to Twitch and other online services, to alleviate any drop in both game and stream performance. If you want to stream software rendered 1080p 60fps video while gaming, I recommend splurging on a processor from this category.
Factors to consider according to priority
The most important factor for workstation tasks is the number of
physical cores
on the CPU. Higher the number of cores, the more performance programs can leverage for such tasks. However, never look at this factor alone.
Another important factor is the IPC (Instructions Per Cycle) of the processor. Although this data isn't publicly available, several reviewers do compare the IPCs of different processors, giving you considerable insight into the efficiency of that CPU. In layman terms, the IPC points to the number of instructions that a CPU can handle in a single clock cycle. This is the root cause of why a processor with a lower clock speed might outperform one with a higher clock speed.
Clock speed is unquestionably a crucial factor. But only take it into account after the factors above have been considered.
Top 2 picks for this category
Ryzen 7 1700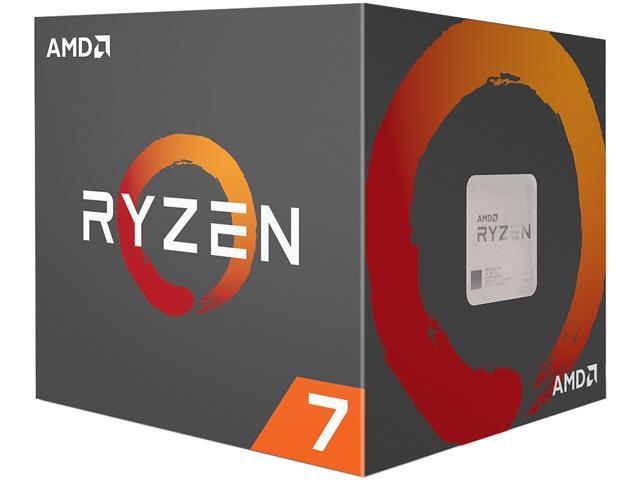 Even though this processor is right at the end of the Ryzen 7 lineup, the value for money on offer is just crazy. This 8-core, 16-thread CPU is priced at a whopping $330 (will differ region to region). For reference, a comparable Intel CPU is priced at around $1000. Now, you might wonder, why the 1700 and not the 1800X.
AMD Ryzen features unlocked cores, across its lineup. Hence, if you invest in a neat cooling solution, this 3.0 GHz base clock 3.7 GHz boost CPU has been seen running at a stable 3.7-4.1 GHz on various voltages, depending on your silicon lottery luck. Furthermore, the Ryzen 7 1700 is bundled with a Wraith Spire RGB Cooler. So if you don't have the budget to invest in adequate cooling for high overclocks, the Spire provides a workable solution.
In fact, many reports claim to be running overclocked Ryzen processors with this cooler. However, please note that this will differ depending on your ambient temperatures and your luck in the silicon lottery.
Physical Cores – 8
Threads – 16
Base Clock – 3.0 GHz
Boost Clock – 3.7 GHz
Unlocked Cores – Yes
Cooler Included – Yes
Ryzen 7 1800X
While the Ryzen 7 1700 provides the best bang for the buck, the 1800X is perfect for those who don't want to risk getting the short end of the stick in the silicon lottery. This processor guarantees a 4.0 GHz stable overclock if you run it under a decent cooling solution.
Furthermore, if you're not much of an overclocker or are utterly averse to the idea of messing with stuff – the 1800X provides a 3.6 GHz base clock and a boost of 4.0 GHz, out of the box.
It outperforms the Intel 8-core offerings by a slim margin, at half the price ($499). Moreover, it also provides a much cheaper AM4 platform (X370 and B350 chipsets) to build your machine (compared to the exorbitantly priced Intel X99 platform).
Although the 'X' Ryzen processors claim to have more automatic overclocking (Extended Frequency Range) headroom, the maximum boost noticed was a mere 100 MHz. However, even though this particular feature turned out to be more of a marketing gimmick, the Ryzen lineup is still solid, to say the least.
Physical Cores – 8
Threads – 16
Base Clock – 3.6 GHz
Boost Clock – 4.0 GHz
Unlocked Cores – Yes
Cooler Included – No
Wrap-up
In conclusion, if you're looking for a workstation CPU with 8 cores – Ryzen 7 is the best option at the moment. There is absolutely no reason to spend double on an Intel processor that offers very similar performance.
Gaming
The gaming populace can be loosely classified into three categories:
Competitive gamer/Raw FPS – This gamer thrives on high refresh rate monitors and needs blistering frame rates to maintain an edge over his/her opponents.
Hardcore gamer – Although they don't play competitively, hardcore gamers will have elaborate setups to play the latest games at the maximum possible resolution on 144 Hz monitors.
Casual gamer – Usually needs 60+ FPS on all the latest titles, to be satisfied. This is probably the most common type of gamer in the world.
The best CPU for the highest raw FPS
High framerates need great CPU performance to keep up with the GPU. Since most games still heavily rely on single core performance (until now, hope this changes soon), clock speeds and IPC are much more critical factors for this category, than it is for the workstation PC.
Intel Core i7 7700K
Although the thought of buying a 4-core, 8-thread CPU for essentially the same price ($330) as an 8-core offering (Ryzen 7 1700) might make some people wince, the 7700K is still the undisputed king when you need your CPU to deliver the highest possible frame rates.
Since this CPU has unlocked cores, it can be overclocked to run at higher clock speeds – which will increase frame rates in games even further. A 5.0 GHz OC is not unheard of, but it involves de-lidding and voiding your CPU warranty. A decent air cooler will only get you to a 4.7 GHz overclock at comfortable temperatures.
Note – There have been increasing reports of the Intel i7 7700K running into overheating problems. Intel has officially released a statement that basically says – 'do not overclock your processor.' In my opinion, this is not even close to an acceptable response from the company. Think about it – why do customers pay a premium for an unlocked multiplier? Yes, Intel. So they can overclock their CPUs.
If you want the highest raw average fps in all the games you play, and that is all you do on your PC, then no doubt, go for the 7700K.
Please keep in mind – there is no CPU cooler included with this processor.
Physical Cores – 4
Threads – 8
Base Clock – 4.2 GHz
Boost Clock – 4.5 GHz
Unlocked Cores – Yes
Cooler Included – No
Mainstream Gaming
Since these gamers aren't really bothered about frame rates as long as the CPU can deliver 60+ FPS, a wide variety of options become available.
Even though clock speed and IPC do matter for this category as well, the level of importance is significantly lower.
Ryzen 5 1600
With 6 cores and 12 threads, AMD is basically offering a processor almost equivalent to the Intel Core i7 6800K, at half the price ($249)!
The R5 1600 is my pick instead of the 1600X, as the costlier variant only offers higher clock speeds. Since overclocking the Ryzen 5 1600 will negate most of the performance disparity for most people, I would recommend saving money and going for this CPU instead of the costlier 1600X.
Again, if you're averse to fiddling around the BIOS then go ahead and pick up a Ryzen 5 1600X instead. Keep in mind – with the additional cost of a cooling solution, the total price for a 1600X seems to inch towards the R7 1700 region.
The Ryzen 5 lineup has collectively made the Intel Core i5 series pointless and obsolete. Each processor in this lineup offers something better than/equal to an Intel CPU in the same price bracket. However, if you already have an i5 processor and use your PC primarily for gaming, there is no need to whip out your wallets just yet.
Six cores leave you significant headroom for the OS to run its tasks, without affecting game performance. We all know how many programs we leave running in the background while gaming. Moreover, several reviewers have reported a much smoother experience on the 6-core Ryzen compared to an Intel Core i5.
In fact, I would recommend this CPU over the 7700K even for other types of gamers, considering the fact that the AM4 platform is young and will not need to be replaced for at least 4 years or so. This processor is perfectly capable of maintaining 3-digit frame rates for those who thrive on high FPS.
PS/Disclaimer: I use the Ryzen 5 1600 on my PC, and I love it.
Physical Cores – 6
Threads – 12
Base Clock – 3.2 GHz
Boost Clock – 3.6 GHz
Unlocked Cores – Yes
Cooler Included – Yes
Wrap-up
For casual gamers, buying an Intel Core i5 is not a viable or fiscally sensible option anymore. Go for a Ryzen 5, preferably the 1600 or the 1600X. If you have budgeting constraints, even the 1500X Here is a decent choice – offering 4 cores, 8 threads for just $189.
However, for high FPS gaming, Intel still rules the roost with the Core i7 7700K offering excellent overclocking headroom and outperforming all the processors in the market (in terms of raw FPS) at the moment.
On the other hand, playing devil's advocate here – the Z270 platform will run its course when Intel launches a brand-new platform this year. Considering its relatively shorter lifetime, you could either,
Wait for the new launch from Intel, or
Pick up a Ryzen 7 1700 which will offer competitive gaming performance (10% slower, give or take), while giving you leeway to complete other tasks much faster at the same price.
Budget Builds
Intel Pentium G4560 Kaby Lake CPU
Ironically, Intel, a company regularly bashed for bad pricing, came up with an exceptional budget option in its Kaby Lake CPU lineup, the Intel Pentium G4560. This processor is, hands down, the best budget option in the market at the moment.
Although this dual-core processor won't win any benchmark contests, it can handle most everyday tasks comfortably. The icing on the cake – it has hyperthreading enabled, giving applications the option of leveraging four threads. It can keep up with mid-range graphics cards to some extent, making gaming a real possibility. In fact, games like overwatch play surprisingly well with minimum frame rates over 60 FPS, while the average hovers around 120 FPS. Benchmark charts for reference.
With a price of just $64, it is a steal for those who want a budget option that provides functional performance.
Physical Cores – 2
Threads – 4
Base Clock – 3.5 GHz
Boost Clock – N/A
Unlocked Cores – No
Cooler Included – Yes