The 5 Best PRE-BUILT Gaming PCs For Young Gamers
While some gamers might prefer the feel of assembling their own PC, not all of them resort to such measures and wish to save their time, energy and in some cases money by searching for alternatives to this dilemma. This is where pre-built gaming PCs come in, these PCs are by no means to be taken for granted as they are forged with precision by their respective manufacturers while considering a gamer's perspective and needs. They not only present themselves with multiple variants but also give you the option to customize your own purchase at the reseller's end before you even finalize it to ensure that it meets your requirements.
As always, we went ahead and formulated a line up of the best pre-built gaming PCs that you can procure these days
1. CORSAIR ONE i140 Compact Gaming Desktop
Pros
Corsair iCUE compatible
Assisted convection liquid cooling system for higher clock speeds
Support for up to three 4K displays with NVIDIA G-SYNC
Built-in RGB light pipes
Processor: Intel Core i7-9700K | RAM: 32GB DDR4 | GPU: NVIDIA GeForce RTX 2080 | Ports: 2x USB ports, 3.5mm audio jack and a VR-ready HDMI port| Storage: 480GB M.2 SSD, 2TB HDD
Corsair has been the king of the PC realm ever since the advent of the average consumer's market that we know of today. The One i140 Compact Gaming Desktop is one of a kind mini PC or pre-built gaming PC which might be miniature in size, standing at only 12 litres, but sure packs a punch under the hood with its impressive specs which could definitely imprint a lasting impression.
At its heart is beating a 9th Gen Intel Core i7- 9700K which is, of course, overclockable and accompanied by the conventional 32GB DDR4 RAM that you would come to expect from a PC of this stature. An interesting innovation that can be observed would be the minimal spacial footprint of the PC which can easily make its way up to your desk instead of down and add to the aesthetics of the overall setup.
The case contains built-in RGB light pipes with Corsair's proprietary iCUE compatibility which enables you to customize the outlook as per your requirement. The mechanics of this PC automatically call for a cooling system that would be able to keep the temperature of this beast under control during intense loaded conditions, that is why it features an assisted convention liquid cooling system for higher clock speed manoeuvrability.
As far as visual capabilities are concerned, it supports up to three 4K displays with NVIDIA G-Sync along with the added benefit of being HDR and VR ready. This would easily help it to sustain any high-end monitor at high refresh rates without any latency issues. The storage is the last impressive standpoint of this PC as it offers a 480 GB SSD along with a 2 TB HDD to practically ensure that you never lose track of your data or run out of space while maintaining the boot-up speed integrity.
Corsair One i140 is the compact and compatible beast for you to acquire if you are on the lookout for the absolute best without any compromises and presents itself as a viable futureproof purchase.
2. Alienware - Aurora R8 Desktop
Pros
Driven by 8GB GDDR6 dedicated video memory
SuperSpeed 10Gbs USB 3.1 port
Killer wireless and wired networking
DVD/CD burner included
Cons
Thin vents with no transparent side panel
Very subtle RGB lighting which is almost unnoticeable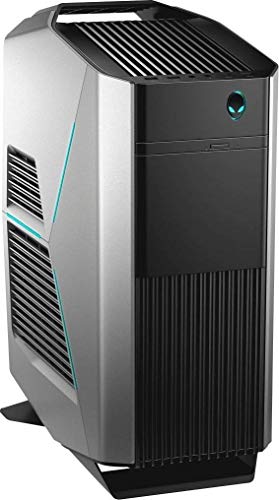 Processor: Intel Core i7-8700 | RAM: 16GB DDR4 | GPU: NVIDIA GeForce RTX 2080 | Ports: 1 SuperSpeed 10Gbs USB 3.1 port, 5x USB 2.0 ports, LAN port| Storage: 256 SSD, 1 TB HDD
Alienware is a name that every gamer would be familiar with why would they not be? Alienware is one of the most gaming-oriented entities that you would come across and the Aurora R8 provides that same level of exceptional performance and power by turning it up a notch. The exterior of the case holds a grey outlook with thin profiled vents on the side panels, a lot of users might miss the traditional tempered glass transparent panels which can often elevate the appearance of the unit.
Internally, it features an 8th Gen Intel i7 8700 which is a stock non-overclockable processor paired with 16 GB of DDR4 RAM memory. This allows it a 2nd place among the best-rebuilt gaming PCs because of its promising legacy that it has held up in the past.
Now proceeding to the graphical side of things, it houses an NVIDIA GeForce RTX 2080 with 8GB DDR6 of dedicated video memory for faster video and graphics rendering. Some cosmetic features might have been neglected in this model as the sides only feature thin RGB lights which are not that prominently visible unless in a low-lit environment and the inclusion of the DVD/CD burner is a plus point considering that this feature can always come in handy.
Some additional bells and whistles would include the adequate number of ports available on the front and the rear side of the unit, they not only improve the functionality of the device but also make the connection of peripherals more convenient for the users. The storage is fixed up with a 256 GB SSD along with a 1 TB HDD which would definitely suffice for a high-end gamer.
The Aurora R8 is a pretty sweet purchase in terms of the buffed up hardware that is being offered at a justifiable price point while maintaining the brand's integrity in the market when it comes to performance.
3. iBUYPOWER TRACE 9240 Pro Gaming PC Computer Desktop
Pros
Signature trace tempered glass RGB Gaming Case
Free iBUYPOWER Gaming Keyboard & Mouse
Quite budget-friendly as compared to other rivals
Features latest ray-tracing tech at an affordable price
Cons
Mediocre quality of included gaming keyboard and mouse
Processor: Intel i9-9900K | RAM: 16GB DDR4 | GPU: NVIDIA GeForce RTX 2070 8GB | Ports: 4 x USB 3.1, 2 x USB 2.0, 1x RJ-45 Network Ethernet 10/100/1000, Audio 7.1 Channel | Storage: 240 GB SSD, 1 TB HDD
iBUYPOWER is a recent rising name in the gaming industry as it comprises of prebuilt PCs mostly inclined towards the consumers who wish to acquire a high-end gaming PC on a budget or consumers mostly looking for an economical solution to their gaming needs. iBUYPOWER offers budget-friendly and value for money deals for its customers. iBUYPOWER Pro Gaming PC is another top-tier solution from them as they try to target the upper class of gamers with these attractive specs.
It features the 9th Gen Intel i9-9900K, overclockable and the latest from Intel, and combined with the 16 GB of DDR4 RAM it definitely fares quite well against its other high spec counterparts. All of this power is housed inside a native RGB gaming case by iBUYPOWER inclusive of a signature trace tempered glass. Not to mention the free peripherals that are included by iBUYPOWER as a good faith reward, a gaming keyboard, and a mouse.
NVIDIA GeForce RTX 2070 is what beats as the GPU of this powerhouse with 8 GB of dedicated video memory for the optimum graphical output that you would come to expect from it along with some other perks of featuring the latest ray-tracing technology which can essentially redefine gaming and all of this has been introduced by iBUYPOWER at a very low range price. The setup is, of course, VR ready as anticipated from iBUYPOWER's notion of furnishing its customers with the complete gaming solution.
The storage segment in stores a 240 GB SSD with a 1 TB HDD for added data management which is more than enough for an avid gamer to get along with. The ports featured on the front and rear of the unit are definitely acceptable in terms of the generated functional input or output that can surely help you out in tricky times. An external remote is also included inside the box which can assist you in customizing the RGB output of the PC and even switching modes at your convenience.
iBUYPOWER is the pioneer of introducing the concept of an economic prebuilt gaming PC, all while maintaining the standard of hardware and performance that is renowned globally by other flagship manufacturers.
4. OMEN by HP Obelisk Gaming Desktop Computer
Pros
Included HP Omen Command Center software lets you customize RGB lighting
Comes with the HP wired keyboard with wired optical mouse
Support for aftermarket parts and micro-ATX compatible upgradability
Clear side-panel for aesthetic visibility
Cons
No swappable drive bays as compared to other variants
Processor: AMD Ryzen 5 2600 | RAM: 16 GB HyperX DDR4 | GPU: NVIDIA GeForce GTX 2070 8 GB | Ports: 2x USB 3.1 Gen 1 (top), 4x USB 3.1 Gen 1 (rear), 1x USB 3.1 Gen 2 (rear), 1x USB 3.1 Gen 2 Type-C (rear), DVI, HDMI, 3x DisplayPort | Storage: 256 SSD, 1 TB HDD
HP Obelisk is a variant of the OMEN series that is HP's native range of gaming solutions that range from gaming notebooks to full-fledged gaming rigs. The OMEN series has had a very decent headstart from HP's end as it was specifically designed with the vision of gamers to instil the concept of an ideal gaming machine that can handle anything that you throw at it.
A slight deviation from the norm in this variant is that it boasts an AMD Ryzen 5 2600 processor which is a hexa-core processor from AMD packed with 16 GB DDR4 of RAM from HyperX which competes for a toe to toe with the Corsair Vengeance in terms of performance. The chassis features a red and black profile as signified by all the variants of the OMEN series.
The GPU department hosts an NVIDIA GeForce GTX 2070 with 8 GB of dedicated memory for the ideal visual experience. A presentable trait of the exterior would be the customizable RGB lit case. HP features a proprietary OMEN Command centre which is HP's answer to the future of customizability as it provides live monitoring and mode shifting capabilities to help you get the best of your PC.
A couple of distinctive features of this PC would revolve around the support for aftermarket parts and micro-ATX compatible upgradability along with a downside to it that is the absence of any additional bays for optical drive mounting. Some bonus aspects would include the transparent tempered glass case with the addition of an included mouse and keyboard setup from HP that comes along with the unit to get you started.
HP Obelisk possesses the potential to easily make its way on the 4th place in this line up as this is the merger of performance with supreme functionality.
5. CUK Stratos VR Ready Gamer PC
Cheap Liquid-Cooled System
Pros
NVIDIA Turing architecture GPU
7x LED Lotus fans for aesthetics and efficient cooling
1 TB Solid State Drive
CUK Polar King CPU liquid cooler for extreme cooling of the system
Cons
Less number of USB ports
No bay for optical drive installation
Processor: Intel Core i7-9700K | RAM: 32GB DDR4 | GPU: NVIDIA GeForce RTX 2080 8GB | Ports: 2 x USB 3.0, 1 x HDMI, Ethernet Ports, RJ-45 10/100/1000 Gigabit Ethernet| Storage: 1 TB SSD
CUK Stratos is the underdog that shines bright among its competition as a possible rival that surely knows how to find its way. The vibe that this PC generates in its entirety is surely worth the hype and the price as it refines the concept of RGB with its vibrant outlook. A positive aspect of its appearance is that it can also work in a professional environment if the RGBs are toggled off.
The power that is situated at its core that is the overclock worthy Intel Core i7-9700K integrated with 32 GB of DDR4 RAM that can confidently supply a seamless flow of power to the setup while conserving needless effort and energy. The motherboard that encompasses all of this generated feedback is the conventional Z370 which is well equipped to get the job done.
The GPU calls for an NVIDIA GeForce RTX 2080 engulfed with the same 8 GB of dedicated memory that we have observed in the above-mentioned comparisons. It is directed with NVIDIA's Turing architecture that has enhanced the performance of the visual output expected from PCs to a new level. A downer here would be the absence of any additional ports or bays for optical drive mounting.
Now making our way to the cooling system, it features 7x LED Lotus fans for aesthetics and efficient cooling along with a native CUK Polar King CPU liquid cooler for those extreme loads that you might come across while an intense gaming or productivity oriented session on your PC. Although VR might be an invention which is not that religiously followed anymore but still a very strong benefit of having it around considering how this PC is also VR ready out of the box.
CUK Stratos is an amalgamation of perfection but with a pinch of elegance and minimalism. If you are searching for a PC that gives you a bit of both worlds including the average media consumption and content creation along with gaming then this is definitely one PC to opt for.