The NVIDIA RTX 4070 Ti Will Cost $799, Launching on January 5th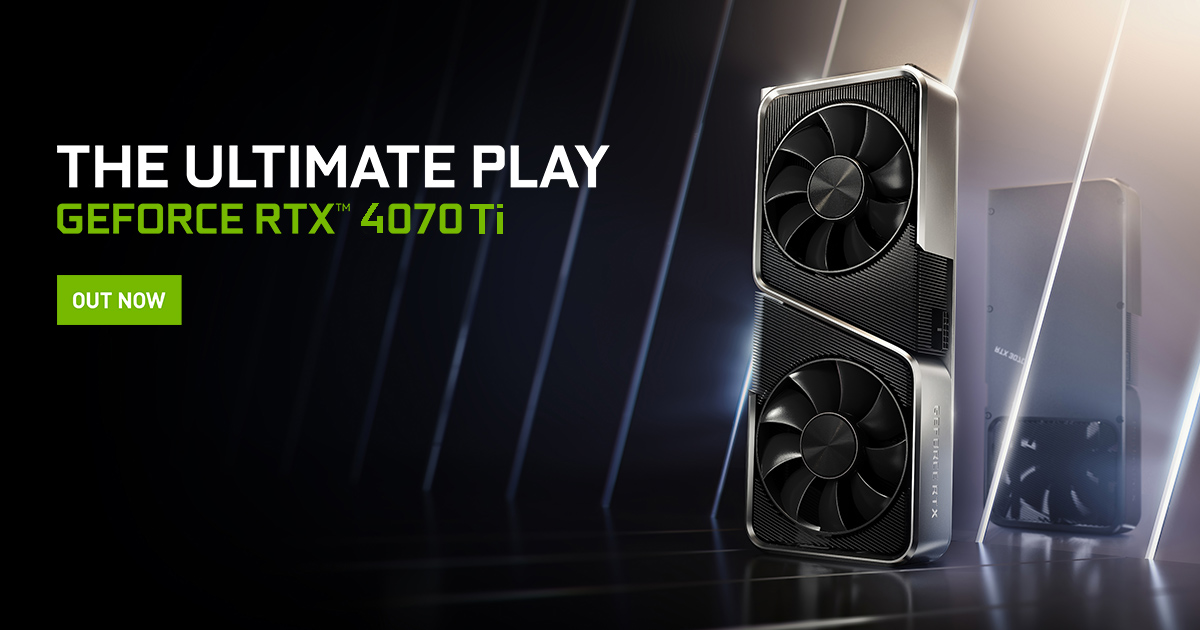 Videocardz has managed to obtain a slide from NVIDIA's upcoming CES 2023 presentation. The event will take place in around 12 hours, which we will cover live at Appuals. However, these slides confirm the pricing and specs of this GPU, officially before launch. It seems that MLID was correct and NVIDIA has opted for the $799 price tag for the RTX 4070 Ti.
RTX 4070 Ti Leaked Slides
The RTX 4070 Ti will come in at $799, or $100 less than the canceled RTX 4080 12GB. It will hit shelves starting from the 5th of January and is allegedly faster than the RTX 3090 Ti. Now, this part is a bit misleading because NVIDIA's own slides for the RTX 4080 12GB say otherwise. In any case, the RTX 4070 Ti is only realistically faster than the RTX 3090 Ti, once you factor in DLSS 3.0, which makes a huge impact.
This GPU packs 40 Shader TFLOPs, 93 RT TFLOPs, and 642 Tensor TFLOPs. For context, the RTX 3090 Ti was equipped with almost 40 TFLOPs of computing performance as well.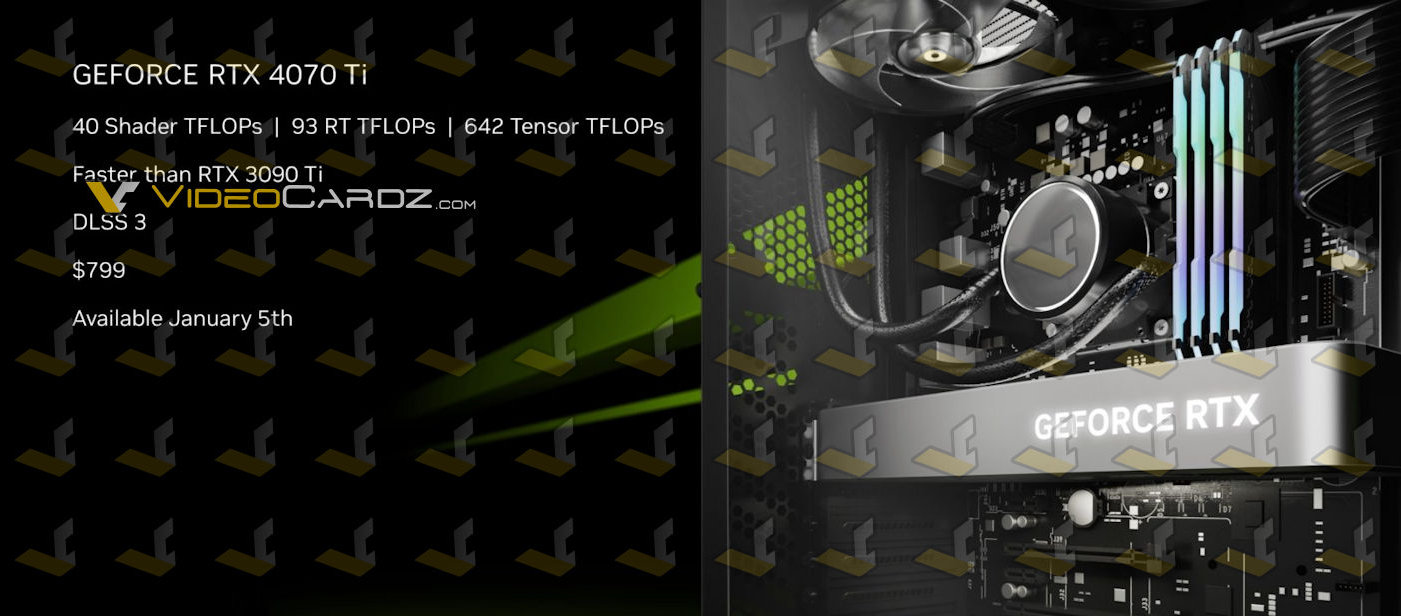 The RTX 4070 Ti will ship with 12GB of G6X memory across a 192-bit memory bus. The 4070 Ti will make use of NVIDIA's AD104-400-A1 GPU with 7680 CUDA cores. A memory speed of 21Gbps would amount up to 504GB/s of effective bandwidth. One should note that this GPU is considerably slower than the RTX 3090 Ti in raw raster performance. A modest TDP of 285W should not need a PSU change. Pricing-wise, the RTX 4070 Ti will cost consumers $799.
Ada Lovelace Lineup
| | | | | | | | | | | |
| --- | --- | --- | --- | --- | --- | --- | --- | --- | --- | --- |
| SKU | Chip | FP32/CUDA | SMs | Max Clock | Cache | Memory Bus | VRAM | Memory Spec | Speed (Gbps) | TDP |
| RTX 4000 Titan | AD102-450 | 18432 | 144 | 3.0GHz+? | 96MB? | 384/382-bit | 48GB | GDDR6X | 24 | ~800W |
| RTX 4090 Ti | AD102-350 | 18176 | 142 | 3.0 GHz? | 96MB | 382-bit | 24GB | GDDR6X | 24 | 600W? |
| RTX 4090 | AD102-300-A1 | 16384 | 128 | 2.52GHz | 96MB | 384-bit | 24GB | GDDR6X | 21 | 450W+ (TGP) / 660W (Max TGP) |
| RTX 4080 Ti | AD102 | 14848 | 116 | 2.7 GHz? | 80MB? | 320-bit | 20GB | GDDR6X | 23 | 420W |
| RTX 4080 | AD103-300-A1 | 9728 | 76 | 2.505GHz | 64MB | 256-bit | 16GB | GDDR6X | 22.5 | 320W(TGP)/ 516W (Max TGP) |
| RTX 4070 Ti (4080 12GB Revamped) | AD104-400-A1 | 7680 | 60 | 2.61GHz | 48MB | 192-bit | 12GB | GDDR6X | 21 | 285W (TGP) /366W (Max TGP)? |
Source: Videocardz